The future of flagship chipsets from Huawei owned HiSilicon remains in doubt due to the extensive restrictions placed upon the company by the US in this protracted political dispute.
So the Kirin 9000 could very well be the swan song for Hisilicon, at least for flagship chipsets.
These issues have caused a delay for the Huawei Mate 40 series, but the phones will finally be launched globally this week, and as usual various leaks and benchmarks are quickly coming out prior to the launch.
This is technically more of a 2021 flagship chipset so it is the first one to launch. Therefore it is only possible to compare against  Samsungs recently launched upper midrange Exynos 1080 and the existing Qualcomm Snapdragon 865+ (rather than the SD875 due to be announced in December).
Specification
The exact specification of the Kirin 9000 remains unknown, but we know the chipset will be made on the 5nm fabrication process and leaked benchmarks indicate that the chipset is running four Cortex-A77 cores that are clocked at 3.13 GHz.
This would make it higher clocked than the existing Snapdragon 865+ which has its prime core running at 3.09 GHz. While this is a massive upgrade compared to the Kirin 990 5G it replaces, it is a generation behind what the SD875 will likely use.
The Samsung Exynos 1080 is the first chipset to implement the Arm Cortex A78, however, with this being a mid-range chipset it only has two of these cores, running at an unknown speed.
The Kirin 9000 should be used the Arm Mali-G78 GPU, but we don't know the number of cored yet, or frequencies.
This is the same GPU as the Samsung Exynos 1080, which also has not had the cores or frequency specified yet.
Benchmarks
Antutu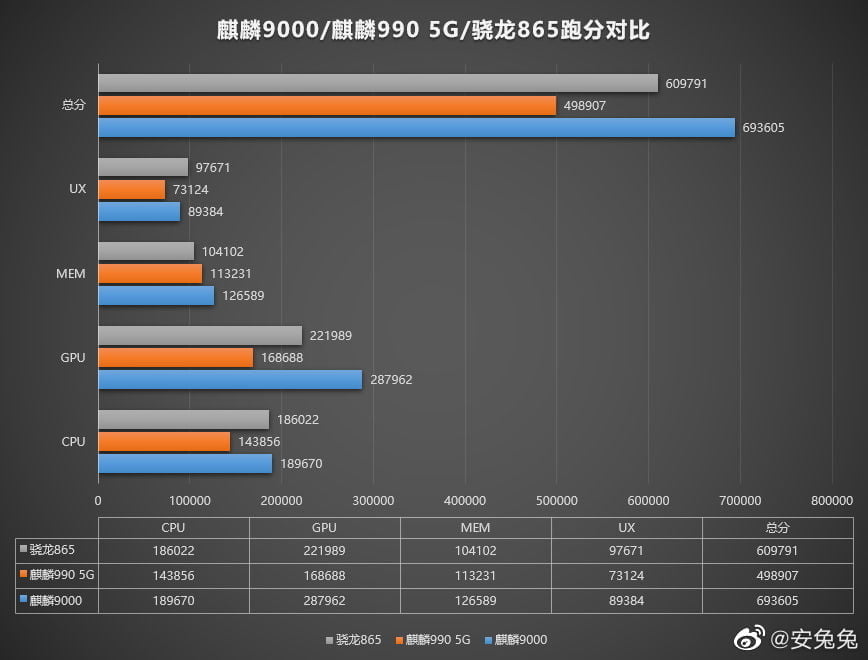 Leaked benchmarks indicate the Kirin 9000 achieving 693,605 which would put it almost 8% ahead of the currently most powerful phone on the market, the Asus ROG Phone 3 which uses the Qualcomm Snapdragon 865+.
It was previously reported than the Exynos 1080 would be able to achieve an extremely impressive result of over 650,000. While this is below the Kirin 9000, it is worth remembering this is not a flagship chipset.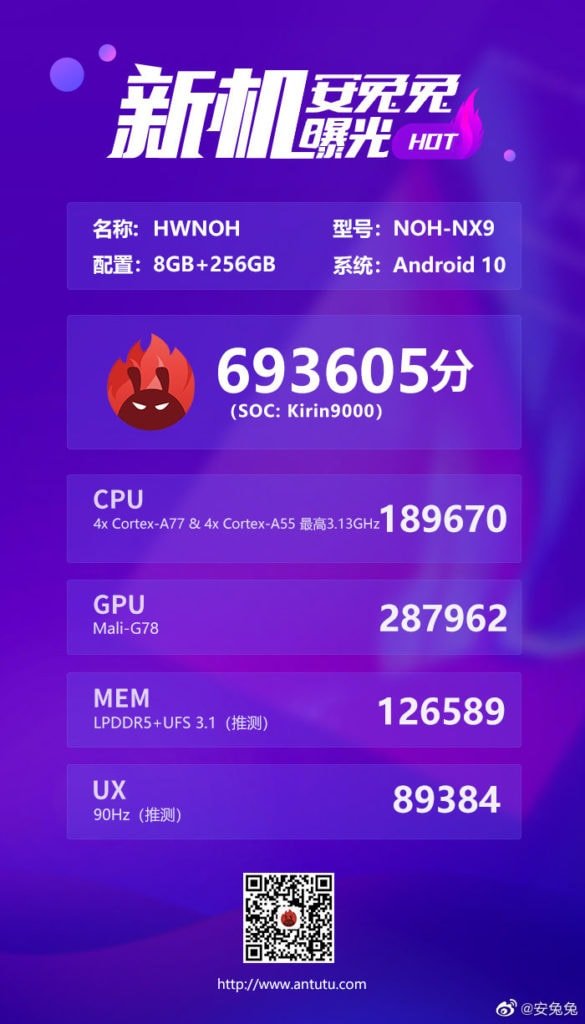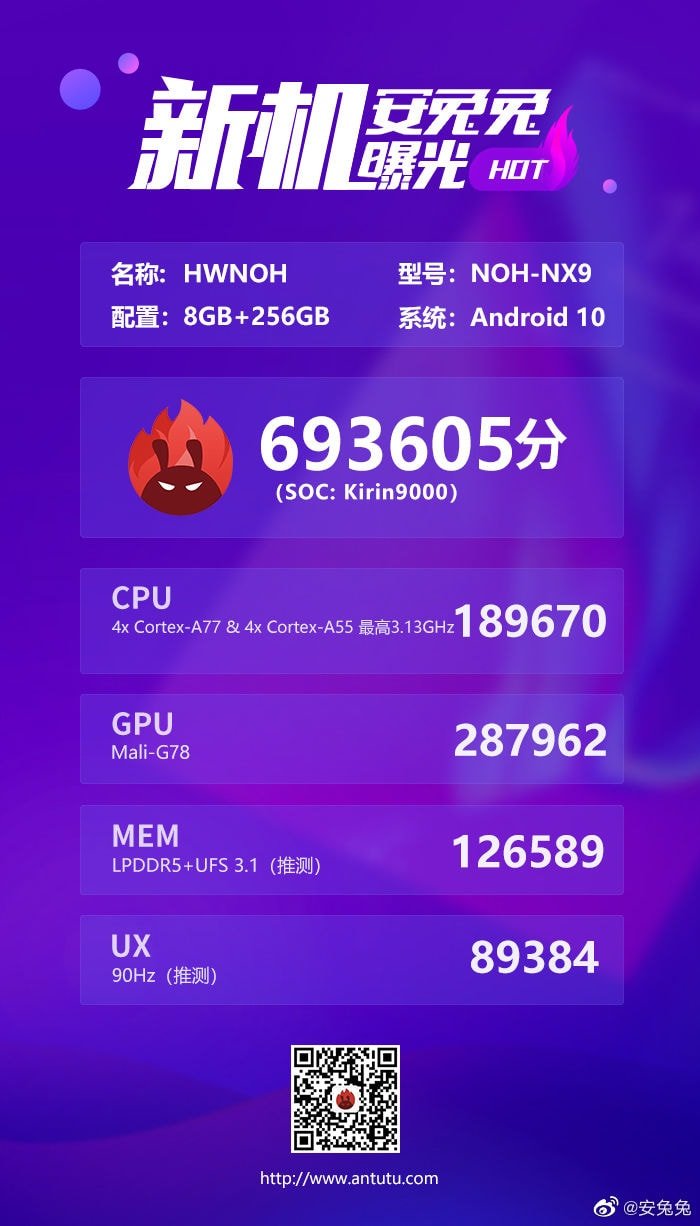 Geekbench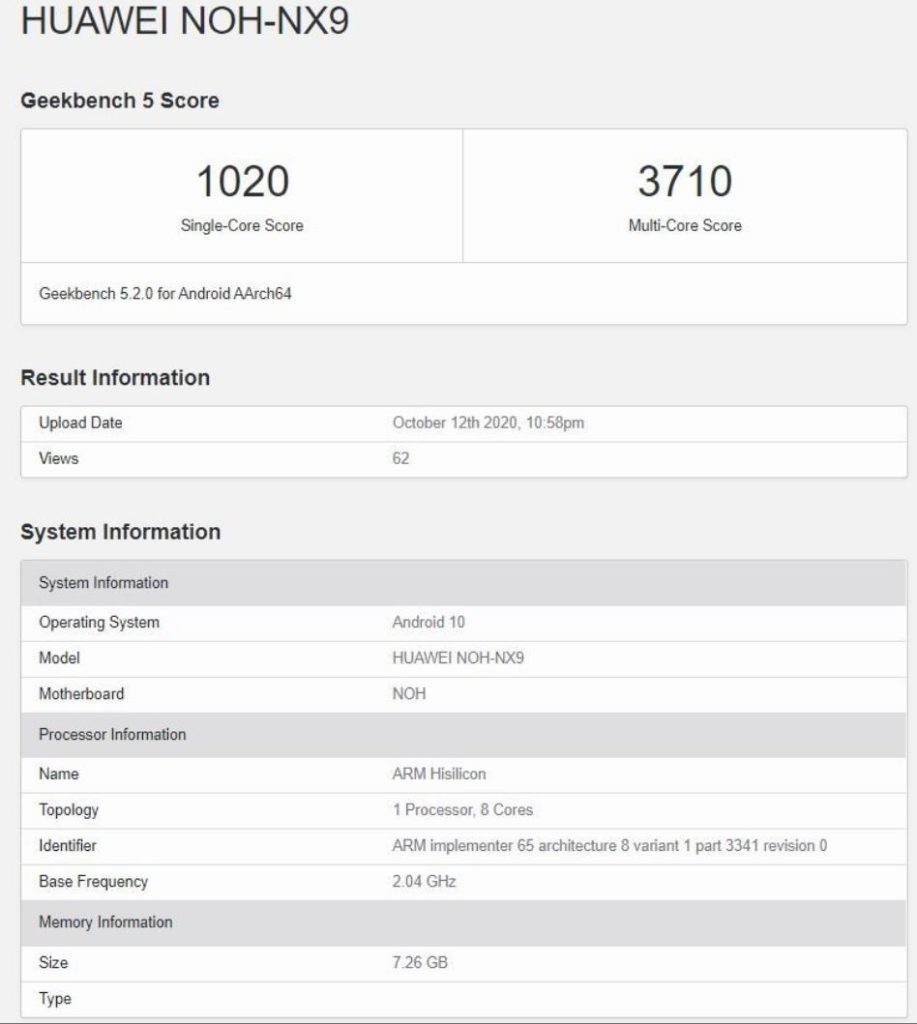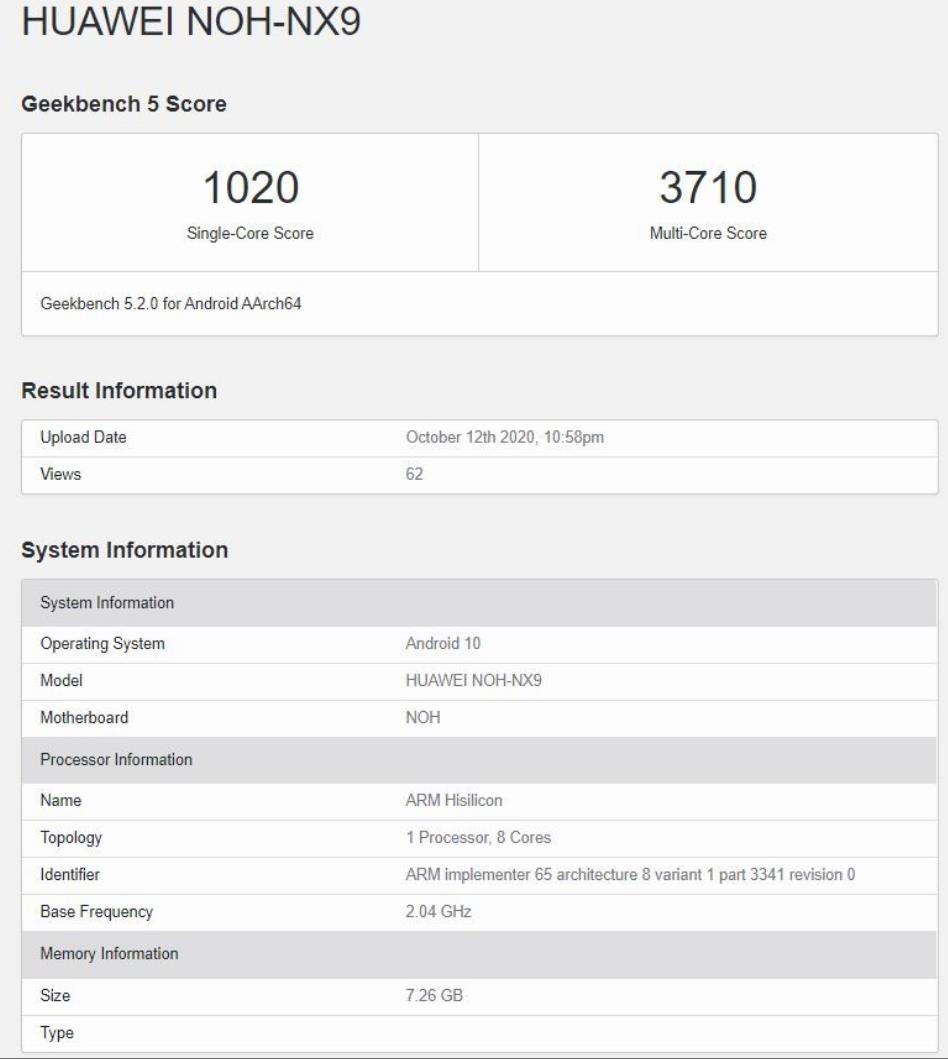 In Geekbench the Kirin 9000 managed to achieve 1016 for the single-core and 3688 for multi-core.
This puts it out comfortably ahead of the Qualcomm Snapdragon 865 which managed 975 and 3357, giving it a 4.2% and 9.8% advantage overall.
What else is known about the Huawei Mate 40 Pro?
Everything will be revealed on the 22nd of October, however, Winfuture has revealed many of the specs, these are normally accurate but can't be guaranteed.
The Huawei Mate 40 Pro will come with 8GB of LPDDR5 RAM and 256GB of UFS 3.1 internal storage.
It is expected to stick with a 90hz AMOLED display similar to the P40 Pro, rather than 120Hz we have seen on some other phones. There will be a pill-shaped cut-out for dual selfie cameras, then on the rear, the camera arrangement should be centrally located in a circular arrangement.
For the cameras, the Mate 40 Pro is said to be packing a 50MP f/1.9 primary sensor with OIS, a 20MP f/1.8 ultra-wide-angle sensor, and a 12MP f/3.4 telephoto shooter. Meanwhile, there will be a 13MP f/2.4 selfie camera and a 3D sensor (ToF) on the front.
The phone will reportedly pack a 4,400 mAh battery with support for 65W SuperCharge fast charger, Bluetooth 5.2, Wi-Fi 6, and wireless charging support.
This will of course not have Google Play Services, but it is expected to still use Android 10-based EMUI 11 with Huawei Mobile Services (HMS). Harmony OS is expected to be available on many recent Huawei phones, so this should also apply here. However it is unknown if Huawei will launch the phone with Harmon OS out of the box in some regions.
Overall
For the time being, the HiSilicon Kirin 9000 will take the performance crown comfortably outperforming the older Qualcomm Snapdragon 865 Plus.
However, with HiSilicon still using CPU architecture a year behind the up and coming 2021 flagship chipsets, this advantage will be short-lived when the SD875 becomes official.
For me at least, performance has become so good in mid-range and flagship chipsets that I struggle to notice real-world differences between one brand and the next. The Huawei P40 Pro performs just as well as my Realme X50 Pro. Things like battery performance have become more important to me nowadays.
It is sad that this may be the last flagship chipset from HiSilicon for a while, as much as I love Qualcomm chipsets, with them having such a dominant market share it will inevitably stifle future advancements.
Posted by Mighty Gadget Blog: UK Technology News and Reviews