The mid-range smartphone market is crowded with a lot of
superb choice at fantastic prices. It seems that every company is eager to
produce a phone for every variation possible to capture as much market share.
More competition is good for the consumer, but it can get a little confusing.
With Honor and Huawei, this means a significant number of phones that are built around their Hisilicon Kirin 710 chipset. It was only four months ago I reviewed the Honor 10 Lite which itself was almost identical to the Huawei P Smart 2019, albeit slightly better priced.
The Honor 20 Lite launched for £249.99 but can be had for just over £200 on Amazon currently, making it around £20 more than the current Honor 10 price, £30 more than the P Smart 2019, but £80 cheaper than the P30 Lite.
£219.95
in stock
1 new
from £219.95
Amazon.co.uk
Free shipping

Last updated on 17th July 2019 7:39 am

Specification
Body: Plastic body, 155 x 74 x 8mm; 164g; Phantom Blue, Phantom Red, Magic Night Black
Display: 6.21-inch LCD screen, 19.5:9 aspect ratio, 1080 x 2340 resolution
Rear camera:

24 MP, f/1.8, phase-detect autofocus
8 MP, f/2.2, 13mm (ultrawide)
2 MP, f/2.4, depth sensor

Front camera: 32 MP, f/2.0, 0.8µm
OS/Software: Android 9.0 Pie, EMUI 9.
Chipset: Kirin 710: octa-core CPU (4×2.2GHz Cortex-A73 + 4×1.7GHz Cortex-A53); Mali-G51 MP4 GPU.
Memory: 4 GB RAM; microSD card slot (hybrid).
Storage: 128 GB
Battery: 3,400mAh (sealed), 5V/2A charging (no Huawei SuperCharge).
Connectivity: Dual SIM; Wi-Fi a/b/g/n/ac, Bluetooth 4.2; microUSB 2.0, 3.5mm jack.
Misc: Rear-mounted fingerprint sensor.
Normally generational upgrades receive a more modern chipset, the Honor 20 now has the HiSilicon Kirin 980 compared to the Kirin 970 of the Honor 10. However, the Kirin 710 was launch in July 2018 so the Honor 20 Lite had no option but to use this near end of life chipset. I would suspect the Huawei Mate 30 Lite will be the first phone to feature the replacement chipset.
This has meant Honor has had to upgrade other aspects of the
phone to make it a proper upgrade. On the face of things the 20 Lite looks
similar to the 10 Lite, they both have a 6.21-inch display running at 1080 x
2340 pixels using a notch to give an 83.1% screen-to-body ratio.
The dimensions are identical at 154.8 x 73.6 x 8 mm though
the 20 Lite weighs 2g more.
The battery is the same, they still insist on using
micro-USB, and you still get a 3.5mm headphone jack.
The upgrades come in the form of memory configurations; this
now ships with 128GB vs 64GB in the older phone and 4GB of RAM compared to 3 or
4GB of the previous model. Then the camera, which has had a sizeable upgrade
and now includes three lenses with a 24 MP f/1.8 lens, 8 MP f/2.2 ultra-wide
lens and 2 MP f/2.4 depth sensor. The older model had just two lenses, one 13MP
primary camera and a 2MP depth sensor. I am a big fan of ultra-wide cameras, so
this is a big upgrade for me, and I think well worth the £20 premium you are
looking at paying.
Interestingly, depending on where you buy the P30 Lite from it has almost identical specs. If you were to import it, it uses the same camera, but slightly more RAM but the same camera spec. The UK variant has a 48 MP primary lens but 4GB of RAM. It is confusing I know.
Design
I don't have the Honor Lite anymore, but from pictures, it
looks identical with the exception of the triple-lens camera set up.
The plastic body doesn't feel as luxurious as the glass and aluminium of the Huawei P30 Pro, but visually you couldn't tell it is plastic. This also makes it lighter, and most likely more durable than a glass back. The overall build quality and design give the impression of a much more expensive phone.
Similar to my last review, I received the slightly boring
black colourway or Magic Night Black as Honor call it. You can, however, get it
in Phantom Blue and Phantom Red.
The fingerprint scanner is located on the rear, which if I
am honest, I don't think is any worse or better than an in-display. I prefer
the location of in-display, but accuracy is less, so rarely use it. The side
mount of the Honor 20 & Pro could be the superior location in my opinion.
The worst part of the design is the inclusion of the
microUSB. It is not really a huge issue, but for a mid-range phone in 2019,
they really ought to be using USB-C.
Screen
By all accounts, this screen is identical to the Honor 10
Lite, and that was great in the first place. The 6.21-inch IPS display runs at 1,080
x 2,340 (FHD+) with an aspect ratio of 19.5:9. It uses a small dewdrop notch
which hardly takes up any of the notification bar. It is not quite as nice as
the punch-hole found on the more expensive Honor 20 models, but functionally
there is barely any difference.
OS
Honor uses Huawei's EMUI software over the top of Google's
Android operating system. My opinion is the same as the last time, I personally
have no problems with EMUI, in fact, I quite like it, but it is a contentious
piece of software, and some people are not fans at all.
It uses the same app launch battery management I have on the
Huawei P30 Pro, which can be both good and bad. It does help reduce rogue apps draining
your battery and is one of the reasons why Huawei/Honor devices have the best
stamina on the market. On the flip side, it is aggressive by default, stuff you
want notifications for need to have the automatic management switched off.
You get some additional apps which include the Huawei AppGallery, Huawei Health and  Booking.com. The AppGallery is a poor Playstore, and I doubt many westerners use it. Huawei Health is actually quite a good fitness tracker, which tracks your steps automatically and can be used for runs or bike rides, if you have one of the Huawei/Honor fitness trackers it will pull in your heart rate and sleep data. It also integrates with Google Fit.
While the software is the same as the last phone, this time
around there are some other issues that need addressing. Everyone knows about
the difficulties both Huawei, and Honor have faced recently. So there has been
some concern about software updates for the phone. Honor has come out saying
that they will be regularly updating all their phones with the latest features
and security updates, plus the Honor 20 series is part of the Android Q
program.
Furthermore, President Trump has backtracked a little and slowly
easing off his trade ban, I hope this trend will continue, and in a few
months,  it will be blown over.
The long-term implications for future phones due to this trade ban are still unknown. Trump may have backed off, but Huawei is now more determined than ever to become independent from US companies.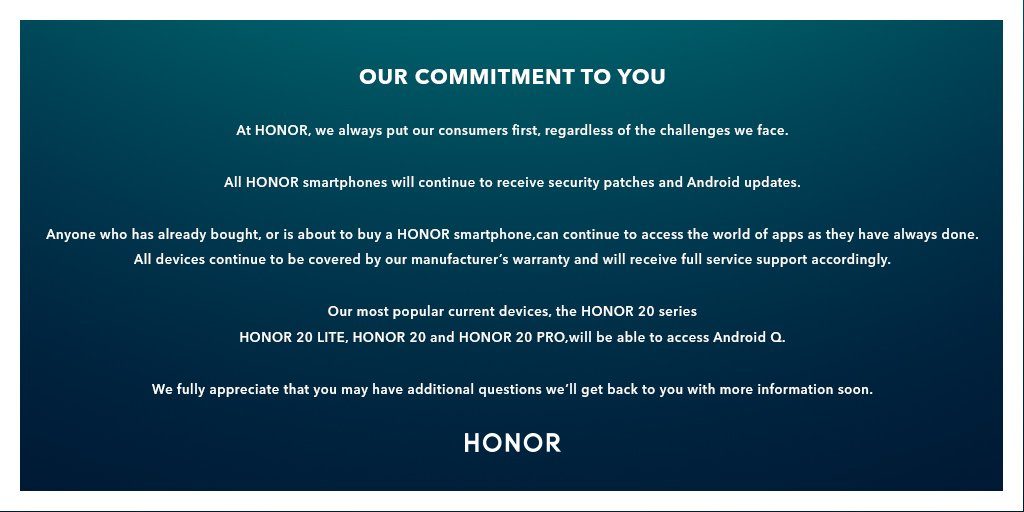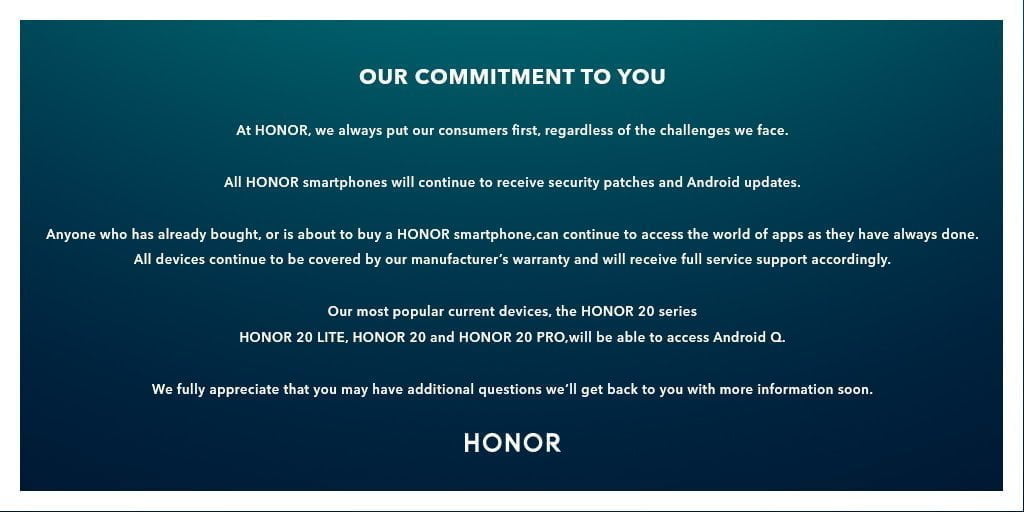 Performance
The Kirin 710 SoC has proven to be a capable chipset in all the phones I have reviewed with it, so it is no different here. The 4GB of RAM should give it a little extra wiggle room which matches the Mate 20 Lite, in real-world usage I can't say I noticed a difference.
In Antutu the phone score 129534, which is more or less the same as all the other Kirin 710 phones I have used. In the real world, the phone performs well for all day to day tasks, navigation is smooth, apps quick to launch and the phone can handle any premium games you through at it.
Battery Life
Again, the same as the last phone, there is a 3,400mAh
battery which isn't the biggest in the world but it is plenty enough with a
phone at this price with a mid-range chip inside.
The phone should give you solid all-day performance in most
scenarios. If you go out shooting photos all day or play games for long sessions,
a charge will likely be needed, but lighter days this would still have more
than a third of its battery left over.
Sadly, the microUSB is only capable of 10w charging, and
there is no wireless charging. It is rarely an issue if you charge overnight,
but having the backup of SuperCharge on heavy use days is always a bonus.
Camera
Finally, we get to something with a significant difference,
and where the phone justifies its small premium over the last model.
You now get a 24MP + 8MP + 2MP triple camera. The main
camera has been upgraded from 13MP to 24MP, and the additional 8MP lens is
ultra-wide. I am a big fan of ultra-wide cameras as it gives you a bit more
flexibility when taking a lot of photos, especially for buildings or large
scenes.
The 2MP lens is only used for depth detection, but it does
help create some beautiful bokeh effects.
The Honor 20 Lite will allow you to zoom in by a factor of
six, this is all digital and doing so creates a lot of noise, I have found
shots taken with this are quite stable, so not blurry, but just a lot of noise.
The AI mode, which is standard on many phones now, uses
scene detection to optimise shots. I found it helped improve my shoddy camera
skills and it is always a welcome feature.
While the camera can't compete with its premium counterparts, it is very good for the price, and I think much more well rounded than the older model.
Conclusion
This is very much an incremental upgrade from the Honor 10
Lite but ignoring that and viewing this from a pure specification and value
perspective then this is a fantastic buy.
You are paying £20 more than the phone it supersedes, but
you get a significantly better camera specification and double the storage and
RAM. Looking at the prices of microSD cards, the cost of the storage upgrade is
worth at least a tenner, and I would say the camera improvement is worth
significantly more than another tenner.
Therefore, I see no reason to opt for the Honor 10 Lite over
this, unless your budget absolutely cannot stretch that extra few pounds.
Post from: Mighty Gadget – Gadget and Technology Blog