Honor have launched one of the most affordable phones of the year with the Honor 9A.
Priced at just £129.99 this is perfect for anyone on a budget or perhaps for a young person wanting their first phone.
While this is a long way from flagship spec, it is well featured phone offering plenty of performance and all the features you would want.
Powered by an octo-core Mediatek Helio P35 this should be more than powerful enough for day to day activities such as social media, web browsing, and photography.
You then get a 13MP rear camera with the added benefit of a 2MP depth sensor, and a 8MP front facing camera.
You then get multi-day battery life with the gigantic 5000 mAh battery. Charging is a little slow at 10W so you will probably want to charge it over night.
Supported by 3GB RAM and 64GB of storage which can be expanded via a microSD card (up to 512GB), users can easily store plenty of photos and videos without having to transfer files over to a computer or portable hard drive.
Pre-orders are available from 1st of July and the phone will be available on both Hihonor and Amazon.
Honor are keen to push their new eCommerce equipped hihonor.com website, they are offering lots of discounts and VIP membership benefits.
MagicBook 14 with Microsoft 365 Personal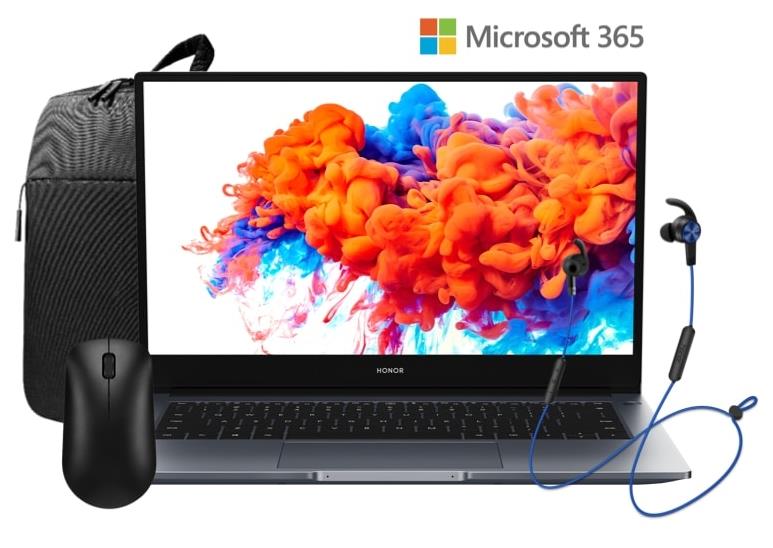 The Honor MagicBook 14 (and Huawei Matebook D 14) have been particularly popular this year offering incredible performance for an affordable price, all within a highly portable chasis.
They are currently sweetening the deal with a free backpack, earphones and mouse all for £549.99, you can then get is for £599.99 with an included Microsoft 365 Personal licence, which saves you a tenner on the RRP.
HONOR CHOICE Series: True Wireless Earbuds with 24hrs Combined Audio Playback
In line with 1+8+N all-scenario strategy, HONOR has teamed up with selected well-known manufacturers to develop a range of affordable smart products to form the all-new HONOR CHOICE series. The HONOR CHOICE series adheres to HONOR's tech-chic and human-centric design philosophy and high quality standards. The first product from the portfolio launching in overseas markets is the HONOR CHOICE True Wireless Earbuds, which feature 7mm composite diaphragm speaker to deliver decent sound quality and effectively reduce noise from your surroundings during calls or while listening to music. With up to 24 hours of superior battery life, the earbuds can easily last for a day's worth of calls and music playback.
Stay Active and Healthy with HONOR's Powerful Wearables
To enjoy a balanced and healthy lifestyle, it's crucial to keep fit physically as well as stay motivated mentally. HONOR's latest line-up of powerful wearables is available now to help you track your health and fitness goals as well as keep an eye on your wellbeing, wherever you are.
100 Workout Modes to Discover on the HONOR MagicWatch 2
In addition to 15 pre-installed workout modes, HONOR is bolstering its fitness tracking capabilities by adding 85 new customised workout modes automatically detecting six different categories of sports – extreme, leisure, fitness, aquatics, ball games and winter sports. Whether you are into mainstream sports or prefer something more adventurous, the upgraded HONOR MagicWatch 2 has got you covered, with comprehensive monitoring that can track 194 types of data to help boost your performance and motivate you to become a better version of yourself.
HONOR Magic Earbuds Awareness Mode: Be Aware of Everything around You
When it comes to workouts, HONOR's Magic Earbuds feature Hybrid Active Noise Cancelling Technology with a dual-microphone setup to tune out distractions, helping you to get in the zone and stay focused during intense exercise sessions.
This noise cancellation is now fully adjustable, and you can choose to activate the all-new awareness mode to be more aware of your surroundings, without removing your earbuds. Combining superb sound quality, awesome noise cancellation and packed with solid battery life, HONOR Magic Earbuds are your perfect companion for almost every occasion.
VIP Membership Upgrading is Now Available at hihonor.com
Starting from June 23, HONOR fans from the UK can get amazing discounts from HONOR's cutting-edge range of smartphones, laptops and wearables at hihonor.com. On top of a full range of exciting deals, those who register and subscribe at hihonor.com* from June 18th to July 1st to become HONOR VIP members, will be able to unlock a range of exclusive benefits including:
Additional discounts of up to 30% for selected products
A free 1-month Huawei Music membership,15 GB 1-year Huawei Cloud membership and 3 film vouchers for film renting at Huawei Video for all HONOR smartphone users
Free shipping coupon
Priority access to fans event and product testing