Smart video doorbells have been one of my favourite pieces of tech in the past few years (I am easily pleased).
As someone that receives packages daily, if not multiple times per day, old fashioned wireless doorbells were a nightmare. Often I wasn't in the room with the chime, or I just wasn't home, then the signal/chime would fail frequently.
My first smart video doorbell was the Ring Doorbell 2, then I got the Ring Doorbell 3 Plus, and I have recently switched to the Eufy Doorbell.
With Ring, I had multiple chimes, plus alerts being pushed to Amazon Echo Dot speakers. Eufy has a Homebase then this also pushes alerts to the Echo Dots.
I also have phone alerts which then push notifications to my Garmin Fenix 6 Pro.
So, in theory, I should never miss the doorbell
What causes delays in Ring doorbell notifications?
However, all the doorbells I have used can suffer from lagginess, where someone presses the doorbell then there is a delay between alerts. Sometimes this is a couple of seconds, others it can be closer to a minute. This can, therefore means I sometimes get the alert when the delivery person has already left.
Ring doorbells are particularily bad for this. Within the device health section, the RSSI gives you an indication of the WiFi signal strength, and I have found it very hard to get a good signal, even though I have good WiFi throughout the home.
Recently, I have also noticed the Eufy have some delays, this appears to be a delay between Eufy and Amazon, though. The Homebase rings but then 30 seconds later the Amazon speakers will go off.
How to fix delayed smart doorbell notifications
The better the WiFi signal, the more likely your doorbell notifications will be responsive.
For the Eufy Doorbell, I found that the homebase itself achieves quite a good signal easily, so I have located it behind my TV in the living room, which is central in the house. The Homebase uses Ethernet, so I have no issues with that needing to improve the WiFi signal.
For Ring, and likely other doorbells that connect to WiFi directly, there are several options
Relocate the router or experiment with WiFi channels
The cheapest solution is to try and improve the performance of the existing WiFi signal. If there is any way of getting the router a little closer to the door, this will help. It is also best to try and locate your router centrally within your home as possible, but obviously, this is often not practical.
Alternatively, you can go into the router settings and experiment with different WiFi channels, and for some routers, you can tweak the WiFi power settings.
There are several phones apps that will scan your WiFi allowing you to see which channels are the most congested so you can then select the least congested option.
For the Ring Video Doorbell 3, you have 5Ghz and 2.4Ghz, so you can experiment with the two different options. 2.4Ghz has a longer ranger, but it is a lot more congested, 5Ghz can struggle to get through walls, but has many more channel options.
Ring Chime Pro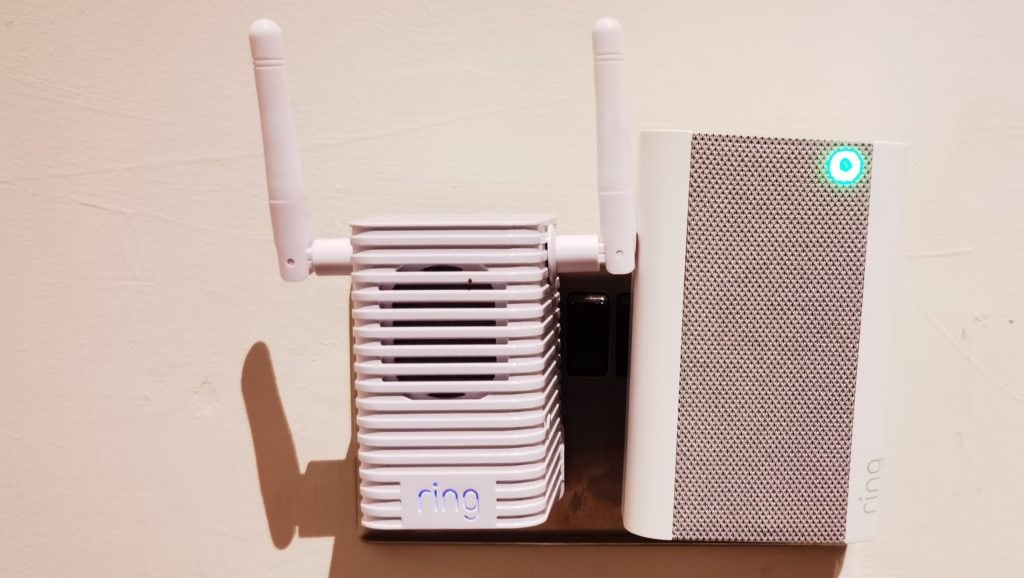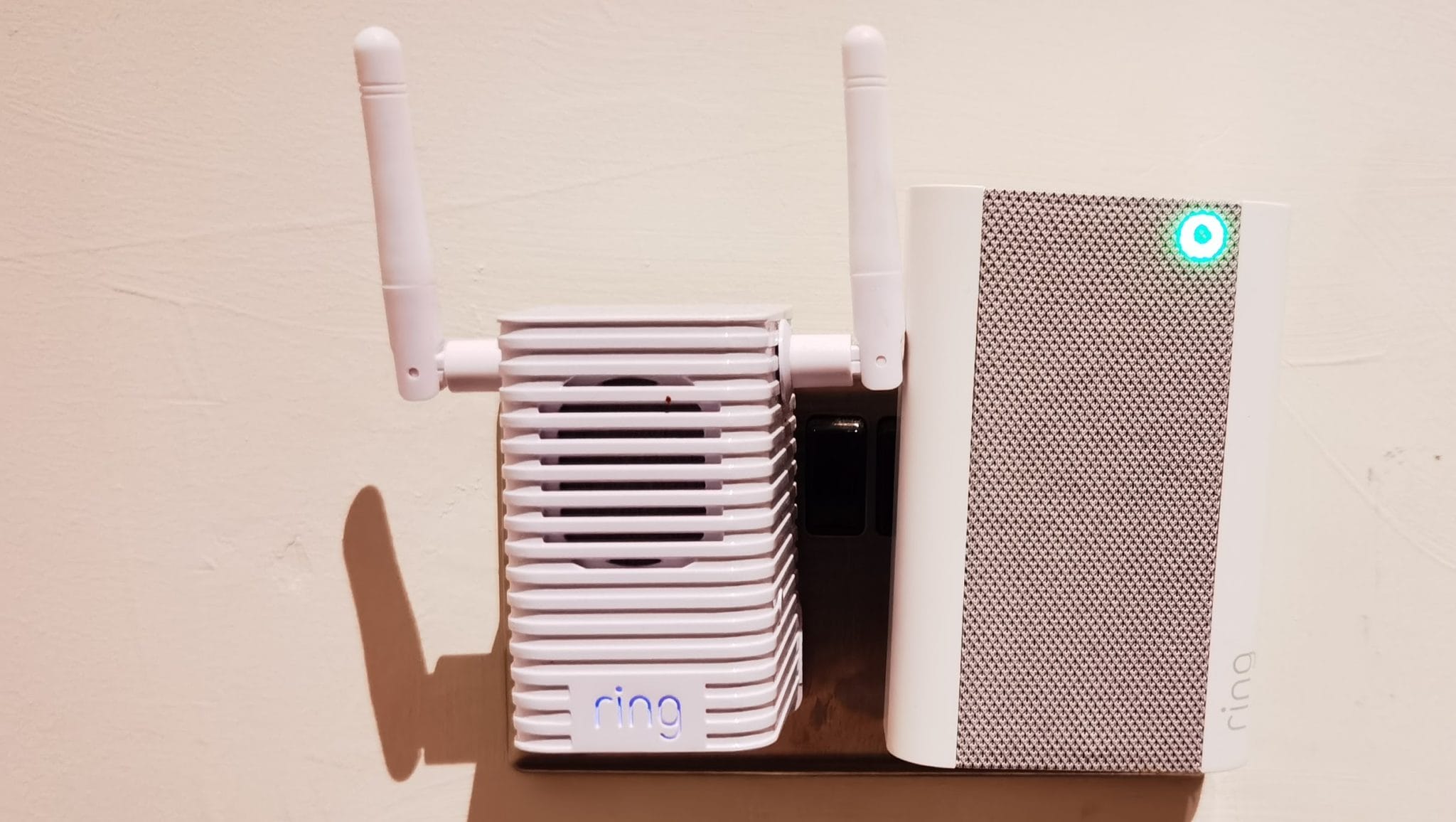 This one is obviously specific to Ring doorbells only, but you can get a Chime Pro for around £45. As well as being a Chime, this works as a WiFi extender specifically for the Ring doorbell. The latest Chime Pro works with both 2.4Ghz and 5Ghz so works best with the new Ring Video Doorbell 3 models which also feature the 5Ghz WiFi band.
While this is an excellent choice and probably the easiest way to improve the signal, the signal it provides is not as good as other options (from my experience).
Plug-In WiFi Extender
I am not the biggest fan of WiFi extenders in general, I prefer mesh systems, but if you want a low-cost solution, these are the way to go. On top of boosting the WiFi signal for your video doorbell, they will also provide connectivity for any other device.
You want to get it as close to the doorbell as possible, but it also needs to be able to pick up a decent WiFi signal from the main router, so you may need to experiment. This is also true with the Ring Chime Pro.
The plugin options are a little more discrete. You can get fancier WiFi extenders by Netgear which will offer superior speeds and better range but for this scenario it may be a little overkill.
Powerline WiFi Extender
Powerline adaptors seem to have fallen out of favour in recent years, mesh systems appear to be more popular. However, they are still one of the best options for extending connectivity throughout the home. These use the electrical wiring in your home to pass the data, so their performance is dependant on the quality of your home's wiring.
The performance of these will degrade with distance, but far less than WiFi extenders. This, therefore, allows a bit more flexibility with placement, you can plug them in as close to the doorbell as possible.
The most affordable TP-Link option in the list above will work well for Ring, but if you want to improve your WiFi for computers, phones, etc then I'd recommend the TP-Link AC1350 Powerline Adapter Starter Kit or the Devolo Magic.
Mesh WiFi System
I am a big fan of Mesh WiFi systems, if you have a moderately large home, they will help provide a strong WiFi signal throughout your entire property with minimal setup. They work a bit like WiFi extenders, but they allow you to use one WiFi channel name (SSID) and they will (or should) allow you to move around the house and pass off your connection to the mesh device with the best signal.
Tri-band systems will use one of the WiFi bands as a dedicated backhaul back to the router, so these will offer superb WiFi speeds across all the mesh devices. Dual-band systems will share a band, which then reduces the speeds by around 50% for the satellites/nodes.
Similar to the other options, you would want to locate one of the mesh satellites in a room that is close to the video doorbell.
While these are the most expensive option, it is something I would highly recommend if you want to improve the WiFi around your home in general.
Tri-band Mesh WiFi Recommendations
TaoTronics Mesh WiFi Router – One of the cheapest on the market
Netgear RBK23 Mesh WiFi System – 3 pack so will cover a larger property
TP-LINK Deco M9 Plus – Premium WiFi 5 model that's super easy to set up, easy to expand and offers free built-in network-wide antivirus and security
ASUS ZenWiFi XT8 – One of the most affordable triband Wifi 6 mesh systems for ultra-fast wifi speeds for the latest flagship phones and laptops
Ubiquiti Amplifi – Expensive but probably one of the best reviewed WiFi systems on the market
Dual-band Mesh WiFi Recommendations
TP-Link Deco E4 – Less than £100 for a three-pack system, ideal for people that just need speeds similar to their VDSL/ADSL Internet speed
BT Mini Whole Home – A bit cheaper than the TP-Link Deco but with slightly less positive reviews. You can get up to 6 disks for £249.96 which would cover a huge property.
Netgear Nighthawk Mesh WiFi 6 System MK62 – A dual-band WiFi 6 mesh system offering incredible speeds via the router and much faster than dual-band WiFi 5 system speeds for the satellites.
Posted by Mighty Gadget Blog: UK Technology News and Reviews