Huawei may be suffering a bit with their phones lacking Google, but they are easily one of the best laptop brands around at the moment for any non-gaming laptop.
Today they have announced the latest Huawei MateBook X Pro 2021, which is a 13.9 inches ultra-portable, weighing in at just 1.33 kg.
As usual for Huawei, it adopts a 3:2 aspect ration display giving you more verticle resolution that is a massive 3000 x 2000.
CPU & GPU
This comes with a choice of the latest Intel 11th Gen CPU with either the i7-1165G7 Processor or i5-1135G7 Processor.
Both of these use the new Intel Iris Xe Graphics which is supposed to offer comparable performance to the discrete Nvidia GeForce MX GPUs used on many laptops such as the Huawei Matebook 13.
They both have 16 GB LPDDR4x RAM running at 4266 MHz and then the i5 model has a 512 GB NVMe PCIe SSD while the i7 model uses 1TB.
These are not cheap, but this is a top of the range ultraportable that outclasses the likes of the Dell XPS 13.  
Price and Availability
Both laptops will be available from May via Huawei, and other retailers with the i7/1TB model costing £1599.99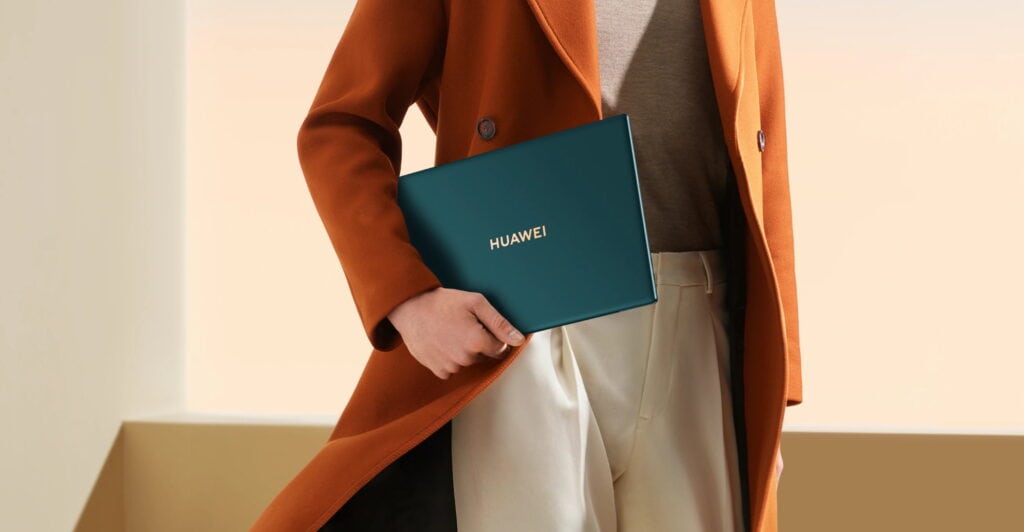 Full Press Release
Huawei Consumer Business Group (BG) today announced the newly upgraded HUAWEI MateBook X Pro 2021. Inheriting the aesthetic, innovation and intelligent DNA of previous Huawei laptops, the new HUAWEI MateBook X Pro is an innovative reinterpretation of a classic, with a full range of upgrades delivering efficient performance, all-scenario intelligence and a superior user experience.
The HUAWEI MateBook X Pro delivers another dazzling FullView Display with 3K high-definition picture quality and an immersive viewing experience to unleash more excitement for users. The 11th Gen Intel® Core processors work with an intelligent new cooling system to deliver more efficient performance, making both work and everyday life easier for the user. Huawei Share fully breaks down the barriers of cross-device interaction and makes it easy to enjoy every aspect of an All-scenario Seamless AI Life. Ingenious new technologies help to deliver incredible overall ease-of-use, with the HUAWEI Free Touch touchpad, high-precision multi-point touch screen, dual edge microphones and quad-speakers with an upgraded split-frequency set-up.
"Huawei is continuing to work on its smart all-scenario strategy, focusing on five scenarios: smart home, smart travel, smart office, fitness and health, and entertainment, to create the ultimate smart life experience. Huawei laptops are spearheading the evolution of the modern office into an era of intelligence, creating a new integrated ecosystem experience and ever more intelligent PCs." Wang Yinfeng, President of PC and Tablet Product Line, Huawei Consumer Business Group (CBG), said,
Lightweight and simple, an elegant companion for you
The HUAWEI MateBook X Pro is a testament to the value of perfectionist design. The ultra-slim metal body was manufactured through CNC technology and finely polished through high precision surfacing processes, making for a seamless and comfortable feel in the hand. Measuring just 14.6mm thick and weighing as little as 1.33kg, the HUAWEI MateBook X Pro makes every journey a comfortable one. The HUAWEI MateBook X Pro is also available in a wide range of colours: Space Gray and Emerald Green, to help you to always stand out.
The HUAWEI MateBook X Pro continues to lead the way in terms of FullView Display laptops. With a 3K LTPS display and a 91 percent screen-to-body ratio, the HUAWEI MateBook X Pro offers high-definition viewing to maximise the enjoyment of every visual journey on-screen. The 3:2 aspect ratio of the screen is built for productivity, enabling users to browse and create with ease. The high-precision multi-point touch screen and three-finger swipe screenshot gesture also make for a smother, mobile-like experience.
Lightweight and efficient to free your creativity anywhere and anytime
The HUAWEI MateBook X Pro is thin, lightweight and portable, but also packed with power to upgrade your productivity experience. The 11th Gen Intel® Core

processor, combined with 16GB of LPDDR4x memory, delivers smoother performance and a more efficient experience across work, life and entertainment. The powerful combination of the HUAWEI Shark Fin dual fan design and air-cooled ultra-thin VC technology unleashes even greater levels of performance and efficiency. As a Wi-Fi 6 laptop, the HUAWEI MateBook X Pro offers about three times the transfer rate of traditional Wi-Fi 5, so you can enjoy a stable connection and efficient transfers even in crowded places.
Despite its thin and lightweight form, the HUAWEI MateBook X Pro is packed with energy. With a 56 Wh battery and Huawei's intelligent power management system, you have a long and exciting life ahead of you after every charge. It also supports reverse charging when switched off, so you can travel without worrying about the power. The 65W USB-C pocket charger not only provides fast charging for the HUAWEI MateBook X Pro, but also supports HUAWEI SuperCharge for HUAWEI phones and tablets, so you can use it for multiple purposes.
In addition, the HUAWEI MateBook X Pro features two fully functional USB-C ports that enable two-way data transfer, charging and connection with external devices, versatile enough to support the user through every aspect of work and life.
Enjoy the intelligence of all-scenario interaction
The HUAWEI MateBook X Pro comes fully equipped with Huawei Share, which allows laptops and phones to work together and interact without barriers, allowing users to experience a greater level of intelligence and create more enjoyable experiences.
The multi-screen collaboration feature on Huawei Share allows users to split their phone with their HUAWEI MateBook X Pro, enabling them to operate up to three mobile apps at the same time on the notebook. This means the notebook can be used to multi-task more efficiently by bringing multiple devices together onto one screen. Users can transfer files between their notebook and phone more easily, or open and edit files from the phone directly on the notebook. There's also no need to pick up your phone either; your notebook can make and receive audio and video calls, making it easier to chat in whatever way works for you. Once paired, your laptop can connect to your mobile phone's network with a single click, meaning you can stay online at all times.
Innovative technology upgrades deliver a relaxing new experience
HUAWEI MateBook X Pro has been upgraded with a number of innovative technologies to make work and life easier for the user.
HUAWEI MateBook X Pro introduces the new HUAWEI Free Touch to upgrade touch control experience. The spacious touchpad offers an unrestricted experience, with full vibration feedback to open a new level of interaction. The Huawei Share connectivity area is embedded beneath the touchpad, allowing the user's mobile phone and notebook to be easily interconnected with a single touch.
HUAWEI MateBook X Pro is like an on-the-go cinema, perfected in terms of sound, with four upgraded split-frequency speakers to deliver immersive surround sound. Advanced audio algorithms also help ensure the user feels like the sound is coming from within the room, no matter their position in regard to the laptop. The advanced edge microphone set-up and AEC algorithm help detect sound more remotely and more accurately, making communication clearer and more efficient, whether you're socialising or having a meeting online.
HUAWEI MateBook X Pro takes care of your privacy too. It has inherited the Fingerprint Power Button, allowing the user to power up and log in to their notebook in one easy step, making start-up incredibly fast and secure. Meanwhile, the recessed camera gives you a broader view of the screen and helps you protect your privacy.
UK Availability & Pricing
HUAWEI MateBook X Pro 2021 Intel 11th Gen I7 (16GB RAM, 1TB Storage, RRP: £1599.99) will be available in Space Grey and Emerald Green, starting 5th May from the Huawei Store and selected retailers
Posted by Mighty Gadget Blog: UK Technology News and Reviews
Thanks for reading, check out Mighty Gadget Blog: UK Technology News and Reviews for more Tech news!