During the Huawei Mate 30 launch, the Huawei Speaker X was announced, a smart speaker co-developed by French brand famed for their high-end ultra-powerful Phantom speakers.
At the time it was announced with December 2019 availability, however, for people in Europe and the UK it sort of fizzled out with no word on if or when it will be launched.
This has now changed, and the Huawei Sound X will soon be available to buy from 17th August on the Huawei Store (RRP £299.99). To sweeten the deal, if you buy it before the end of August, Huawei will even through in a free Huawei MatePad T8 tablet (RRP: £99.99, currently £89.99).
However, it is worth noting that this speaker isn't quite the same as what launched in China, the hardware itself remains identical, but they have removed the smart features, likely due to the ongoing political issues the company faces.
Huawei Sound X Specification
Dimensions – 165 mm (D) x 203 mm (H)
Weight – About 3.5 kg
Frequency Response – 40 hz – 40 Khz
Speakers – 60W dual 3.5-inch woofers, 6 x 8W 1.5-inch full-range speakers, 360-degree sound
Volume – 93dB
Connectivity – Bluetooth only
Hi-Resolution Audio
NFC & Huawei Share Audio Sharing
Devialet Speakers & the technology behind them
Devialet is a relatively new audio company from France, founded in 2007, they have been making waves in the audio industry in recent years.
Their first products were amplifiers, releasing their first speaker in 2015. It is this speaker, and its iterations, that has been popping up in social media and news items with glowing reviews regularly for the past few years.
The classic Phantom which launched in 2015 is currently £1790 and comes in a relatively compact design looking like some futuristic alien device that has 2000W of power and is capable of producing 103 dB SPL with unprecedented levels of bass for a speaker its size.
This was then followed up by the Phantom Gold which ups the price to £2490 and the power then reaches 4500 Watts capable of 108 dB of sound. While the decibel increase doesn't seem like much, it works on a logarithmic scale. For reference, a chainsaw at 1M is typically 110dB, and you are recommended to wear ear protectors.
A speaker is more than just the volume of sound it produces though; it needs to produce this without distortion and as accurately as possible to how the source material intended the sound to be.
Deveialet is able to offer a frequency response of 14Hz to 27kHz (@-6dB) with an accuracy response of ± 2dB from 20Hz to 20kHz.
They have developed a whole bunch of technologies to be able to achieve and outperform most speakers of similar dimensions. It is these technologies that Huawei have used withing the Sound X to allow them to achieve the quality of sound they can from such a small speaker. The two specific technologies Huawei use are:
Speaker Active Matching
Speaker Active Matching processes the sound signal in real-time the exact signal that has to be transmitted to the speaker allowing the speaker to accurately reproduce the recorded acoustic pressure of the source material
Push-Push Woofers
Strangely, Deveialet doesn't appear to use this terminology for their own speakers, but one of the most recognisable features of the Deveialet speakers is the two woofers sitting opposite each other. The idea is that the two woofers work in unison to produce exceptional levels of bass, but their placement then cancels out the vibrations typically associated with powerful woofers enclosed in cabinets. So you end up with perfect bass with no vibrations or distortions.
This technology then allows you to literally view the pulsating sound, a feature that has made Deveialet popular on social media sites with its visually impressive performance.
No smarts features or Alexa – Bluetooth only
The global launch of the speaker is Bluetooth only, this is a little confusing because the Huawei website state Wi-Fi and UPnP. The speaker is also equipped with quite a beefy MediaTek MT8518 quad-core chipset, with 512MB of RAM and 8GB of ROM, which seems a little overkill for what is essentially a dumb speaker.
The Chinese variant is compatible with Huawei's HiLink technology which allows you to control compatible smart home products from the likes of Midea, Gree, TCL, Haier, Skyworth, Bosch, Siemens and more.
Presumably, the reason for this is the political issues Huawei is currently suffering from. With this being Bluetooth only, it just works, and there should never be any issues with it going forward.
Set up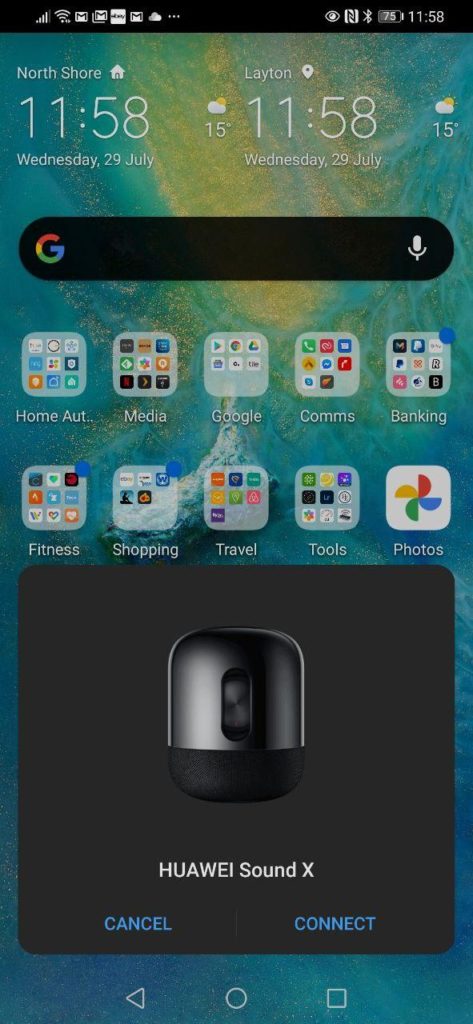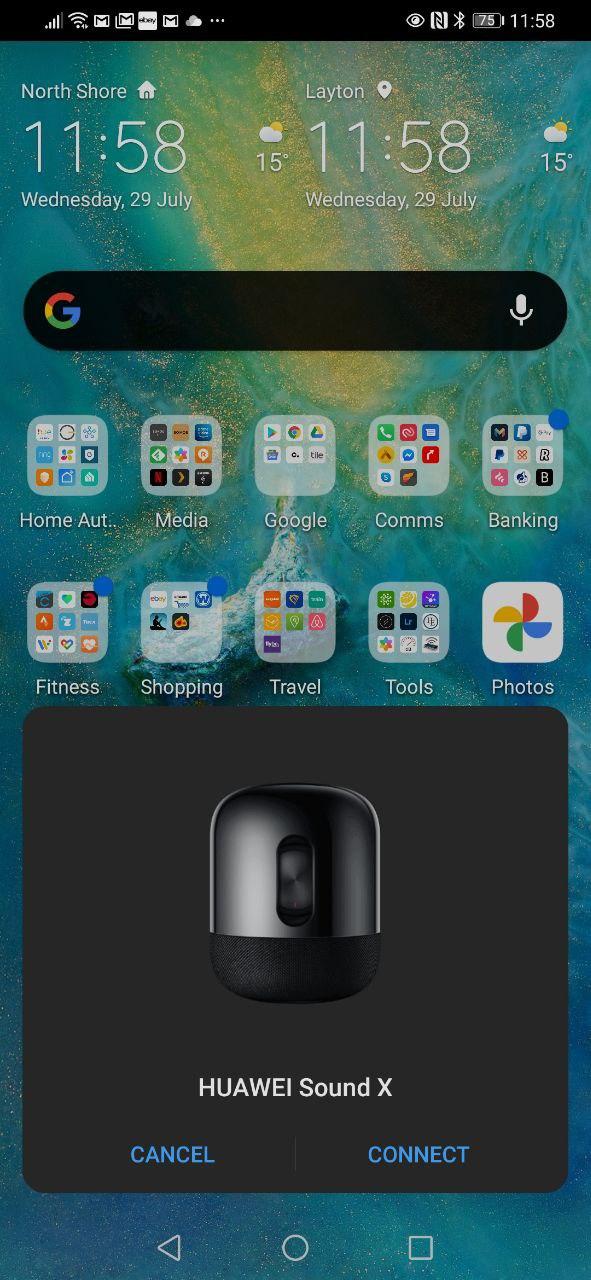 With it being Bluetooth only, there is not much in the way of set up. However, Huawei make it even easier, the speaker has NFC so you can tap to connect.
When not connected, if you listen to a song on a Huawei phone, such as the P40 Pro, you simply tap the Sound X and it will instantly initial the Huawei Share Audio Sharing.
Performance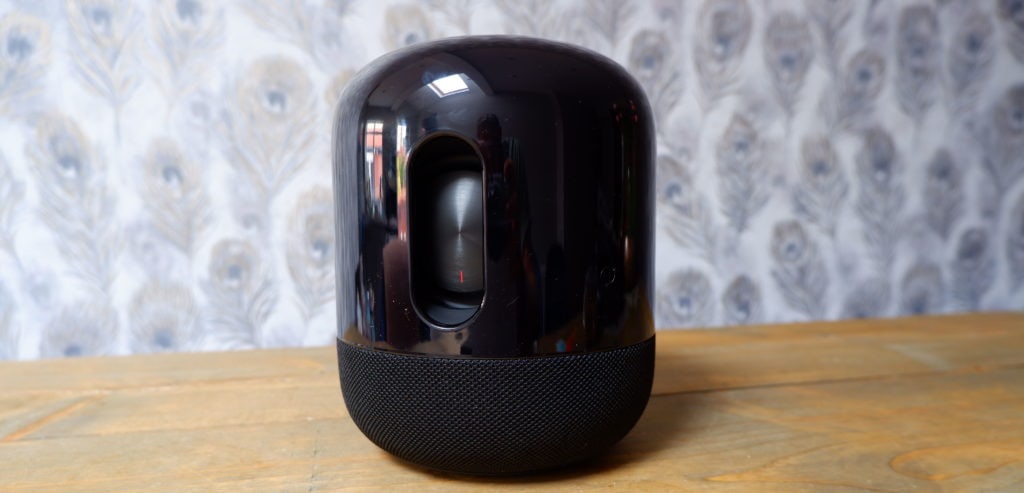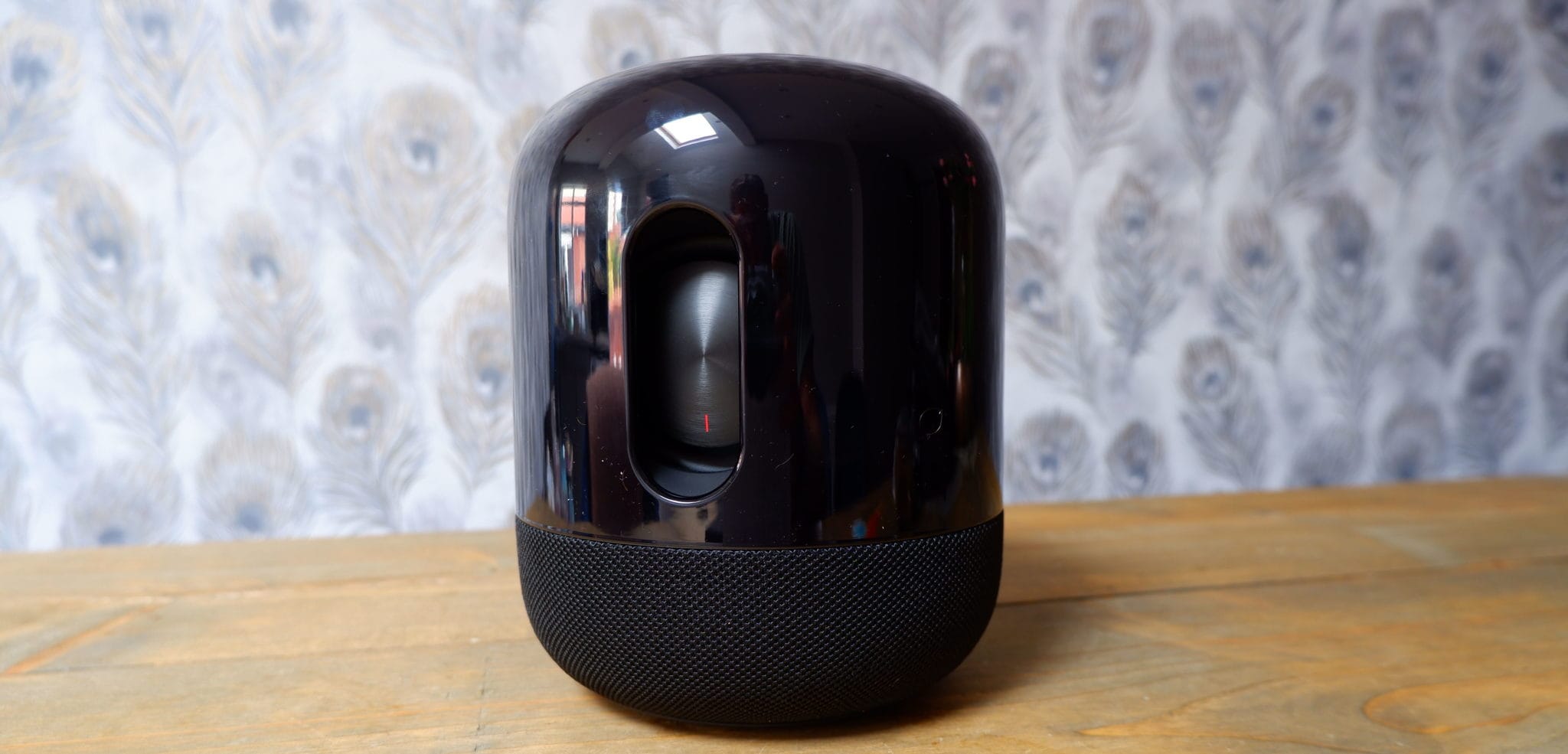 With so much focus on Devialet being a part of this speaker, anything less than amazing would be disappointing.
Thankfully the speaker seems to live up to the hype. It is not going to compete with the Phantom speakers, but for a £300 speaker that's about the size of a watermelon, this is an impressive piece of hardware.
I used this primarily in my kitchen where I also have a Sonos One a Sonos Beam, I am also in the process of reviewing the much more expensive BlueSound Pulse Mini 2i.
The speaker easily outperforms the Sonos devices and is comparable to the BlueSound; the bass lives up to the claims providing a far deeper less distorted sound than similarly sized and priced products. The single speaker can fill up my quite large kitchen and dining area without feeling strained or introducing distortions and provides a detailed and spacious soundstage. If you want to push it hard, it can get very loud considering its size.
The separation between the frequencies is also excellent, and the speaker is able to produce accurate mids and highs without sounding too sharp or harsh.
Moving it outside, away from all the hard surfaces of my kitchen, the Sound X sounded even better, even at low volumes. The bass is exceptionally impressive without drowning out the other frequencies.
The speaker will also adapt the audio based on the environment around it, so whichever room I placed this, it always sounded good, even when it was shoved in a corner.
Price and Competition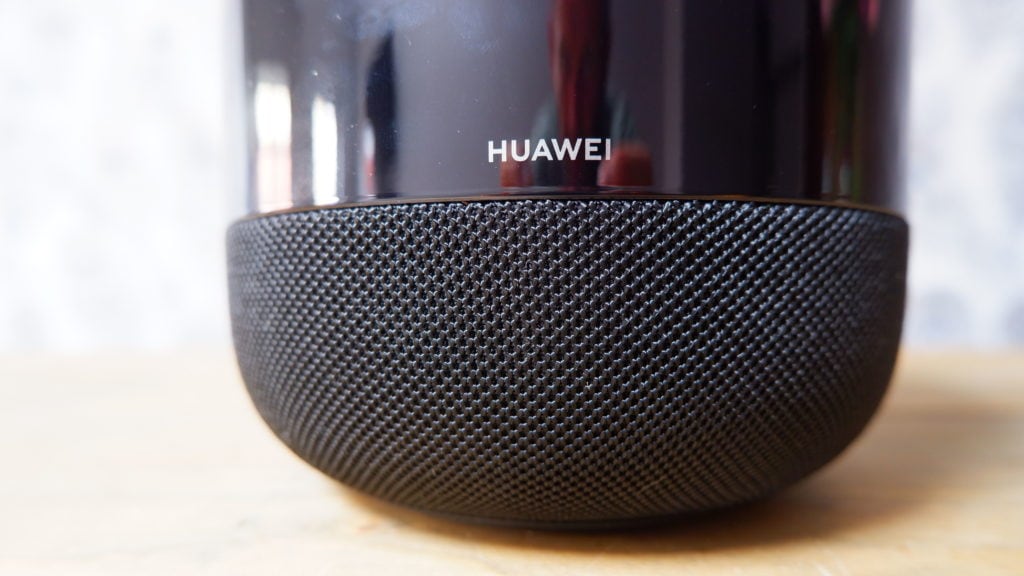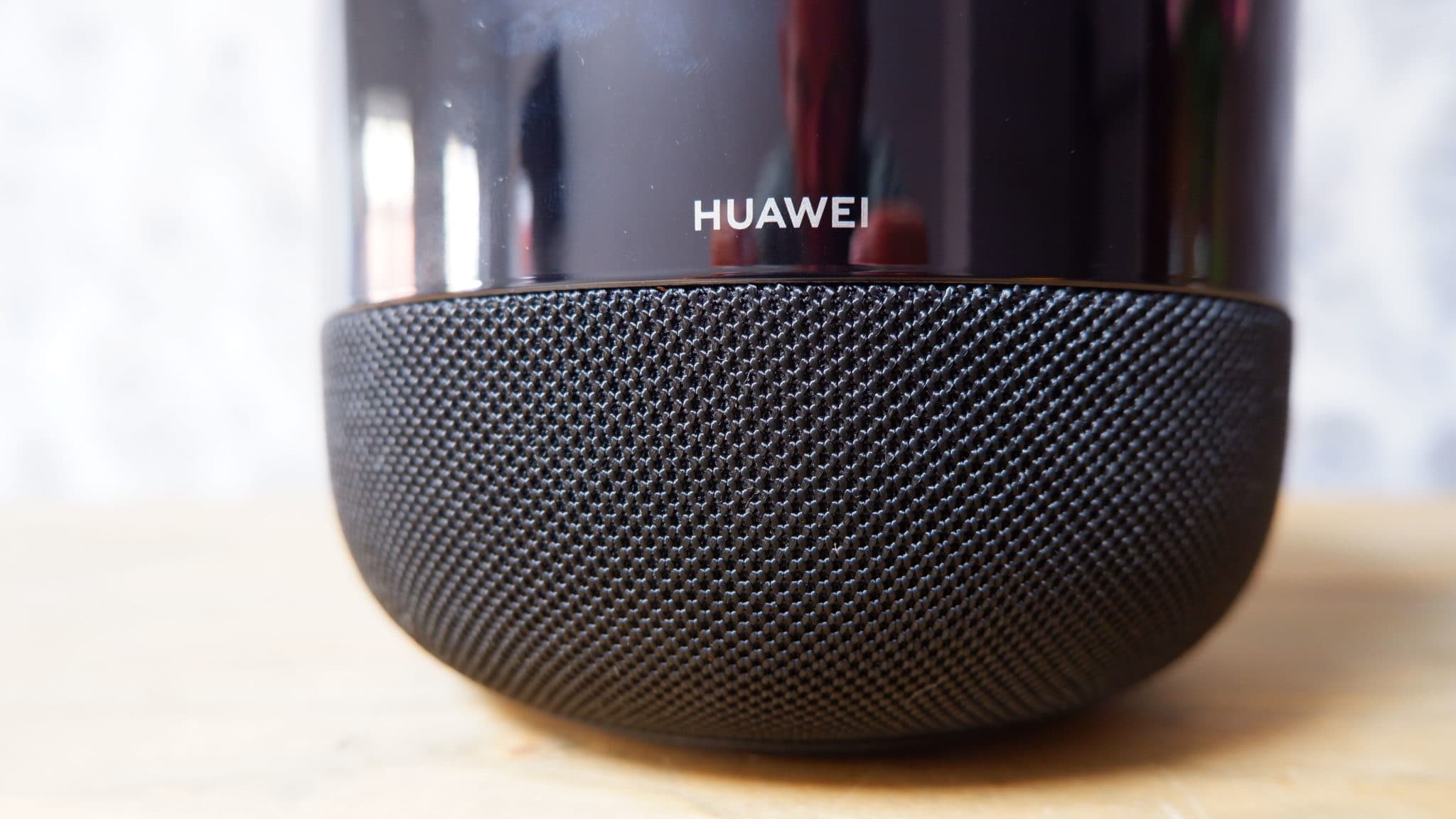 Finding a like for like alternative is not that easy. There are not many, if any, none portable Bluetooth only speakers for around £299. The trend is shifting more to smart speakers, or at least music streaming speakers requiring Wi-Fi/Ethernet.
That is not specifically a mark against Huawei, with Sonos recently refusing to upgrade some of their older speakers, there are benefits to be had sticking with something more simple.
Ruark MR1 MkII for £329.99 is a pair of stereo Bluetooth speakers but with the benefit of line-in
JBL Xtreme 2 for £279 – this is a portable Bluetooth speaker, but it is a similar price with a lower power output of just 20w x 2 and a smaller frequency response of 55Hz – 20,000Hz
Apple Homepod for £199 – Not really comparable but Huawei have put it on their own comparison list, being both cheaper, smaller and lighter it is no surprise the Homepod can't compete with sound only offering a 50Hz to 20kHz frequency response with 87dB of sound. However, it is a smart speaker with considerably more functionality.
Bose Resolve+ for £279.95 RRP is another speaker Huawei compares themselves to, while this may be similarly priced it is portable and weighs just 0.9KG so will sound nothing like the Huawei. This is only capable of 70Hz and 13kHz frequency response and just 86.5dB of sound.
Altice Amplify – This isn't really a competitor but has a lot of similarities to the Sound X. The Amplify is a smart speaker for TV and audio sold for $399 in the US for customers of Optimum. It is another collab with Devialet using push-push woofers and Speaker Active Matching, it even has some design similarities such as the control on the top. However, it weighs less at 2.5KG and only has three full-range drivers vs 3.5Kg and six drivers.
Overall
The Huawei Sound X is definitely the best Bluetooth speaker I have ever used, it also easily outperforms the more expensive Sonos One I have or, the cheaper Sonos One. However, you also sacrifice a lot of functionality to get this level of performance from a £299 small speaker.
It would have been good if Huawei had offered this with line-in or optical, giving you more flexibility with your set up and the possibility to ham-fist your own smart speaker.
In terms of the overall sound quality and its ability to fill a large room, even with the limited connectivity, this represents good value for money.
Overall, I think this is a superb speaker, but I am not sure how easy it will be to convince the general public to layout £300 for a none portable Bluetooth speaker.
The Huawei Sound X will be available to buy from 17th August on the Huawei Store for £299.99, and if you buy it before the end of the month they will throw in a Huawei MatePad T8 tablet (RRP: £99.99, currently £89.99).