The Huawei Watch 2 was announced back in 2017 running Wear OS, but in the following years, they ditched Wear OS in favour of a less smart LiteOS. With LiteOS, you got what you were given, and you had to live with it. While that doesn't sound appealing compared to Wear OS, with its apps, it offered well over 10 times the battery life. Battery life is the biggest weakness of smartwatches and the main reason why I have never committed to using a Wear OS watch.
Today, Huawei are now back with a successor to the Watch 2. The imaginatively named Huawei Watch 2 and the Huawei Watch 2 Pro, however this time, it will use the brand new HarmonyOS, and from my pre-brief, it sounds like it could be better than any Wear OS watch on the market currently.
Some of this may not be 100% accurate. Writing this on the announcement day, I still don't have an embargoed press release. So I instead have to resort to notes/memory from my pre-brief, which itself was thin on the ground with details.
Political woes force the shift to HarmonyOS
With Huawei no longer allowed to work with Google, they are having to forge ahead, attempting to make their own ecosystem. In a Google-free world, the Huawei phones have been struggling in western markets, especially the UK, though thriving in China. Their troubles have been significant enough that Huawei sold off their sub-brand Honor, allowing Honor to develop devices without the same restrictions.
Huawei's long term solution has been HarmonyOS, and this year we will finally see phones launched and upgraded to the new platform. It will no doubt be a great success in China, but they will still face similar issues in the UK and EU.
Huawei Watch 3 first global consumer device with HarmonyOS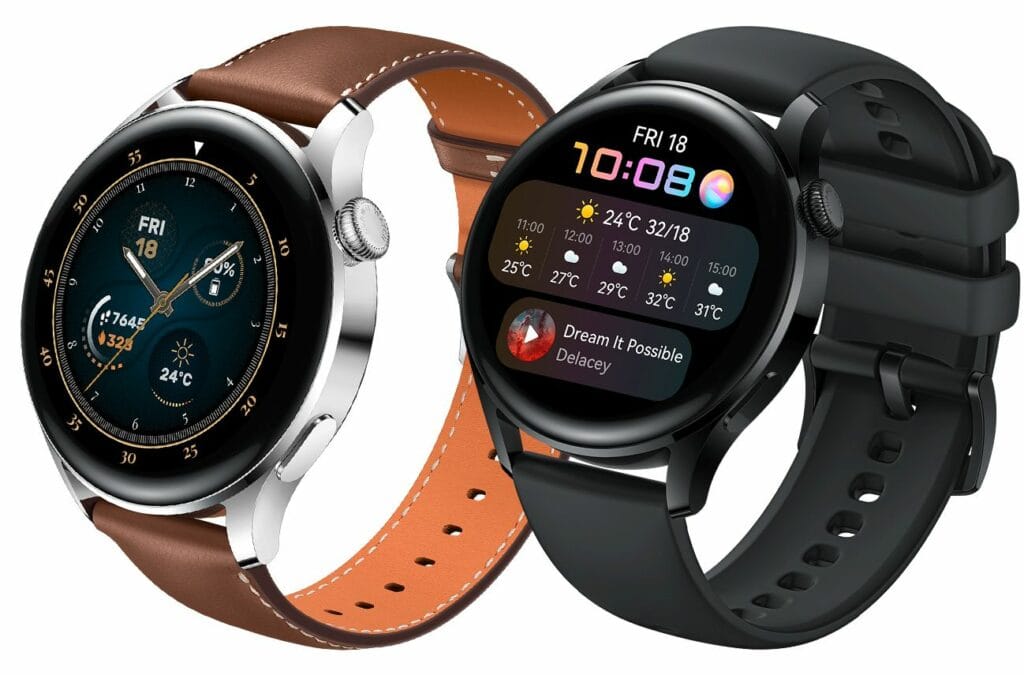 The Huawei Watch 3 series will represent the first consumer devices to launch with HarmonyOS, globally. It has been launched on TVs, and the Huawei P40 series can upgrade to the beta, but this is the first proper device.
Apple Watch & Wear OS beating battery life
The best feature of these watches is the battery. It is claimed that the Huawei Watch 3 can achieve 3 days battery life in regular use, while the Pro model can go up to 5 days. You can then extend the battery up to 14 / 21 using the ultra-long battery life mode.
I am currently reviewing the Suunto 7, and it claims to offer 48 hours of smartwatch use or up to 12 hours in GPS tracking mode. In the finer details, they state:
"For long days you just don't want to end, Suunto 7 provides up to 18 hours of versatile device use and up to 4 hours of outdoor workout."
In reality, I have to charge every morning, but I rarely use music or maps. I mainly use it to track workouts and for notifications. My partner chargers her Apple Watch daily.
If I could get two full days comfortably from a watch, I could be convinced to ditch my Garmin.
Ultra-long battery life mode
Normally with the ultra-long life modes of many smartwatches and sports watches, you lose out on a significant amount of functionality.
Huawei indicated that this is not the case with the Huawei Watch 3. With this mode, you will still have access to 14 workout modes, most of the daily functionality including heart rate, step counting, sleep tracking and Bluetooth calling. You will even get animated watch faces.
It would have perhaps been more useful if they had stated what was reduced in order to achieve a four-fold increase in battery life, but hopefully, I will get to test it and find out myself.
What about apps for HarmonyOS
The Huawei Watch 3 has apps, but obviously a lot less than Wear OS. This isn't a problem for me, personally. I don't feel like a smartwatch needs a lot of apps, but having some is essential.
Huawei didn't give an exact list of what is available, but there were several fitness apps, and one was Komoot.
HarmonyOS does support Android app, but I am not sure if this is possible with WearOS app, I would imagine it is easy to port the apps over. Harmony has the Ark Compiler, which allows developers to quickly port their Android apps to the new OS.
Google/Apple Pay alternative?
One thing missing from this watch that people will likely want, is the ability to pay for things. Huawei made no mention of this, and I imagine implementing it would be quite difficult for them. Hopefully, in time it is something they will roll out.
Huawei Watch 3 Features and Specification
Chipset – Kirin A1 or something new?
Huawei was very coy about in their pre-brief was the internal specification. Since the Huawei Watch GT 2, they have used the Kirin A1 chipset, but I am not sure if this is powerful enough to drive a full smart OS.
A leak just before the launch of the watch states it uses the LTE capable Hi6262 SoC, it then has 2GB RAM and 16GB Storage.
Display
The Huawei Watch 3 has a 60Hz 1.43″ AMOLED display running at 466 x 466 pixels (326 PPI) capable of 1000nits of brightness. The display runs edge to edge, and it appears to have a curved edge similar to the Zepp E.
Crown
The Huawei Watch 3 features a traditional looking crown. This is functional and can be used to navigate around the watch interface. Having physical buttons can be advantageous for things like sports where sweat or water may affect touch screen usability.
Dual-channel GPS for superior accuracy than Apple Watches
Huawei claim the Huawei Watch 3 has Apple Watch 6 beating GPS thanks to dual-channel GPS (GNSS)
Dual-channel GNSS is the ability of GNSS modules to receive two different GNSS signals at different frequencies from the constellation of satellites.
Features of Dual-channel GNSS:
Reduced signal acquisition time.
Improved position and time accuracy.
Reduction of problems caused by obstructions such as buildings and foliage.
Improved spatial distribution of visible satellites, resulting in improved dilution of precision.
It is worth noting that this functionality is featured on many phones from Huawei, Xiaomi, Google and Samsung and many people state the benefits of it are marginal.
It will likely be that the benefits for a watch are even less, due to the physical constraints of the antenna size and the placement on your wrist.
Mounting the watch away from your body on an antenna plate would offer the best results, but this defeats the object of a smartwatch. However, I will take any improvement I can get.
eSim / 4G connectivity
Smartwatches with 4G LTE connectivity are few and far between, Apple and Samsung are your two main choices. Huawei will now be joining them with you requiring an eSim to gain mobile connectivity. EE, Vodafone and O2 now all offer eSIMs.
Huawei didn't state if there were none LTE models, so I assume they will offer this functionality as standard.
Huawei Watch 3 Pro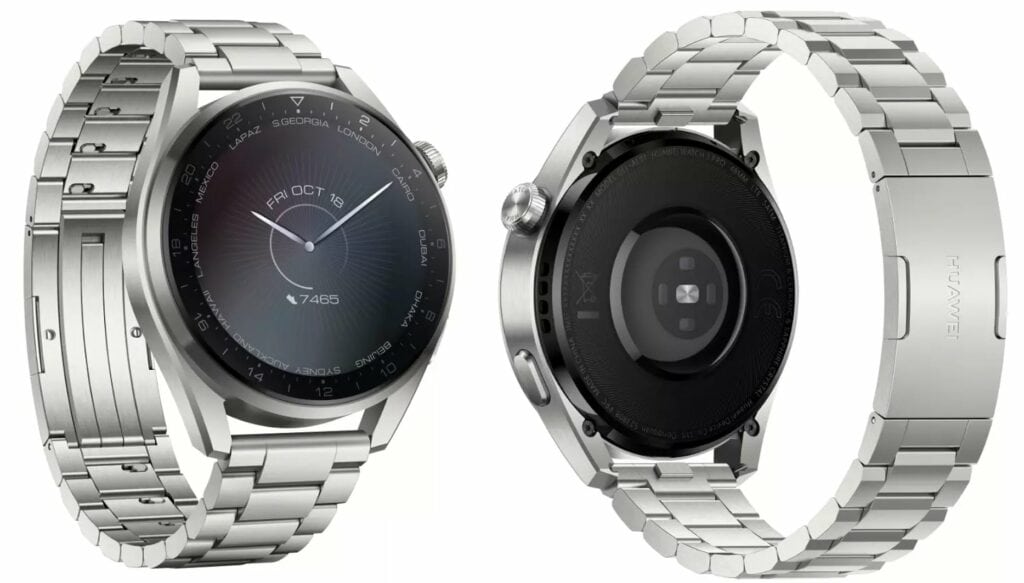 The Huawei Watch 3 Pro adopts the same concept as the excellent Huawei Watch GT 2 Pro. All the material are upgraded, giving a premium aesthetic. This includes a sapphire display and ceramic back.
It then also has a significantly improved battery life. If these claims turn out to be true, this could easily be the best smartwatch on the market by far.
Price and Availability
UK pricing and availability now confirmed as:
HUAWEI Watch 3 will launch from 18th June (starting from RRP: £349.99) from the Huawei Store and selected retailers. Customers will also be able to reserve their device from the Huawei Store from 2nd June to 17th June. Customers who reserve their device with a £20 deposit will be able to purchase the Watch 3 from launch day, with an additional £20 off, plus a free pair of HUAWEI FreeBuds Pro (via redemption).
HUAWEI Watch 3 Pro will launch from 28th June (starting from RRP £499.99) from the Huawei Store and selected retailers. Customers will also be able to reserve their device from the Huawei Store from 2nd June to 27th June. Customers who reserve their device with a £50 deposit will be able to purchase the Watch 3 Pro from launch day with an additional £50 off, plus a free pair of HUAWEI FreeBuds Pro (via redemption).
Overall
HarmonyOS on a watch makes a lot of sense to me. My watch doesn't need all the apps my phone has, but the Huawei Watch GT series didn't have quite enough functionality for me. In particular, Strava.
It is also a good way for Huawei to get some traction with its new HarmonyOS ecosystem.
The press shots I have seen of the watch make it look fantastic and the premium materials of the Watch 3 Pro should make the watch stand out from the crowd.
It is all about the battery life for me. A smartwatch with a useable battery could completely transform the market and put significant pressure on sports orientated brands such as Garmin and Suunto. It could also, finally, give Apple some decent competition for the wearable market.
Full Press Release
Huawei finally sent me the press release, so any bits I missed off will be in this copy and paste job.
Huawei has announced the launch of HUAWEI Watch 3 Series, which consists of HUAWEI Watch 3 and HUAWEI Watch 3 Pro, two smartwatches that run HarmonyOS 2 to bring consumers convenient and smart life experiences that are underpinned by continuous health monitoring features (including a high-precision temperature sensor for the first time to support skin temperature detection), up to 21-day battery life and independent calling. 
"The brand-new HUAWEI Watch 3 Series is powered by HarmonyOS 2. The new smartwatches are independent, smart, and as powerful as smartphones. They are designed to make everyday life more convenient than before," said Kevin Ho, Chief Operating Officer of Huawei Consumer BG. "Health and fitness monitoring has always been one of our wearables' core strengths and this time, we are including skin temperature detection, handwashing and fall detection to offer a more complete feature set for users to take better control of their own health."
Redefining smartwatch aesthetics
The HUAWEI Watch 3 Series strikes a balance between smartwatch and traditional watch aesthetics. The polished stainless steel watch body is adorned with a pane of ultra-curved 3D glass and a large display, culminating an elegant design for the smart timepiece series. HUAWEI Watch 3 Series is the first Huawei smartwatch series to come with a 3D rotating crown that offers tactile feedback. Thanks to the high-precision finger movement recognition, users can zoom in and out of images and slide across the menu options accurately. HarmonyOS 2 also introduces a whole-new user interface with a grid launcher app menu, which complements the 3D rotating crown to deliver a smoother and more intuitive user experience.
The HUAWEI Watch 3 Series debuts with a more expansive selection of watch faces and watch straps that provide options for users to personalise their smartwatch. With a wide range of innovative and interesting themes including technology, gaming, DIY and short videos, the watch faces can be mixed and matched with fluoroelastomer, nylon, leather, stainless steel and titanium straps to create the perfect accessory to go with any outfit.
Continuous Health Monitoring
HUAWEI Watch 3 Series is a professional fitness monitoring assistant, offering over 100 workout modes, and now skin temperature detection with the new high-precision temperature sensor. It will also bring in new features such as handwashing detection and fall detection, and coupled with health monitoring features such as heart rate, SpO2, sleep and pressure, the smartwatch series' comprehensive feature set allows users to stay up to date on their health.
The HUAWEI Watch 3 Series provides comprehensive protection to safeguard users' data privacy and seeks users' express consent before any data is logged. The HTTPS encryption secures the data in transit, providing users with peace of mind while they enjoy the benefits of Huawei's health and fitness features.
Up to 21-Day Battery
HUAWEI Watch 3 Pro features ultra-long battery life[4], supporting five-day battery life in smart mode and provides 21 days in ultra-long battery life mode. HUAWEI Watch 3 can stay powered for three days in smart mode, and 14 days in ultra-long battery life mode.
Independent Calling
HUAWEI Watch 3 Series supports standalone connectivity. By activating the eSIM service on their smartphones, users can share the phone number as well as voice and data plans between their smartphone and smartwatch. When travelling, users can turn the HUAWEI Watch 3 Series into their personal travel assistant and view taxi information or flight status by raising their wrist, saving them from the hassle of having to juggle their smartphone and luggage.
UK App Partners
HUAWEI Watch 3 Series comes pre-installed with AppGallery, where users can download third-party apps. One such app is leading global fitness and wellness community app TRUCONNECT by TV.FIT which will be the one of the first major UK partners to deliver an integrated app for the HUAWEI Watch 3. The fitness app, which offers a range of workouts for all levels led by leading trainers and celebrities, launched on Huawei smartphones last year and is now coming to the HUAWEI Watch 3, offering users seamless and connected journey across their devices. The app utilises the continuous health monitoring capabilities of the watch, including heart rate and Sp02 tracking, to ensure users have the best data possible to get the most from their workouts. TRUCONNECT will also bring new features and capabilities to Huawei users first, such as swimming and climbing tracking (to launch in the coming weeks), delivering even more benefits to customers. 
Posted by Mighty Gadget Blog: UK Technology News and Reviews