With both Huawei and Honor sharing the same watch platform, they have recently launched two watches which are almost the same, but completely different.
The Honor Watch GS Pro leans into the fitness features adopting an outdoorsy aesthetic for fans of watches like the Casio G-Shock.
The Huawei Watch GT 2 Pro refreshes the design of the original GT 2 with a traditional look and premium materials.
I have been using the GT 2 Pro for the past week to see if it has changed much since the original GT2 launch.
Specification
Display: 1.39 inch AMOLED 454 x 454 HD
Build: Titanium case, sapphire glass, ceramic back
Chipset and Storage: Kirin A1 processor & 4GB of storage for music
Connectivity: GPS, Bluetooth 5.1
Sensors: Accelerometer sensor, Gyroscope sensor, Geomagnetic sensor, Optical heart rate sensor, Ambient light sensor, Air pressure sensor, Capacitive sensor
Battery Life: 14 days for typical use with wireless charging
Water Resistance: 5ATM
Built in speaker for audio prompts
Colours: Night Black, Nebula Gray
Features the watch does have
With a mixture of smartwatch platforms, it is important to realise they vary widely with functionality. The Huawei ecosystem is more basic than WearOS. The benefit of this is typically cheaper hardware and exceptional battery life, while still offering most of the functionality you want from a smartwatch.
Built-in GPS
Wrist-based heart rate monitoring
Extensive fitness tracking options
Two weeks + battery life
Blood oxygen tracking following a firmware update in the future
500 songs worth of storage for offline music playback
Autotracking for some activities
Features the watch does not have
No installable apps
No maps for navigation (but a basic route back function)
No NFC for contactless payments
No data export to Strava
No replies to texts, emails etc.
Does not sync music with Spotify or other streaming apps (except Huawei Music)
Huawei Watch GT2 Pro vs Huawei Watch GT2 & GT2e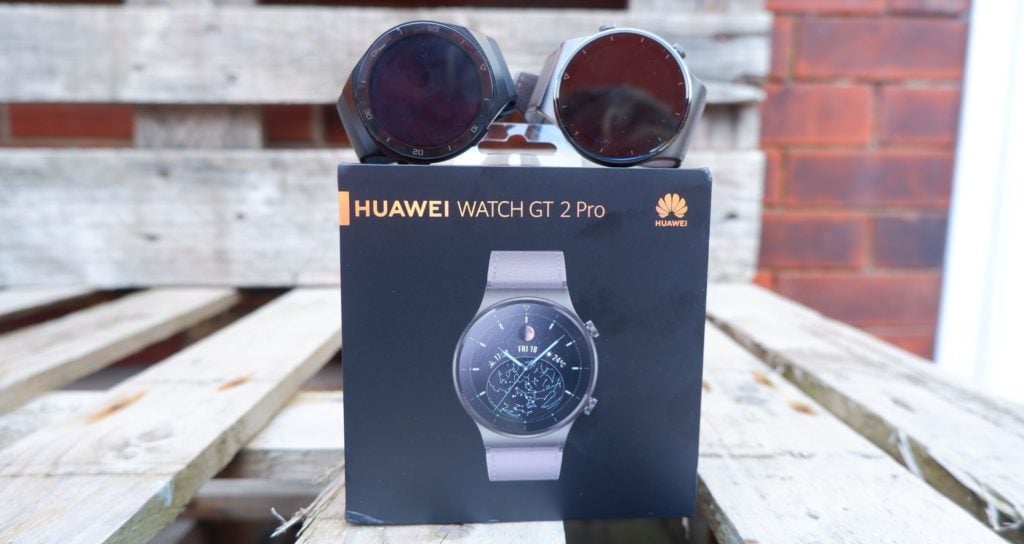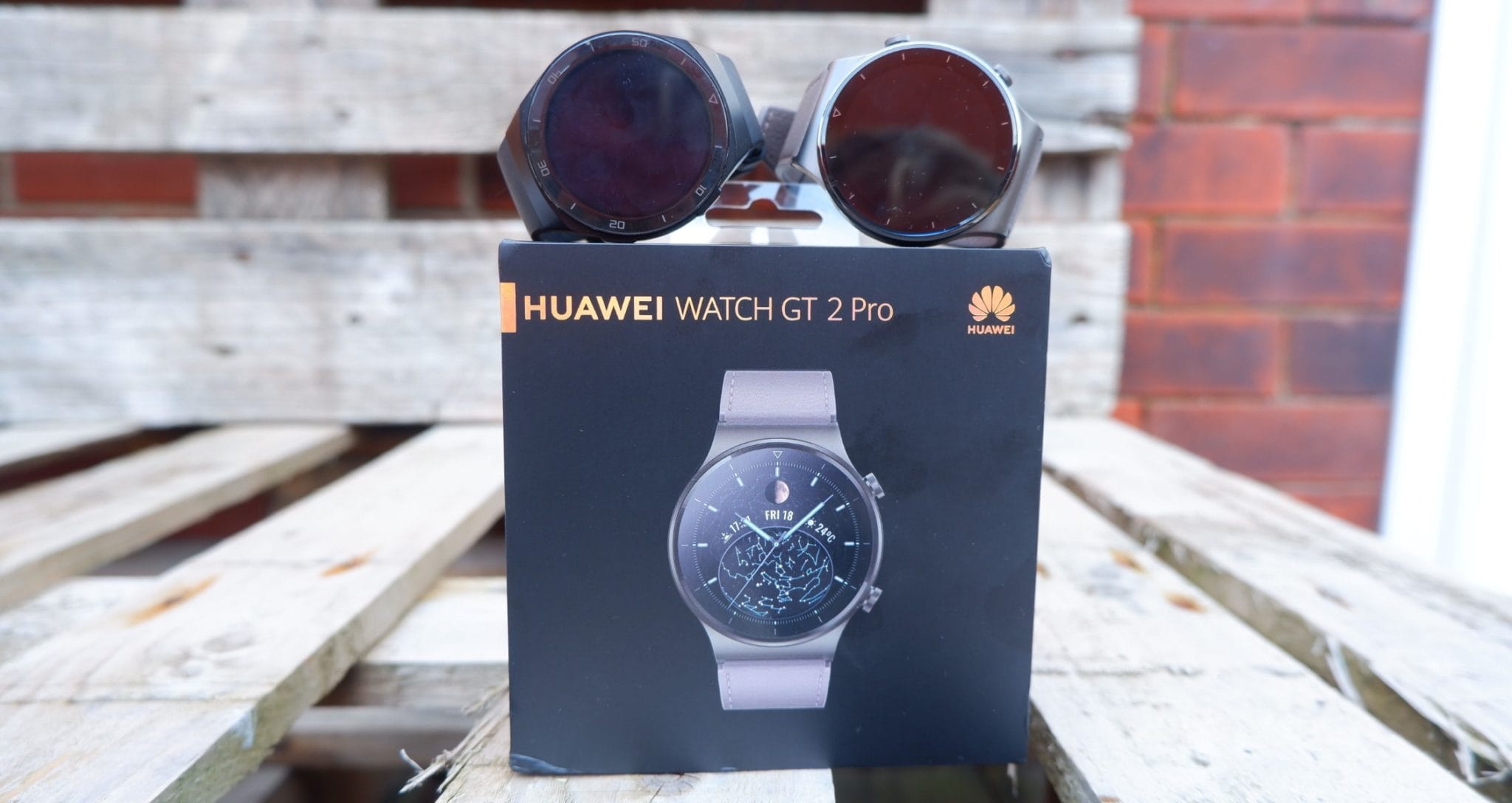 All three watches are more or less the same, they are all built around the same Kirin A1 chipset, with the same display, battery and LiteOS operating system.
A small number of features has been added with each generation. In terms of functionality this watch has added:
More sports modes
A new route back function
Sunset, sunrise, and tidal phases.
Route back GPS feature – its not a map but a GPS plotted line that you can follow.
Sudden weather changes
Only comes in one size unlike the GT 2 which had a smaller 42mm model
I am not sure if any or all of these features will be rolled out to the older generations. The hardware itself should be capable of handling most of these features.
In terms of hardware, this is a refresh of the GT2, so more of a fashion style than the sporty GT2e. The main selling point of this is the vastly improved build quality with a sapphire glass display, ceramic back, and titanium case.
As far as the hardware functionality upgrades go, the only two things I am aware of is the new QI wireless charging and a new, improved optical heart rate monitor.
Build and Design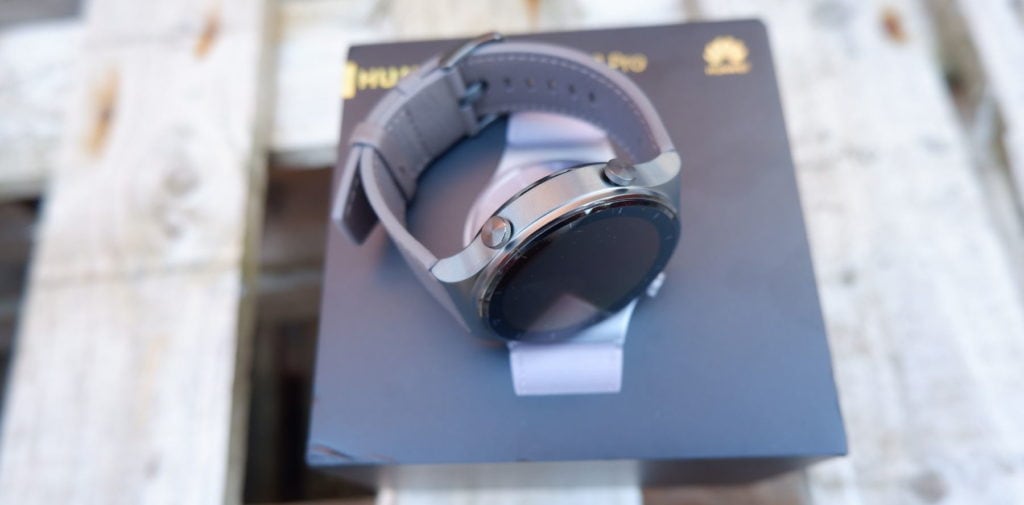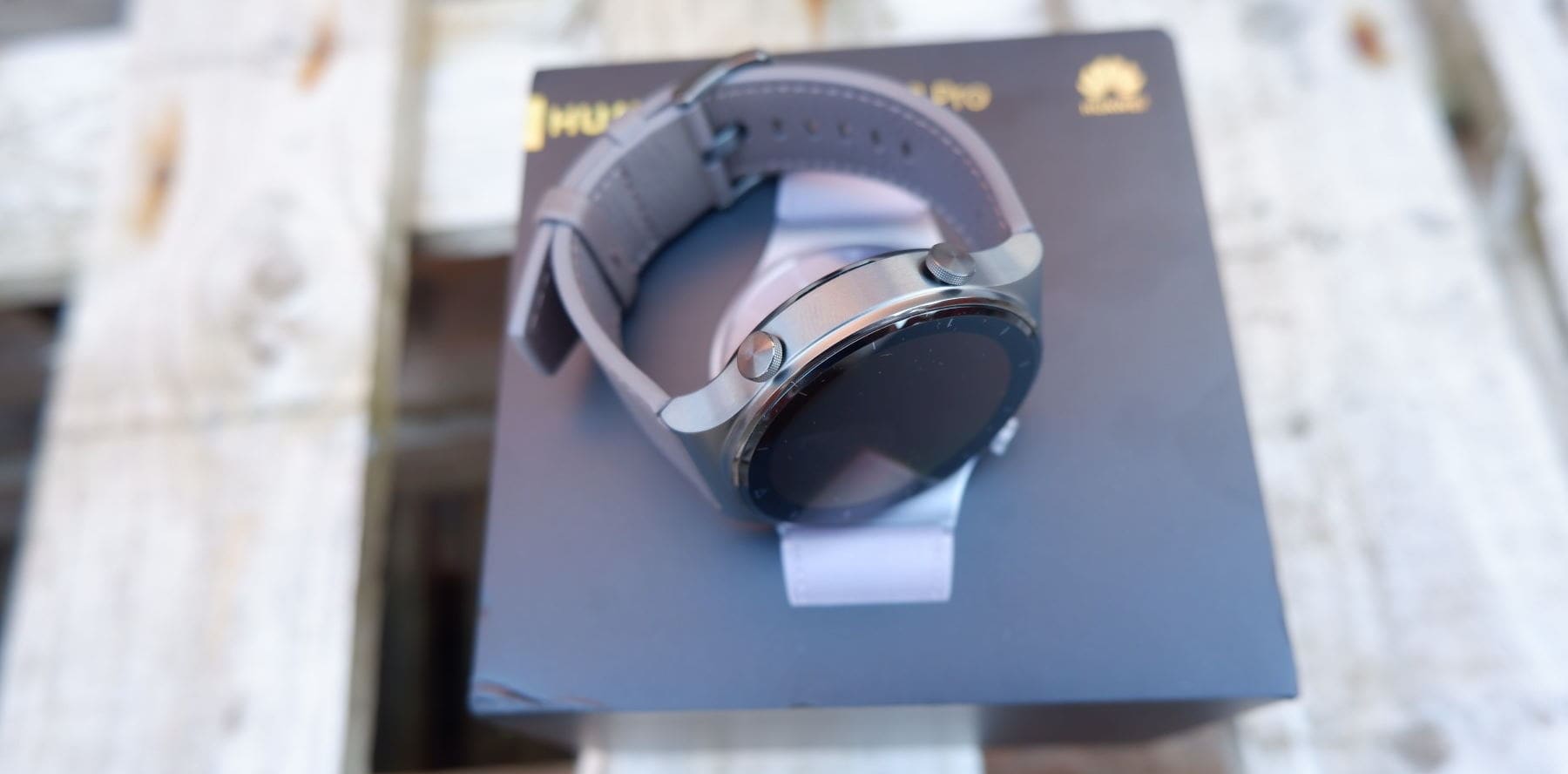 The Huawei Watch GT 2 Pro adopts a similar fashion-oriented design to the GT2; it is one of the nicest looking smartwatches on the market offering a reasonably similar aesthetic to traditional watches.
Sadly, there is no 42mm model, so this requires big wrists or a preference for oversized watches. I am cursed with quite slim wrists but I quite like the look of it on me, my Garmin Fenix 6 Pro is a similar size, so I guess the larger look has become normalised for me.
I think I prefer the overall design of the original GT2, I liked the way the strap connects to the watch, with a gap between the casing giving it a similar aesthetic to pilot watches from the likes of IWC. With this, the casing sits flush up against the strap. I also preferred the silver casing with a tan-brown leather strap, again making it look a little more like a traditional watch. This is just a personal preference rather than a criticism.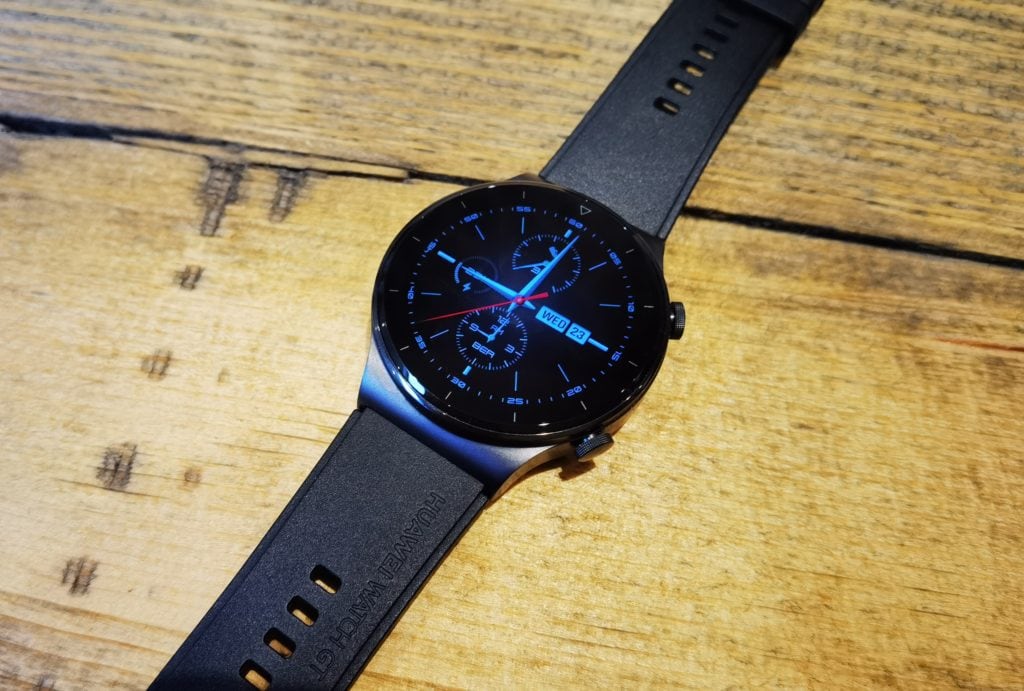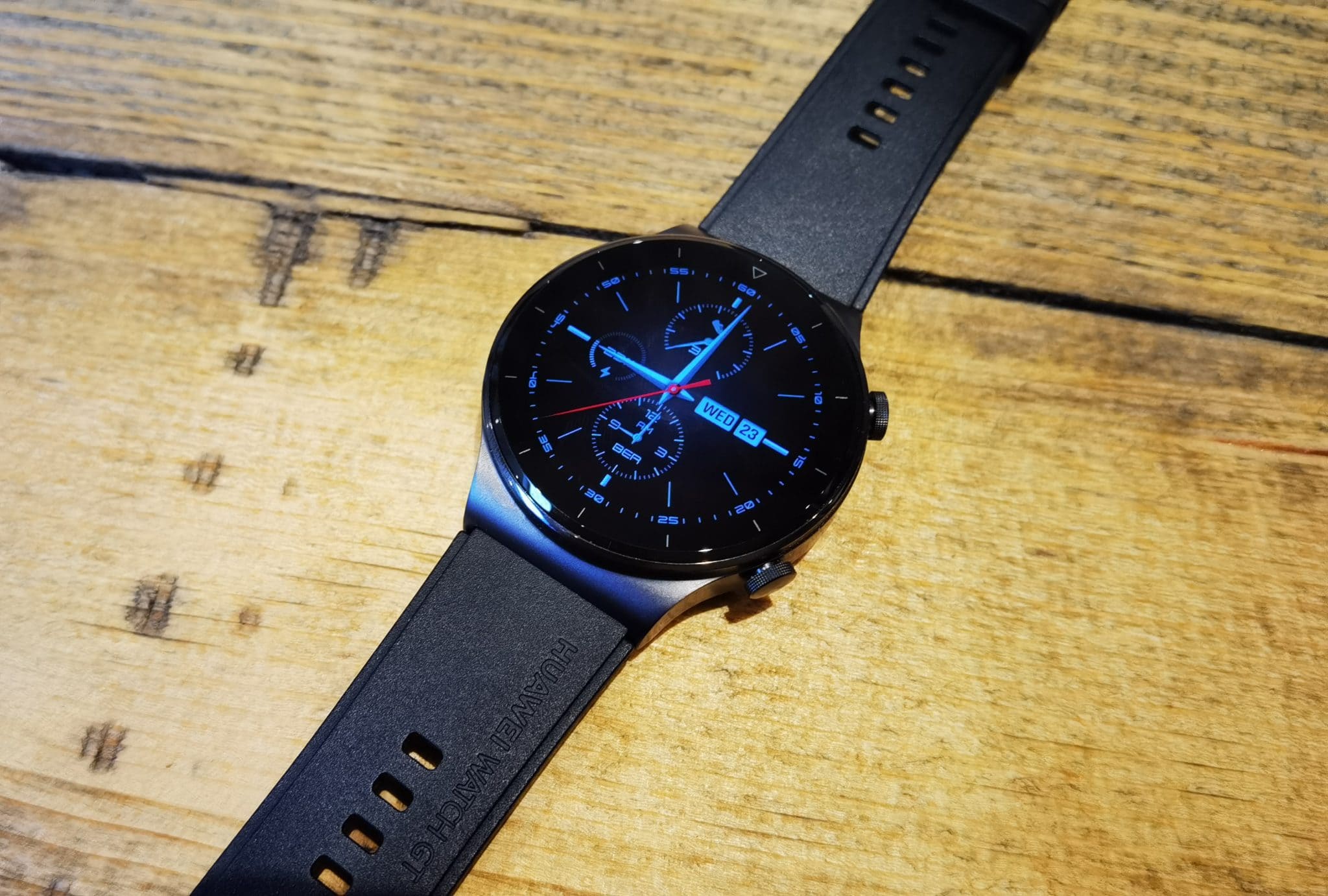 The materials used in this watch have been significantly improved, using a titanium casing, sapphire glass, then a ceramic rear. This gives a weightier feel, again making it feel more like a traditional watch, not a smartwatch made of low-quality materials.
With such high-quality watch materials, it would have been nice for them to switch to a better quality leather on the strap. It is still genuine leather, which is effectively scraps of leather glued together. A top grain leather would have matched the premium feel of this watch.
While the changes may not feel significant for existing GT users, or people already using smartwatches, it is something that might help persuade people that love their traditional watches to finally go smart.
Strava Support and other third-party apps
I have brought it up for every single Huawei watch review, and I am bringing it up again. Maybe they will listen one day. There is no way to export your exercise data.
Bizarrely they do allow you to link up MyFitnessPal and Google Fit, so it is not like they are opposed to sharing data. However, the 50 million Strava are unlikely to find these watches appealing.
I hope future iterations of this watch will adopt Harmony OS, where we may see a little more flexibility in the functionality.
First Beat Features
First Beat provides advanced performance analytics for stress, recovery and exercise.
When I reviewed the GT2 and GT2e there was a list of First Beat features used, these included the calories burned during fitness, training load, training status, VO2 Max, race time predictor and more.
Recently, First Beat has been bought out by Garmin, and Huawei have faced issues with dealing with US companies.
Since the Garmin acquisition, First Beat have suspiciously removed the directory of all the devices that use their features.
The watch still provides training effect, VO2Max, recovery time, training status and training load. But I can't see any race predictions. For training status and load you can only view it on the watch and not in the app (unless I missed something).
I have not done a lot of runs, but it says my VO2Max is 55 which is the same as the Garmin Fenix 6 Pro. So either Huawei is doing a good job at calculating the VO2Max with their own algorithms, or they are still using First Beat.
Performance
I wore this concurrently with my Garmin Fenix 6 Pro, one of the left wrist, one on the right, switching the watches over each day, looking like an idiot in the name of science.
The overall user experience is almost identical to the previous models. I generally like it, offering all the features of a smartwatch I want without the power draining requirements of a more customisable OS.
Day to day
In terms of the smartwatch stuff, the only things I want from my watch is to get push notifications, this works well, allowing you to select which notifications you get.
It will also push through phone calls with the caller ID allowing you to answer them and take the call, or in my case mainly reject it.
The overall UI and user experience is good, with a smooth, easy to navigate interface.
You then get all the typical fitness tracking features such as all-day HRM, step counting, and stress readings.
Unlike Garmin, with the SPO2 readings, you need to manually take them. This is good for the battery, but if you are anything like me, you will do it a few times then forget about it.
Fitness – Running – Cycling
Considering the limitations, fitness tracking is good. You get plenty of data, more than enough to keep half-serious fitness enthusiasts happy and overall accuracy for things appears to be excellent.
Things like VO2Max, training effect and recovery time are useful semi-advanced features no found on many competing options.
One big gripe I have is no auto-stop function. As a cyclist, this is a handy feature allowing you to keep track of your moving speed rather than the overall average which is often much lower due to traffic lights or other unexpected short stops.
There is also no option to pair any sensors, though this is to be expected.
The watch has some useful guided running routines, but it would be good to be able to create your own. The longest run on the watch is a 66 long slow run, which is not that relevant to me.
I went through a brief time of considering about moving up to ultra-marathons, and I adopted run-walk for some of my runs, so it would be good if you could customise plans based on this. There are run-walk plans on there, but they are 25 mins (not 3+ hours that I need).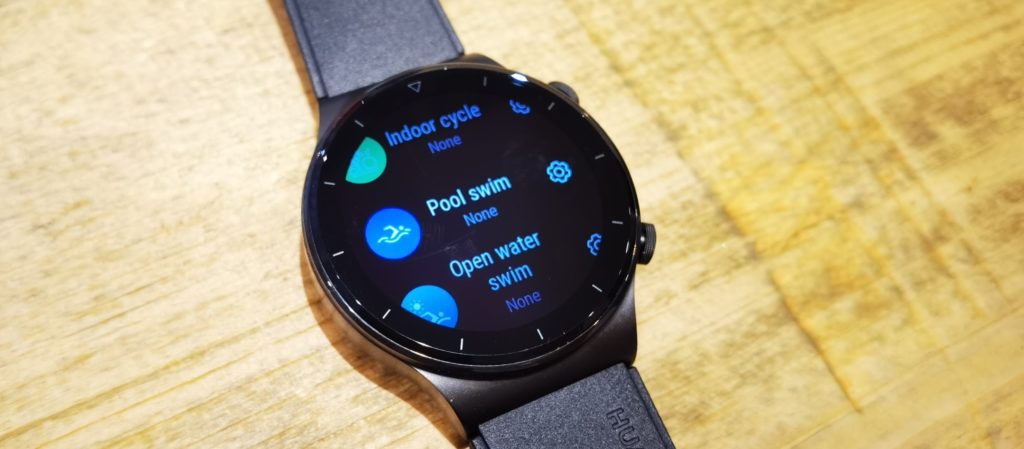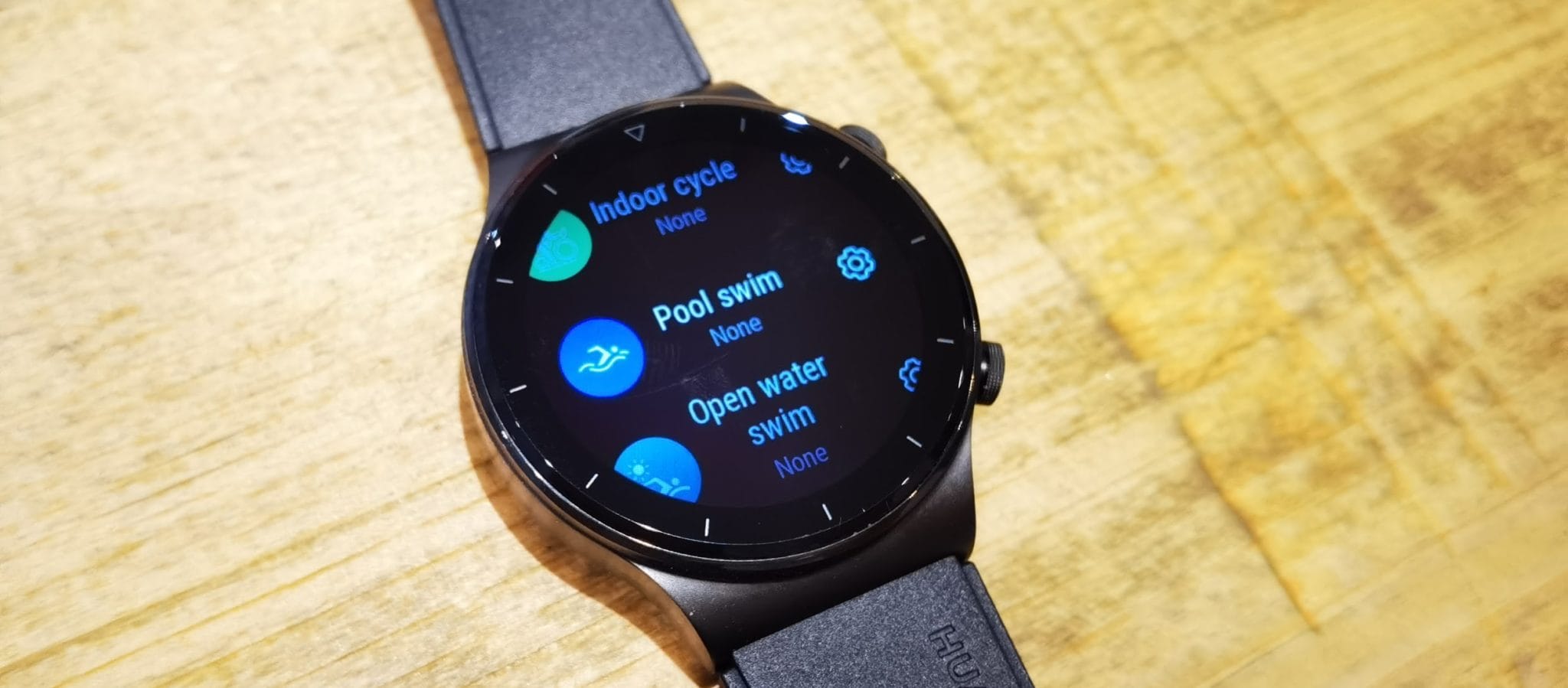 Instead of allowing you to customise the settings of each workout, Huawei has continued to expand the overall number of workouts you can track with 100+ workout modes consisting of 17 professional modes and 85 custom modes.
I don't really feel like there is much need to differentiate between taekwondo, karate, and martial arts. This just seems like a way to pad the numbers out with no meaningful benefit to users.
Wrist Based Heart Rate Tracking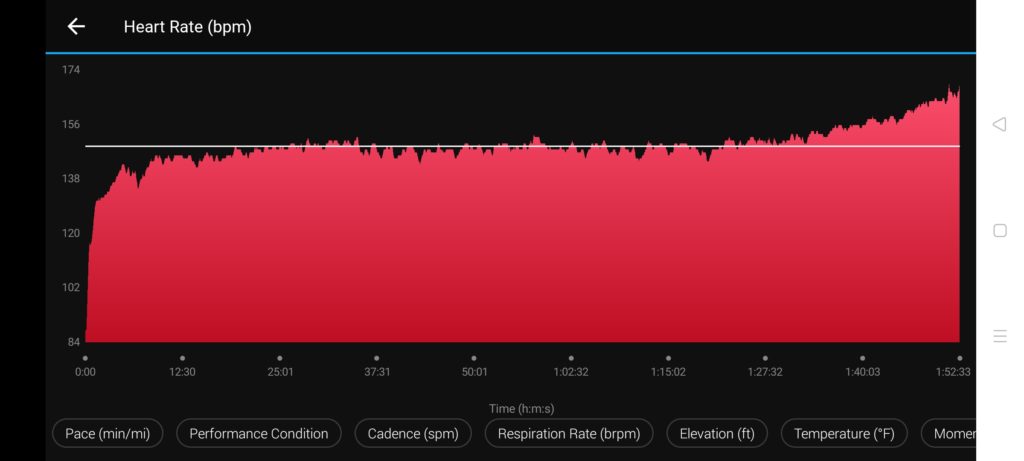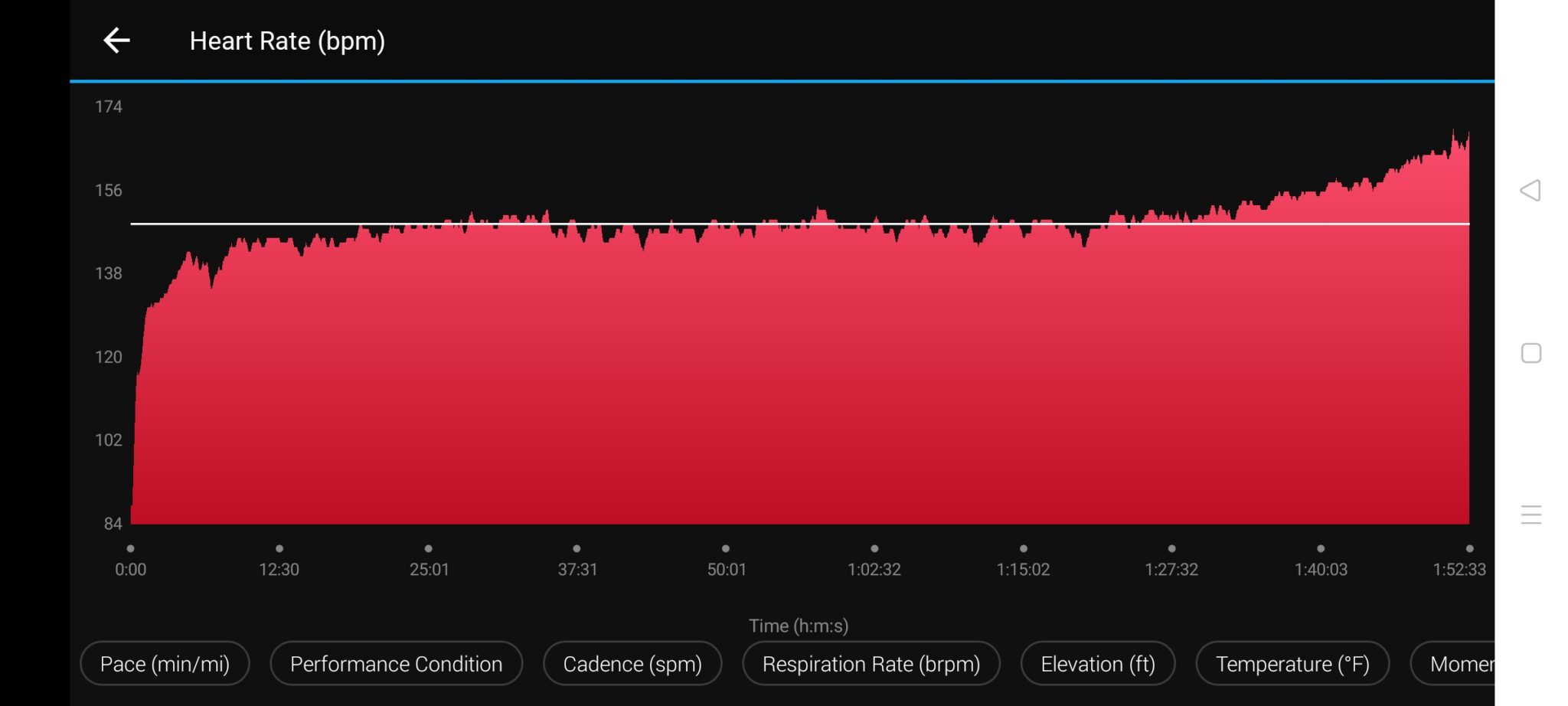 I have not had this for long enough to attempt to do an in-depth analysis of the accuracy. With me not being able to export the data, it is impossible to plot competing results against the HR data provided here.
However, by all accounts, it looks excellent, just as good as the Garmin Fenix 6 Pro (which costs double).
As with all wrist-based tracking, it can be prone to inaccuracies, if not worn tight enough or too low down your wrist it will be less accurate. I was sent the watch with two straps, with the leather one attached as standard. For the best accuracy, you will need to use the rubber one allowing you to get a tighter fit, higher up.
During my time with it, even on bike rides, accuracy has been close to the wrist-based HRM of the Garmin and also chest straps and optical arm straps.
One reader asked me to check underwater hear rate accuracy.  I haven't been swimming in over 20 years, nor do I have any intention of going into the see or a public swimming pool in the middle of a pandemic. The best test I could do was have a bath and test the HRM. It seems accurate there were no random readings, but the lack of movement to simulate arm strokes means this is not the most accurate test. One useful feature is the physical buttons that allow you to pause or hold and end and activity, rather than try to use a touchscreen that is wet.
GPS
Again, due to no access to the data, I can't accurately compare GPS routes. But in general, it is accurate enough. During my run down the promenade, the map looks like it has me running in the sea/beach and it looks like it smooths out lines where there are complex turns.
There are minor discrepancies in distances, but as I don't regularly use three devices at once, it is hard to tell which is more accurate. On my run, the Garmin tracking 22.56km while the Huawei tracked 22.69km. So 130m difference which represents 0.57%.
On a bike ride, I tracked 41.76km vs 41.71km which is a 0.21% difference. That's close enough, I think.
Trackback
I have not actually used trackback properly, but with any GPS activity, it will plot a line of the route you have taken. Then when you finish the activity, you can optionally follow that line back. There is no map, it is just a line you follow. It is probably not something I would use a lot, but I am sure it would come in handy on occasion, especially with things like hiking where you may fall out of phone signal range and not have an offline map.
Sleeping
Sleeping continues to be excellent, and the performance of the older watches always outclassed my Garmin. Garmin has improved things considerably, so it is closer matched now.
Even though the accuracy of Garmin has improved, the overall feedback from Huawei continues to be superior. It shows an extensive breakdown of each phase and its duration as well as options to click on each item for a detailed description of its importance.
It still continues to have a weird sleep start time, always being 8 pm for me (I get up at 3 am), so I am not sure if it is rounding the numbers, or if it is a hard number. I'd say I would have a late night and go to bed after 9 and see what happens, but I am unlikely to do this.
Music
Disappointingly there is still no compatibility with offline playlists for Spotify, YouTube Music or any other popular streaming provider. I was sure you could sync Huawei Music to the watch, but there is no mention of this in the marketing material.
Battery
The main selling point of the Huawei watches with their limited functionality compared to WearOS, is the incredible battery life.
I started using this and the Garmin at 100% then used them both for all the activities I did.
From the 16th of September through to the 21st I recorded 13 activities, so a lot more than average.
Throughout most of the time, the battery levels remained similar, but the Huawei crept ahead the last day or so with it still being on 36% while my Garmin was on 20%.
My Garmin connects to a lot of sensors, including power meter, HR, and speed/cadence sensors, so it is likely processing a lot more data and therefore I am not surprised by the results.
Then from the 21st to 23rd, I only tracked one activity, and the watch is down to 24%. Based on my usage, I think I could get 9 days out of it. I doubt I could do a full day with WearOS.
So, the Huawei Watch GT2 Pro and its predecessors have incredible battery life. Huawei claims this should last for 14 days typical usage, for people that don't hammer the GPS like I do, this should be possible, which is the same as the previous watches.
Price and Competition
The Huawei Watch GT2 Pro has an RRP of £299.99 which is about £70 more than the Huawei Watch GT2 launched at. This price is reflective of the improved materials used on the watch, rather than any improvement in functionality.
This does mean the watch is priced closely to many superb alternatives.
The Apple Watch 6 is only £80 more, or the SE is £30 less. The battery life is awful, and they don't have the same quality of build materials, but they are vastly superior functionality wise.
The Garmin Venu is with its AMOLED display, or the Vivoactive 4 are both superior for anyone serious about fitness, with the ability to pair up heart rate straps and export data to Strava. They also have Spotify integration and NFC payments.
The new Fitbit Sense is the same price. It doesn't look as nice, and the battery life won't be good, but again it is more functional.
Then, of course, the Huawei Watch GT2 which is half the price, looks just as good but with inferior build materials, and a few missing features.
Most of these alternatives are superior functionality-wise, but it ignores the fact that many people treat a watch as a fashion item and are willing to pay a premium price for it. The Garmin Marq collection is all essentially the same as the Garmin Fenix 6 Pro which sells for about £700, yet the Marq models start at £1400 and go up to £2250. Then the Tag Heuer Connected WearOS watch is £1500+. Or for people really reckless with their money the Vuitton Tambour Horizon WearOS for £4k.
Overall
The Huawei Watch GT2 Pro is an excellent but incremental upgrade from the GT2; it is not really a different watch, just a premium alternative. It would have been good if Huawei had launched a GT3 with significantly improved functionality, but we may have to wait until Harmony OS becomes a viable alternative OS.
The Pro name brings a significant upgrade in build quality compared to the original GT2. Even though I technically prefer the design of the GT2, the improved build quality of the Pro elevates the overall aesthetics to be superior to any other brand I can think of at this price.
Heart rate accuracy appears to have improved considerably, that or I just got lucky with no problematic sessions. The accuracy is impressive enough that I would more than happily use this as my main watch, if only I could sync with Strava.
The biggest issue is that this costs an RRP of £299.99 whereas you can pick up the older Huawei Watch GT 2 for just £145.
For your average Jo wanting a smartwatch, I am not sure you will appreciate the minor differences. For anyone looking for a more premium alternative, the Huawei Watch GT2 Pro definitely fits the bill.
The Huawei Watch GT 2 Pro should be available soon from Huawei