With the launch of the Huawei P40 Pro, Huawei also announced the new GT2e which is a new affordable version of the GT2.
So what have Huawei cut out to make this lower priced? And is the new GT2e worth it over the existing Watch GT2 and the older Watch GT.
Pricing
The most significant difference is the RRP, the Huawei Watch GT2 launched at £229.98 while the GT2e is launching at £159.99, both for the 46mm models. The GT2e only comes in 46mm whereas the GT2 has a smaller 42mm model too.
It is not quite as simple as that though. Currently, the GT2 is available from Huawei for £199.99 with a free mini speaker worth £29.99.
On Amazon, you can pick it up from as little as £159 for the model with the orange strap and black bezels. The model with the brown leather strap and silver bezels is £179.99.
However, if you pre-order the GT2e from Amazon you can also qualify for a Huawei Smart Scale, which I assume is the AH100 listed on Amazon which sells for £35.85 and has excellent reviews.
Then you have the Huawei Watch GT which is currently at a bargain price of just £97.98.
Design
From what I can tell, the main area Huawei have cut costs is with the overall design. The Huawei Watch GT 2 was probably the best-looking feature/smartwatch I have come across. I love the pilot watch style, and the model with a brown strap and silver bezel looks very smart. The strap itself feels a bit low quality, but real leather and a sports orientated watch don't really mix too well.
While the GT2e adopts a similar look, it is much more generic, you no longer get the pilot-style chronograph pushbuttons and metallic bezel, these are instead replaced with plastic push down buttons with a metal and stainless steel casing.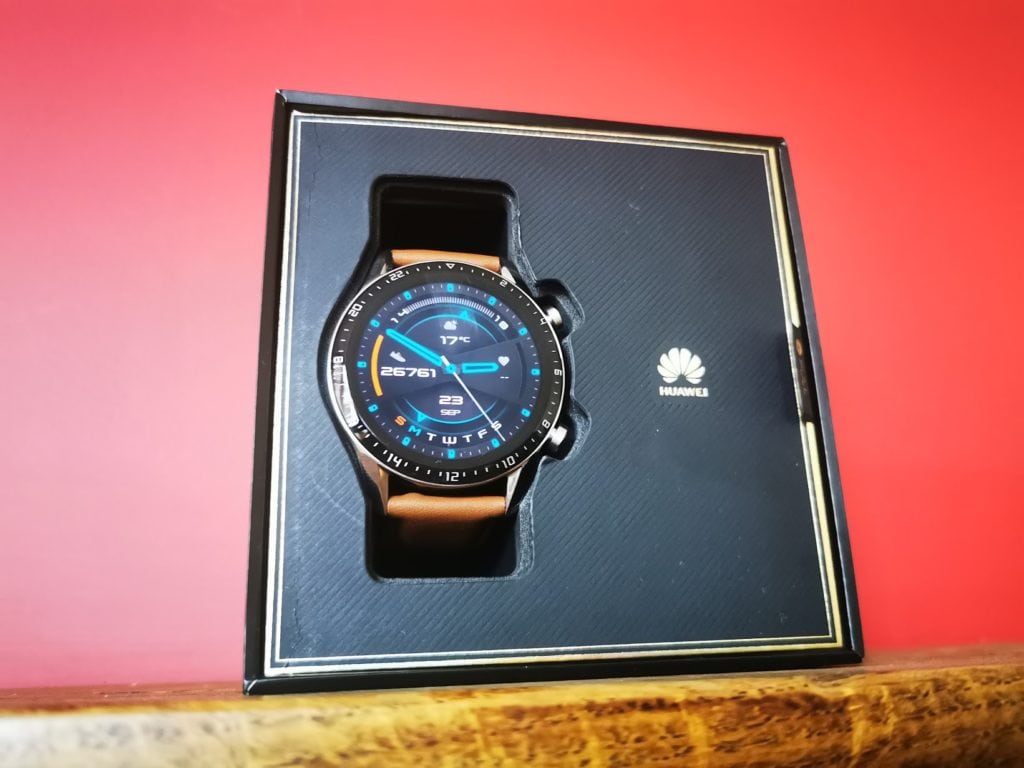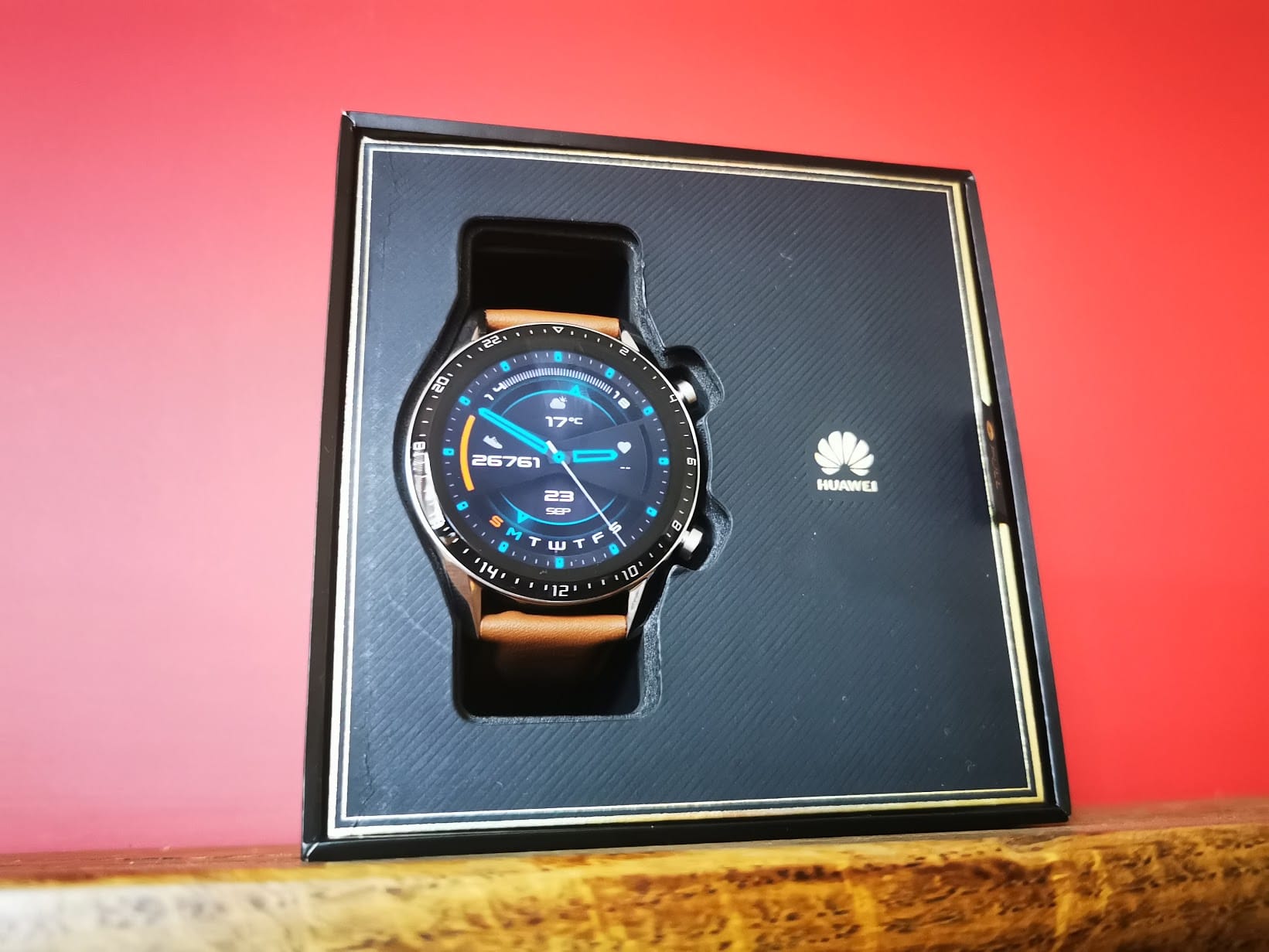 The watch strap also sits flush with the case with the overall look ending up like a sports watch or normal smartwatch. I think I liked the GT2 because it didn't look like a smart watch, at a passing glance, it looks like an attractive old-fashioned mechanical watch.
Features
The TLDR of this would be the Watch GT 2e and GT 2 are identical. Huawei will be rolling out single-use SpO2 measuring with a firmware update on the GT 2e, which monitor the blood oxygen levels in your body. This gives the GT2e a slight edge in terms of functionality, but for the vast majority of people, it is a useless feature. If you have a condition affecting your blood oxygen, random checking may help, but ideally, you want 24/7, and this is only going to affect a small percentage of users. If you are a mountaineer, it is quite useful, but I suspect that people escalating heights big enough to worry about their oxygen levels may be using something more advanced. SpO2 can be useful for identifying possible sleep apnoea, but that would require constant tracking during sleep. The Garmin Fenix 6 Pro offers 24/7 SpO2 and after about a month I disabled this feature to save battery.
Beyond that, the GT range are essentially feature watches, you get what you get given, and that's it. That's not entirely a bad thing, it is what allows the GT models to achieve their 2-week battery life, eclipsing any smartwatch on the market and even putting Garmin to shame.
Both the GT2 & GT2e have:
1.39 inch AMOLED 454 x 454 HD
The AMOLED touchscreen supports slide and touch gestures.
GPS, GLONASS, Galileo
Kirin A1 chipset
32MB RAM and 4GB storage (for music)
14-day battery life
Accelerometer sensor
Gyroscope sensor
Geomagnetic sensor
Optical heart rate sensor
Ambient light sensor
Air pressure sensor
Capacitive sensor
5ATM water resistance
Bluetooth 5.1
The older Huawei Watch GT is very similar, but it has an older chipset with just 16MB ram and 128MB storage and the older Bluetooth 4.2 standard. It also lacks a geomagnetic sensor.
It is claimed to have 14 days typical usage, but I am pretty sure the new GT2 models last quite a bit longer.
There are some other minor differences too, the HRM is TruSeen 3.0 whereas the two GT2 models use a claimed more accurate TruSeen 3.5.
All the watches have a big fitness and health focus, but for some bizarre reason Huawei does not allow exporting of any fitness data to proper third party apps, this includes the dominant social-fitness network, Strava, but then also things like Training Peaks, and pretty much everything else. The two exceptions are MyFitness pal and Google Fit.
Overall
Functionally, the watches are almost identical functionality wide; the one difference is that the GT2e has blood oxygen monitoring (SpO2), though this doesn't appear enabled yet, and it only has limited use anyway.
So when looking at the GT2 and GT2e, the only thing to worry about is the price and looks. It is a tough call to make, and at the end of the day, it will be a personal preference. I much prefer the look of the GT2, however, I am tight-fisted, so if I was buying, I would probably end up going for the GT2e.