Huawei introduced the WiFi AX3 back in February with the launch of the Huawei P40 Pro and made lots of big claims including stating that the router was the most powerful Wi-Fi 6 router in the world and introducing a brand new proprietary Wi-Fi 6+ technology.
I was a little critical of the launch comparing the specs and performance claims against the TP-Link Archer AX11000 and Netgear RAX120, both of which have far superior specifications with theoretical speeds up to 4804 Mbps.
However, I was eager to try it out and see how good the claims really are. Upon hearing Honor will be launching the same router, but rebranded, and make it available in the UK, I decided to import the Huawei WiFi AX3 Pro and test it out.
Huawei WiFi AX3 vs Honor Router 3
The Honor Router 3 is not currently available in the UK, but it is on Giztop and just $45.99, the Huawei WiFi AX3 is the same price, but the Huawei comes in Chinese only. With the Huawei, there is a Pro and none Pro model with the Pro model having a faster processor and costing $20 more.
In hindsight, I should have bought the Honor because the web interface on the Huawei is Chinese only, but you can still set it up in English via the HiLink app and then use Google translate for the web interface.
Including shipping, I paid $79.98 for the Pro model which works out at around £65 which makes it cheaper than any other Wi-Fi 6 router available on the UK market right now by a considerable margin.
A quick glance at Amazon and the cheapest I can find is the TP-Link Archer AX50 at £151.05.
I expect the official UK version from Honor will cost a lot more than the import price, but it should still easily make it the cheapest Wi-Fi 6 router available here.
Huawei WiFi AX3 & Honor Router 3 Specification
The standard Huawei WiFi AX3 and Honor Router 3 are identical apart from branding.
The router is powered by in-house Lingxiao W650 dual-core processor clocked at 1.2GHz paired with 128MB of RAM and flash memory.
Huawei WiFi AX3/Honor Router 3 runs Huawei RTOS system can be controlled using Huawei Smart Life app available on both Android and iOS.
Compatible with 160 MHz frequency bandwidth giving 574 Mbps on a 2.4 GHz band and 2402 Mbps on a 5 GHz band
The router features a total of four antennas with a gain of 5dBi.
Supporting OFDMA multi-user technology, it is capable to send data to multiple devices simultaneously (max. 4 devices on 2.4 GHz, max. 16 devices on 5 GHz). The total number of dual-band access equipment is up to 128, which guarantees multiple connections and is more stable when multi-tasking
Comes with features like WPA3, firewall, DMZ, DoS attack protection, etc..
Huawei WiFi AX3 Pro vs Huawei WiFi AX3 – What's different?
The only difference that I know of is the Gigahome Quad-core 1.4 GHz CPU. This then seems to allow the router enough processing power to provide TrustZone Security.
Set Up
With the Huawei WiFi AX3 Pro you will need the HiLink app to get access to an English interface. I then tapped my phone on the NFC sticker, which allowed me to auto-connect to the Wi-Fi then followed the setup procedure in the app. Overall it took me a few minutes and was one of the quicker router setups I have done.
There is not much in the way of customisation during set up, so the simplicity comes at a small cost.
Access point mode
With the HiLink app, there is no way to switch the router to an access point mode. In my scenario, it took on the DHCP IP address from my router then set up a new network of 192.168.3.x
It seems to pass through the connections, I am still able to connect to my server on 192.168.1.x
However, once you are up and running, if you use Google Translate on the web interface, it is possible to switch to an access point. Once logged into the router, you need to go to the "I want to go online" setting and switch it over to bridge mode. Once this is enabled HiLink is no longer functional
Router Features & HiLink App
The Huawei router is in Chinese only, but the Honor should ship with International languages, and English will obviously be default from official UK stock.
So, with the Huawei, you will need to use their HiLink app, using this you get an English interface and the set up procedure takes just a couple of minutes.
The HiLink app itself is a bit basic offering very little in access to the features you will normally find on a router. There is not even a way to customise the Wi-Fi options.
Once set up though, you can then go to the router IP address in Chrome and use the Google Translate function to gain full access to the router features.
While still very basic compared to more expensive routers, under the web interface you can:
Manage Wi-Fi settings including splitting off the 2.4Ghz and 5Ghz networks
Change the channels from adaptive to a fixed channel and switch the router from mixed bandwidth channels to a fixed setting
Set up a VPN
Enable IPTV which is likely just a predefined QOS
Enable/dispable Unpnp
Set up DDNS
NAT/Port mapping
Enable internet security protection
Disable telemetry/user experience improvement program
Plus more
160 MHz frequency bandwidth
In previous router reviews I have had lots of issues with the 160 MHz frequency bandwidth, highlighting the problem in every review. In this case it worked out of the box and it could be what makes Wi-Fi 6+ different.
However, it could also be a case of user error, setting up my Netgear RAX120 again and I got it working immediately when running the router in its default mode.
160MHz is finickity though it requires double the amount of channel width than normal effectively only giving you a very limited range of channel options and exposing you to considerably more interference. It also means you can only have two 160Hz devices on a network without channel crossover and one of them would have to resort to the DFS channels which are effected by Radar.
Wi-Fi Performance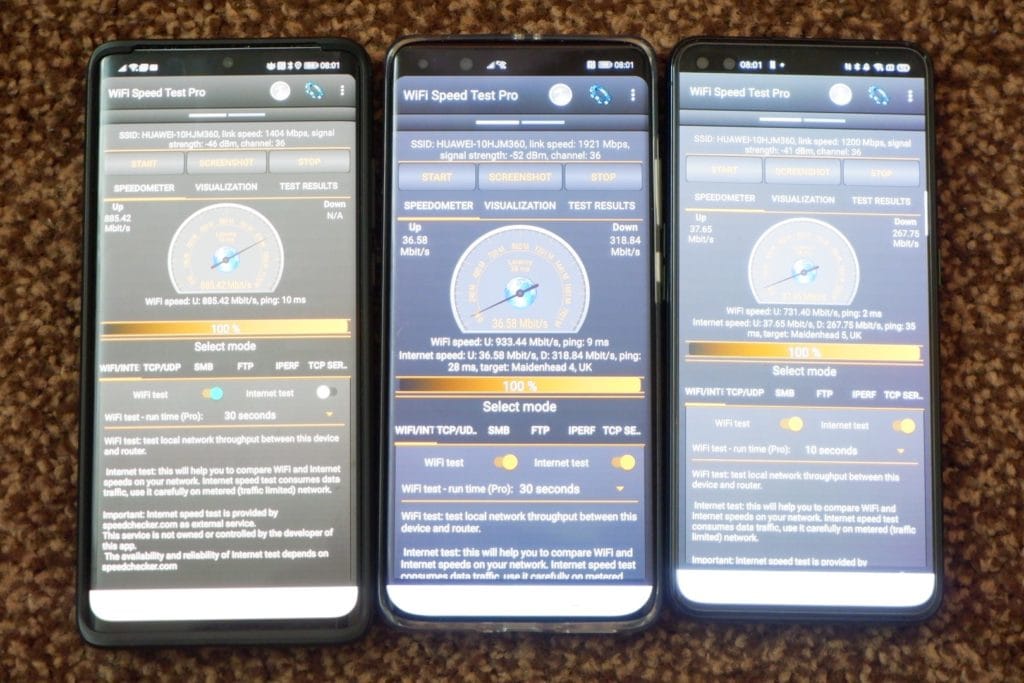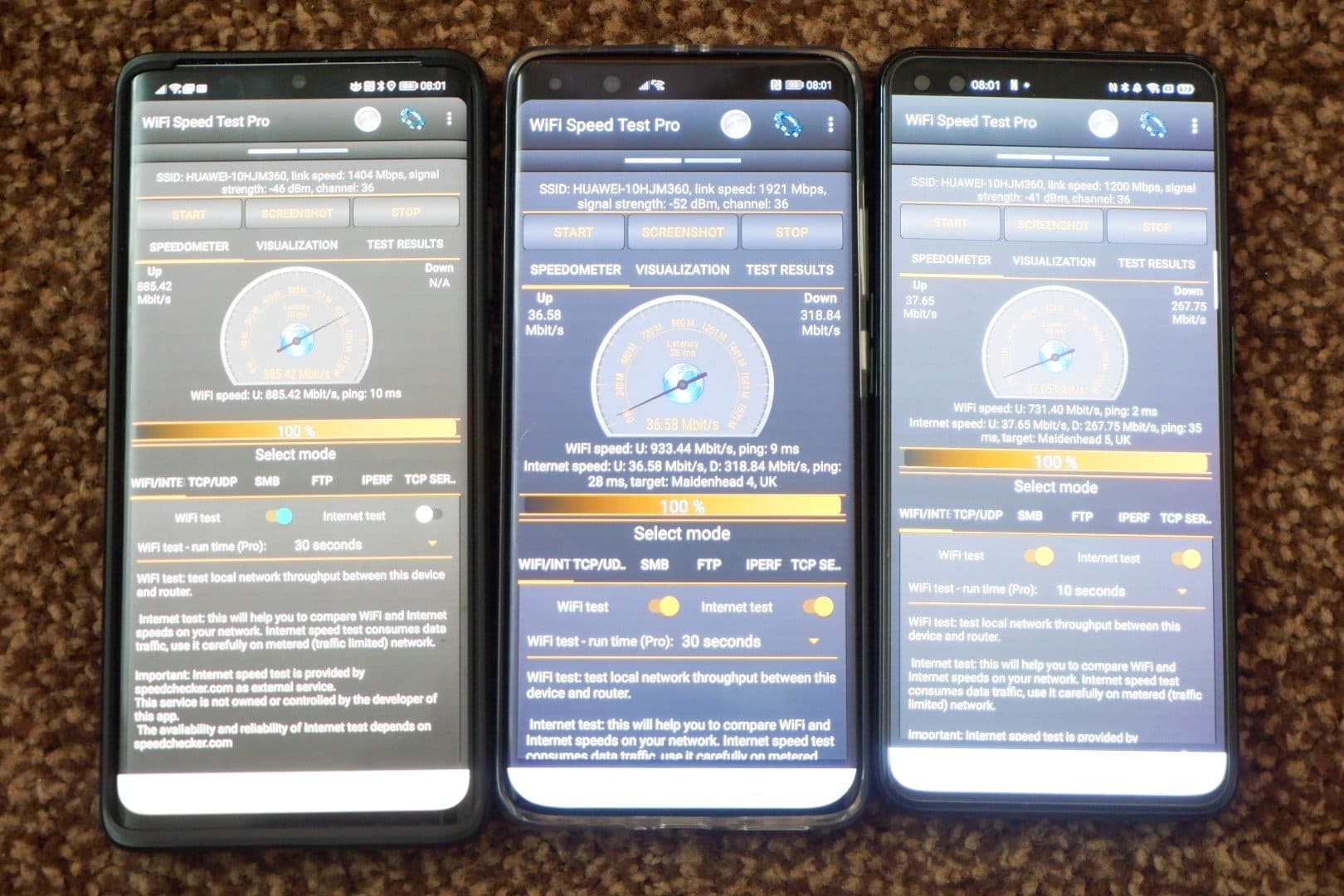 I had some issues with the stability of connections when I first set things up, this could have been a conflict with some of my other networking equipment, but eventually, it settled down after switching things around.
Huawei P40 Pro with Kirin 990 5G and Wi-Fi 6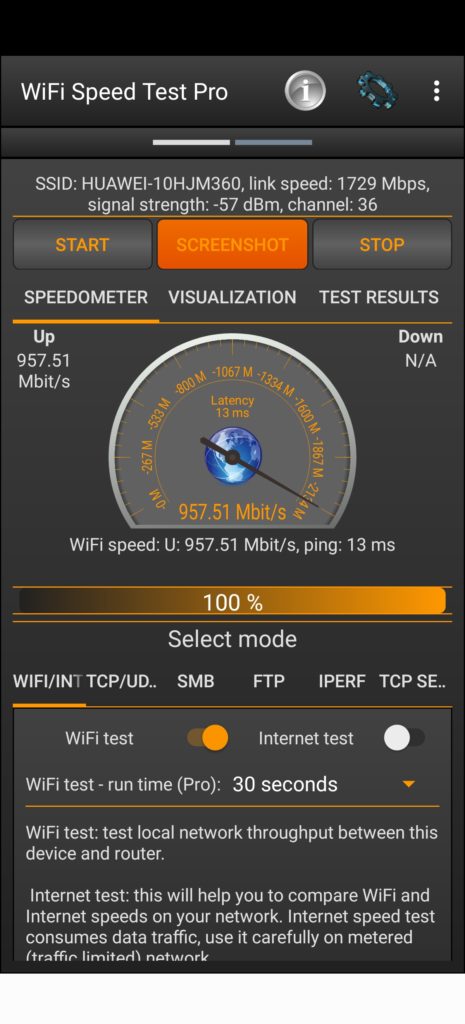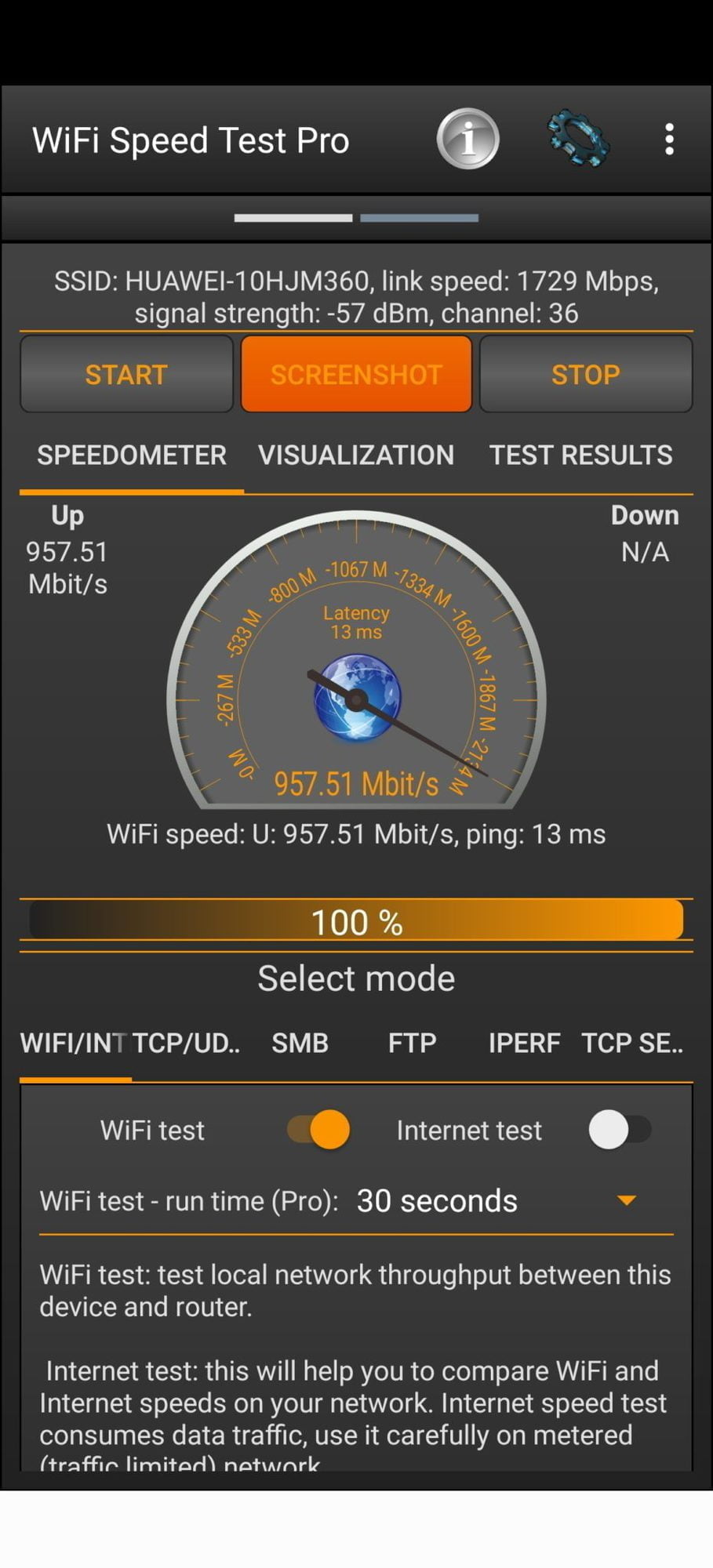 I found the link speed would jump up and down with the P40 Pro quite a lot, but it typically stayed above 1600mbps and often would hit the maximum 2400mbps, considerably faster than the connection rate I achieved with Qualcomm devices. It seems that Huawei Wi-Fi chips are capable of 160Mhz channel width while the Wi-Fi chip inside the Qualcomm Snapdragon 865 is limited to 80Mhz.
Using the WiFi Speed Test Pro app, I was then able to achieve speeds consistently over 900mbps. However, it is worth noting that when using the Netgear RAX120 at 2400Mbps I was able to achieve peak speeds of 1278Mbps.
Huawei P30 Pro with Kirin 980 and Wi-Fi 5
The Huawei P30 Pro, it seems to benefit from the 160Mhz channel width the same as the P40 Pro, this, therefore, allowed it to connect up to 1400Mbps and achieve transfer speeds just under 900Mbps.
Realme X50 Pro with Qualcomm Snapdragon 865 and Wi-Fi 6
Huawei has made lots of claims about how the Wi-Fi 5 on their phones is faster than the Wi-Fi 6 on other companies. This appears to be true, the Huawei P30 Pro establishes a connection rate of 1170mbps up to 1400Mbps consistently. The Realme X50 Pro with the Qualcomm Snapdragon 865 establishes a connection at 1200mbps.
With the Realme X50 Pro, I would typically get transfer rates of 700mbps to 800mbps around 100mbps slower than the P30 Pro.
Realme X2 Pro with Qualcomm Snapdragon 855+ and Wi-Fi 5
The Qualcomm Snapdragon 855+ has the same issues as the SD865, it can only connect at 80Mhz, this, therefore, limits the connection rate to 866Mbps. This then gave me peak transfer speeds of 626Mbps.
PC with Intel AX 200 Wi-Fi 6 Module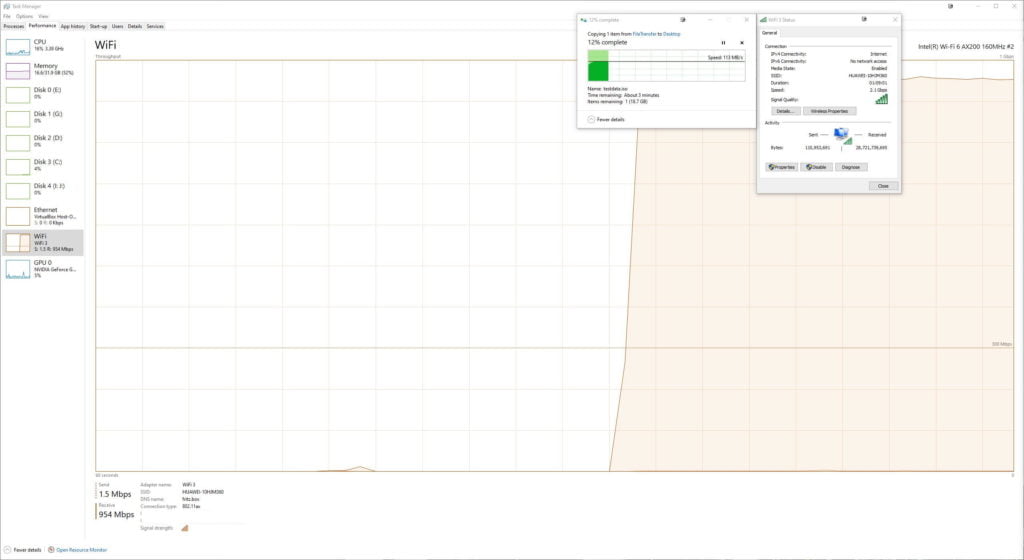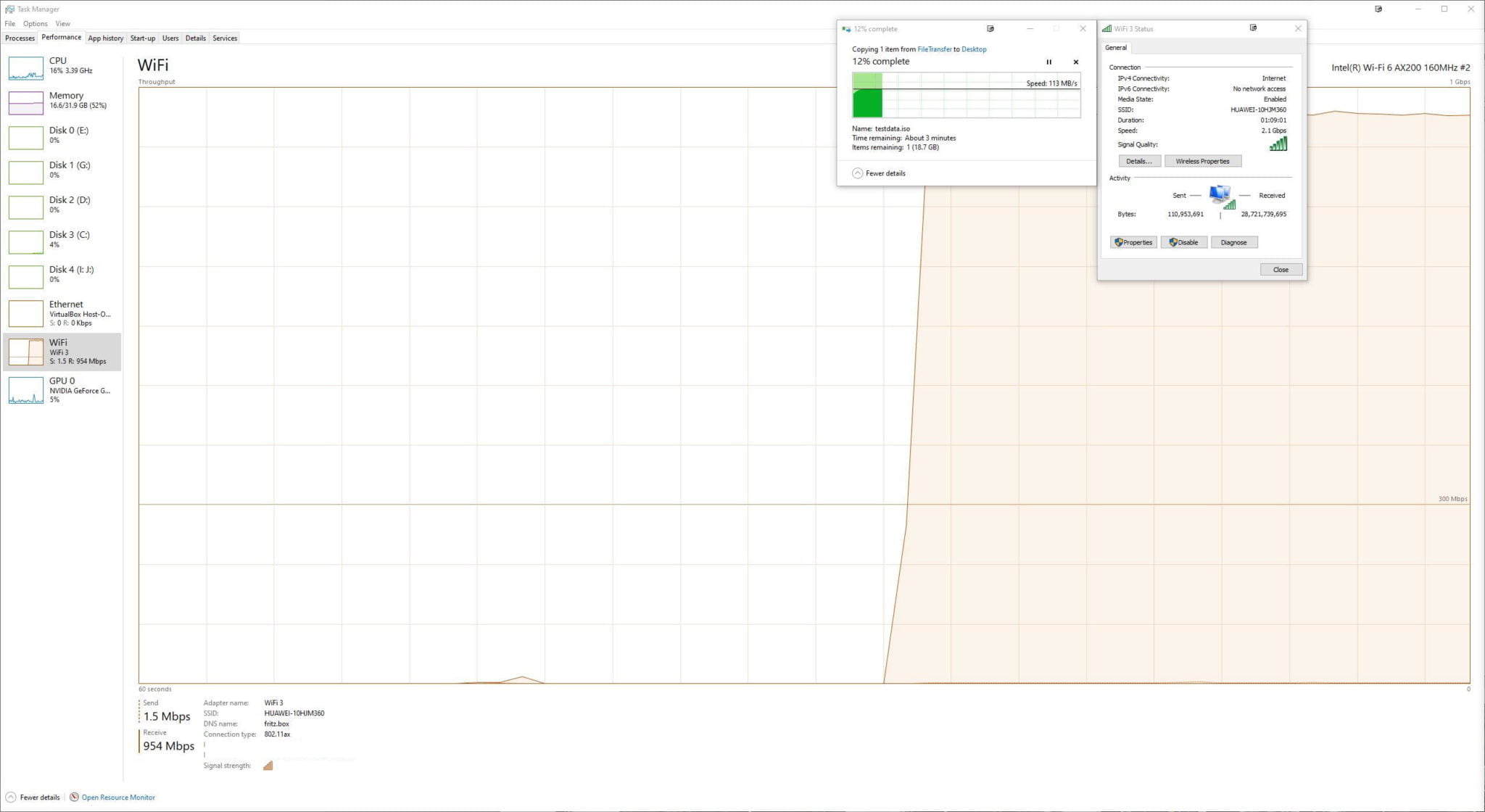 Once I switched the router to access point mode, I found that it would establish a higher transfer rate more reliably, this then allowed the Wi-Fi to really shine when it came to testing it with my PC and laptop.
Transfer rates consistently sat at over 2Gbps which then resulted in real-world transfer speeds of 113MB/s with task manager reporting 960mbps so this was effectively capping out the gigabit transfer speeds of the wired network.
Similarly, in Jperf transfer speeds easily would hit 950Mbps.
Unfortunately, because the router only has gigabit ports it failed to surpass the performance of the Netgear RAX120 which would hit 1349mbps via jperf with peak file transfer speeds of 170MB/s.
Range
All the above testing was done up close within a couple of metres and no obstacles in the way which only represents a small sample of real-world usage.
When you start to move away and into other rooms, the router still punches well above its weight. If you go into the web-based router settings, you can switch the Wi-Fi power mode to through the wall. As the name suggests, this dramatically improves performance.
I live in a reasonably large brick-built 4-bed semi. With the router in my office, which is upstairs central to the house I can get a decent 5Ghz signal in every room in the house. In the front room, the furthest away, I was able to achieve 166Mbps. With the router in general power mode, I could only connect at 2.4Ghz, which then resulted in speeds of just 41Mbps.
Moving outside into my garage/gym, it is rare that any router can establish a reliable connection, but the AX3 Pro was still able to connect on 5Ghz and achieve a speed of 54Mbits.
Wi-Fi 6+ vs Wi-Fi 6 Performance
To date, I don't think Huawei has made it clear how Wi-Fi 6+ differs from Wi-Fi 6, I theorised that that firmware would more efficiently manage the 160Mhz channel better allowing the clients to maintain that fast connection. This may be true; however, during my testing, I have not seen anything to indicate that Wi-Fi 6+ offers anything different than normal Wi-Fi 6.
Price and Competition
There is not really any competition at this price, which makes the Huawei WiFi AX3 Pro remarkable. However, with this being an import, it remains to be seen how much Honor will charge for the slightly less powerful Honor Router 3.
The TP-Link Archer AX50 seems to be the cheapest option this is a dual-band 2×2 router, so its top speeds are similar to what the Huawei has to offer at 2402 Mbps on 5 GHz and 574 Mbps on 2 4 GHz yet it costs more than double at £151.
The ASUS RT-AX92U AX6100 Tri-Band is £182 and has built-in mesh functionality as well as being a 4×4 router allowing maximum theoretical connections speeds of 4804Mbps. It will no doubt be a better router than the Huawei, but it is almost three times what I paid at £182.98
Overall
Considering the price, the Huawei WiFi AX3 / Honor Router 3 Wi-Fi performance is outstanding, comfortably outperforming any Wi-Fi 5 router I have ever used.
It also outperforms any Wi-Fi 6 router that is limited to the 80Hz channel width which would limit the connction speeds to 1200Mbps.
The router doesn't quite live up to Huawei's big claims about this being the most powerful Wi-Fi 6 router, nor have I seen much benefit to Wi-Fi 6+. As much as I hate marketing BS it is hard to hold this against Huawei when their £65 router fails to outperform the £350 Netgear Nighthawk RAX120.
The biggest downside I found was the limited router functions. The HiLink app is not really much use for anything other than basic settings, however, using Google Translate and the web interface you do get access to many more functions.
Even using it just as an access point, it still represents incredible value for money.
For English speakers, I wouldn't personally recommend the Huawei WiFi AX3 Pro for the average user, but if you are happy tinkering with tech, it is worth considering for anyone looking for an absolute bargain. With the help of Google Translate, it is still perfectly usable, though.
In the UK, either from official stock or import, the Honor Router 3 should be a superb buy for anyone looking for an affordable Wi-Fi 6 router. It is not quite as well-specced as the Huawei WiFi AX3 Pro, but I doubt it will have much of an effect on the overall performance.