Launched this year, the HyperX Alloy Origins 60 mechanical keyboard follows a very popular collaboration with Ducky.
It is about the cheapest brand name 60% keyboard on the market, yet there is nothing cheap about this petite keyboard, and it could be one of the best options on the market.
HyperX Alloy Origins 60  vs HyperX x Ducky One 2 vs Ducky One 2 Mini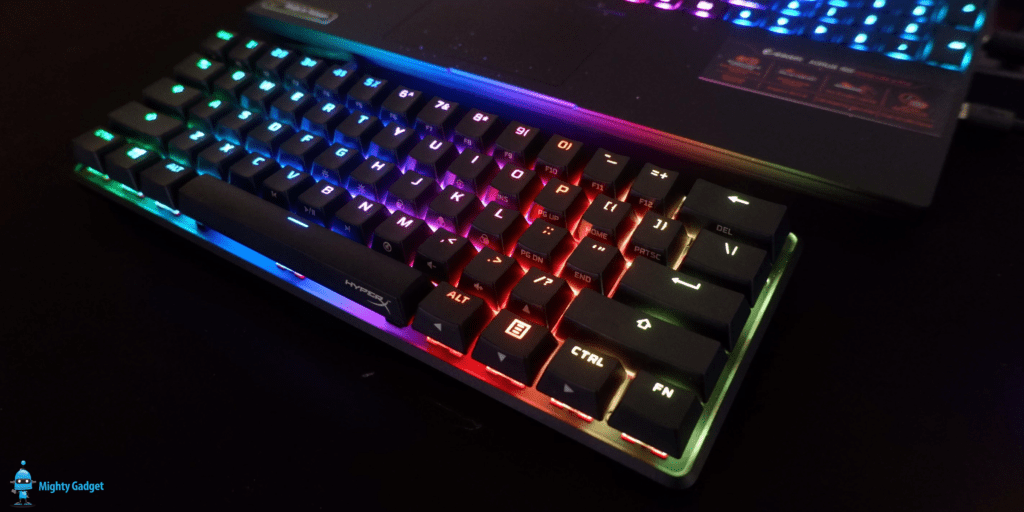 Previously HyperX did a collaboration with Ducky for the HyperX x Ducky One 2. This was a limited run of 3,700 units worldwide. That launched at $109 USD, I can't find the UK pricing, but I assume £109, which is also the price of the HyperX Alloy Origins 60.
Both the Alloy Origins 60 and HyperX x Ducky One 2 use the same HyperX mechanical switches, and by all accounts, they are almost identical apart from a few design tweaks.
The new Alloy Origins 60  is a touch smaller, with HyperX eliminating the outer bezel of the keyboard and exposing more LEDs which I think makes it look a little nicer.
The Ducky One 2 Mini comes in various models, including White RGB and Black RGB. It retains the original dimensions and weight of the HyperX collab but gets rid of the HyperX switches in favour of several Cherry MX or Kailh switches, depending on which option you choose. Prices vary depending on the switch your choose.
I prefer the overall look of the HyperX Alloy Origins 60, the switches work well for me, and the price is a touch lower than Ducky. However, Ducky have far more switch options, so if you have a certain preference, they are definitely a better choice.
Specification
Petite 60% form factor
HyperX mechanical switches
Full aircraft-grade aluminium body
Double shot PBT keycaps with side-printed secondary functions
RGB backlit keys with radiant lighting effects
Advanced customisation with HyperX NGENUITY software
Three adjustable keyboard angles and detachable USB-C cable
Included keycap puller and additional keycaps
Onboard memory
Game Mode, 100% anti-ghosting, and N-key rollover functionalities
Multi-platform compatibility
HyperX Mechanical switches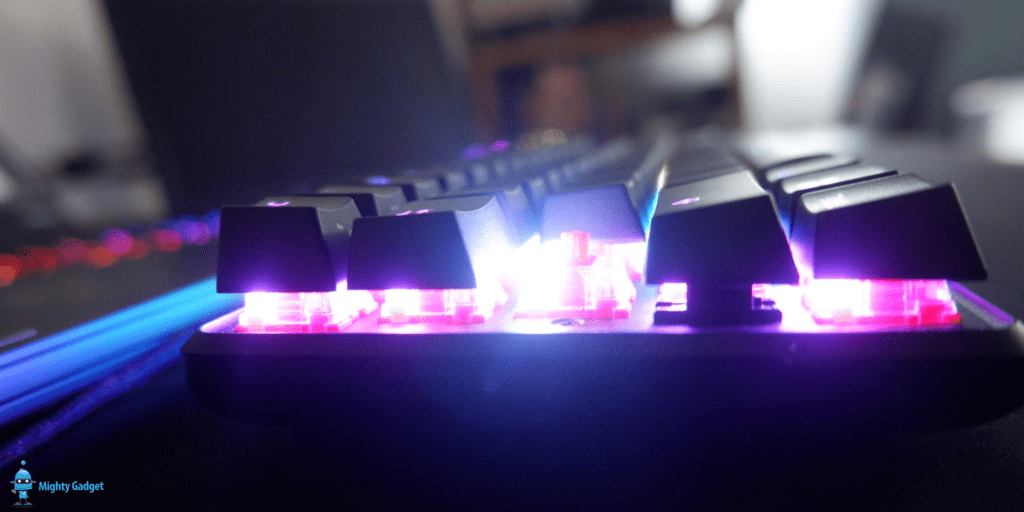 The key switches are custom-designed to be a balance of responsiveness and accuracy, featuring a short travel time and low actuation force. They're also reliable, rated for 80 million keypresses with no loss of quality.
Design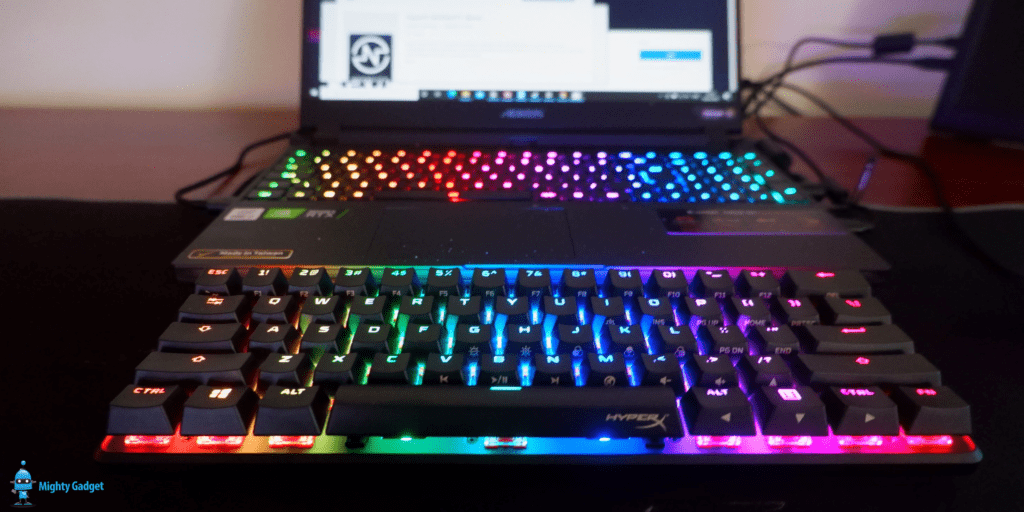 The main thing about this keyboard is that is it 60%, which is basically nothing but the essentials making the keyboard far smaller than full-sized or even tenkeyless.
While it is tiny, it is weighty, giving you a premium feel about this; there is nothing plasticky about it.
Unlike some other options, this has exposed LEDs all around the outer edges, thanks to no bezel or lip. This gives a more striking look which I love, but I did find it causes a little bit more LED glare at the bottom of my monitor.
It is a wired keyboard, using a detachable USB-C cable. One caveat is that the cable is recessed, so you cant swap out the cable for any old USB-C cable as the head probably won't fit inside the slot.
HyperX NGENUITY Software & Customisation
Like most gaming brands, this has its own software. You can use it to update the firmware, change the RGB and perhaps more importantly, to reassign keys.
In Use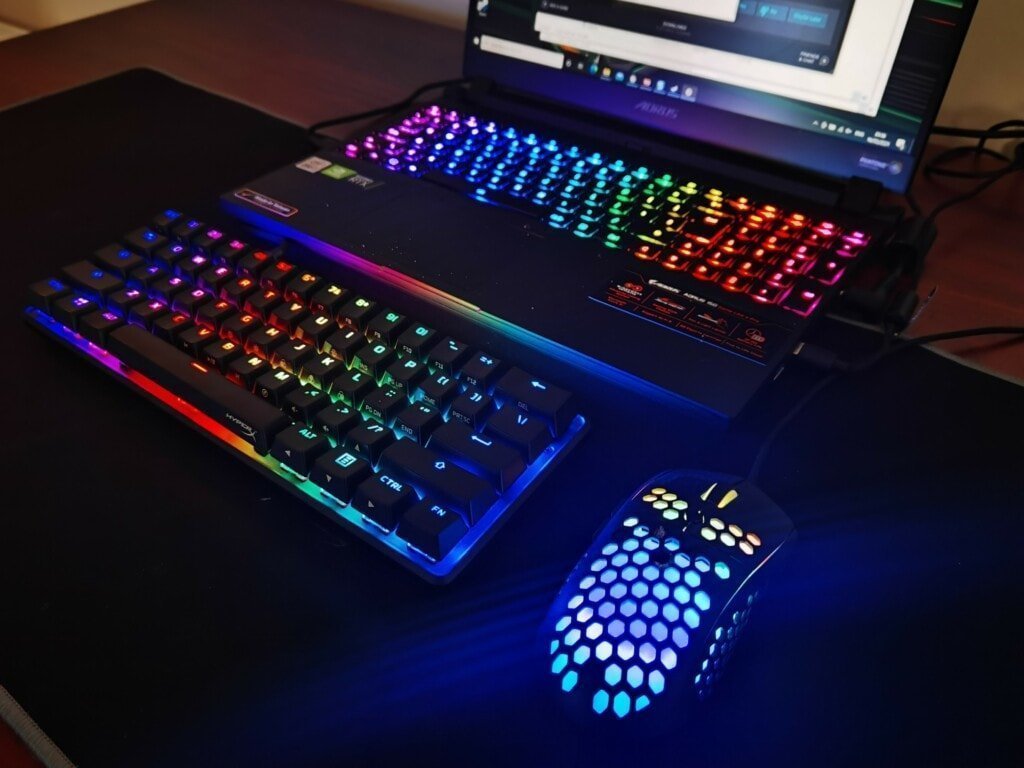 60% keyboards have grown massively in popularity in recent years.
The HyperX Alloy FPS RGB has been the keyboard I generally use when working in an office, thanks to its quiet keys, and I am not sure I am ready to give it up yet.
I write a lot, I regularly use the number pad, screenshot button, page up/down, and I also love my media keys. Of course, most of the functionality can be replicated with the Fn key and mappable commands; however, if you these keys a lot, it feels a little counter-intuitive to then have to press more buttons. I am sure it is something you can get used to.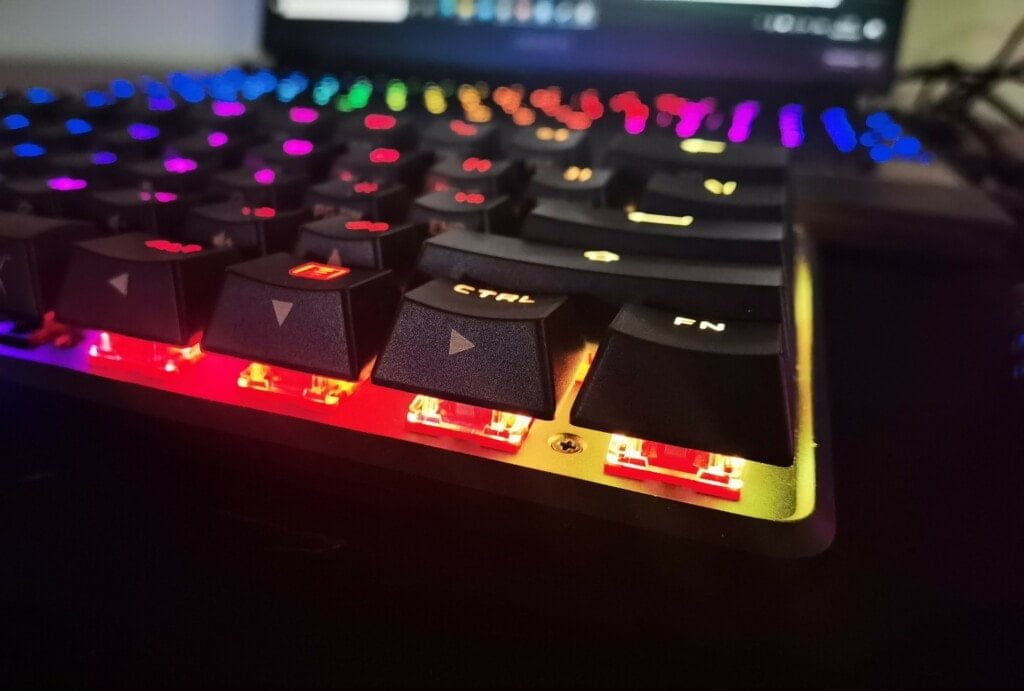 Anyone that rarely uses the other keys will likely appreciate how this looks vs full size. The smaller size does not only give a cleaner look but provides more space on cramped battle/work stations. It also makes it very handy for travel, not that I have done much of that in the past year, but this is perfect for gaming events or working away.
HyperX doesn't seem to provide a colour code for the keys, but they are clackity without being obnoxiously loud. Actuation is greater than the silver keys on the Alloy FPS, which has a tendency to keystroke just by brushing the key and I would guess these most closely resemble Cherry MX Red.
Price and Alternative Options
The HyperX Alloy Origins 60 is £110 direct from HyperX, making it one of the most competitively priced options on the market from a big brand name.
The Ducky One 2 Mini is the closest competitor, priced between £111 and £120 depending on where you buy it from. The cheapest version of this I can find is the white model with Kailh BOX Red Switches, but the blue Cherry MX model is £112.99.
Looking further afield, Razer has the Huntsman, which is £120 and has the Razer Clicky Optical switches.
Then there is the ASUS ROG Falchion TKL at £150, which is technically a 65% keyboard, is wireless and uses Cherry MX switches.  
Overall
I will admit I am not quite ready to switch to a 60% keyboard just yet. I use all the other keys far to much for me to want to use macros. That's just my personal typing preference, though, however, I absolutely plan to use this when I travel/work away. I hate typing on a laptop keyboard, so I always try and set up a little work station if I am away from home for more than a few days.
I do love the HyperX Alloy Origins 60, though. Its petite size is far more aesthetic than my big Thermaltake keyboard; it is also ideal for smaller desks, something which many WFH people may have had to suffer from the past year.
The popularity of the HyperX x Ducky One 2 obviously made Kingston want to carry on making 60% keyboards, and the Alloy Origins 60  goes up directly against the Ducky One 2 Mini. They are priced very closely together while offering a similar aesthetic. I have not used the Ducky, but I can imagine is equally as good as the HyperX
I personally prefer the HyperX with its zero bevels exposing the LEDs on the outer edges. It also is a touch cheaper, up to £20 depending on which Ducky you choose. Ducky has one big advantage, though, offer two brands of switches with Kallih BOX White/Jade/Pink/Silent Pink/brown then Cherry MX Red/Blue/Silver. So if you have a very specific preference for your mechanical switches, then the Ducky is definitely the way to go. However, I think most people will prefer the HyperX Alloy Origins 60
Posted by Mighty Gadget Blog: UK Technology News and Reviews
Thanks for reading, check out Mighty Gadget Blog: UK Technology News and Reviews for more Tech news!