While you may not have heard of Infinix, they have quickly grown in popularity in recent years, offering high specced affordable devices.
Today they have announced their latest phone, the Infinix Hot 10S and 10S NFC.
I have been sent the Infinix Hot 10S NFC to review, it has a smaller battery but includes NFC.
I wrote this review on the assumption the phones would see some sort of UK/EU launch; however, the press release states otherwise, and my PR rep confirms these phones are not coming to the UK market.
The Infinix Hot 10S NFC  will be launching in Indonesia, Russia and Latin America.
The Hot 10S will be available on May 12 in Indonesia, followed by a rollout to further countries in the coming months.
I have only had this sample a bit less than a week, so the review is a little limited, and I will update it the more I use it.
Specification
Display: 90Hz 6.82" HD+ 1640×720 IPS display
Processor: MediaTek Helio G85
Memory: 4GB RAM 128GB storage
Rear Camera: 48MP + 8W AI camera and a 2MP depth camera
Selfie: 8MP
Battery: 5000mAh
Charging: 10W microUSB charging
OS – Android 11 with XOS 7.6
Other: NFC, 3.5mm
Price: $120
There are a few red flags when looking at the specification, but it is important to note the price. I don't have UK pricing, but at $120 I think this is the cheapest phone I have ever reviewed, so it is understandably not the best-specced phone I have used.
While Inifinix is based in Hong Kong with additional headquarters in France, their target market has been traditionally the Middle East and Africa, and you can tell that this is the sort of market this was designed for.
The massive but low resolution display combined with a gigantic battery guarantees you will gets days worth of use out of it while offering decent gaming performance.
Even though microUSB has no place on a device in 2021, it is likely that this is much more common in the Middle East and Africa, where people are not getting a new phone every year or 2. So, in this case, it makes sense. I still don't like it, though.
Price and Alternative Options
I would normally look at the price and alternative options at the end of the review, but let's face it, this is the stand out feature of this phone. I assumed £120 for the UK price, before I realsised it wasn't launching here, which brought me to the below options. There will likely be better alternatives from local vendors.
Xiaomi Redmi 9 for around £110, depending on discounts. This is a smaller phone but with a higher resolution display, a similar-sized battery but with the benefit of USB-C. The camera is lower specced, there is less storage, the display is only 60Hz, and the Helio G80 chipset is slower.
There is the OPPO A15 for around £120, which has a lower spec for pretty much everything; it even has microUSB.
The Samsung Galaxy A21s costs quite a bit more at £156, and the only advantage it has is the 8MP ultra-wide camera (in addition to a 40MP main camera) then 15W USB-C charging.
This phone reminded me of the Realme 6i when I first looked at the specs, which costs about £30 more, has a smaller display that is only 60Hz, a slower chipset, but it does have a better camera spec and USB-C.
Design & Display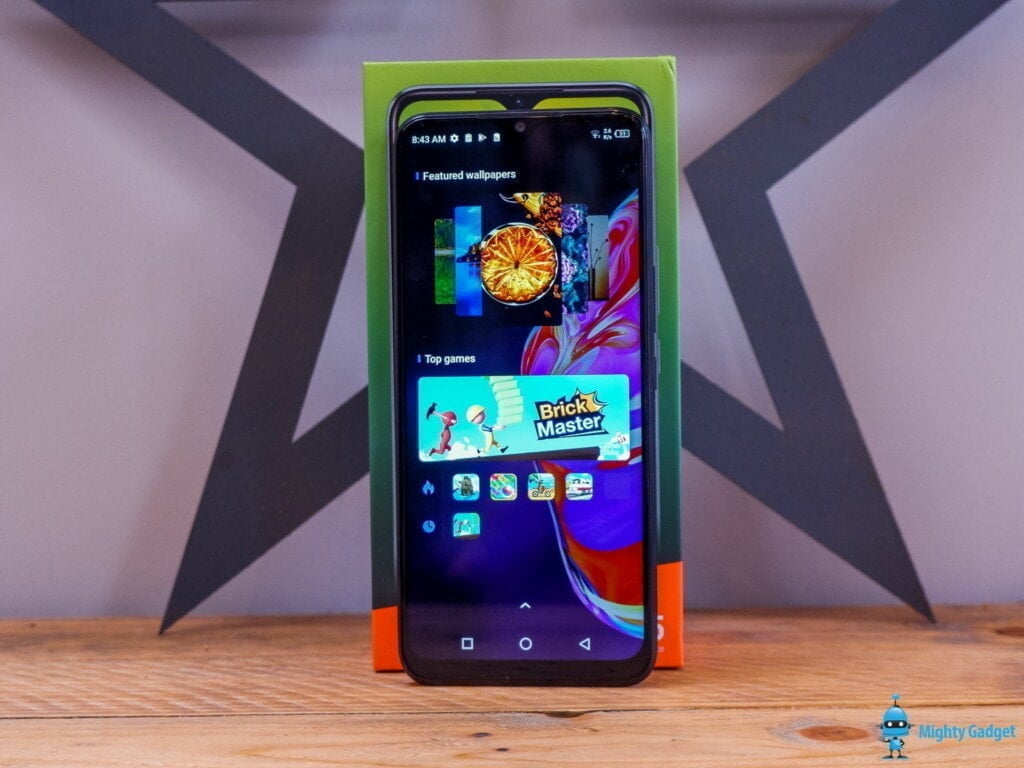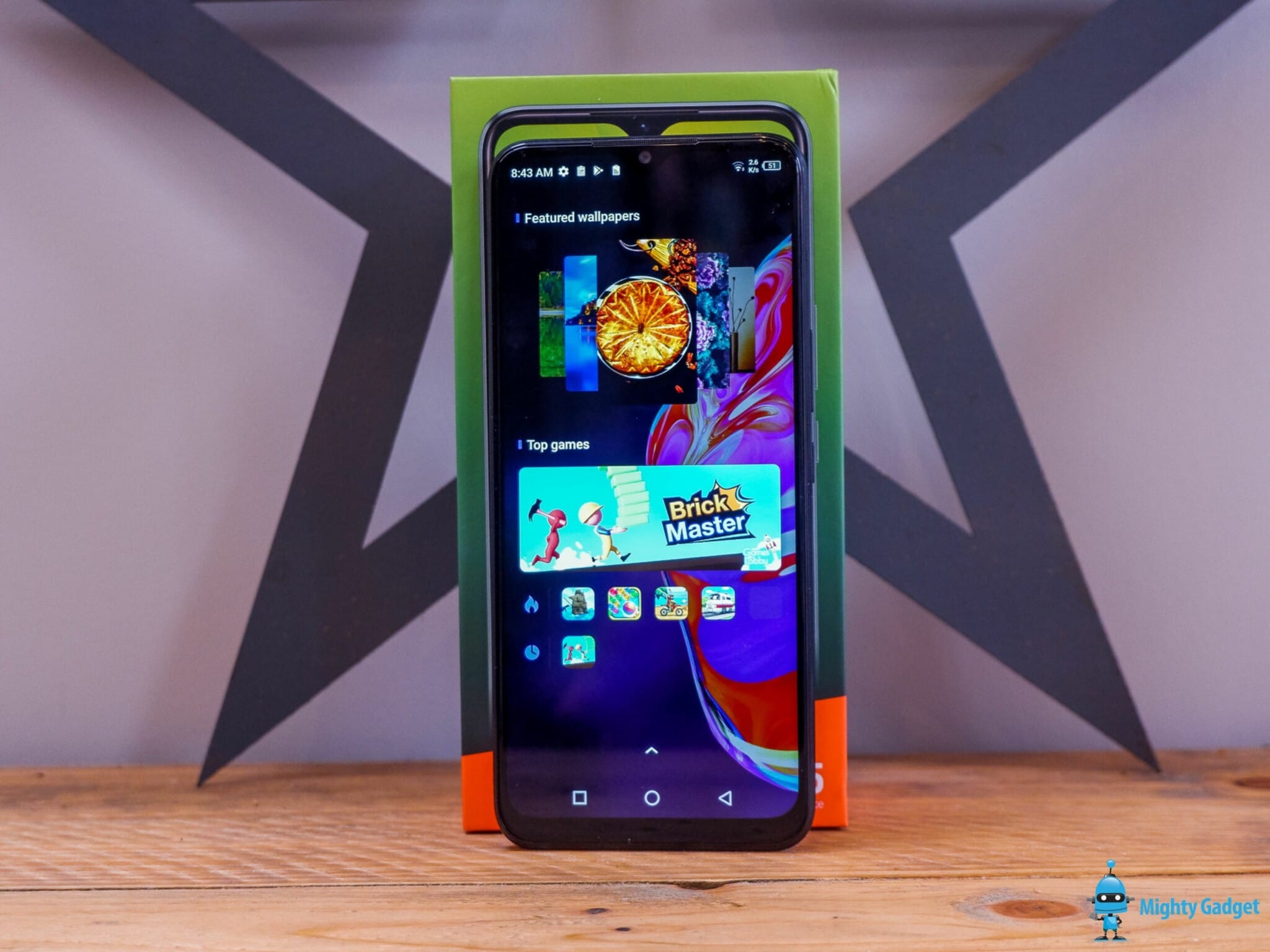 The phone looks alright; picking it up, I wouldn't immediately think this is a $120 phone. The thing you will notice immediately is how large it is. On top of the massive 6.82″ inch display, you have moderately thick (by today's standards) bezels.
Measurements are 171.5mm x 77.5mm x 9.2mm, which is 7mm taller and 3mm wider than the massive Xiaomi Mi 11 Ultra and a full 10mm taller than the Samsung Galaxy S21 Ultra.
The size of this works for things like gaming; your hands are not too cramped together.
A 1640×720 resolution on a display this large isn't ideal. It doesn't offer the same sort of detail you would get from a 1080p display, and colours look a little washed out; however it is perfectly usable.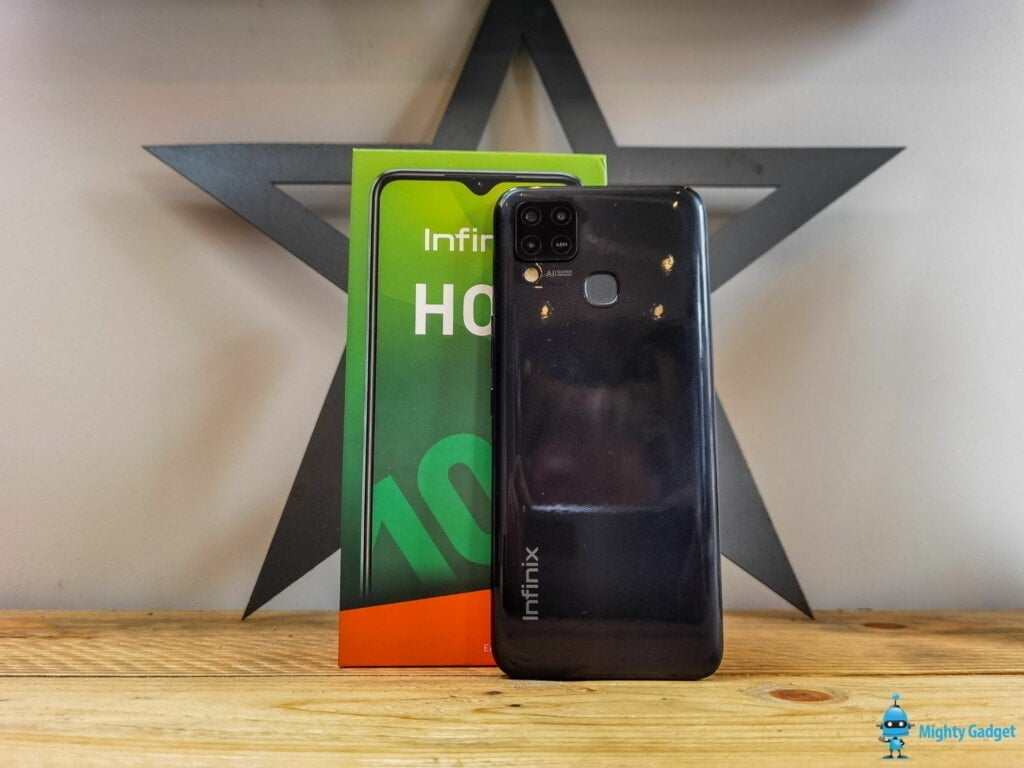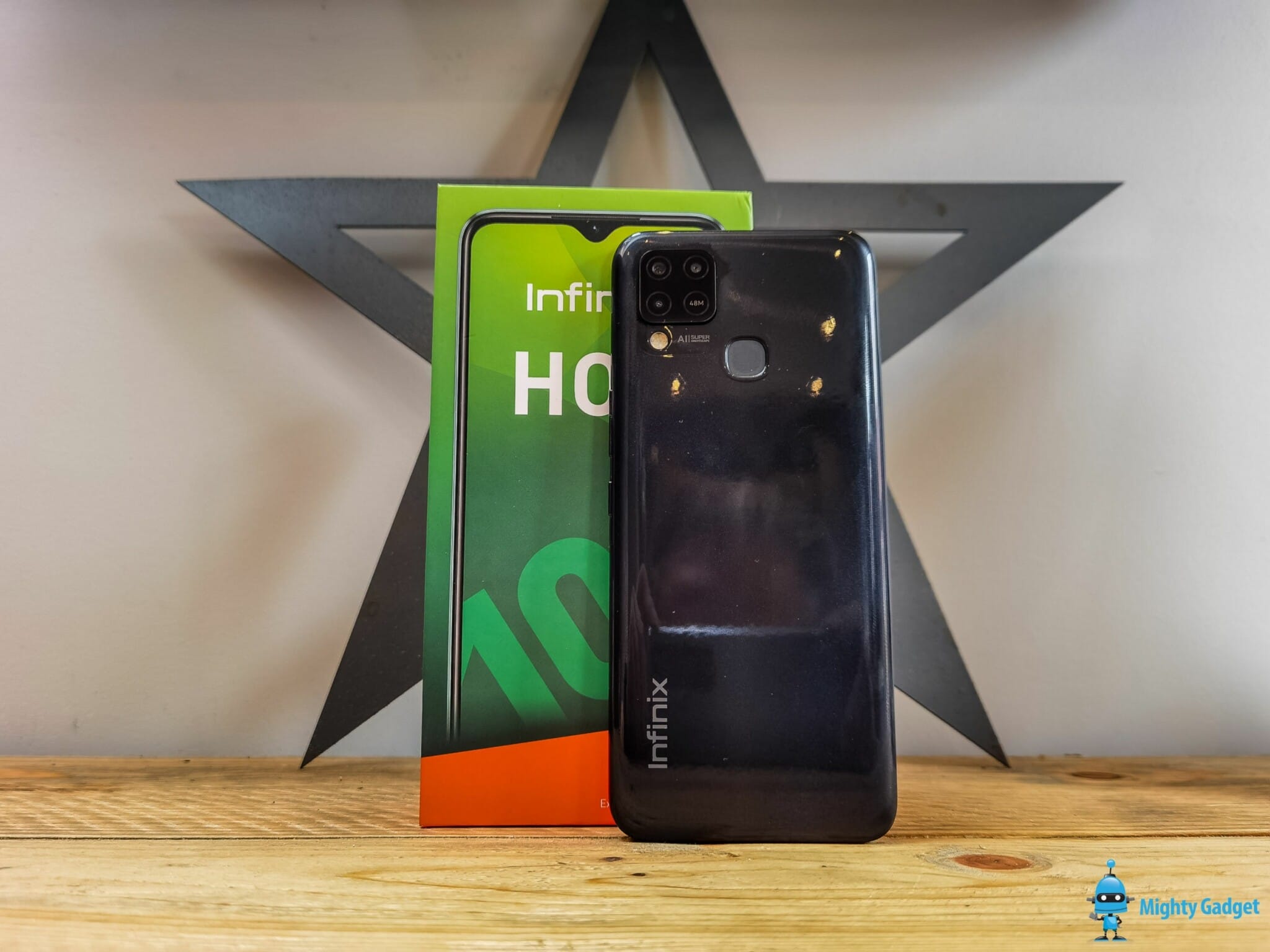 The selfie is located in a notch, which is to be expected at this price; it is only the more expensive Realme 6i and Galaxy A21s from the above list that uses a punch hole.
Similarly, the fingerprint sensor is on the rear, like other affordable phones. I don't have any strong feelings about any fingerprint sensor placement, they all have their pros and cons.
As you would expect from a phone at this price, it does have a 3.5mm headphone jack. So you can use cheap wired earphones when you are gaming.
Camera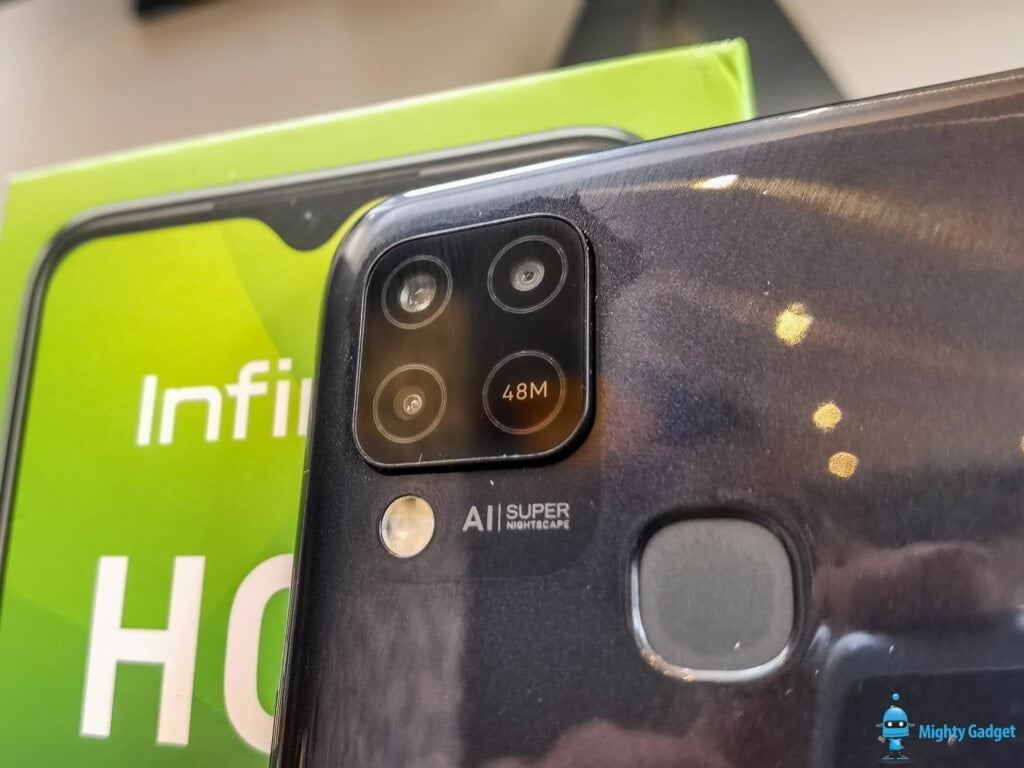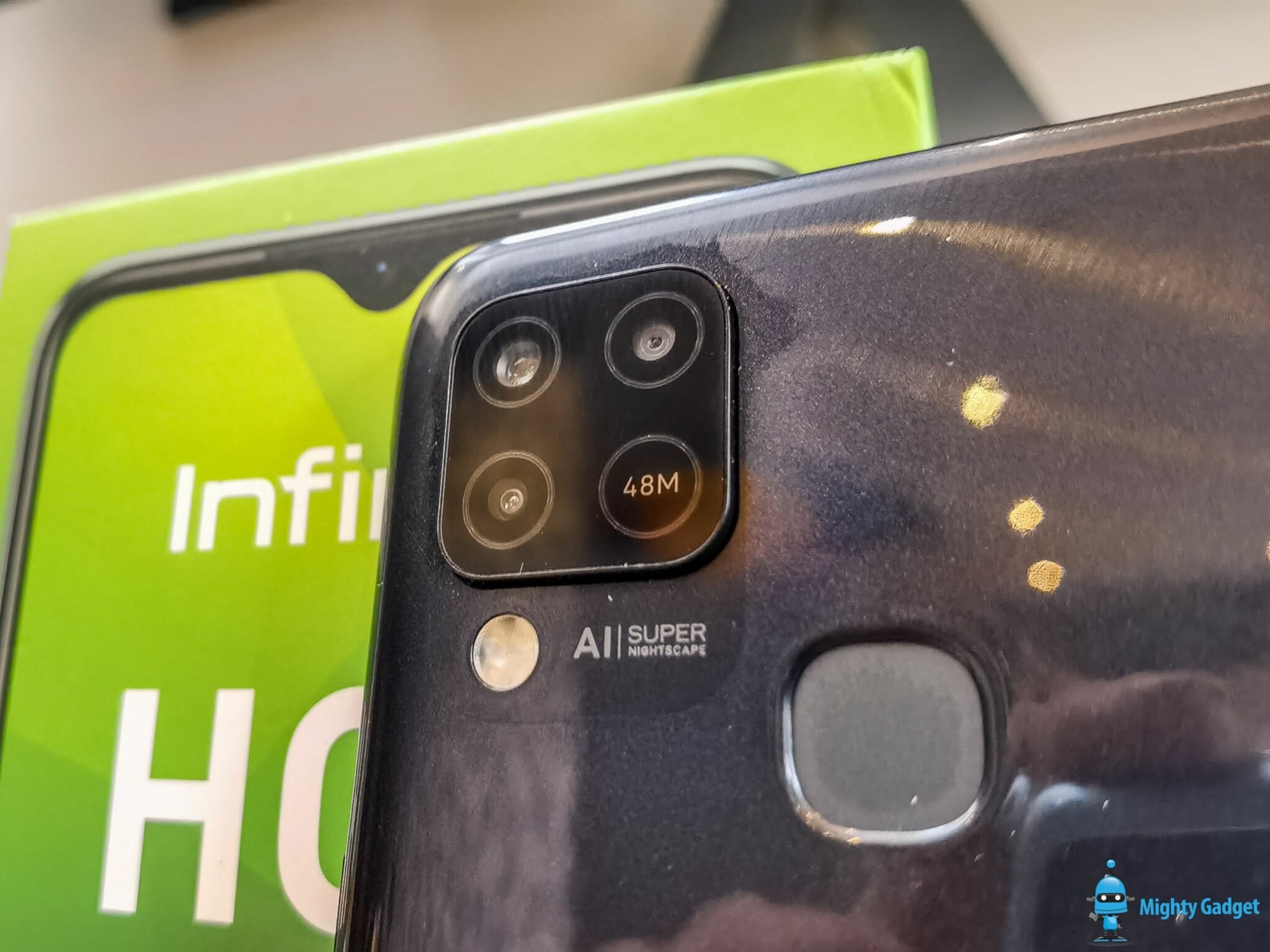 The Infinix Hot 10S NFC goes all-in on marketing BS with the camera. The square camera module, which offers a similar design to the iPhone, appears to have 4 camera lenses. The bottom right one just a circle informing you that it is a 48MP camera phone.
You then have the ubiquitous 2MP depth camera, which offers questionable benefits. Then there is the 8W AI Camera, which has no specification or explanation of what it does.
So basically, it is just one usable camera. Which to be fair, is perfectly good for a phone this price.  
The 48MP camera performs adequately, in good light, it will take decent photos that look good on social media. Quality will deteriorate in anything other than perfect scenarios. Great camera phones come with a  high price tag, so the overall performance of this is to be expected.
Photo Samples
I will add more to the gallery over the coming week.
Performance
Moving onto more positive aspects, this phone is all about the performance for your money. The MediaTek Helio G85 is an excellent chipset at this price point; combining it with the 1640×720 display and things run perfectly well.   
Antutu has shifted to V9, which gives very different results than V8, which I have used for most of my reviews in recent years. So a comparison is not possible.
In Geekbench, the phone achieved 367 and 1356, which is fractionally ahead of the Realme 6i, which uses the Helio G80.
In 3DMark Wildlife, the phone achieved 729. This puts it a little bit below the Snapdragon 720G which you find on more expensive phones such as the Realme 8 Pro and 6 Pro.
It is also worth noting that the stability of the phone is excellent too. During the Wildlife stress test, the phone scored between 722 and 729.
This is geared towards gaming, and I found it performed well in all the games I tried. While I am not personally a massive gamer, I don't like to play the likes of Asphalt 9 and COD, both of which ran without issue for extended periods of time.
Battery
Battery life is superb, as you would expect, it is so good I have not had a chance to successfully complete the PC Mark 2.0 battery test yet.
While the 10W charging is miserably slow, if you charge over night, it will never be an issue. Most users should be good for a couple of days with this phone.
Software
I don't hate the XOS 7.6 UI. It is lovely and responsive, and I experienced no glitches with it.
The main issue is all the crap you get installed on it. This includes at least 13 unnecessary apps that I can see, some of which can't be uninstalled:
AHA Games – can't uninstall
Beez
Boomplay
Carlcare – can't uninstall
Hi Translate – can't uninstall
Palm Store – can't uninstall
Phone Master– can't uninstall
Power Marathon – can't uninstall
Welife
Xclub – can't uninstall
Xshare – can't uninstall
Xtheme – can't uninstall
YoParty – can't uninstall
Also, swiping down when in the app drawer brings up recommend games and featured wallpapers. The recommended games list seems to be Instant Games which load up through AHA Games.
From my experience, the Western market is less tolerant to bloatware than other countries, and this is another indication that this was never intended for the UK/US/EU
Overall
For $120, it is hard to criticise this phone too much, it offers the best spec for your money that I can find from UK stores such as Amazon. I can't even find anything that offers better value for money from grey import sites such as Giztop and Banggood.
You have to make a lot of compromises for a phone so cheap. I really hate microUSB on modern phones, nor am I particularly fond of preinstalled apps.
It is a huge phone too, so this will limit the appeal to a lot of users. The price of this will be appealing to older folks who just want a phone for basic tasks, but I am not too sure how they will feel about how big it is.
Gamers who are on a very strict budget will likely love it, which is a huge demographic in the Middle East and why Inifinix have been so successful.
Overall, though, you get a lot for your money, and this seems like it would be a great option for kids (or anyone) on a budget wanting something that can run games well.
Of course, all my opinions are based on the UK market and my experience of users in the UK. Assuming the price of this phone is competitive in its local regions, I suspect it will be very popular; however, without much knowledge of phone buyers in these regions, it is a little hard to draw up an accurate conclusion.
Posted by Mighty Gadget Blog: UK Technology News and Reviews