Intel is certainly feeling the pressure from AMD, they have been feeling it since the launch of the original Ryzen. With the Zen 2 series of processors, things have only gotten worse, the i9-9900K doesn't fare particularly well compared to the Ryzen 7 3700X or Ryzen 9 3900X, though it is still technically best at gaming.
At the moment, Intel's consumer chipset offers users up to eight cores, whereas AMD is currently on 12-core and will be at 16 within a few months with the AMD Ryzen 9 3950X.
So what's Intel's answer? Comet Lake which continues to use the 14nm fabrication process, albeit now classed as 14nm+++.
A specification sheet has leaked with a comprehensive lineup showing how Intel plans to compete with the new high core count AMD chips.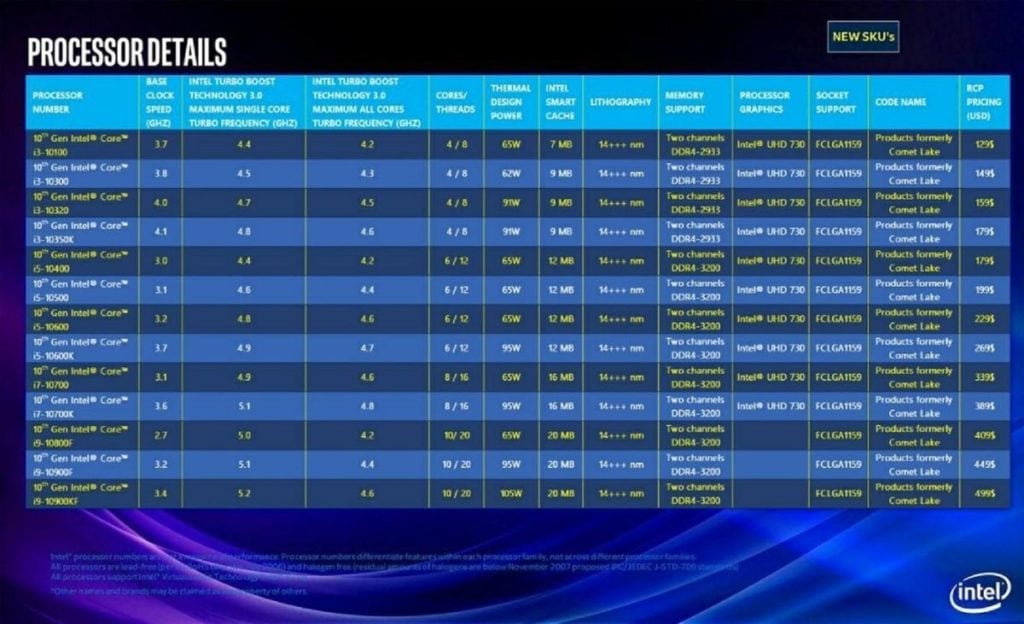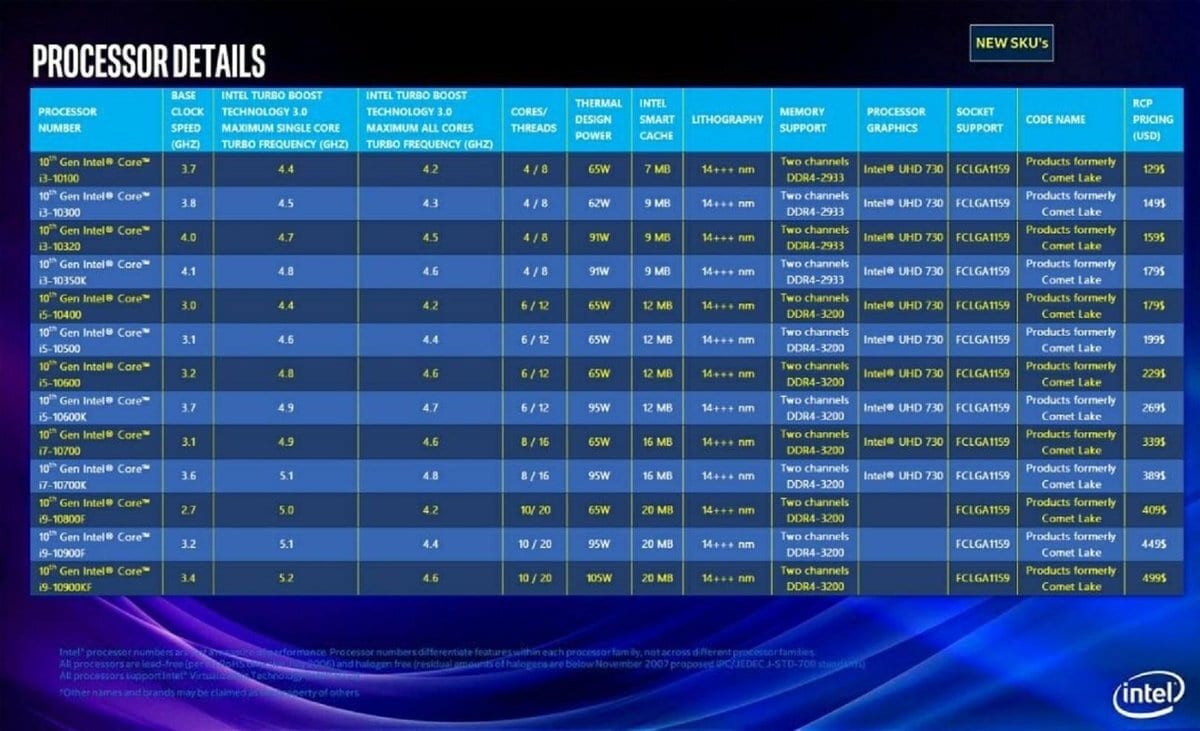 Intel will be ditching the iGPU in favour for a couple of extra cores and the 10th Generation i9-10900KF is priced the same as the Ryzen 9 3900X at $499.
It is worth noting that there is a bit of an odd entry on the leaked slide. There are two 10-core CPUs listed, the i9-10900KF and i9-10900F, based on the current Coffee Lake chips that would normally be the same CPU but one with an iGPU and one without. This has them both without an iGPU but at different clock speeds.
Other people have pointed out the slide has multiple other issues. The dollar sign is listed after the prices, not before, which is something of a European idiosyncrasy. Intel has always placed the dollar sign in its proper place, before the price.
The Ryzen 9 3900X has a higher based clock then both chips, however, Intel will continue to be chip with the highest boost speeds, on both single core and all cores. This will likely mean that the Intel i9-10900KF will help Intel keep the crown of the best gaming CPU, and the identical pricing to the Ryzen 9 3900X could help win gamers over.
A big stumbling block for Intel could be the new LGA1159 socket that is listed on the slide. While the X570 motherboards are excruciatingly expensive, there is little performance difference between their much more affordable X470 sibling.
As there are discrepancies with the slide, it is definitely worth taking this all with a pinch of salt.
| | i9-10900KF | i9-10900F | Ryzen 9 3900X |
| --- | --- | --- | --- |
| Base Clock | 3.4 | 3.2 | 3.8 |
| Boost Single Core | 5.2 | 5.1 | 4.6 |
| Boose All Cores | 4.6 | 4.4 | 4.1+ |
| Cores / Threads | 10/20 | 10/20 | 12/24 |
| TDP | 105 | 95 | 105 |
| Total Cache | 20 | 20 | 70 |
| Fabrication | 14nm+++ | 14nm+++ | 7nm |
| Mempory | DDR4-3200 | DDR4-3200 | DDR4-3200 |
| Socket | LGA1150 | LGA1151 | AM4 |
| Pice | $499 | $449 | $499 |
Post from: Mighty Gadget – Gadget and Technology Blog
Intel i9-10900K vs Ryzen 9 3900X – Can Intel's leaked 10-core 14nm+++ CPU really compete?