With the prospect of travel being allowed again in the next few months, I have been looking for portable working solutions.
The Jelly Comb multi-device Bluetooth keyboard has been recommended a lot recently, several people on social media I follow have mentioned it, so figured I should give it a go.
Features
Multi-Device Bluetooth Keyboard & Mouse Set – The keyboard is about 820G which give a sturdy support to 12.9″ Tablet stand vertically. Both the cordless keyboard and mouse have 3 Bluetooth channels(the connection of these two devices is separate), which allows you to connect 3 devices simultaneously. You can switch among the devices by pressing the button "Fn" + "F10" "F11" "F12", greatly improving your work efficiency. (NOTE: Please remove cases before inserting your tablets into the slot.)
7 – Color Backlight and 3 Brightness Level: The adjustable backlight colour and brightness would fulfil your customized needs. Make it easier to find your keys in the dark.
Wide Compatibility – This wireless keyboard and mouse combo is compatible with Computer/Laptop/MacBook/iMac/iPad/iPhone/any Tablet with Windows, Mac OS, iOS, Android System, please confirm that your device has Bluetooth function before purchase.
Rechargeable Keyboard & Mouse – This wireless keyboard and mouse set built-in lithium battery for recharging, and can work for 220 hours without backlight, which will satisfy with your daily use.
Dual Mode Illuminated Mouse and Noiseless Keypress – The mouse has ONE 2.4 G connection channel and TWO Bluetooth channel, which allows you to connect 3 devices simultaneously. The illuminated design and noiseless keypress increase your working efficiency in the dark and quiet situation.
Design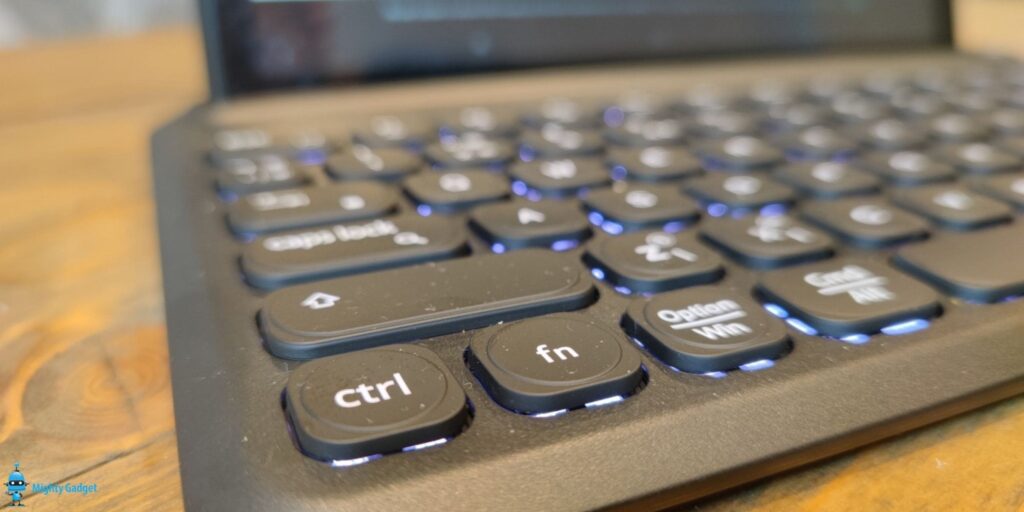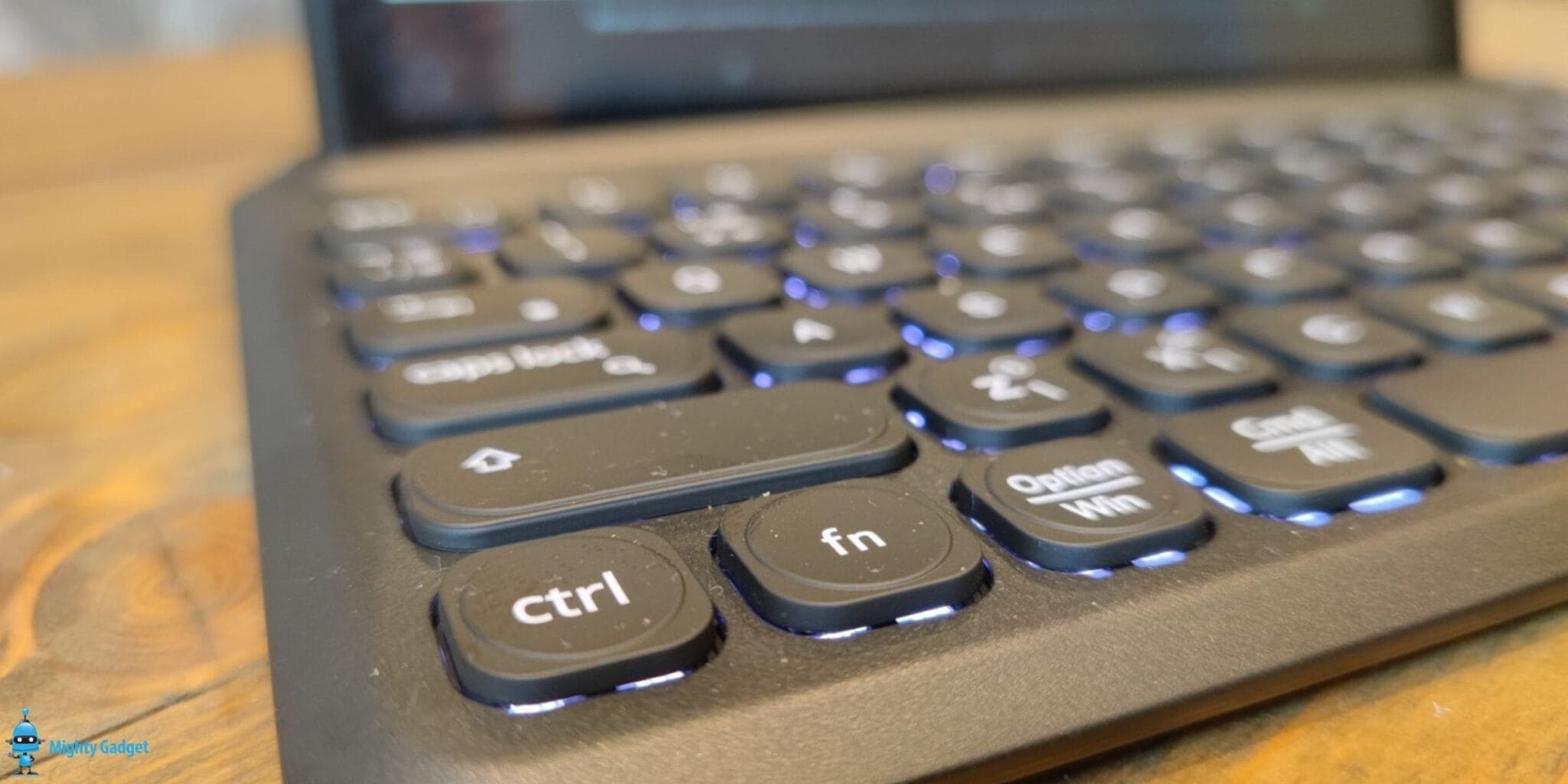 This is a well-sized mini keyboard with a built-in mount that can accommodate devices up to 24.99cm, which should be good enough for tablets a little over 10" (it fits my Teclast M40).
The keys are a chicklet design similar to most laptops, but the keys themselves are a little squidgier to press than many laptops.
The keyboard has a battery built-in with USB-C charging on the rear. With this being designed to prop up a tablet and the included battery, the overall keyboard is surprisingly heavy (840G). The weight of it gives you a nice stable mount, but it is noticeably heavier than my tablet, so if you are carrying it around all day as some sort of ultra-light solution it may not be perfect.
Pairing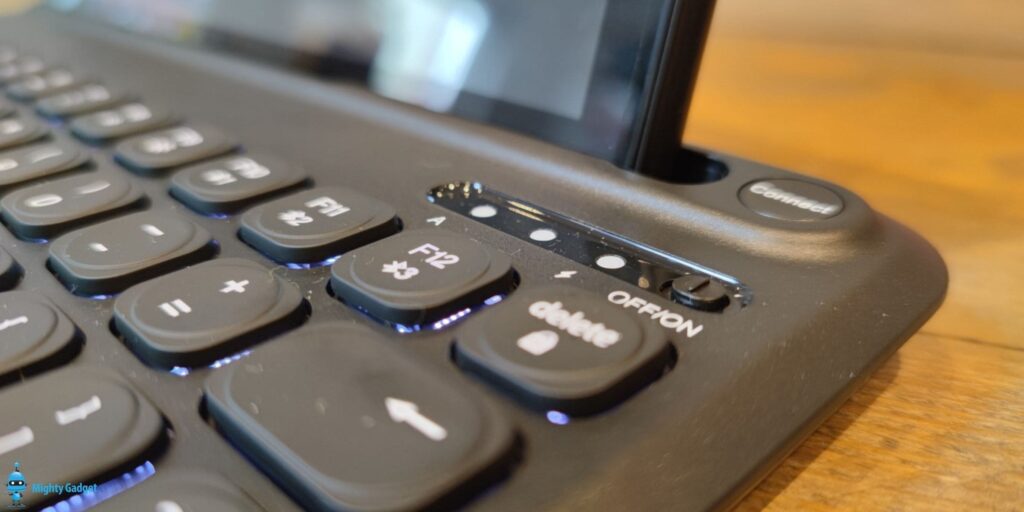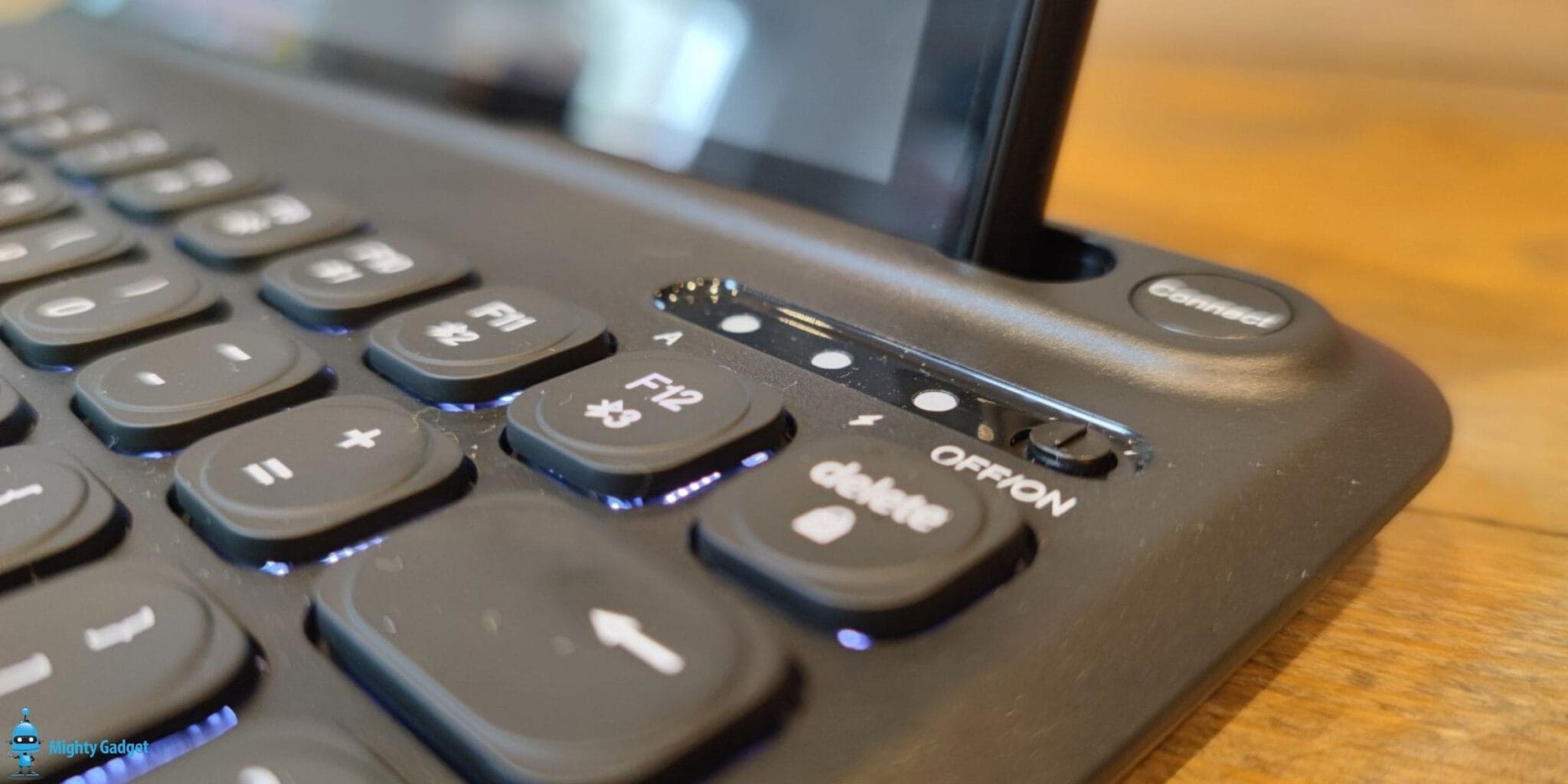 There is really not much to do here, it is the normal process. Switch the device on, press connect then pair via the Bluetooth menu. The keyboard can handle three different connections switching between them by pressing connect and a corresponding F button. The mouse can do two Bluetooth connections and the 2.4Ghz
In Use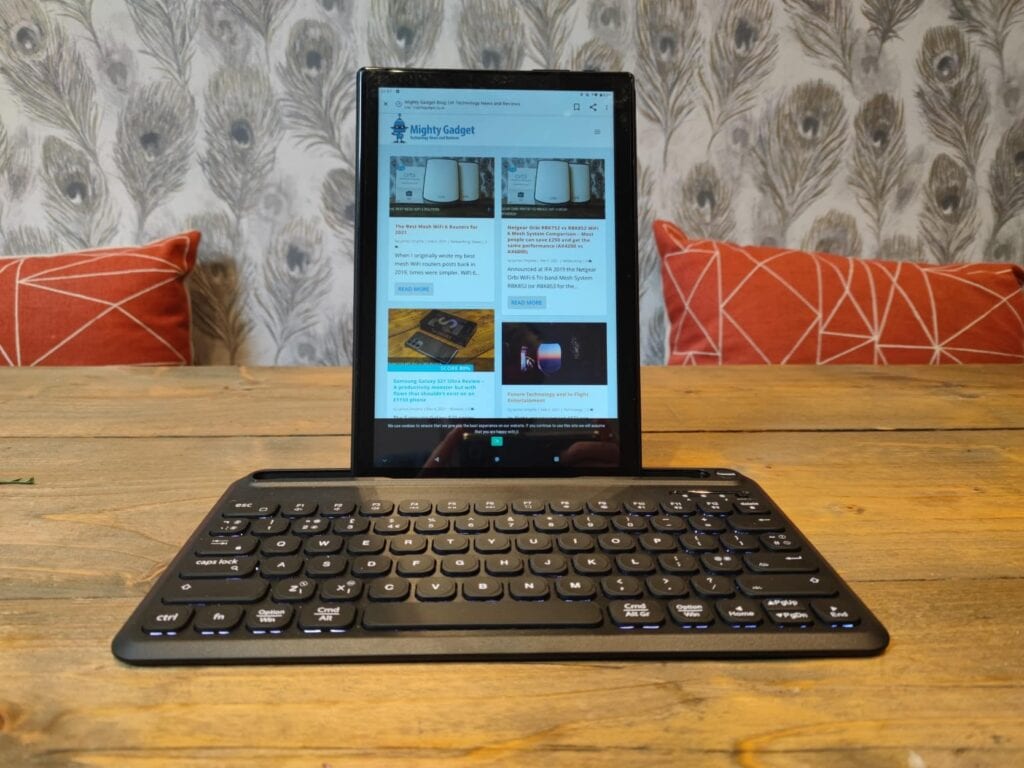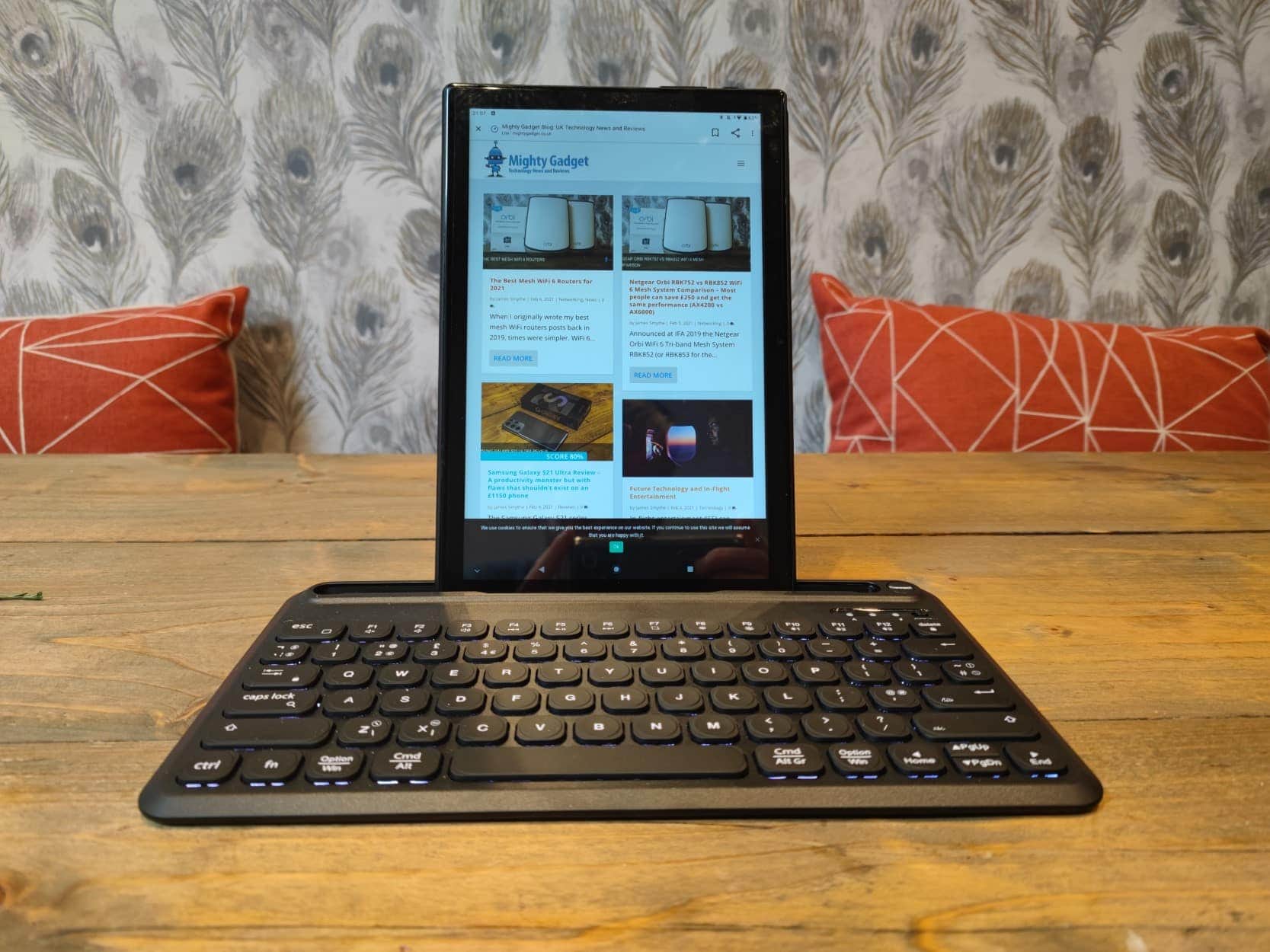 This mostly works as expected. It is vastly superior to typing directly onto the tablet. The overall keyboard size is big enough to comfortably type longer content for a while.
It is not perfectly responsive, typing very fast introduced occasional errors. While I can type faster than average, I am not super fast, and I am more likely to make errors typing on a small keyboard myself rather than the responsiveness to be blamed, so I don't think this is a huge issue.
The weight of the keyboard works well in use, a lot of the time I still use the screen rather than the mouse, and proding things didn't flip up the keyboard.
As for the mouse, it is decent enough, it adds about £7 to the cost of the keyboard, so it was never going to be a top of the range gaming mouse. You get Bluetooth and 2.4ghz connectivity, I have only used it on Bluetooth, but left the dongle in it as a backup should I need it for my laptop.
It says the DPI levels are 1000/1600(default)/2400. I'd question how accurate that is, I had to dial it up to the max immediately, but at this level the mouse works well.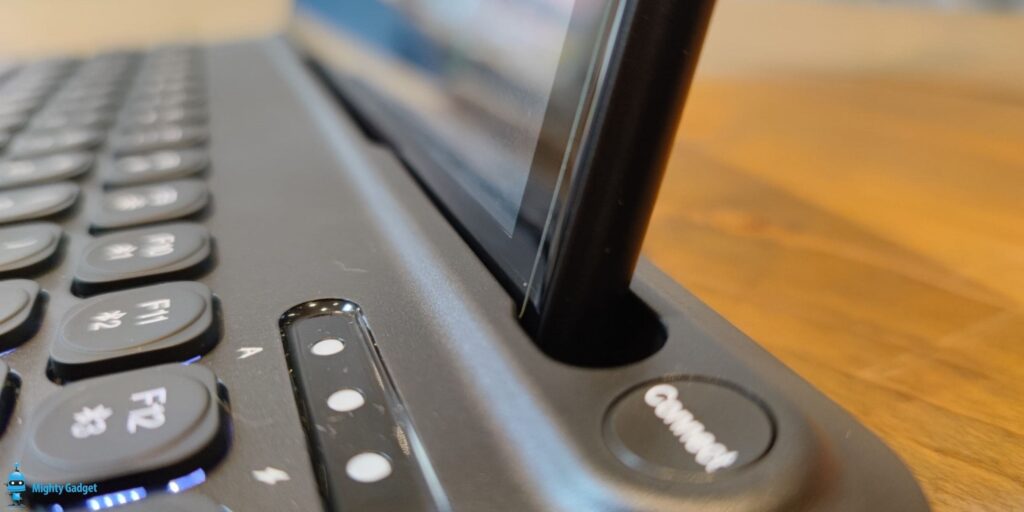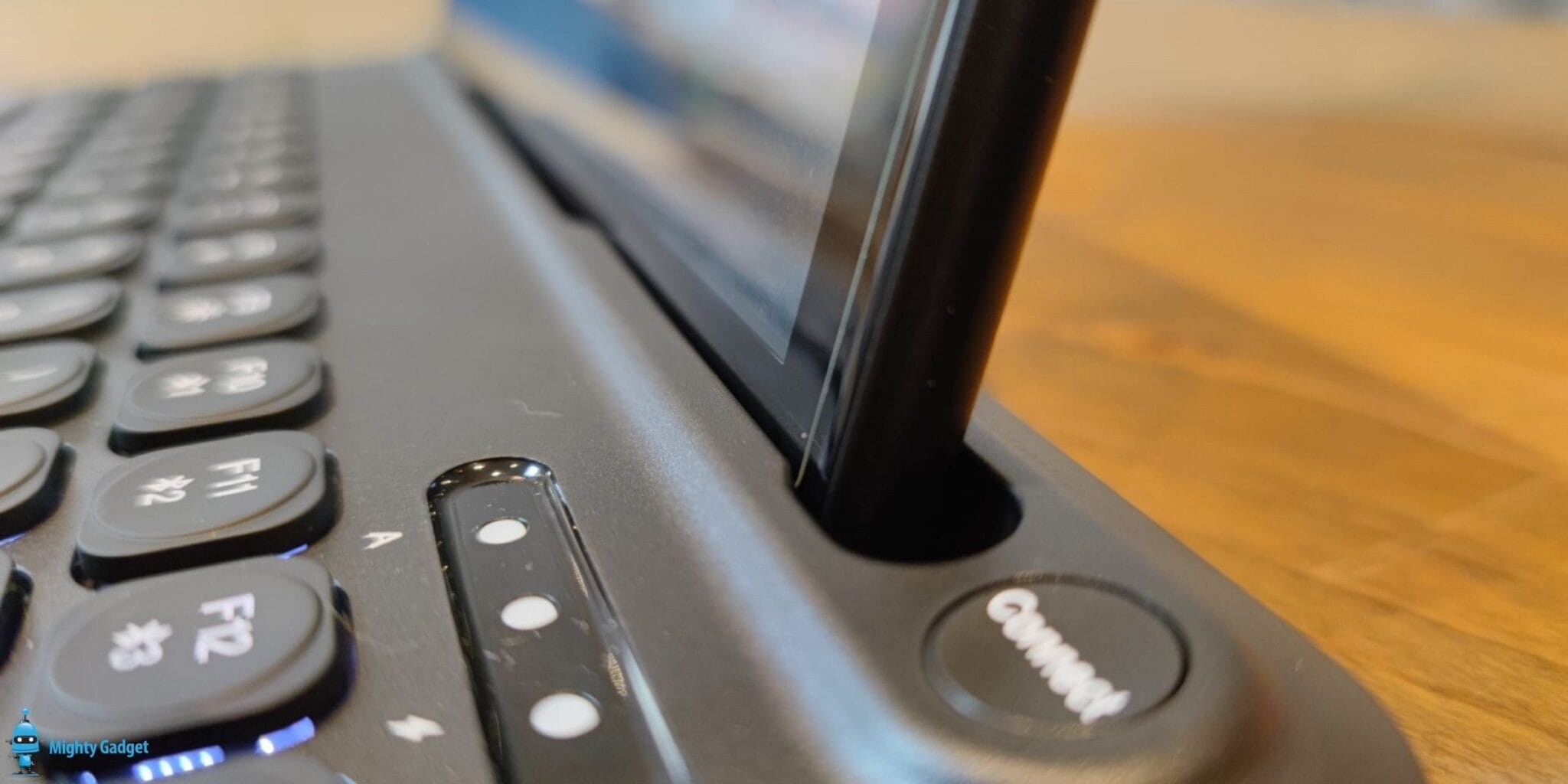 The slot you mount devices into is a fixed depth, which is good for keeping things secure, but I tried to use the Samsung Galaxy S21 Ultra with it. If you want to mount it in landscape so you can charge, the camera bump is too think to have the USB on the left, so you need it on the right. I then used a USB-C hub for HDMI, giving me access to DeX, and with this setup, I ended up with a big mess of cables to the right of the keyboard where the mouse is. If you are working in a cramped space while travelling this could make using the mouse difficult. This is of course, a very specific problem that will affect a small number of users.
Price and Alternative Options
This is priced at £39.99 with the included mouse or you can get it without a mouse for £31.99
Alternative options will depend on your requirements. If you have a specific tablet you want to use for productivity, you can probably buy a dedicated keyboard/case which would be much lighter.
Or you could just buy a normal slim lightweight Bluetooth keyboard, which again, would likely be lighter.
However, for a multi-device keyboard/mount there isn't really anything that competes.
Overall
I am impressed with this keyboard, offering a versatile solution for improved productivity on a variety of mobile devices. Unlike product-specific options, this will stay with me between phones and tablets, so the overall cost per use should be vastly superior to your generic Bluetooth tablet case.
It is a lot heavier than I was expecting, this works well for stability but will add a bit of weight if carrying around all day.
It would be good if future versions had some time of adjustable gap to mount thicker devices. Also, some sort of pass-through charging would be superb, a built-in USB-C cable allowing you to charge the keyboard and device as one would be ideal.
The combination of this and the Teclast M40 tablet give me a perfect low-cost portable solution for when I want to do light work while travelling (sometime in the future).
Posted by Mighty Gadget Blog: UK Technology News and Reviews