Following on from my review of the HyperX laptop RAM, I have also been checking out the latest 3600MHz DDR4 DIMM Ram for my desktop.
While the laptop RAM offered a massive capacity upgrade,
this RAM provides high speeds at a reasonably affordable price point.
Specification
SKU
HX436C17FB3K2/32
Error Check
Non-ECC
Intel XMP-Ready
Profiles
Yes
Aluminium Heat
Spreader
Yes
Brand
HyperX
Memory Capacity
32GB Kit (16GB x2)
Form Factor
DDR4
Module Type
DIMM
HyperX
Range/Series
Fury
Model/Series/Type
HyperX
Speed
3600MHz (PC4-28800)
CAS Latency
CL17
Warranty
Lifetime
Chip Organization
x8
Pins
288 Pin
Colour
Black
Country of Origin
China, Taiwan
Data Width
X64
Memory Depth
2G
Memory Voltage
1.35v
Pictures
Desktop Specification
I don't exactly have a high-end gaming desktop, but it is
adequate for my needs, a GPU upgrade is on the cards this year though.
My existing RAM runs at 3000Mhz, so this HyperX kit should
offer some performance improvements.
AMD Ryzen 2700
Asus X470-F Gaming
Zotac GTX 1070
32GB (2x16GB) Corsair LPX 3000Mhz DDR4 RAM
Install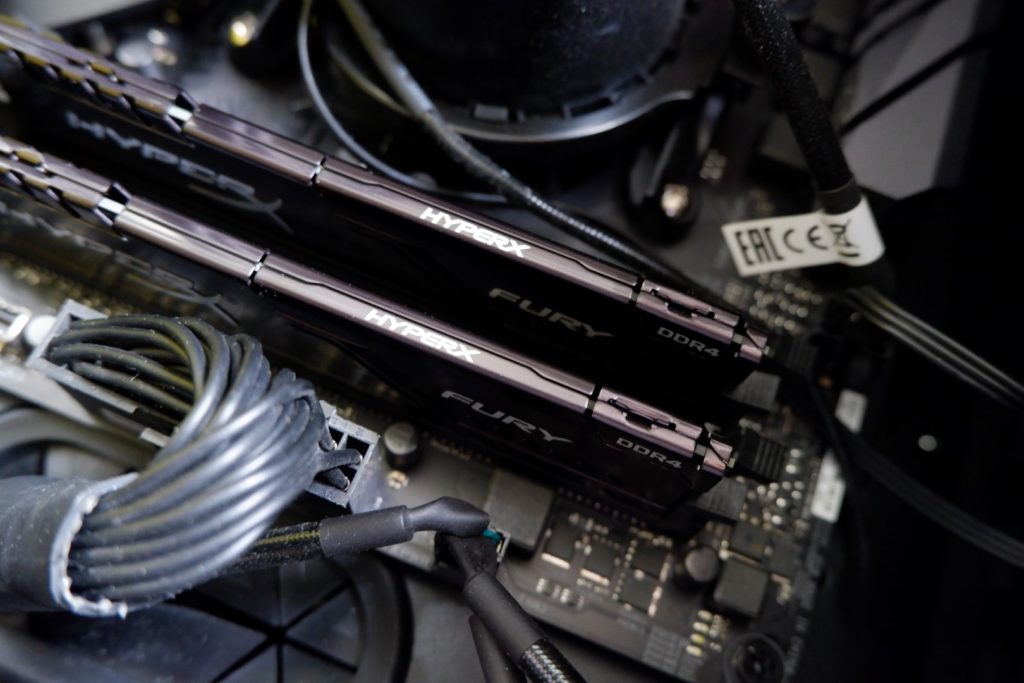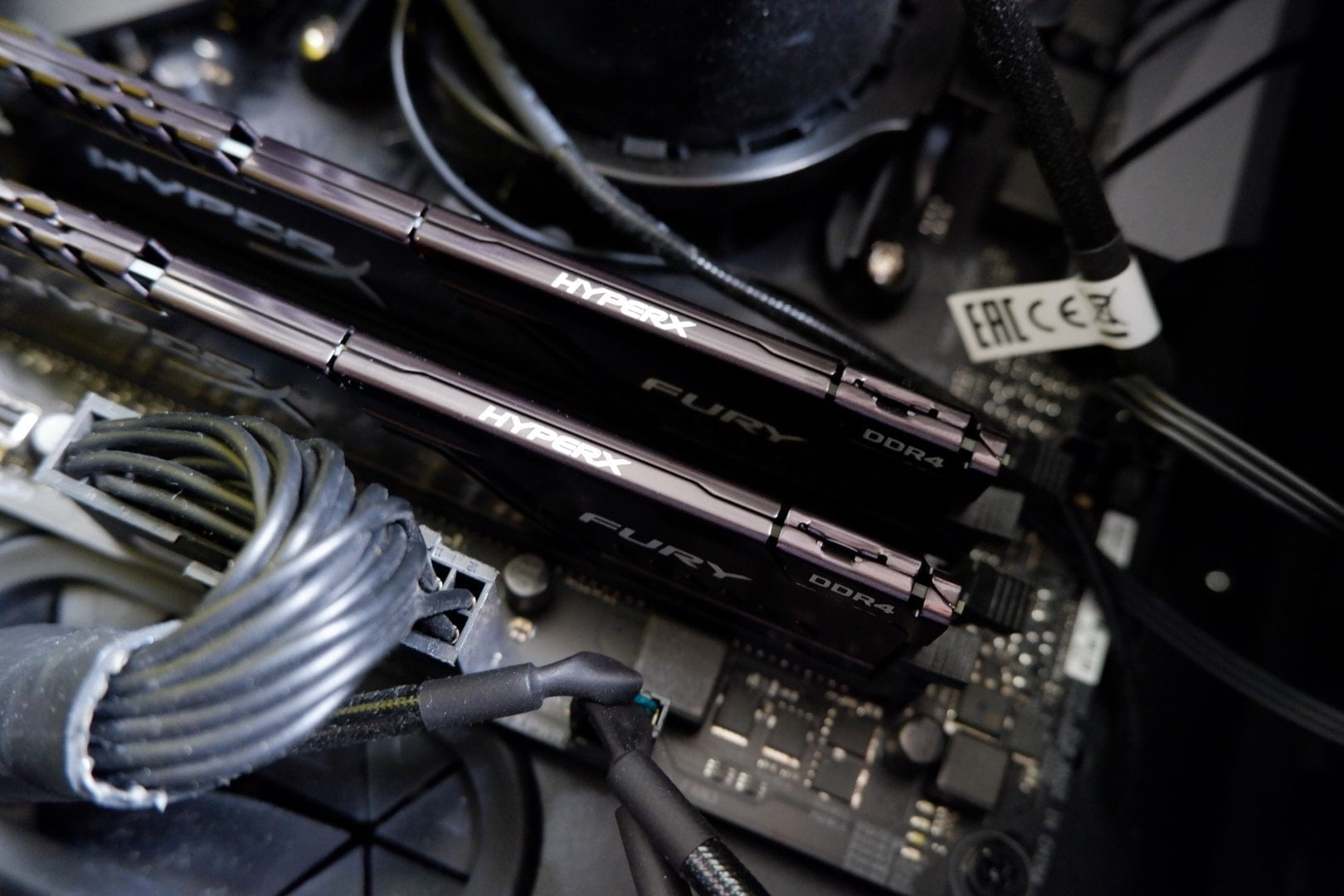 It's RAM; it's like expensive Lego, there was not much
involved with the physical installation. The aluminium heat spreader is low profile
too, so you shouldn't have too much of an issue with cooler clearance if you
populate all your slots.
Once installed you need to go into your BIOS and set the correct speeds. With me using X470/Ryzen I just set the DOCP profile, and nothing else was needed. When Ryzen first came out a lot of people complained about getting the higher frequencies to work, I had no such issues with my Corsair, and this HyperX works perfectly out of the box too.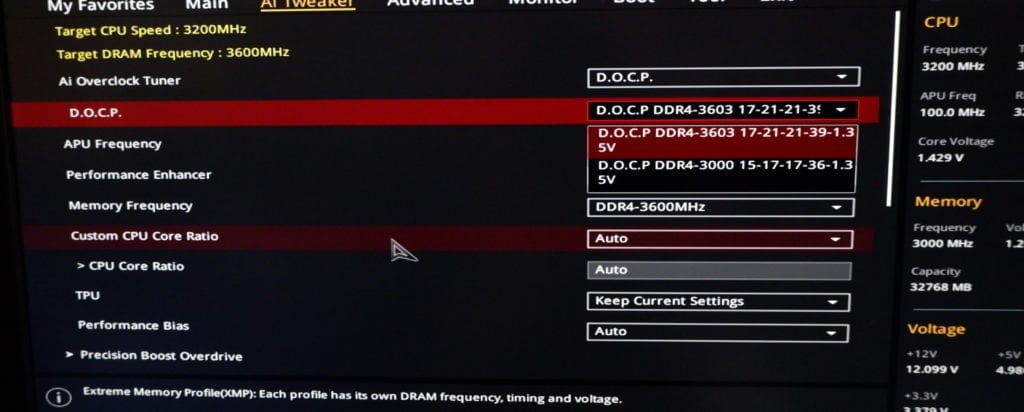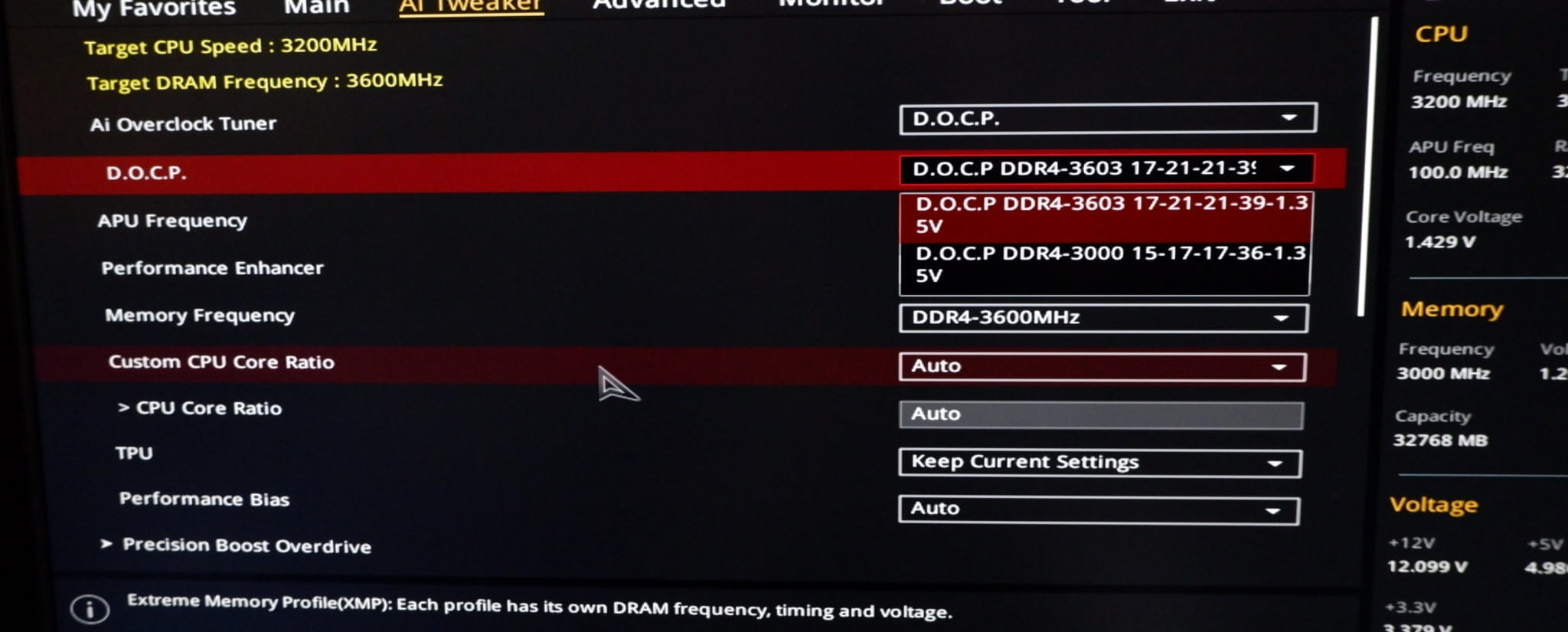 If you are happy to keep the timings as defined in the
profile, there is nothing else to do. I restarted my machine, and everything
worked perfectly. If you like tinkering, you can probably squeeze a little
extra performance out by lowering the timings a little.
Benchmarks
In AIDA64, there was a considerable improvement moving from 3000MHz to 3600MHz with almost a 20% improvement in read speeds and a 7% reduction in latency.
| | 3000Mhz | HyperX 3600MHz | % Improvement |
| --- | --- | --- | --- |
| Read | 41965 | 50139 | 0.195 |
| Write | 40642 | 47970 | 0.18 |
| Copy | 37527 | 44129 | 0.176 |
| Latency | 79.6 | 74 | -0.07 |
In MaxxMemm, this resulted in an overall score going from 23.54GB/s to 27.10GB/s, which represents a 15% improvement. Latency dropped by nearly 11% down from 82.4 to 73.5ns.
In the Memory Mark test of PassMark, the gains were less pronounced with a 6.8% improvement in my score.
In 3DMark Time Spy the results were almost identical, with
the score being more reliant on the GPU/CPU.
While PCMark may not be classed as the best benchmark in the
world, it shows how RAM can improve different aspects of your workload. My overall
score improved from 4647 to 4822, which is only a 4% gain. However, when you
look at the breakdowns, digital content creation saw a 9% improvement in the
score and
Video editing improved by 7.5%
Rendering improved by 5.8%
Photo editing improved by 13.7%
Price and Competition
There is lots of competition with the DDR4 market, each
company offers their RAM in multiple speeds, different timing and capacities so
you can always find something to fit your budget, but it can make like for like
comparisons hard.
My review sample currently sells for £237.99 on Amazon or £221.99 direct from Kingston.
On Amazon, you can pay a fiver more for the fractionally faster 3733 MHz kit, but this has a CL19
Alternatively, there is the RGB version of this kit, if you don't mind buying from an Amazon Market place seller, it works out cheaper at £221, or via Amazon, it is £250. Or the 3466MHz with better timing of CL16 at £244.99 direct from Amazon.
Overall
Less than 2 years ago you could have easily paid over £300 for 2400MHz, thankfully DDR4 prices have crashed since then, and RAM is back to being affordable.
Fast RAM does have a hefty premium, but I would say 3600MHz
is a sweet spot for cost/performance, it looks like you pay at least £100 more
if you want to go up to 4000MHz, and Scan will charge you £477 for 16GB of 4266MHz
RAM.
During my testing this RAM performed as expected, producing superior
benchmarks for than the 3000Mhz RAM it replaced. For gaming, if you are moving
from 2400MHz to 3600MHz, you will likely see a decent uptick in performance, especially
for Ryzen based gaming PCs. For content creation, depending on what you are
doing, I saw up to 13.7% improvements in benchmarks moving from 3000Mhz to 3600MHz
Overall this is an excellent memory, that has provided a decent
bump in performance going from 3000Mhz. It works perfectly with AMD Ryzen,
taking just a few seconds to set up in the BIOS and the pricing is about right,
though with the ever-changing prices of RAM, it is always worth shopping around.