The Kingston Workflow Station and Readers provide a flexible system to transfer video, photos, and audio from multiple sources at once.
It has an innovative modular design with four separate miniHub reader slots, which allows you to customise it to your needs. The mini hubs work independently giving easy access to your data on the move.  
Set Up & In Use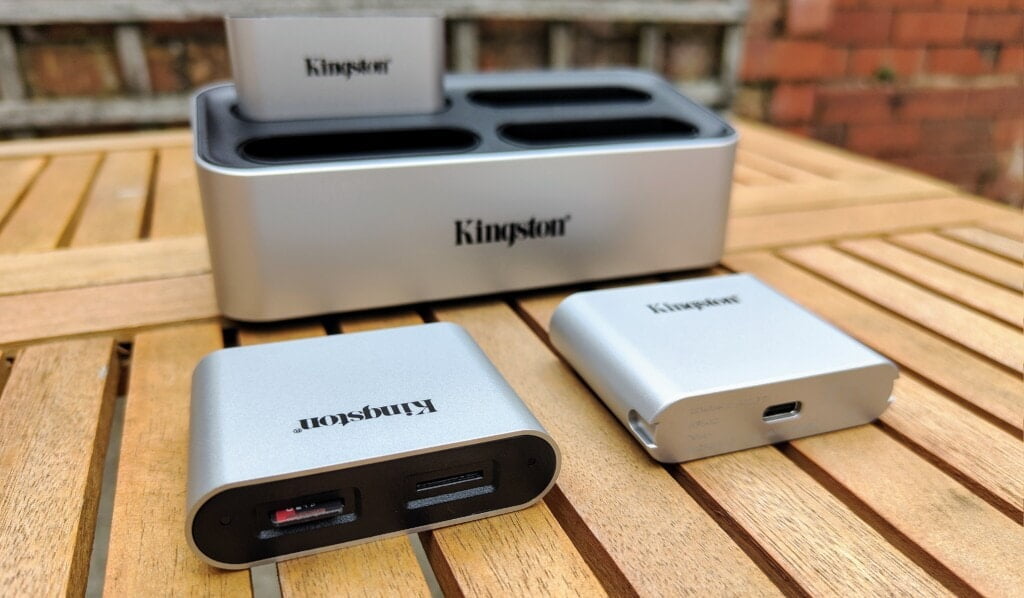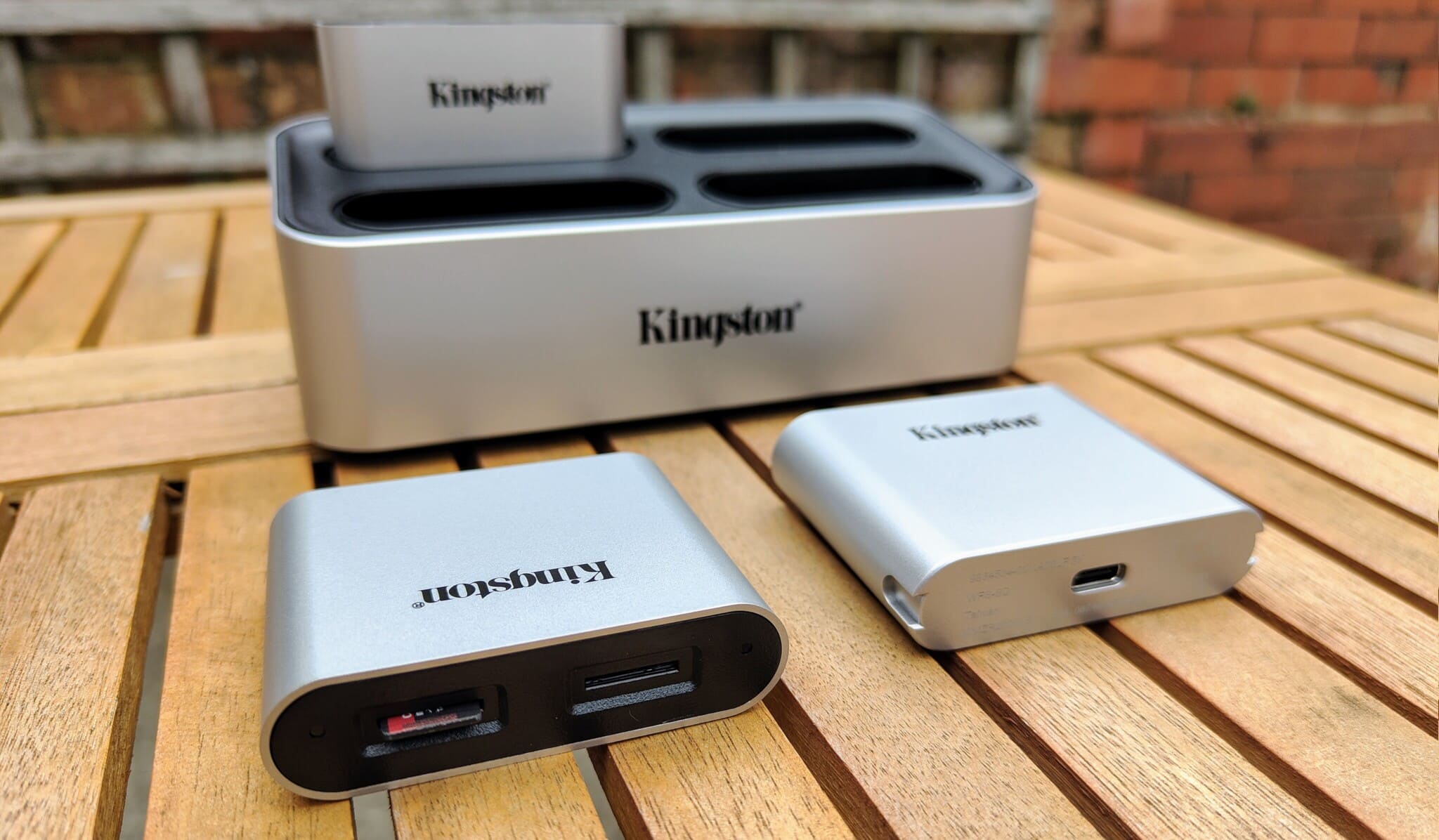 There is not much to set up, it is a card reader, after all. The hub itself requires power, even though the cards shouldn't require it.
You then just slot the readers in place, and Windows will mount it. For some bizarre reason, I found that the included USB-C cable required to be inserted in one particular way around, it is possibly a user error or something else, but it took a little while to figure out.
The readers themselves can be used independently, one of the selling points of this hub. They come with their own shorter USB cable. When you need to leave the office for a photoshoot you can grab the entire reader allowing you to work on the move.  As your requirements change or grow, you can buy new modules rather than replace the entire system.
Each miniHub has two inputs with the card readers, both have two slots for the respective card. The USB miniHub is split between USB-A and USB-C, so you don't lose a USB-C port, should you need it for something else.
The Station of this uses Gen 2, which can go up to 10Gbps, but the miniHubs themselves are limited to USB 3.1 Gen 1. 5Gbps works out at 625 MB/s which is faster than any SD card or SATA SSD on the market.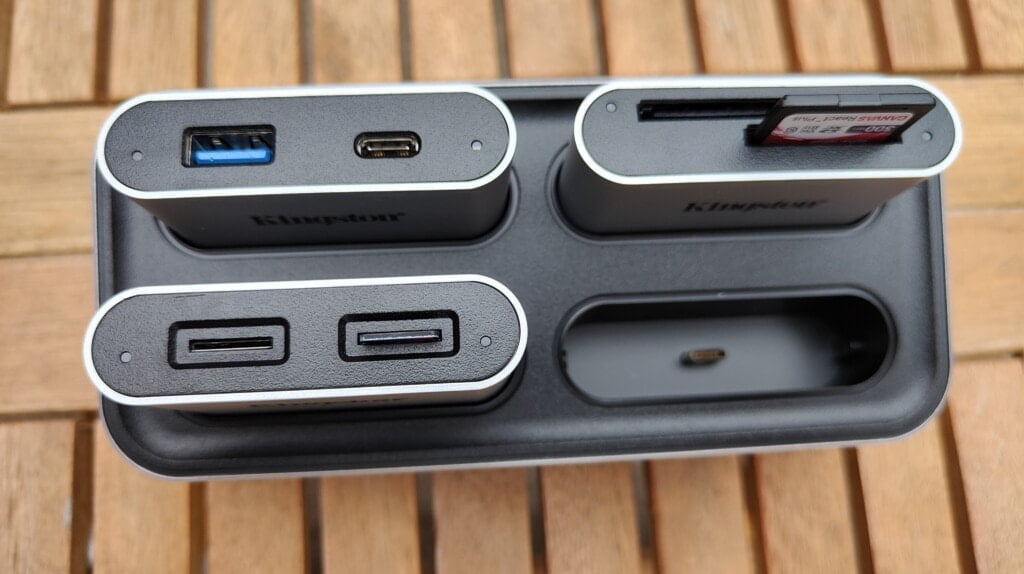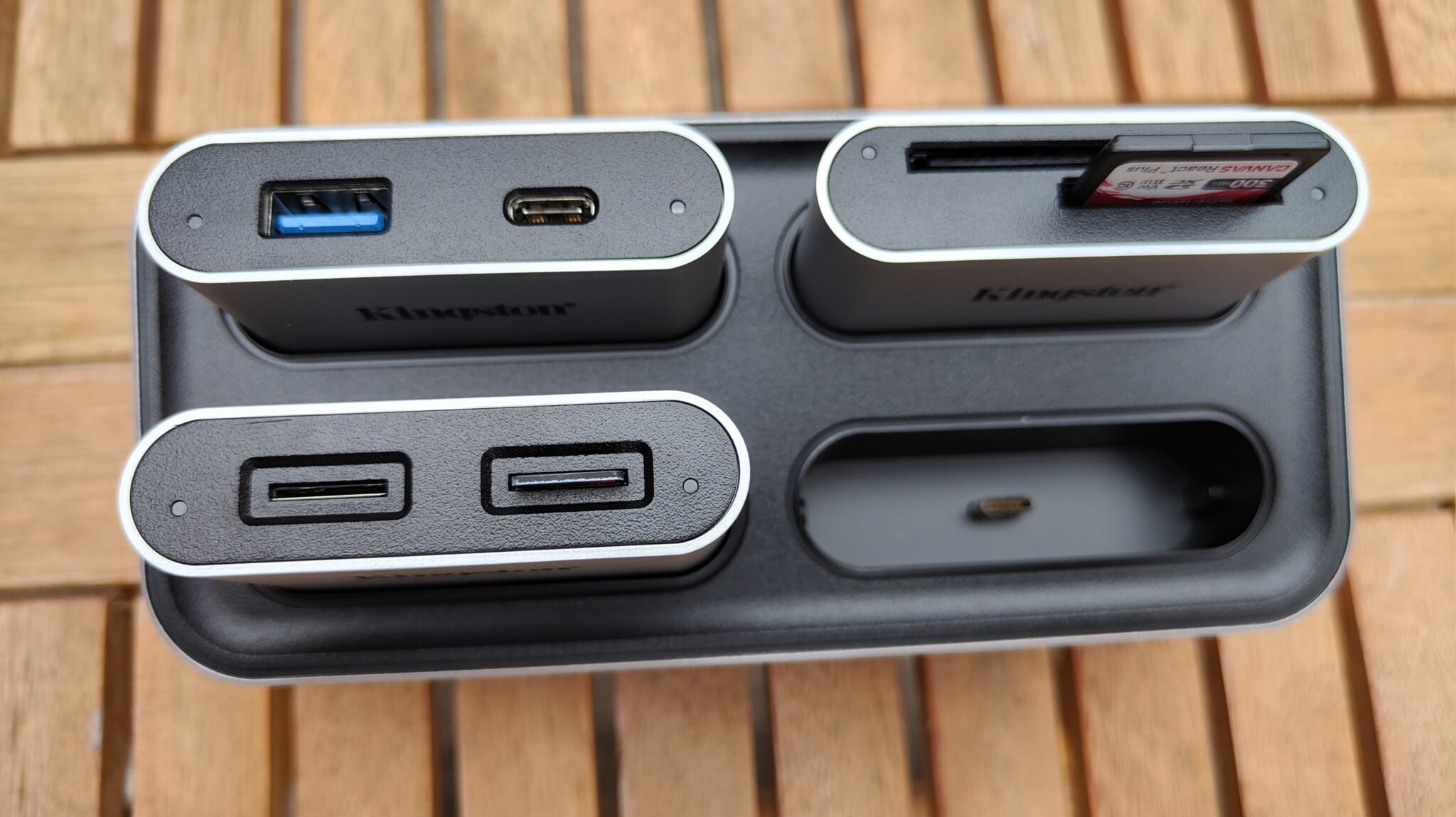 Kingston React Plus Card Performance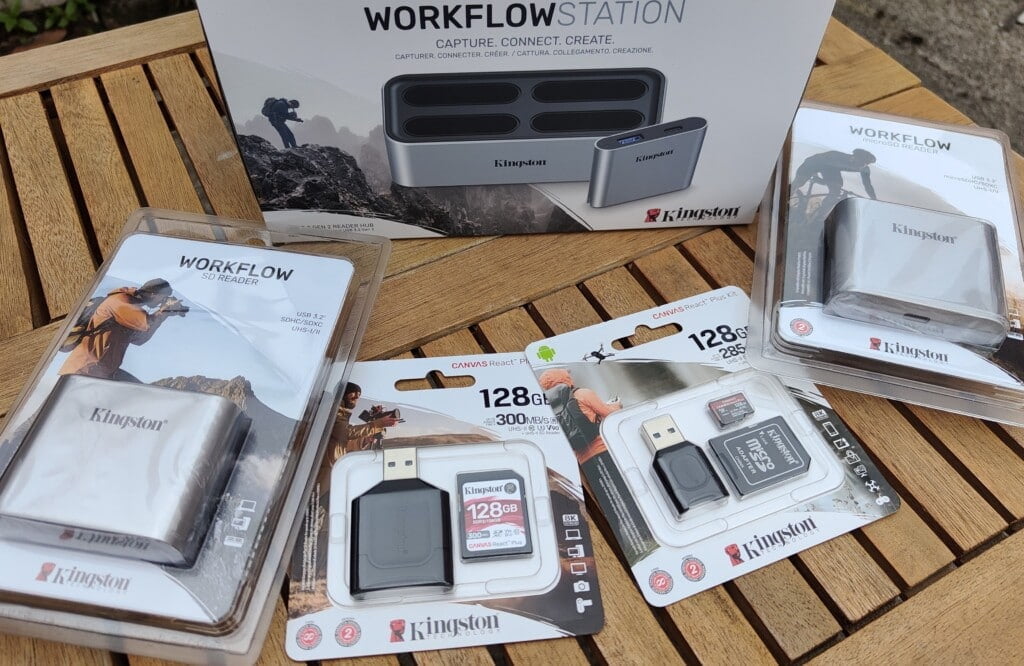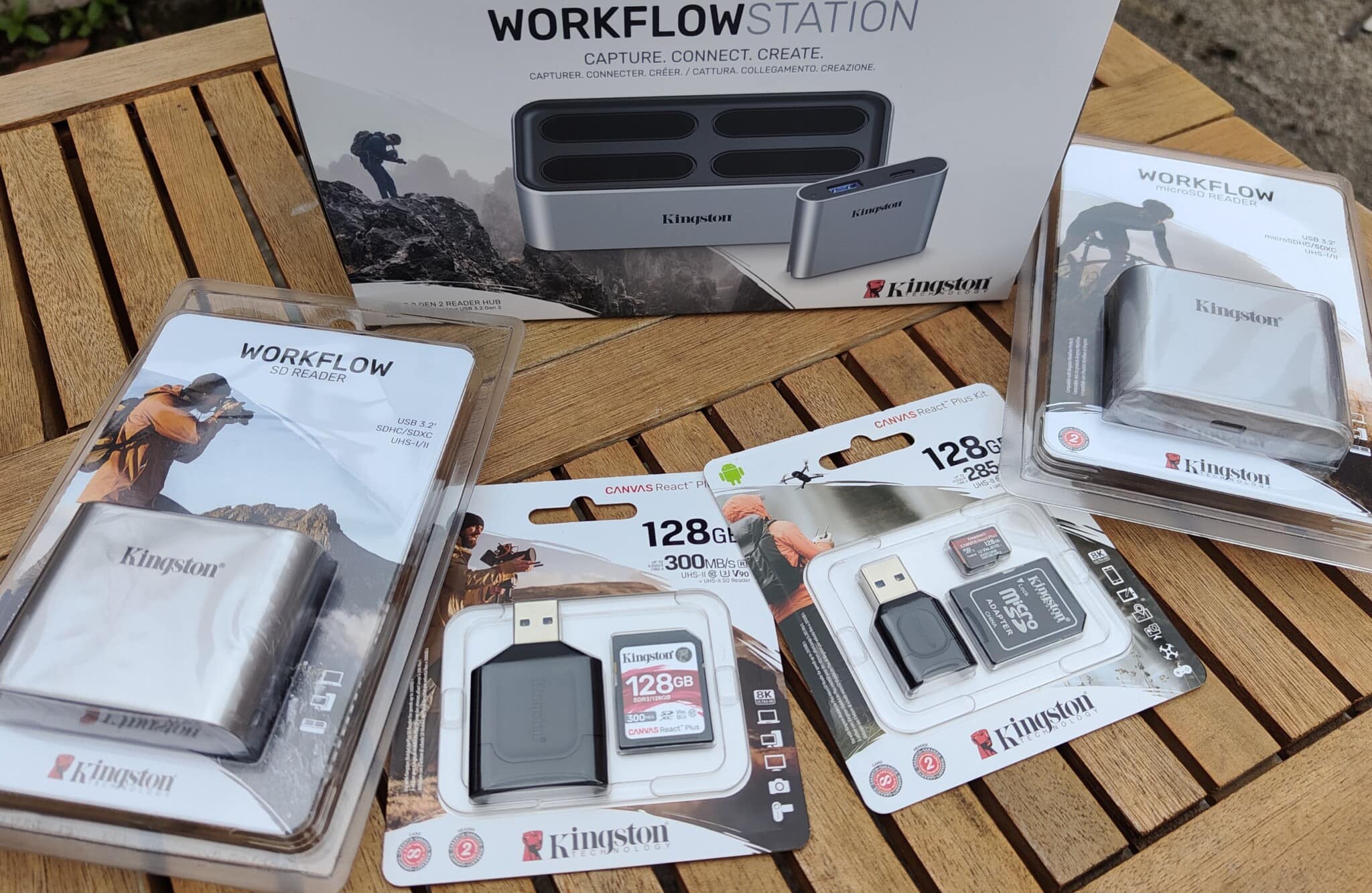 My review sample came with two Kingston React Plus cards, both 128GB on microSD and another SD
The SD card is rated for 300/260MB/s read/write, while the microSD card is rated at 285/165MB/s read/write. These are specifically aimed at professional creatives shooting 4K/8K videos and high-resolution photos, so they make a perfect addition to the Workflow Station.
In CrystalDiskMark, using the station, the SD card achieved read speeds of 307MB/s and write speeds of 251Mb/s.
The microSD card exceeded the quoted values with 295MB/s and 249MB/s read/write.
I also ran the test in two instances concurrently using both cards in the reader at the same time.

In concurrent use, there was a small dip in performance, the SD card dropped about 10MB/s for both read and write. The microSD card had a better read speed, but its write speed dropped to 174MB/s, which is closer to its rated write speed.
Real world transfer speeds for large files is about 295/260MB/s read/write for the SD card and 130MB/s
Price and Alternative Options
These are all premium-priced products.
The Kingston Workflow Station is available on Amazon for around £108, while the card reader modules are around £30 each.
The two cards I used for the review are about £80 for 128GB.
There is nothing quite like for like with the Workflow Station, which is always welcome to see, showing the company has a bit of innovation in them.
With standard hubs, most have lower specced USB 3.0, and the more expensive ones have USB 3.2 Gen 1, which is limited to 5Gbps . Amazon is saturated with multiport USB hubs, with decent quality ones going for £50+.
Alternatively, some of the premium Thunderbolt docks cost significantly more than the Workflow Station, typically over £200, while also lacking the modularity and portability of the mini hubs.
Overall
The Kensington Workflow Station is a simple but innovative solution for pro-user needs. It doesn't really do anything that ground-breaking, but it makes life a little bit easier.
The main downside is that with it being aimed towards pro users, it is priced accordingly. Around £110 for the dock + USB miniHub then £30 each for the additional readers. The cost of this will be peanuts in the world of pro photography, but it will limit the appeal for regular consumers.
Overall, this seems like the perfect addition to any creative that handles large files such as 4k/8K video and regularly needs to swap out cards, both in the office and on the move.
Posted by Mighty Gadget Blog: UK Technology News and Reviews