If you ever wished, you could have a universal translator
from Star Treck the Langogo Genesis Translator may be the device for you.
This small device has a near-instant two-way translation for
105 different languages and a built-in eSim so you can travel the world and
communicate with the locals without the hassle of buying local SIM cards.
Langogo is specially designed to help people have worry-free
travel experience. It is powered by 24 online translation engines and applies a
single button design to ensure the accuracy of voice translation. It not only
helps travellers overcome cross-language barriers but also provides mobile
hotspot connectivity and the latest local information.
It releases your smartphone from the burden of information
searching and navigation so that you can focus on sharing the memorable moments
along the way with your loved ones.
Priced at £299 on Amazon or £255 with the current 15% voucher available, this is not exactly cheap, in fact, it puts it well into the range of mid-range mobiles such as the Honor 20 Lite, and Huawei P Smart 2019. So what makes this better than using your mobile?
£299.00
£309.00
in stock
1 new
from £299.00
Amazon.co.uk
Free shipping

Last updated on 24th July 2019 9:38 am

Langogo vs Google Translate
Google Translate can offer almost the same functionality as
this they both offer essential translate functions, and there is also a
conversation function where it will pick up either language and translate both
at the same time.  
However, in my experience, Google Translate doesn't perform
quite as well. Specifically, the spoken translation doesn't sound particularly
natural. Some voices are incredibly robotic. I suppose this may not be too
important as long as the other person understands, but it is a notable
difference.
Langogo has an eSim, and you can buy data within the app, as
there are no other apps the data it uses should be minimal. Conversely, if you
were to buy a local SIM for your Android phone, you could end up burning
through expensive data with your phone connecting to all its services.
Langogo is generally more convenient to use, you pull it out of your pocket press the button, and you are able to translate immediately. So, if you are interacting with people frequently that don't speak your language, then this could make the experience much smoother.
In Use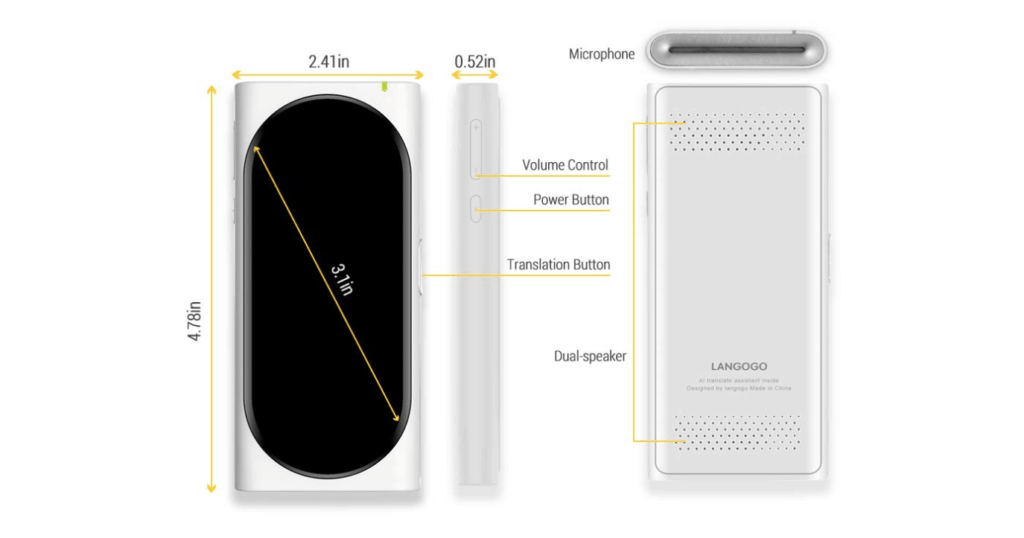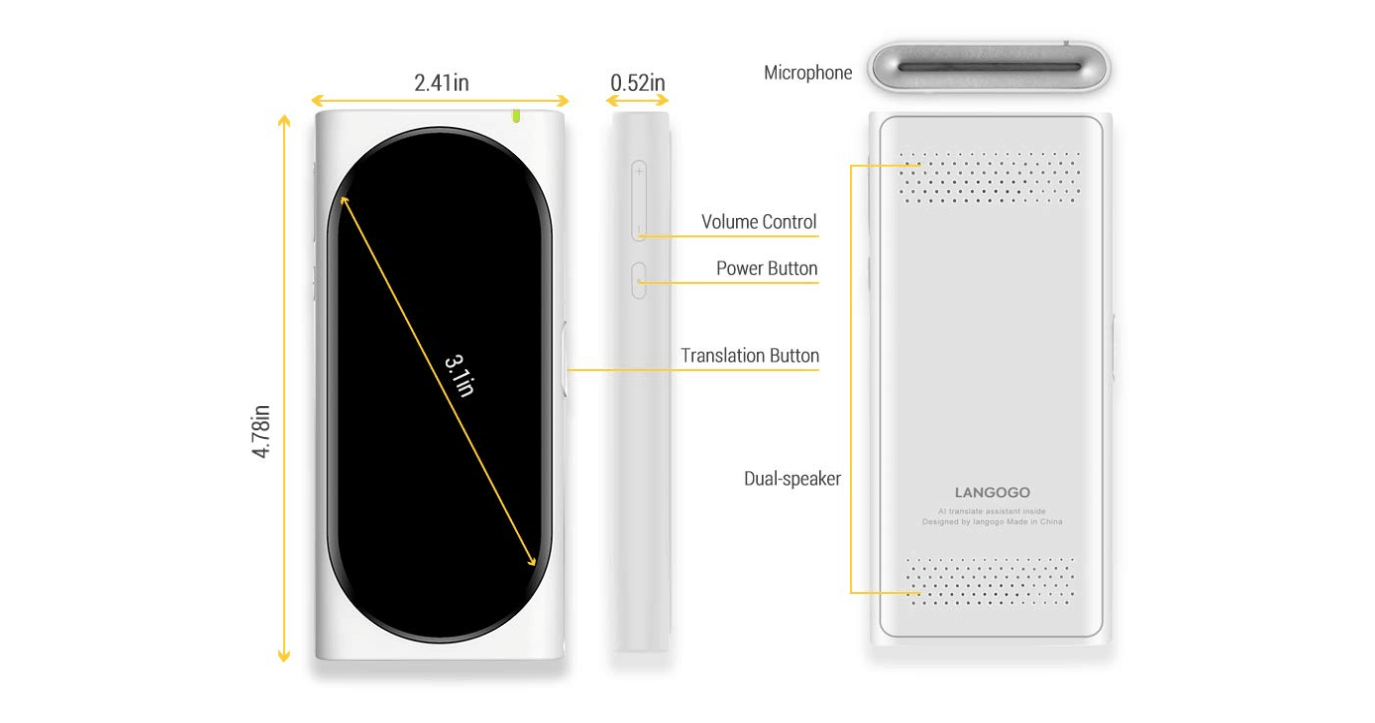 This is essentially an Android phone that has been developed for the purpose of a translator. The skin is very heavily modified so you can't access most of the Android functionality. Instead, you are left with the main screen and a menu screen.
Things like the keyboard for typing in your Wi-Fi password,
the system noises and a few other features all give away the underlying OS. I
can even take screenshots with the power and volume, but there is no way of
viewing them. The is of course no app store or other apps available, which is a
good thing, as it keeps performance decent doesn't clutter the device with
useless functions.
The main screen has two options, translate or the Euri AI
assistant. The Euri AI allows you to ask basic questions; you can ask the
weather, currency rates and pretty much anything you want similar to Siri or
Alexa. I did, however, find it quite slow to pull in the answer.
Just like Google the Langogo Genesis needs an internet
connection to perform those translations and offers three ways to get online:
Wi-Fi, a removable SIM card (not supplied), or eSIM. Data isn't cheap, and
Europe appears to be the most expensive at $13.90 for 200M/day, but it is a
useful addition that could tide you over until you find free Wi-Fi or more
affordable local SIMs.
Translation Performance
There is a big caveat with most of my testing. I only speak
English, and only had limited opportunities to test this on other people that
speak different languages. What I did do was use Google Translate on my phone
to translate to one language, reading out the phrase and the Langogo to translate
that back, then vice versa.
When translating, you set the two main languages, so if for
some reason you need to switch languages a lot quickly, this is not ideal. For
most scenarios, this probably works out best as it keeps you on the language
for whatever country you are in.
One opportunity I hoped to use this on was a trip to Riga,
when I went the Langogo didn't appear to have the Latvian language built-in,
however since coming home and updating it, it now does. In general, I can't
find many countries it doesn't cover, but the 105 languages is a little misleading
as there are 20 different versions of Spanish listed. I suppose this may cater to
different dialects, but I don't have the linguistic knowledge to test it.
During my testing, I used a variety of languages to see if there were some languages better than others. There were no significant failures in translations that I could find. Sometimes the translation may not be word for word, but from my limited language knowledge, that's just how different languages work. So from English to Chinese, I said can I have a beer, but when I used the Langogo it translated can you give me a beer. The end result is the same, and I suspect this is just the different nuances between languages.
Overall
Part of me loves this little translator, the other part
struggles to justify its price. It is a lot of money to spend on something that
you can more or less do with the smartphone you already own.
That being said, your usage may vary, for me, I have been
aboard about 8 times this year, all Europe where English is commonly spoken,
and mobile data included with my price plan. So for me, the device is a bit
redundant. For someone that travels all the time, for work or pleasure, and to
countries with less English language penetration, then this could prove to be a
valuable tool in communicating with people on your travels. 
Of course, I am viewing this as a natural English speaker,
so life is a little easier for me. There is a good chance a Chinese person
visiting Italy won't speak Italian, and vice versa. So if English isn't your
native language and your travel a lot, then this could be a great purchase.
During my time with it, translation has been instant, and
its ability to make out the words I say has been almost 100%. Being a northerner
with a bit of a mumble, smart speakers quite often struggle to make out what I
say, so I don't know how this manages to be so accurate.
I can't say how accurate the translations I have tried have
been, but on the few times, I have used it while abroad the person on the other
end seems to get what I am on about. Similarly when translating between Google
and Langogo all the languages I tried worked without.
Post from: Mighty Gadget – Gadget and Technology Blog
Langogo Genesis AI Language Translator Device Review – 105 Languages Instant Two-Way Voice Translator with eSIM Inside