Page 2 of the review covers pricing, alternative options and the overall opinion and rating.
Nearly three years ago, I bought my first OLED TV, the 65″ Sony AF8. I had wanted an OLED since the early generations, but they were painfully expensive, and I was poor. So it was a massive investment, and I was sadly let down due to mediocre software and broken Dolby Vision. It is not so much that it is bad, 4K HDR looks fantastic, and I don't use the built-in Android OS anyway, but at £3K, it is quite disappointing to have poor and glitchy performance from core functionality.
Things have come on a long way in the past couple of years. In particular, the cost of OLED has plummeted. You can pick up a 65 inch Panasonic TX-65HZ980B OLED from John Lewis for just £1499 or the 2021 LG OLED65A16LA for £1899. 55-inch models can easily be picked up for under £1k.
Recently, a 55 inch Panasonic LCD TV I had started to have issues, so I took the opportunity to upgrade this to OLED. Rather than being sensible and opting for an affordable option, I went with the LG OLED55C15LA, which sits towards their top end of models and has an RRP of £1699.99.
Currently, at 55-inches, it is only the LG G1 Evo that is more expensive at £1899.99. For other brands, you have the Sony A90J at a massive £2,699
However, one way I justified the expense is that these TVs implement pretty much every piece of TV tech going at the moment, and we are not at the cusp of something new and great due to launch imminently.
In particular, these 2021 TVs have four HDMI 2.1 ports capable of 4K 120Hz, the audio return port uses eArc for the most demanding of audio formats, and the TV supports HDR10, Dolby Vision and HLG. The one omission is a lack of HDR10+.
I have been eager to try out LG, too, WebOS appears to be one of the best smart TV platforms. The Sony Android OS is a mediocre experience at best, though hopefully newer models are a little better.
Specification
Set-Up / Design / Ports
Like most large TVs nowadays, the physical set-up is a little intimidating. This is a massive panel of glass with no bezels. The box it comes in is well designed, once you snip off the plastic wraps, the entire box lifts off, giving you easy access to the thicker part of the TV.
The instructions are bordering on useless, but there is not too much work to be done, and it is quite easy. I managed to do it by myself, but two people would be advisable.
The stand on the TV adds very little height to the TV. This has pros and cons for me. It is a great way to keep the cable mess behind my TV hidden, but if you use a soundbar that sits on top of the furniture, there is a good chance it will partially obstruct the bottom part of the picture. I managed to push the TV a little further back, and the soundbar forward, which just about allowed an unobstructed view using my Bose soundbar.
If you decide to wall mount this, you may encounter some issues, too. One of the HDMI ports points outward from the rear, as do two of the USB ports, the LAN and optical. If you have the TV sat as flush as possible to the wall, this could make things tricky. You can normally get adaptors or special cables that help, but that's another expense. Three HDMI ports, including the eARC port and one USB in port, are side-mounted, so for most people, it won't matter regardless.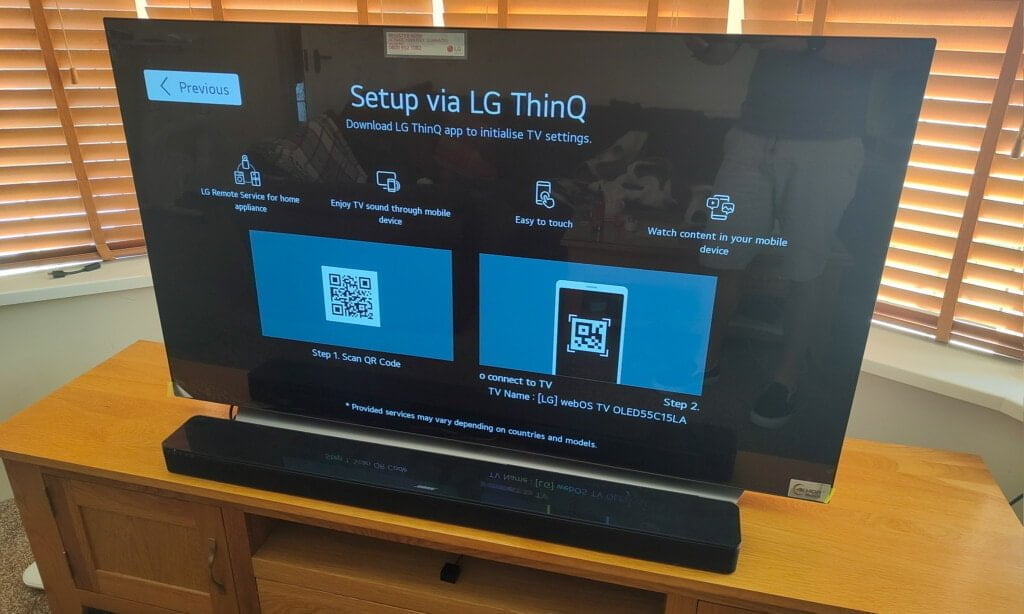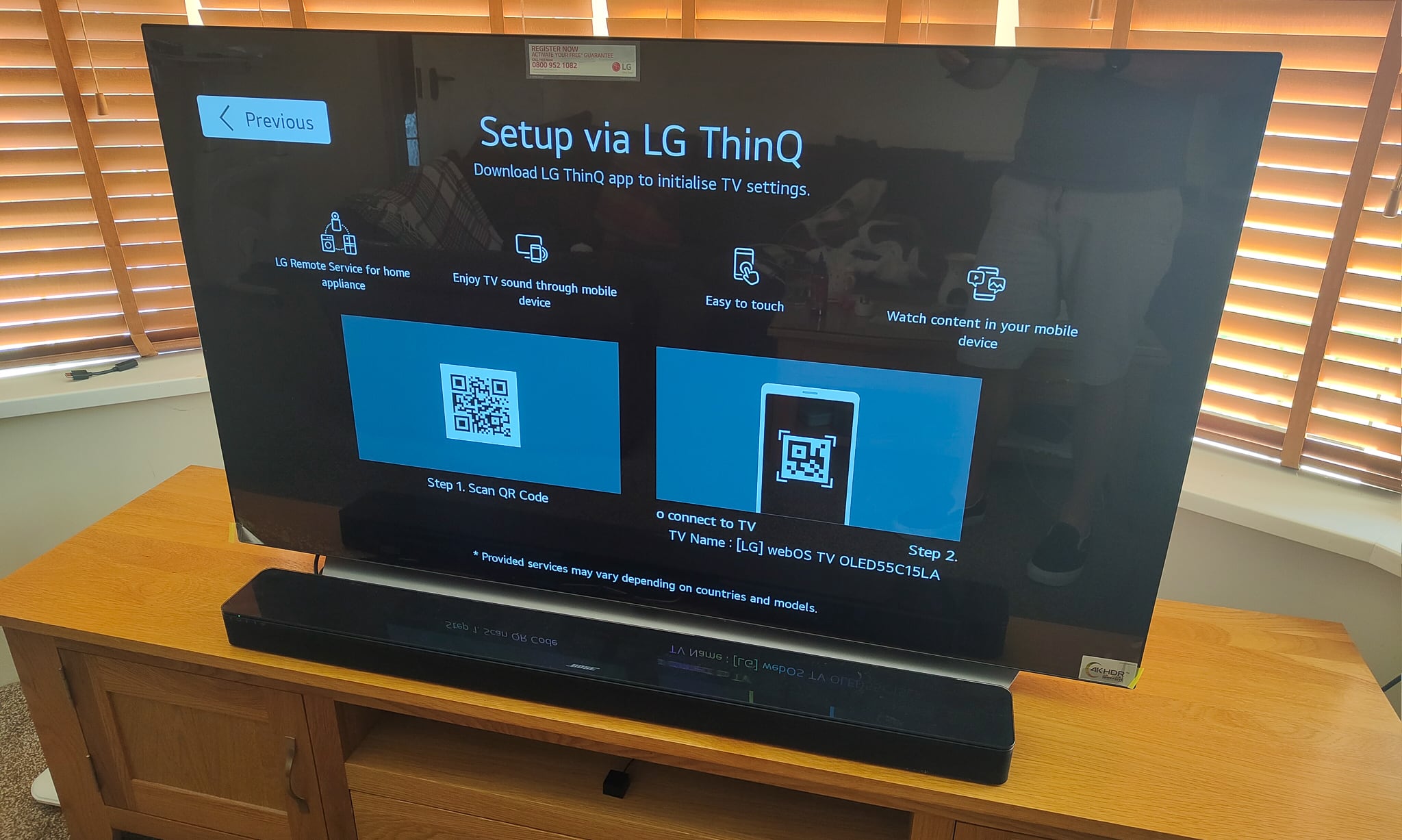 Setting the software on the TV up is a relatively pain-free process. If you are happy to download the LG app, it will simplify your life.
Recommended Picture Settings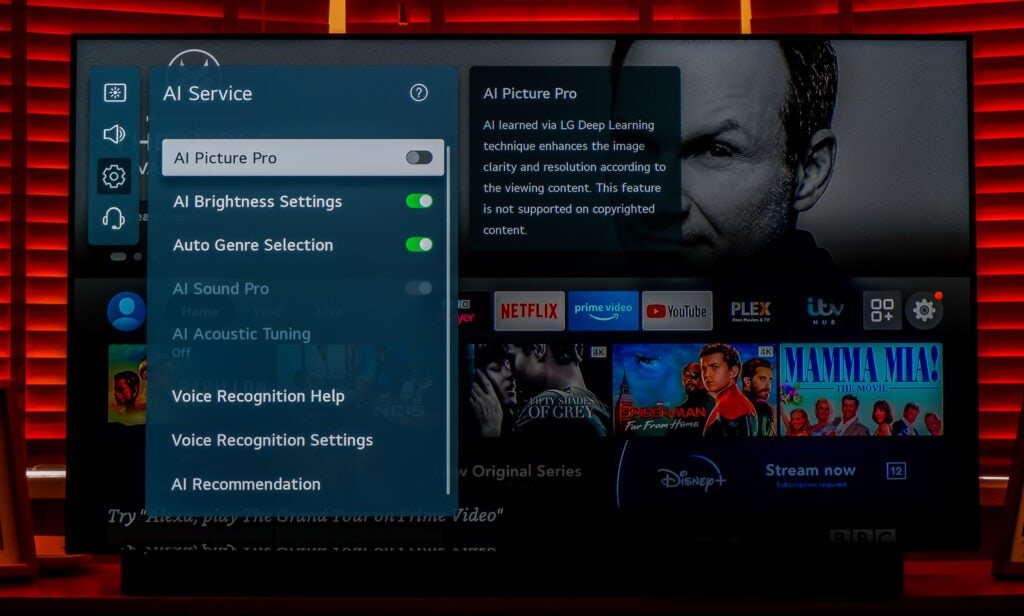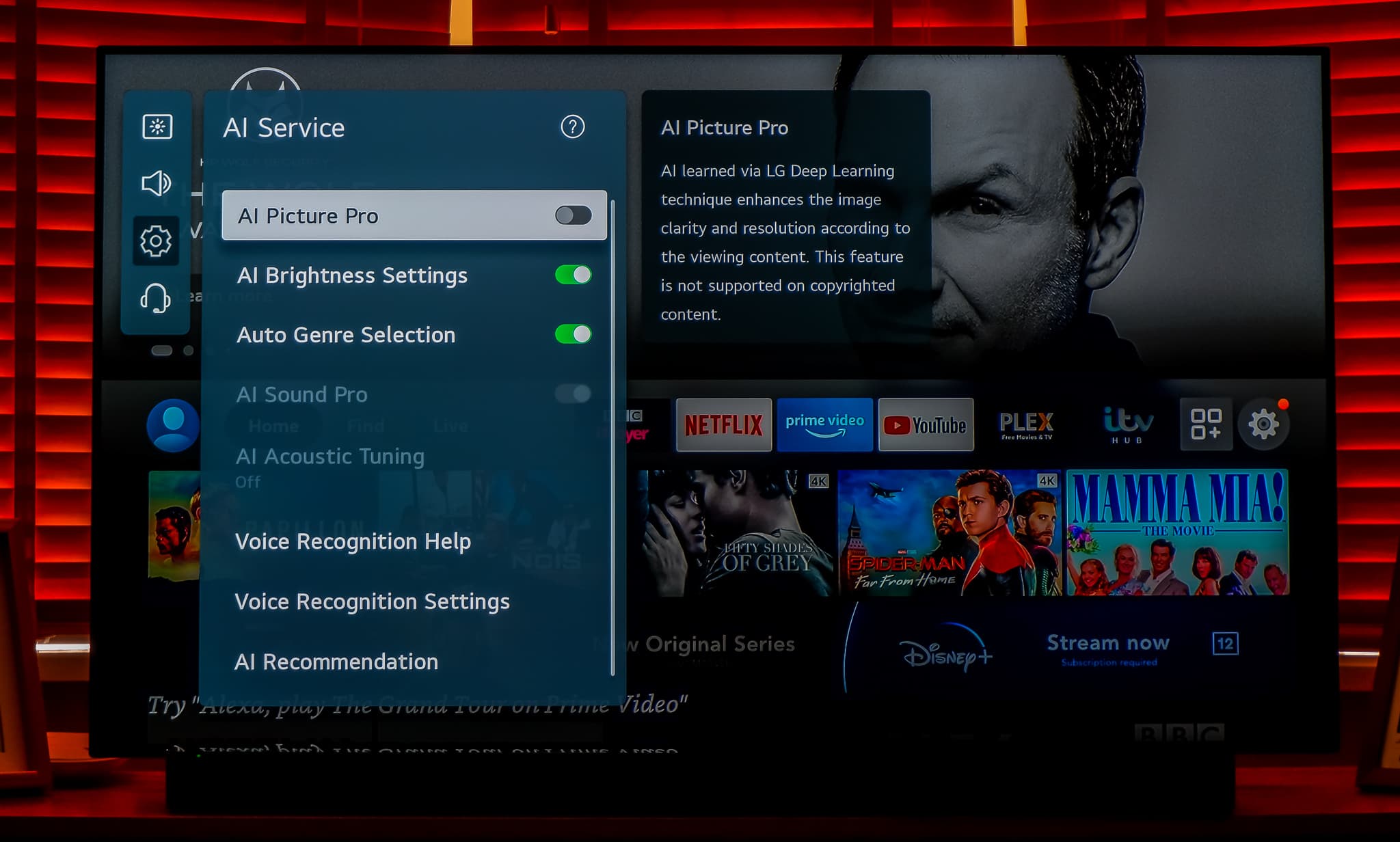 I have no calibration experience, so I tend to get the settings from AV Forums, Reddit, or other online sources.
Disable Energy Saving, AI Service settings and Motion Eye Care
Leave Dolby Vision settings using either Cinema' Picture Mode or 'Filmmaker Mode
Switch the picture mode to filmmaker mode (which provides the most accurate out of box performance)
In aspect ration change just scan to be on
Within the filmmaker mode picture settings, you may want to increase the OLED light settings. By default, it is 25, which offers 100nits of brightness and is a good setting for dark rooms, so for lighter rooms, you can dial up the brightness a bit higher. I put mine to 50.
In advanced settings, you can change the gamma set to 2.2 for lighter rooms or leave it as is for a darker room.
If you watch a lot of lower resolution content, you may want to switch smooth gradiation to low
Apply all the settings to all the inputs.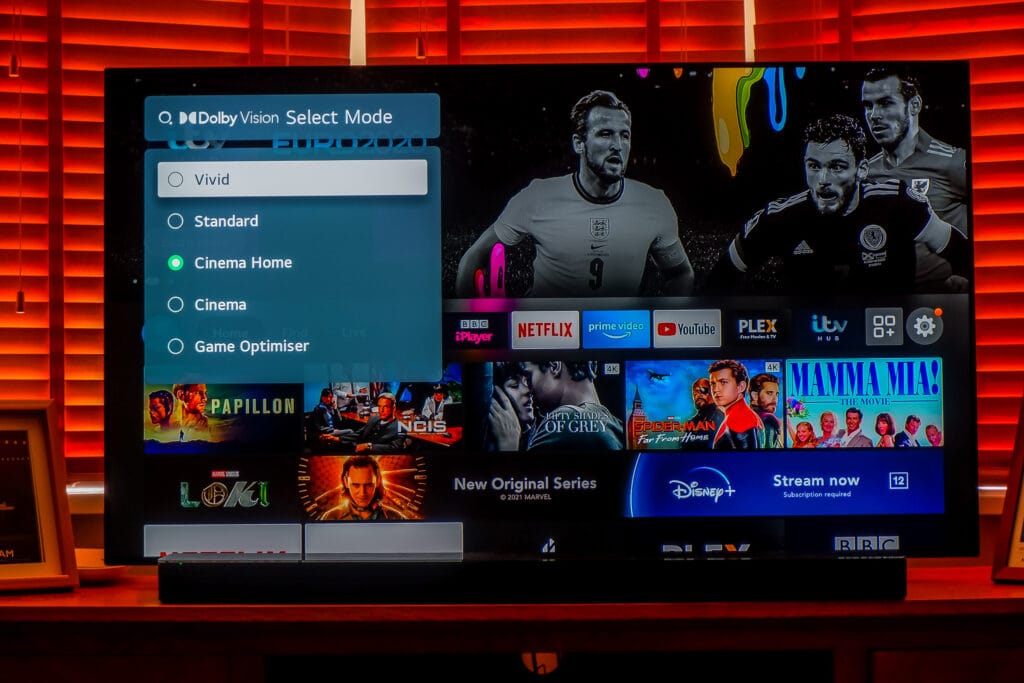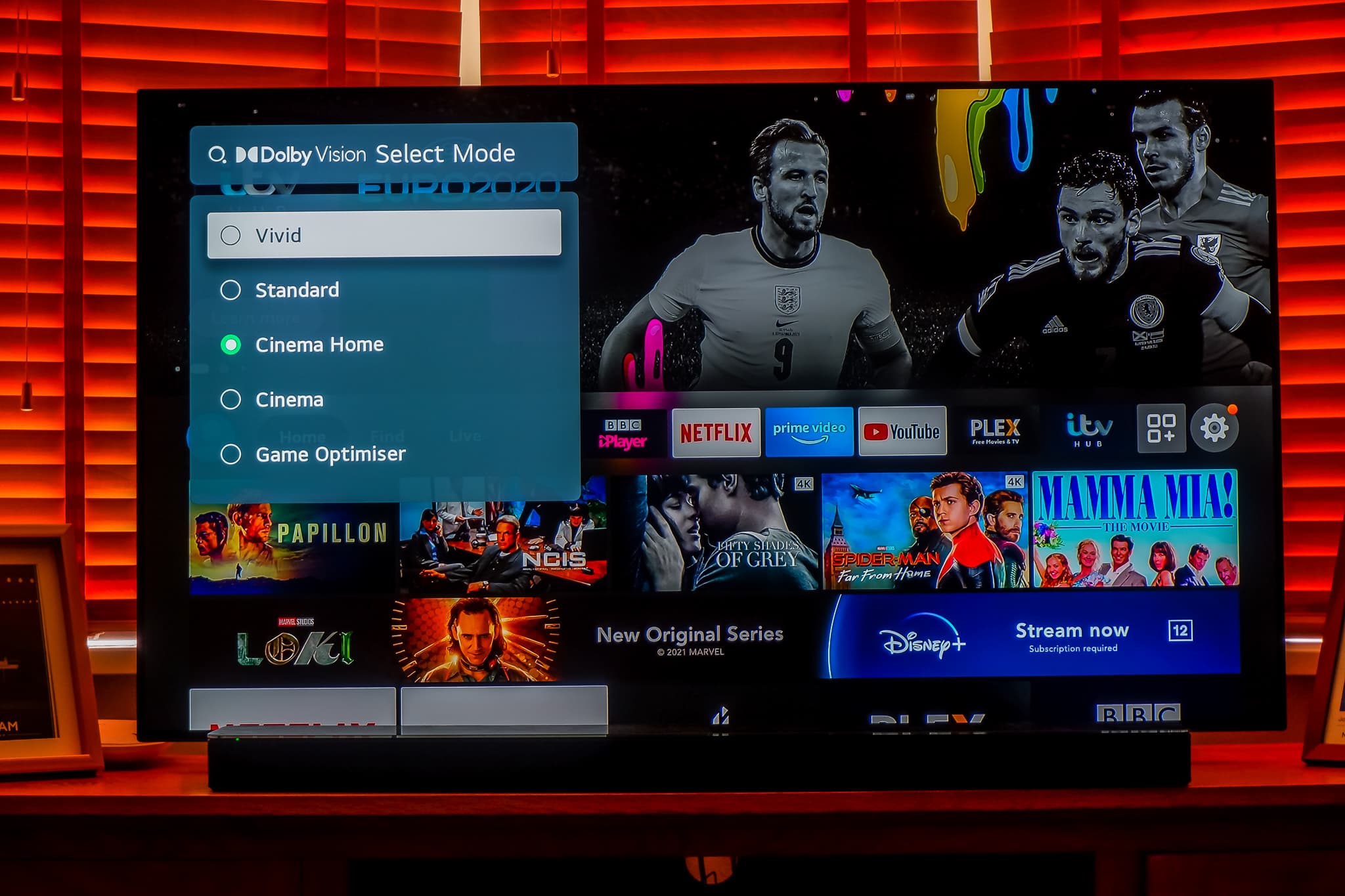 WebOS and Remote Control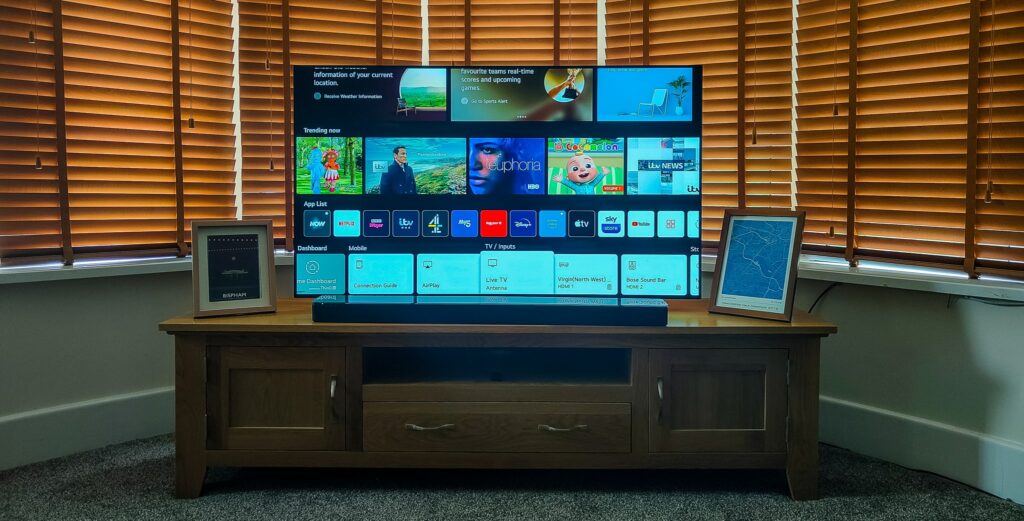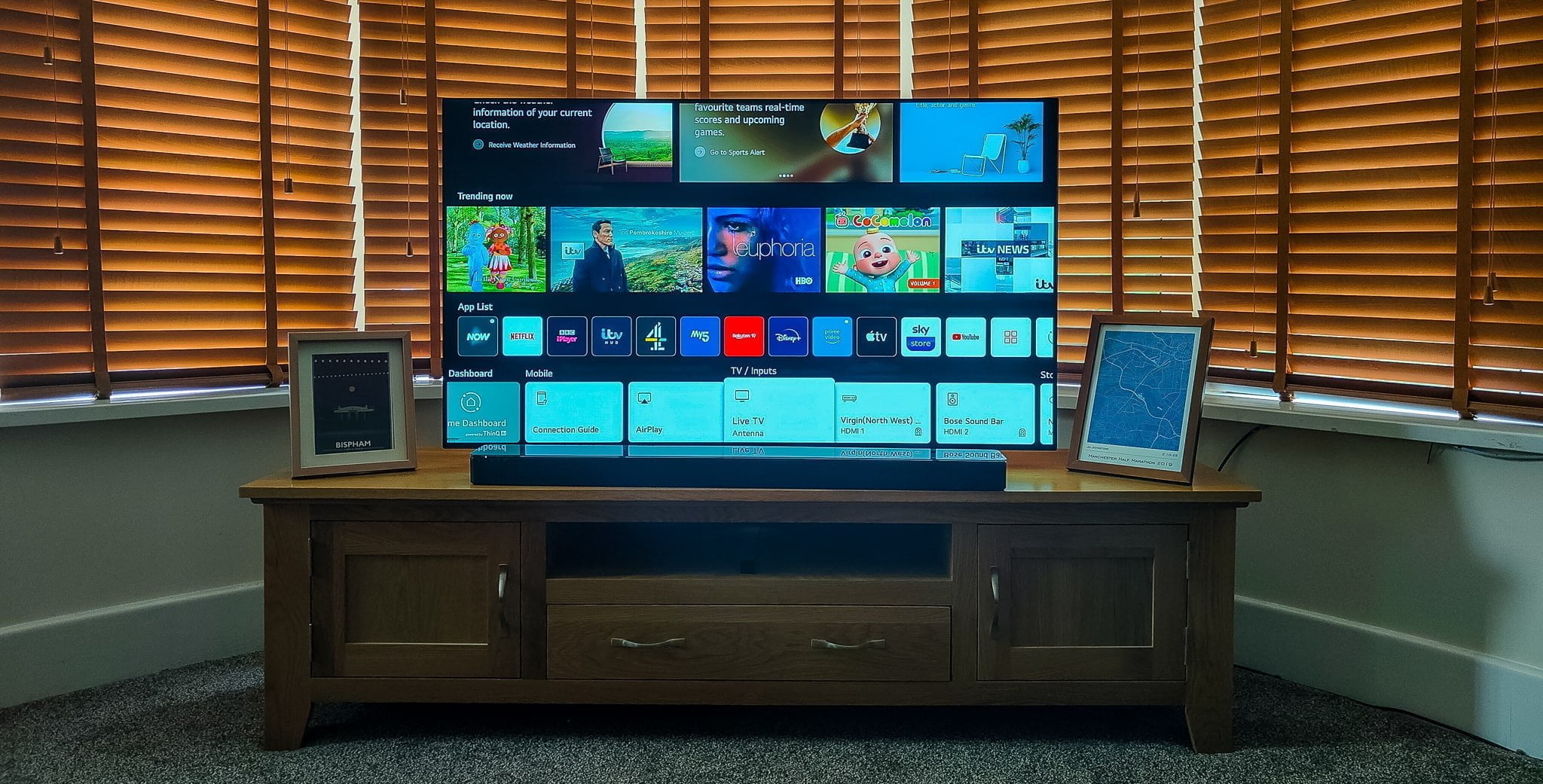 Personally, I use the smart OS on a TV as little as possible. I have the Nvidia Shield in my main room while my partner uses the Amazon Fire Cube on this TV. I'd be much happier if there was no OS on the TV at all.
However, I was eager to try out the LG WebOS after being largely disappointed by the laggy flawed experience on my Sony.
I mostly like WebOS, it runs everything perfectly well, apps load up quickly enough (but not as quickly as dedicated devices), and most importantly, nothing appears broken or glitchy.
The home screen is very crowded, I wouldn't say it is user friendly at all. They have basically dumped all the apps on the main page.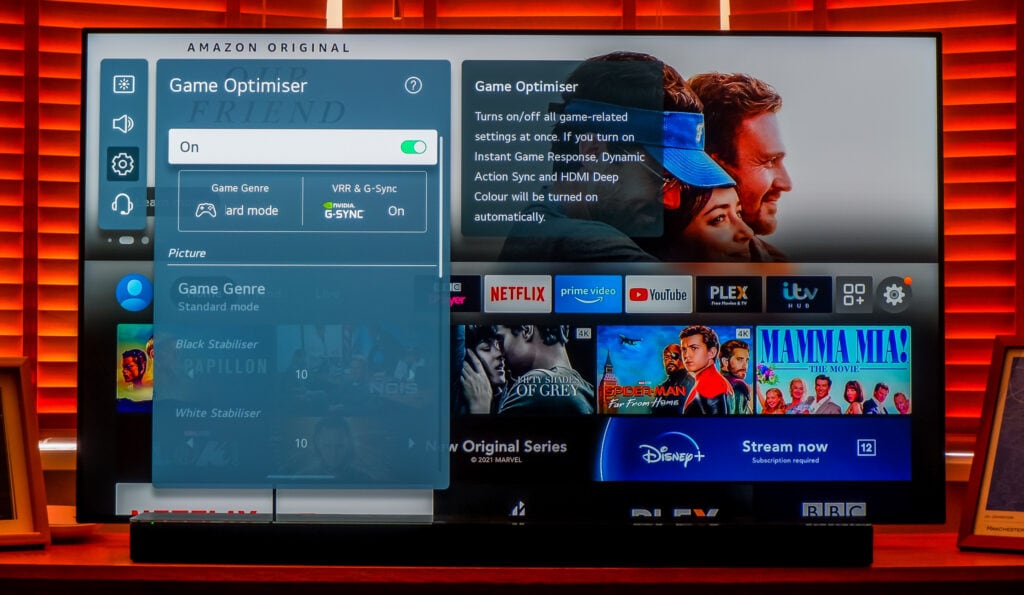 The top row is for informational or advert items. Ideally, it would be good to be able to remove this, though I have not delved through all the settings to see if it is possible. In general, it would be good if you could customise all the rows, so you can add and remove whichever service you use.
You have pretty much every app and service that you need. There is Freeview Play for all your terrestrial TV and catch up services, plus you have Netflix, Amazon Prime Video, Disney Plus, Apple TV and Now (formerly Now TV). The remote control also includes dedicated buttons for both Netflix, Amazon Prime and Disney.
Magic Remote / Air Mouse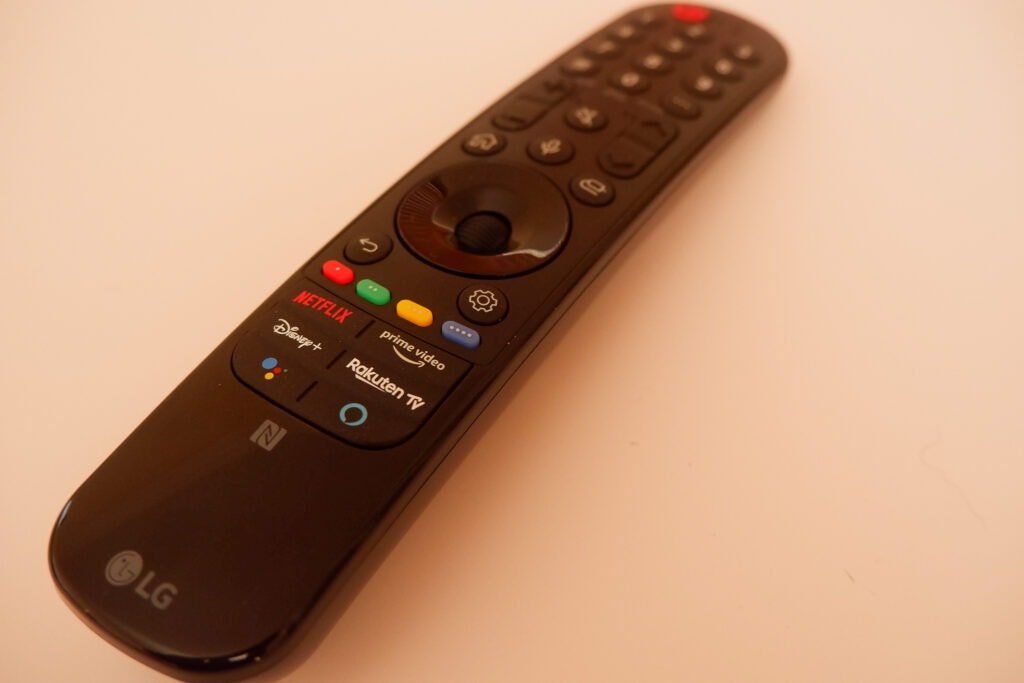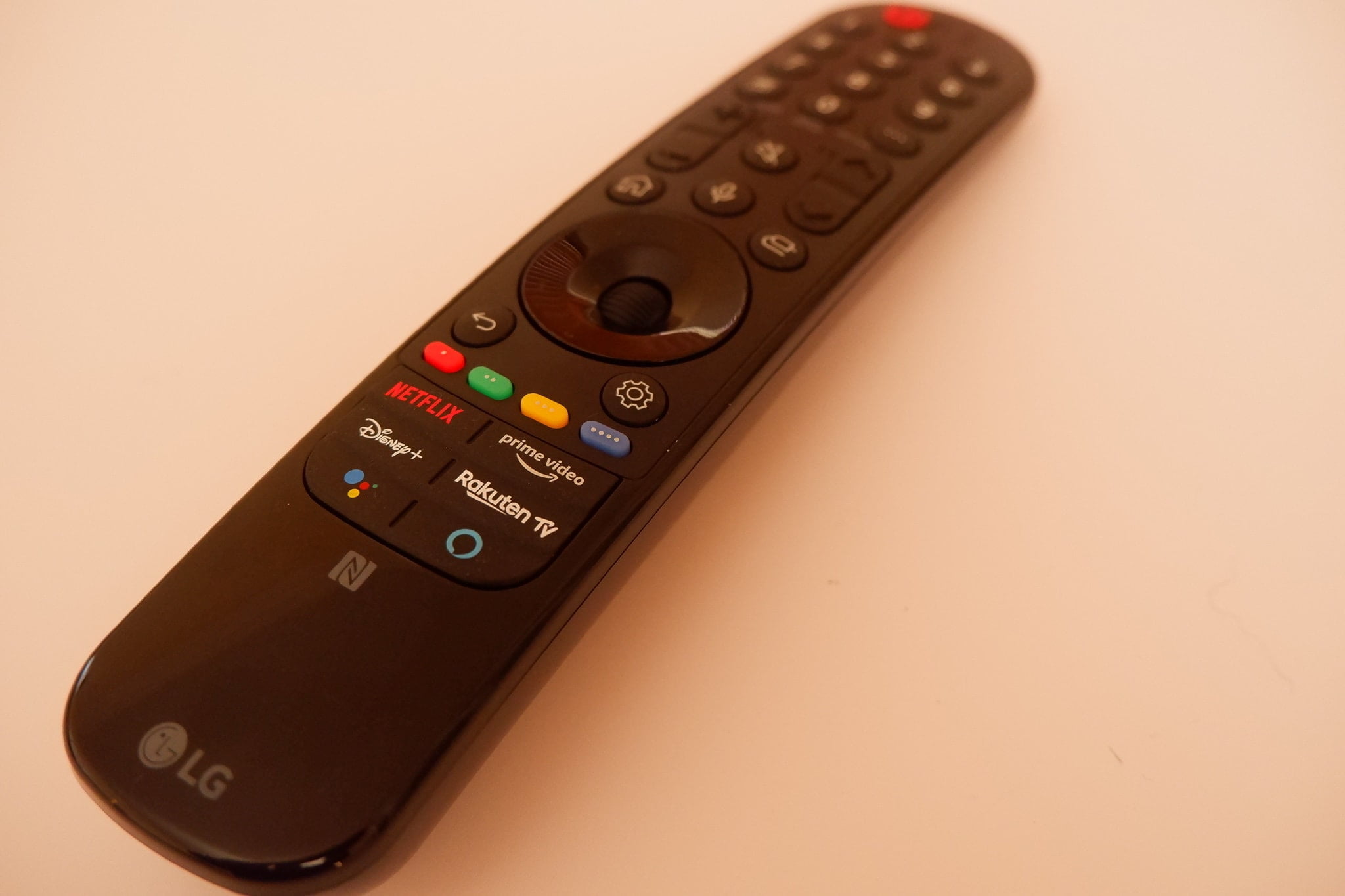 I love the remote control. This comes with an air mouse functionality which speeds up navigating certain aspects of the TV or logging into applications. It works really well, and with HDMI CEC, you can control your other devices too.
The TV has both Google Assistant and Amazon Alexa built-in giving you full voice control. Even though I have several Echo Dots and other speakers, I rarely actually use voice control for anything.
Image Quality & HDR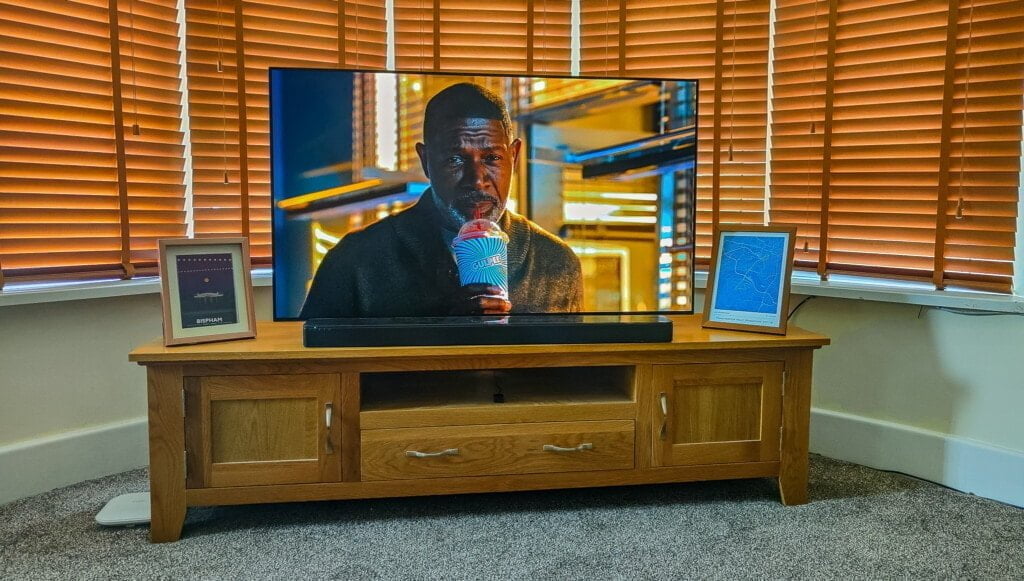 The main reason you buy an OLED is for the image quality. As you would expect for a near top of the range model, it is outstanding.
First of all, because I am still bitter about my glitchy Sony AF8, I have experienced no problems with HDR. In particular, Dolby Vision, when the TV identifies the source has HDR, it will pop up informing you it is switched on. On my Sony, with DV on, blacks and dark greys would become blotchy. With this, it is perfect.
Out of the box, performance is excellent, but like all TVs, you can improve on the quality by adjusting the settings (which I have listed above). I have no experience in calibration myself, so I just copy recommended settings, typically from AV Forums.
You may need to dial in the settings for your own personal taste, often a lot of recommended settings has the brightness quite low, but this is not always practical for some living scenarios.
Generally, for the best performance, you end up switching a lot of stuff off.
I don't have the hardware to measure peak brightness, but this offers a good level of luminance for me. It won't be comparable to the blinding brights cable on Samsung QLED TVs, but the pure blacks and contrast levels more than makeup for it, in my opinion.
With the TV off, I was worried about how reflective it was, however when media is being played, I can see no reflections at all. The TV is faced away from the window, and I generally close the blinds a little, so my conditions are favourable.
If I am honest, I don't review enough TVs to provide an informed opinion about the performance of the panel. It is orders of magnitude better than the mid-range 5-year-old 4K LCD is replaces, and the picture quality is better than my Sony AF8, which itself is about 3 years old.
Gaming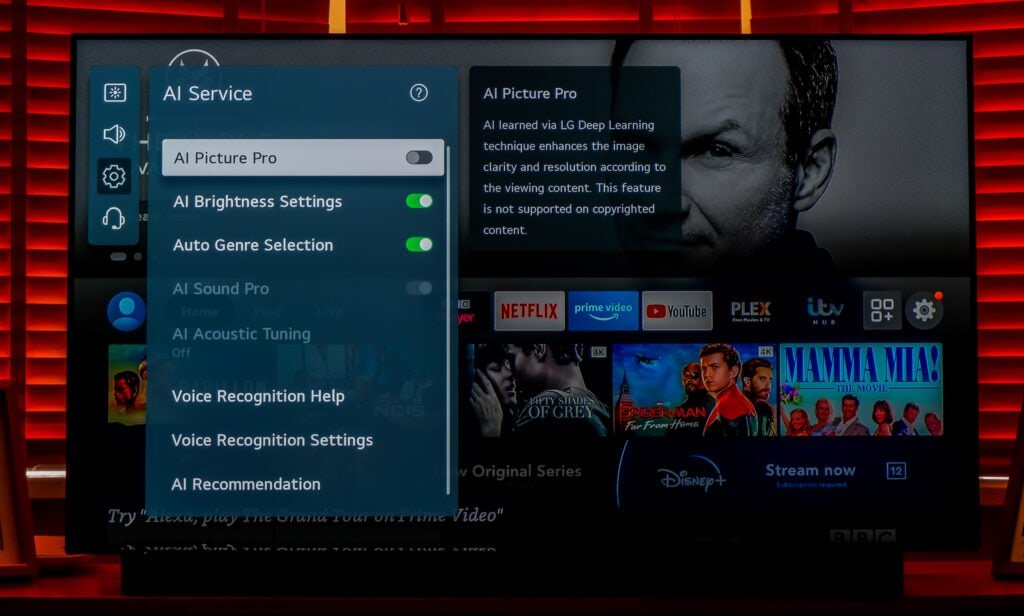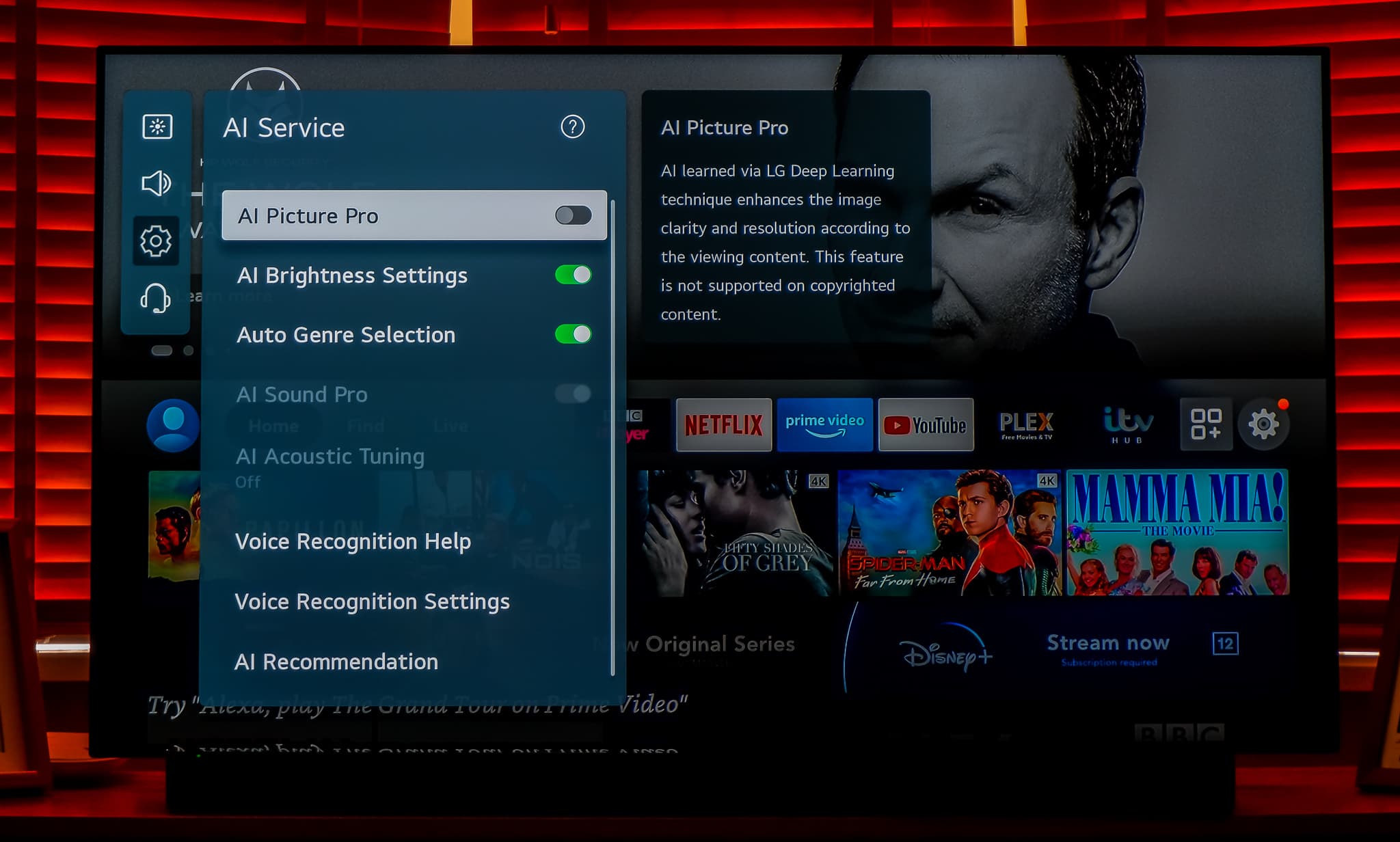 I have only had a limited chance to try out gaming. I am a PC gamer with my desktop in my office using the Samsung C49RG90 super-ultrawide. However, I relocated my PC for a few days of testing, and the results were predictably superb.
This TV has all the features that were previously limited to gaming monitors. It offers 4K and 120Hz then a variable refresh rate with G-Sync or FreeSync.
I have an AMD Ryzen 5800X with the RTX 3080, so plenty of power to drive games at 4K, but even with the RTX 3080 you have to dial in the settings for some games.
The TV has Auto Low Latency Mode (ALLM), which will switch the TV to game optimiser mode with four different genre settings: Standard, First Person Shooter, Role Playing Game and Real-Time Strategy, plus various other tweaks you can apply. This year there is also a Prevent Input Delay (Input Lag) setting that can boost the response for 60Hz content, reducing the delay to below 10ms.
I don't currently own a PS5 or Xbox Series X, but this TV is obviously an ideal candidate for the new current generation of consoles.
Sound Quality
The built-in TV speakers are something else I never use on a TV. Why spend a couple of grand on a TV only to have average sound quality?
However, as far as built-in TV sound goes, this does well. The TV has a 2.2-channel sound system with 40W of power. You can then tune the sound to optimise it for your seating position. Then there are multiple sound modes such as g Standard, Clear Voice Pro, Cinema, Music, Sports and Game Optimiser.
The TV even supports Dolby Atmos decoding when using AI Sound Pro, which does seem to offer some improvement on the overall sound.
The TV will then happily output the audio via eARC to soundbars or AV receivers. I
If you use an AV receiver that has HMDI 2.1, it is extremely likely that it has a bug that prevents 4K 120Hz for both the PS5 and PC. The recommended solution is to plug in the PS5/PC into the TV, allowing that to output the audio back to the receiver via eARC. Thankfully you have four HDMI 2.1 ports on the TV, so plenty of space.
Page 2 of the review covers pricing, alternative options and the overall opinion and rating.
Posted by Mighty Gadget Blog: UK Technology News and Reviews