The MeacoFan 1056P Pedestal air circulator (not a fan, but that's what I am calling it from now on) is the top of the range fan from the British brand famed for their dehumidifiers.
It is technically the same as the MeacoFan 1056, but it sits on top of an extendable pedestal, allowing you to place it on the floor.
Specification
Size: H820–955 x W320 x D339mm
Weight: 4.7kg
Noise: 20 to 60 dB(A)
Max fan flow rate: 27.56m³/min
Speeds: 12
Settings: Normal, natural, sleep, eco
Timer: 1-12 hours
Control: On base and remote control
LCD display for temperature and fan speed which can also be turned off
Design
This is a bit more premium than your generic pedestal fan, none look particularly attractive, but this is good as you will get.
Many of the photos make this look massive, but it is actually quite a bit smaller than a lot of pedestal fans, which makes sense, with it being adapted from the desktop-friendly MeacoFan 1056.
I think this offers the best balance of being good looking without having to resort to the lounder tower-style fans, similar to Dyson.
You get a neat little carry handle, too. While it doesn't offer the finger-friendly bladeless design, a Dyson has a large enclosure around the fan blade should protect even the smallest of fingers (though don't hold me to that).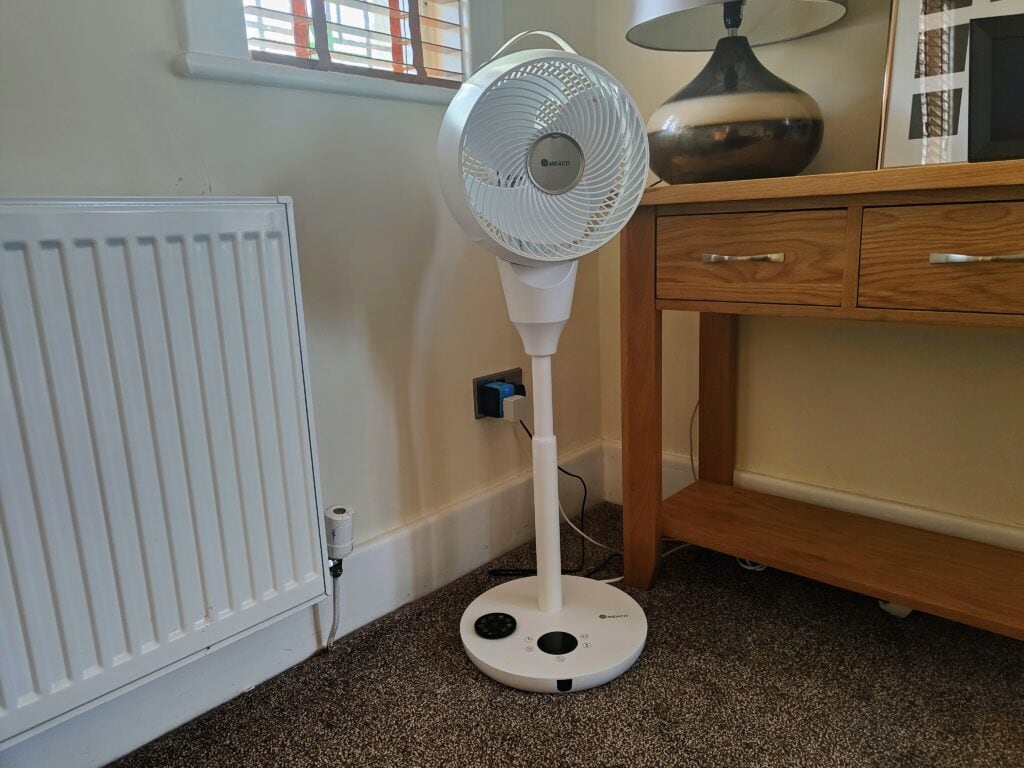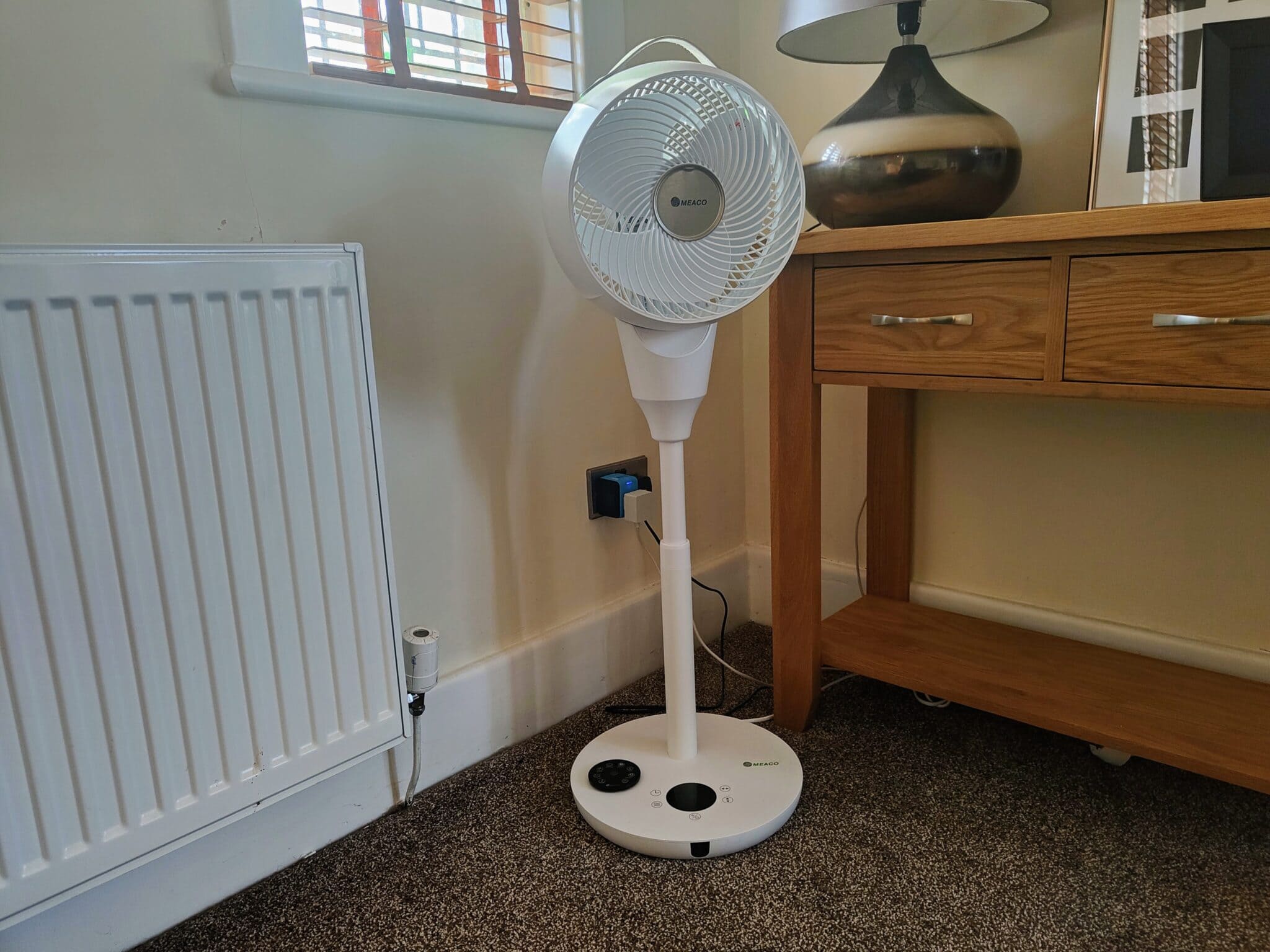 Setup
There is not much to write here, but it is notable because there is no setup. This came fully assembled, unlike all the other pedestal fans I have reviewed. Take it out of the box, plug it in, pull the tab out of the remote and switch it on.
You can adjust the height, but this doesn't go as high as other options. In the bedroom, I found this gets just high enough to direct the air horizontally over my mattress, so it is high enough.
Cooling Performance and Features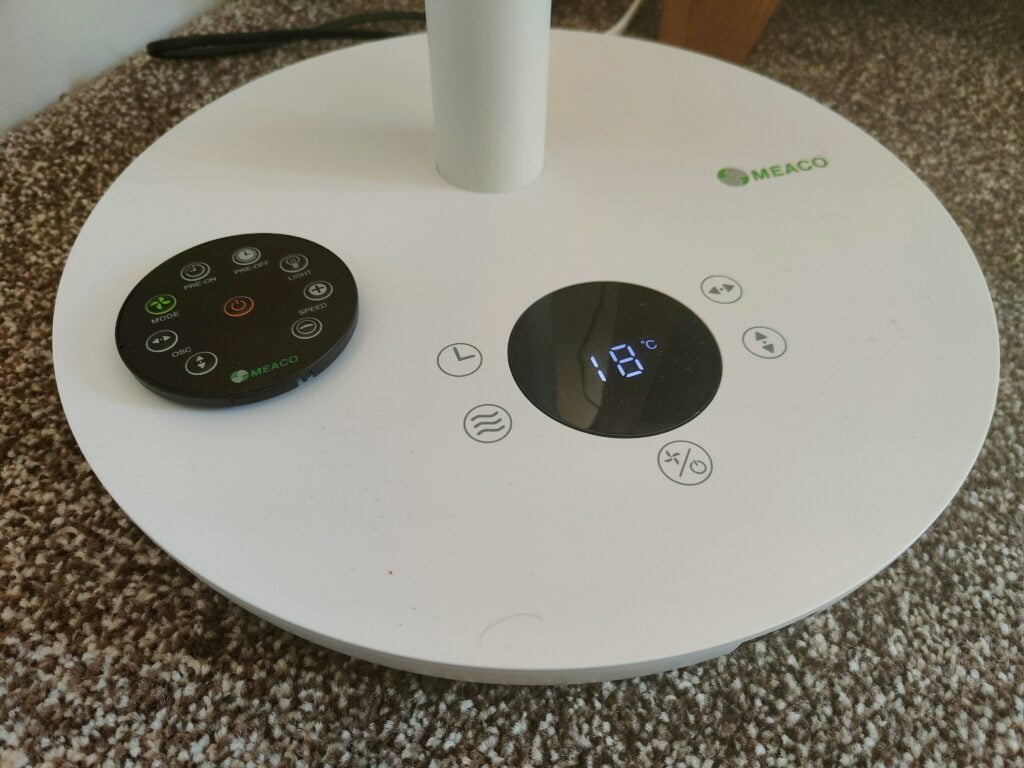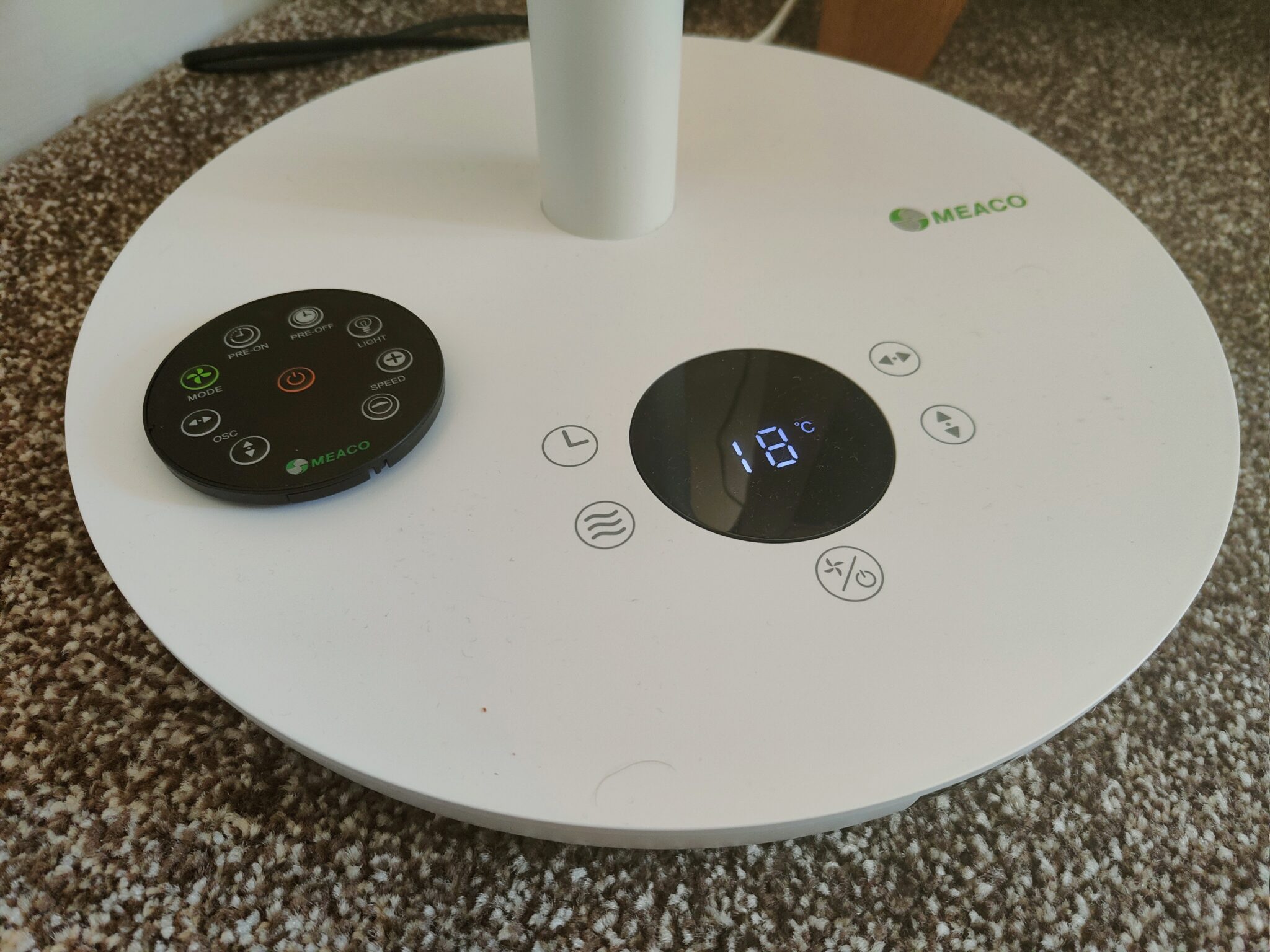 All pedestal fans are pretty good at moving air; the larger fan blades easily outclass tower designs.
This has smaller fan blades than some options, but it works well, the outer casing seems to focus the air a bit, so it works a bit better than average when pointing it directly at yourself. At level one, it is quiet and provides a surprisingly strong breeze for this level. At full speed, it is very noisy, like all fans, but provides a sufficiently strong breeze to keep me cool in the hottest of office environments.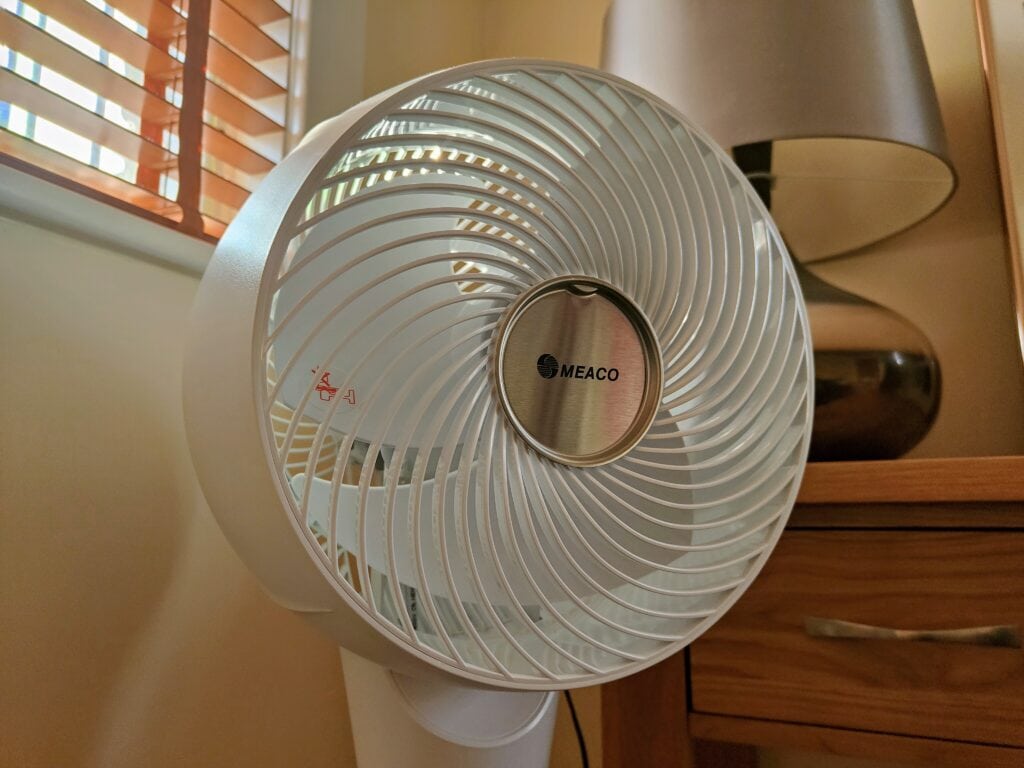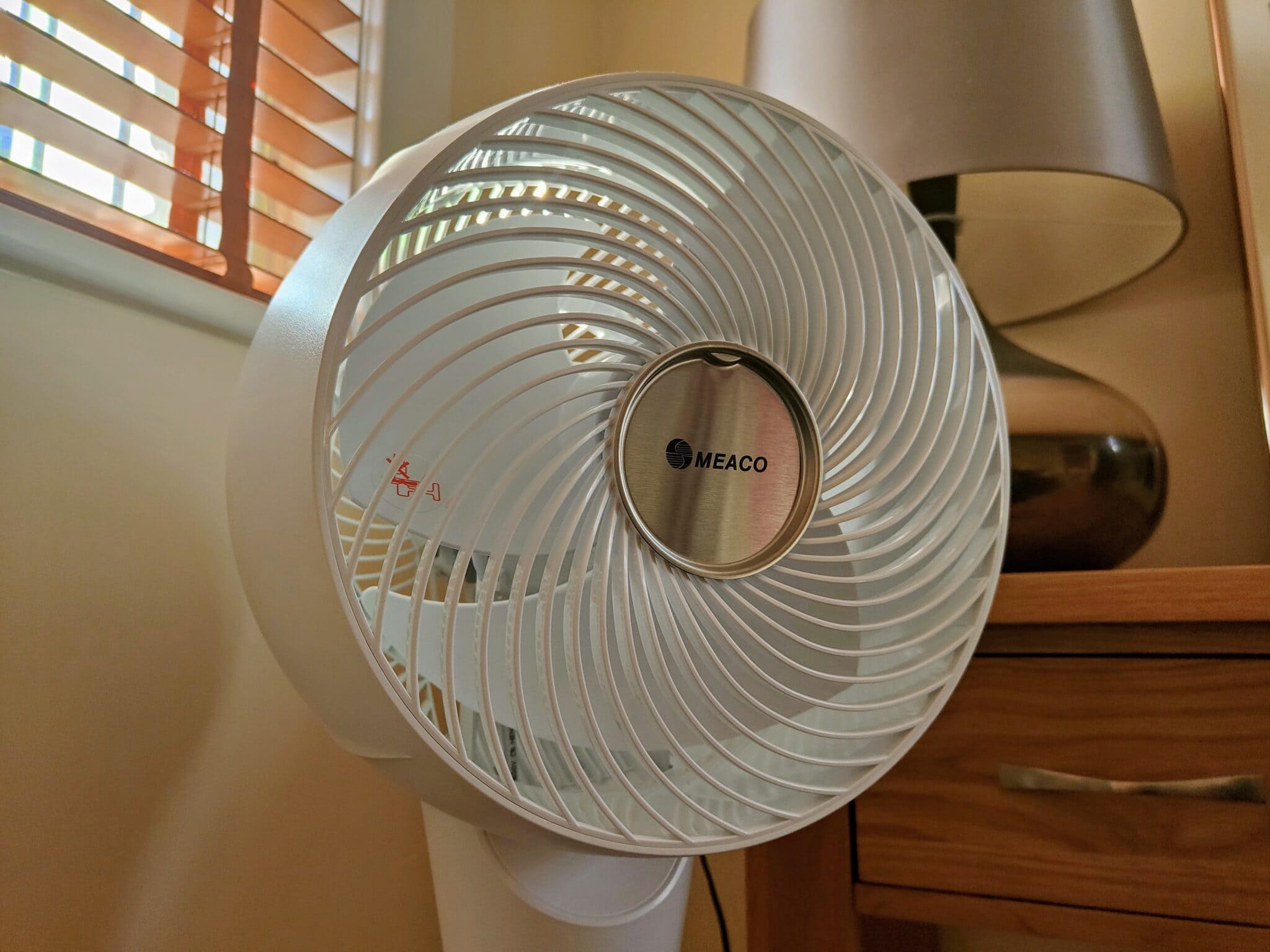 With 12 fan speeds, this has more options than standard, so you can find something that works well regardless of the temperature.
The fan itself measures the room temperature, fans don't often do much to cool a room down, but it will help you decide if you need it on or at what level.
You have options for both verticle and horizontal oscillation, something you won't find on many cheaper fans.
Then the fan has three modes, the default steady speed. A natural mode which will fluctuate between fan speeds to try and replicate a more wind-like breeze, though I have never really understood the appeal to this option.
Finally, the sleep mode will reduce the speed incrementally every 30 minutes throughout the night until it's a base level 1. So handy if you struggle to get to sleep due to the heat.
There is also a timer that you can use in conjunction with the other options and can be handy for sleeping.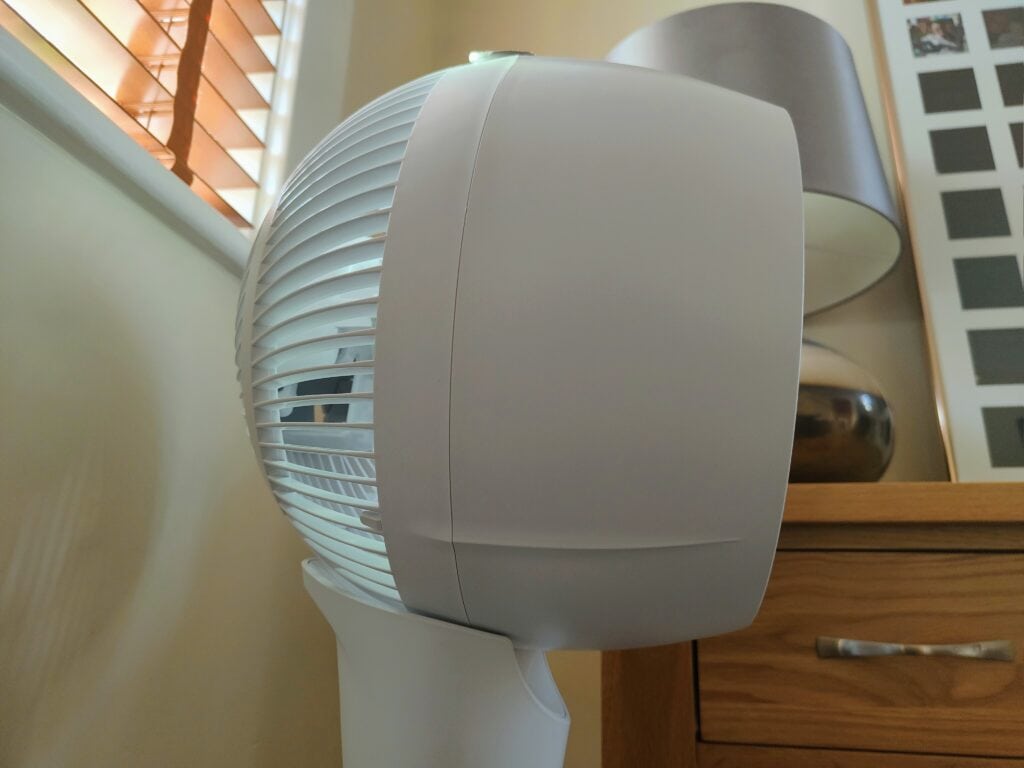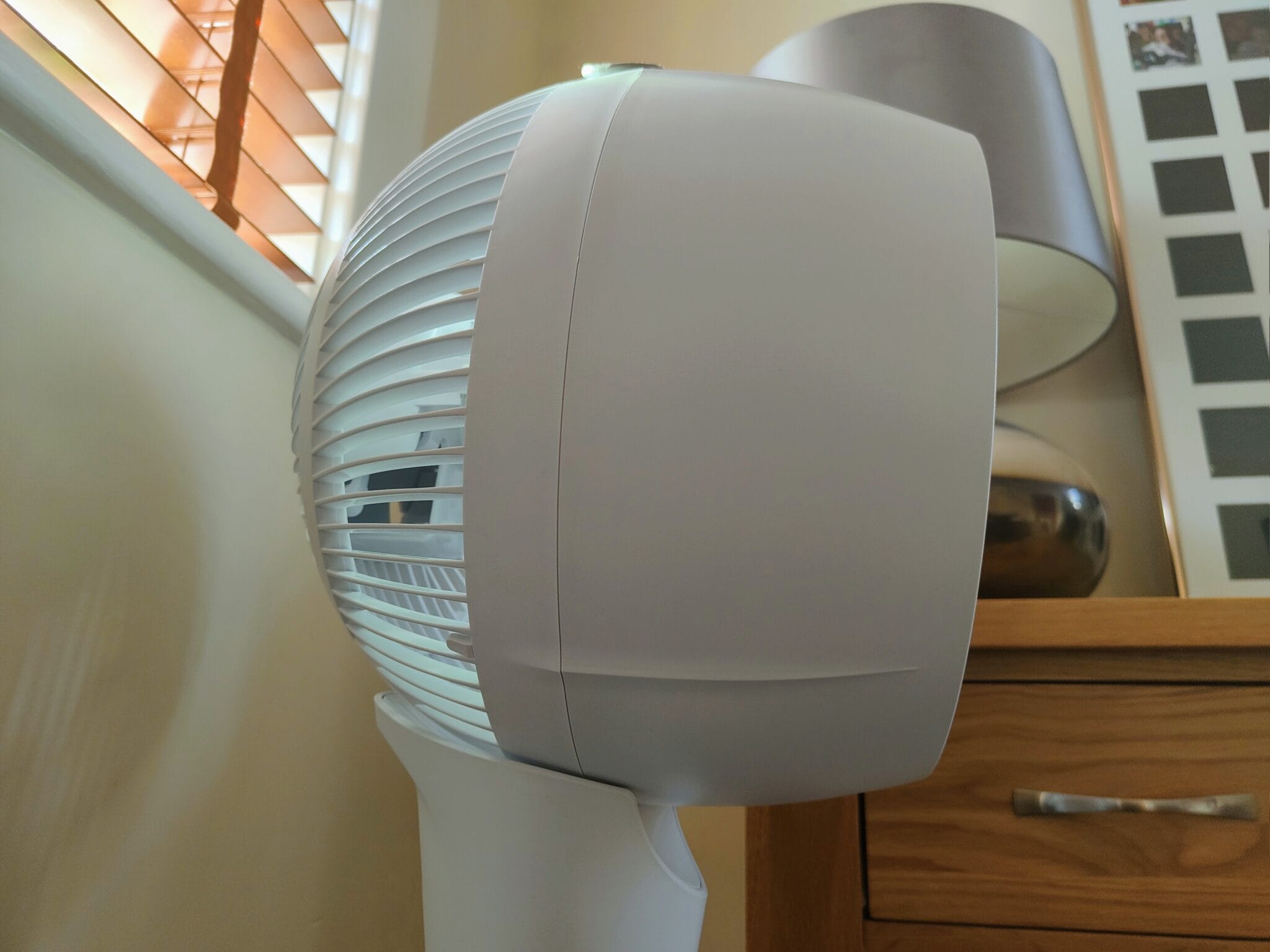 Noise and performance as a bedroom fan
I have been on a quest to find the perfect fan to use when sleeping. I am an extraordinarily light sleeper, and I hate noise. There are two directions to go in, find a fan that runs slow enough to provide a very gentle breeze with no perceptible noise, or a quiet fan that provides a pleasant sound profile acting as white noise.
This would fall into the latter option.
This is Quiet Mark certified and is rated to work at between 20 to 60dB(A).
To give some context of noise, these are common dB(A) examples:
60 Office or restaurant inside
50 Quiet restaurant inside
40 Residential area at night
30 Theatre, no talking
20 Whispering
10 Human breathing at 3 m (10 ft)
0 Threshold of human hearing (with healthy ears); sound of a mosquito flying 3 m (10 ft) away
With 12 fan speed settings, I had unrealistically high expectations that it may go down to silent, unlike the GeoSmartPro AirGo Smart Fan, which has a disappointing 3 speeds.
It doesn't go anywhere near silent, I think the main issue is that this is a bit smaller than the 16-inch options from the likes of Ansio. So the fan blades need to spin faster, which in turn makes them louder.
I suspect the tubular design of the outer case, which seems to focus the flow of the air also increases the perceived volume.
So if you want a silent fan, this is not it. However, the sound profile is good; at level one is quiet, providing a consistent and pleasant whoosh that is not high pitched or irregular.
I am yet to find a perfectly silent fan, the 26 speed Ansio does drop the fan speed below audible levels, which provides just enough airflow to keep me cool. However, at that point, you can hear the spindle turn (probably a manufacturing defect from low-quality manufacturing), which is a bit like a mechanical grinding noise, and it is arguably more annoying than a much louder fan like the Meaco with a consistent sound.
Normal people will probably be less fussy than me.
Price and Alternative Options
The MeacoFan 1056P has an RRP of £139.99, but it doesn't appear to be in stock at the moment. The desk version is just £99.
There are various poor clones, such as the Berssen, but they are even louder with fewer fan speeds.
The 26-speed Ansio is not available anymore, nor am I sure I would recommend it now. The 12-speed option is good; it's louder but barely audible with a reasonably pleasant sound profile (though the whooshing isn't as consistent as I would like).
The Quiet Mark approved NSA Pedestal i-Fan offers 26 speeds with a 16-inch blade, so in theory it ticks the boxes for being silent. I haven't used it, and it is not in stock, but it was £170.
Dyson fans are the best-looking options on the market, but they are expensive, and the fan performance is not as good (either louder or moves less air). I do like the air-purifying fan, though.
While I criticised the GeoSmartPro AirGo Smart Fan for being nowhere near silent, it does make a great general use fan offering smart control and a pleasant sound profile.
Overall
The MeacoFan 1056P Pedestal Fan is an excellent fan, depending on your specific requirements. It is the best looking pedestal fan I have used, and the 12-speed levels allow it to work well in most conditions, going from quiet up to aggressive cooling.
You are paying a premium for a brand name and the design, but I think it is worth it. It looks better than all the other hideous pedestal fans while outclassing all tower fans in terms of cooling and noise performance(even the Dyson bladeless options).
Posted by Mighty Gadget Blog: UK Technology News and Reviews