With consumer tech sites being so obsessed about mobile phones and their chipsets, or the latest laptop/PC processors, it is easy to forget that brands like MediaTek develop chipsets for other devices.
While Qualcomm is investing their time into Windows on Arm, MediaTek is instead focussing on Chromebooks.
MediaTek today unveiled its MT8192 and MT8195 chipsets for the next generation of Chromebooks. With the 7nm MT8192 for mainstream devices and the 6nm MT8195 for premium devices, brands can design powerful, sleek and lightweight Chromebooks that deliver longer battery life and incredible computing experiences from video conferencing and streaming video to cloud gaming and AI-powered applications.
ARM vs x86 on Chromebooks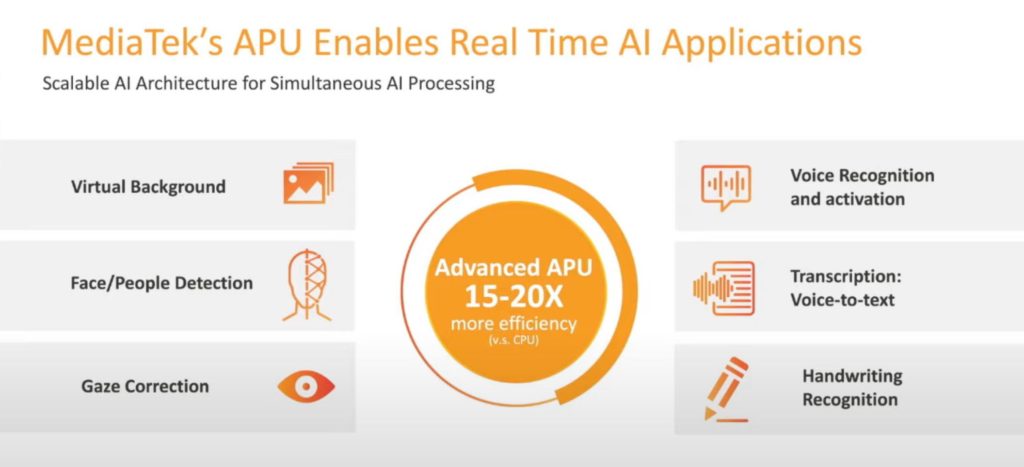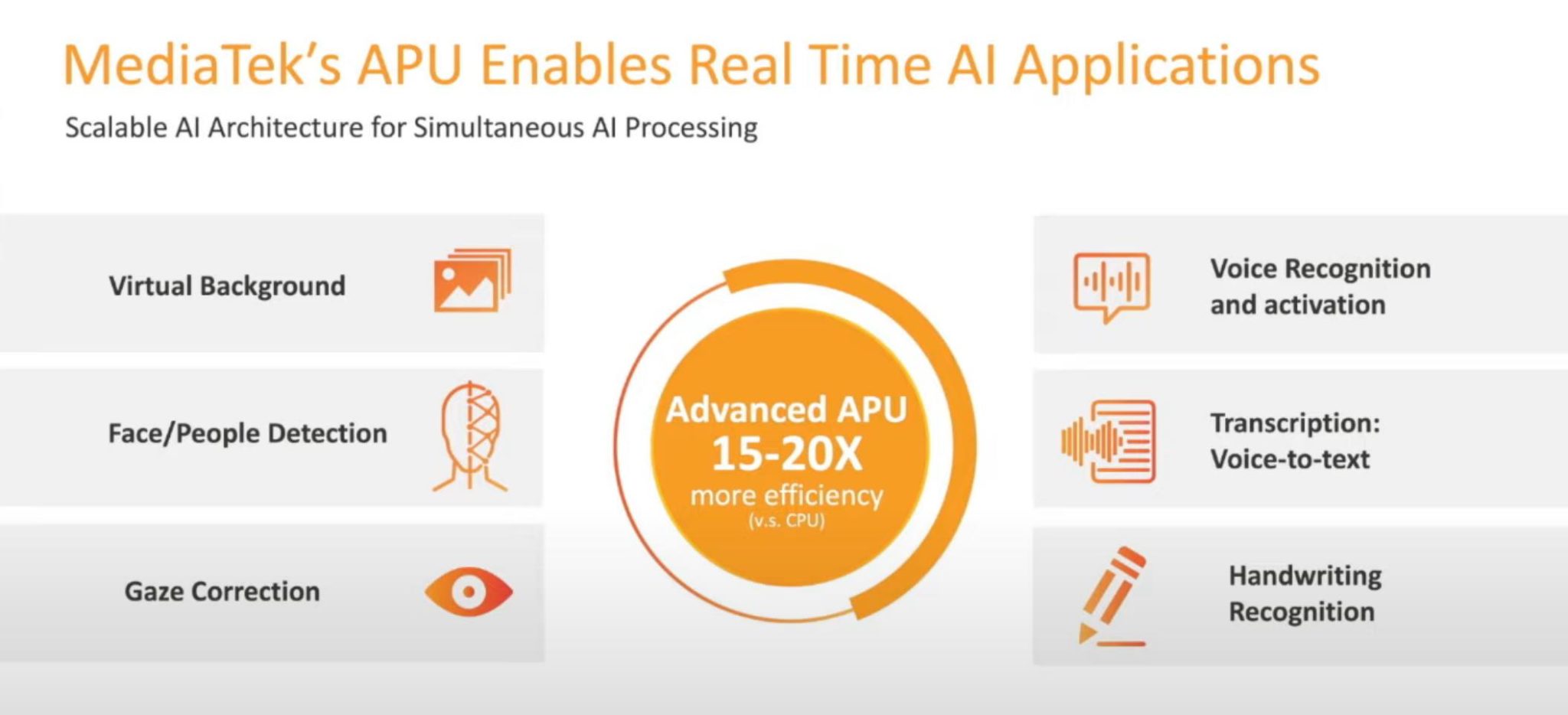 A MediaTek chipset on a Chromebook does everything Qualcomm is trying to do with Windows but with less hassle and at less expense. The chipsets natively support the Gentoo Linux OS that Chrome OS is based on, so there is no virtualisation or any need to have developers recompile into ARM.
Arm-based chipsets are an all in one solution including GPU, modem, and AI processors which require a tiny amount of power compared to the x86 counterparts by Intel and AMD.
This, therefore, allows the always on always connected functionality that Qualcomm termed for their PCs.
In regard to these new MediaTek chipsets:
The MT8192 and MT8195 chipsets each integrate a high performance AI processing unit (APU) to power a wide range of voice and vision-based applications. MediaTek's powerful APU technology is designed to  seamlessly process voice ID recognition and voice control, speech and image recognition, speech to text, live translation, object recognition, background removal, noise reduction, image and video segmentation, gesture control and Google AR Core-based enhancements, all in real-time. Both chipsets also have a dedicated audio digital signal processor (DSP) to enable ultra-low power voice wakeup (VoW) for voice assistants.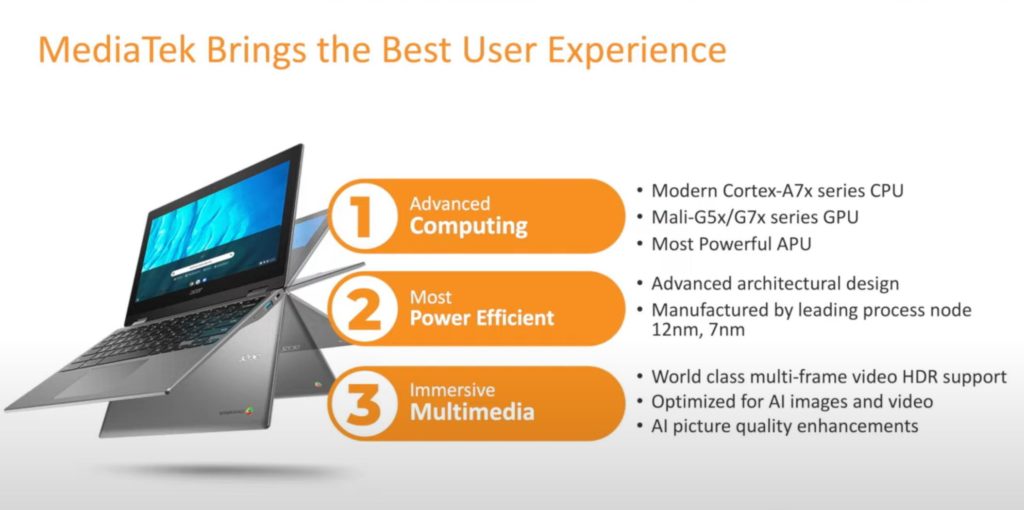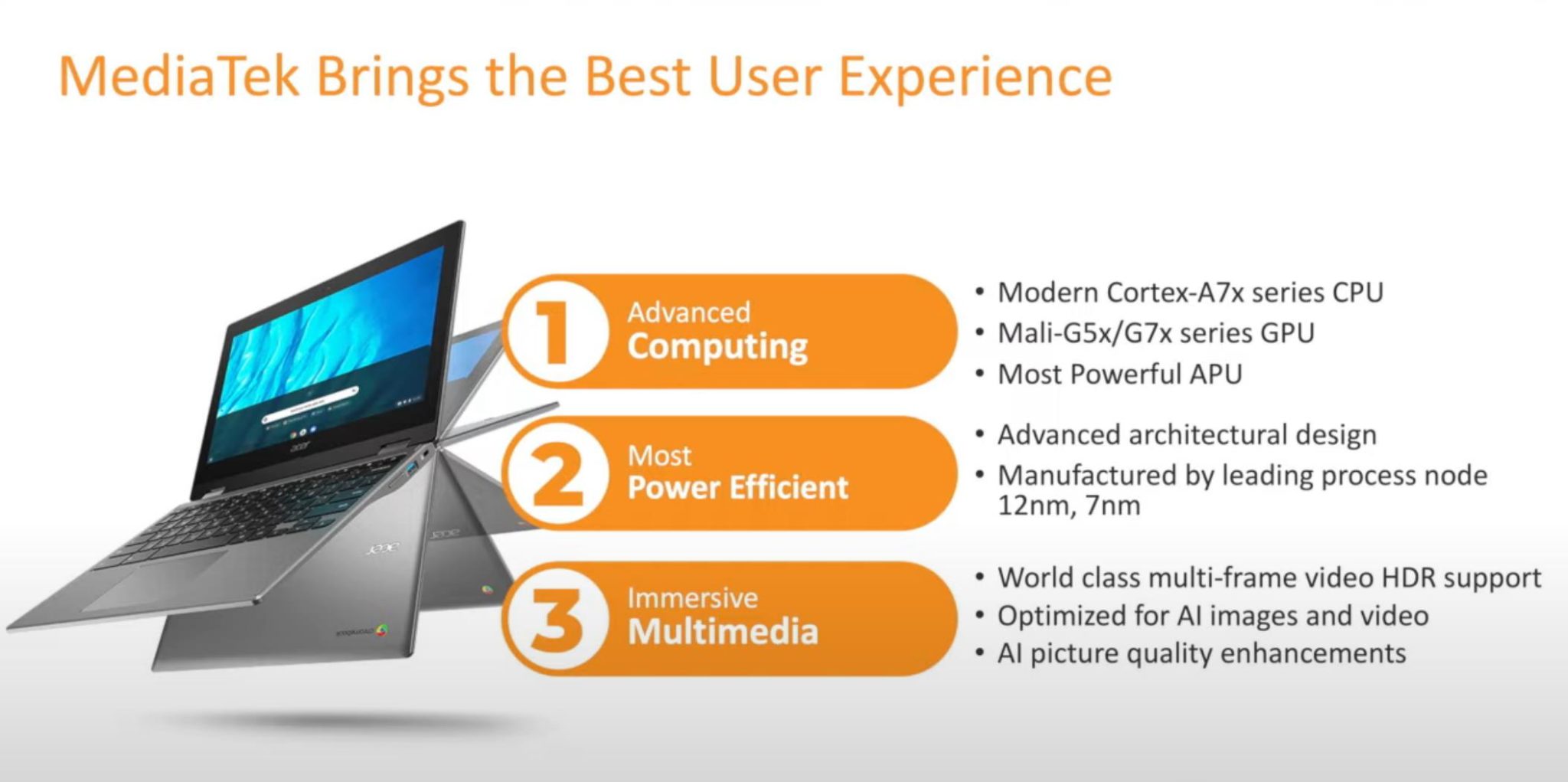 MediaTek MT8195 Chipset Specification
6nm TSMC fabrication process
4 x Arm Cortex A78
4 x Arm Cortex A55
Arm-Mali G57 GPU with 5-cores
2133MHz LPDDR4X
Support for 3 displays
Dolby Vision, 7.1 surround sound audio
Codec AV1 hardware video accelerator
PCI-Express Gen 3 and USB 3.2 Gen 1 support
The MediaTek MT8195 is developed on the 6nm fabrication process, not quite as small as the 5nm used for up and coming mobile chipsets but less important with the Chromebook form factor.
This is the second chipset to be announced with the latest Arm Cortex-A78 CPU cores, the mid-range Samsung Exynos 992 being the first.
The A78 doesn't sit quite at the top of the Arm line-up this year, the ARM Cortex-X1 was launched and is expected to be used on the Qualcomm Snapdragon 875. The ARM Cortex-X1 seems to be perfectly suited to laptops and Chromebooks, but I have a feeling Qualcomm may have exclusive access to this for their Windows on Arm chipset.
MediaTek has opted to go for a moderately specced GPU for this chipset, using he older G57 with just 5-cores. In comparison, the flagship Kirin 9000 5G mobile SoC from Huawei uses a 24-core Mali-G78 GPU.
MediaTek is one of the first companies to adopt hardware acceleration of the  AV1 codec. The Dimensity 1000 was the first chipset to do so, and no competing mobile chipset offers this, though Broadcom and Amlogic have chipsets that support this.
At the time of writing, no frequencies were revealed
MediaTek MT8192 Chipset Specification
7nm TSMC fabrication process
4 x Arm Cortex A76
4 x Arm Cortex A55
Arm-Mali G57 GPU with 5-cores
2133MHz LPDDR4X
Support for 2 displays
Dolby Vision, 7.1 surround sound audio
Codec AV1 hardware video accelerator
PCI-Express Gen 3 and USB 3.2 Gen 1 support
I'd say this is a slimmed-down version of the MT8195, but it uses a completely different fabrication process and Arm Cortex A76 cores, so logistically it is very different for MediaTek.
For consumers, it offers similar features but the lower performance at a more attractive price point.
This only supports two displays, though the press release mentions 120Hz refresh-rates for super-fast responsiveness. I would assume this applies to both chipsets.
Availability of MediaTek Chromebooks
Sadly, you are going to have to wait a while for a Chromebook to be powered with either chipset. The more affordable MT8192 based Chromebooks should arrive for Q2 next year and the premium MT8195 at a later date.
Overall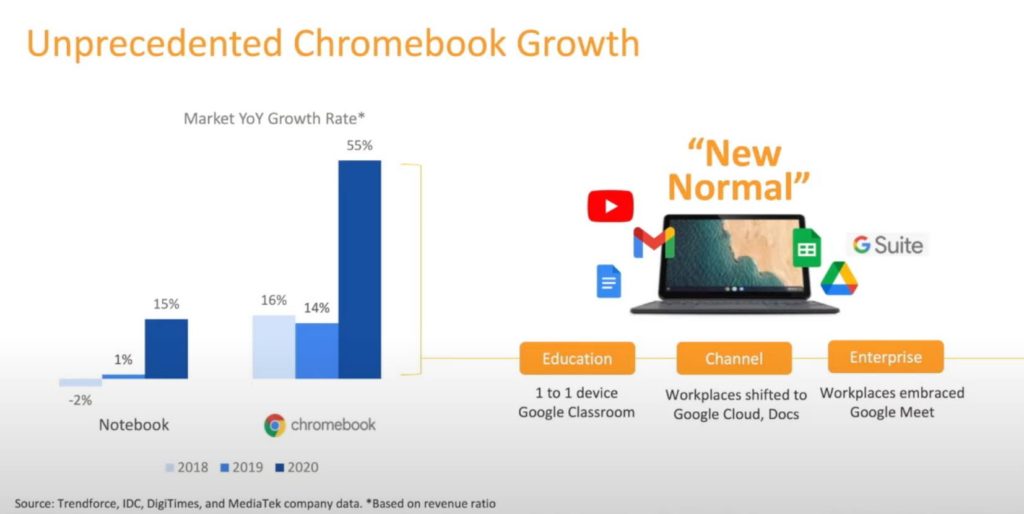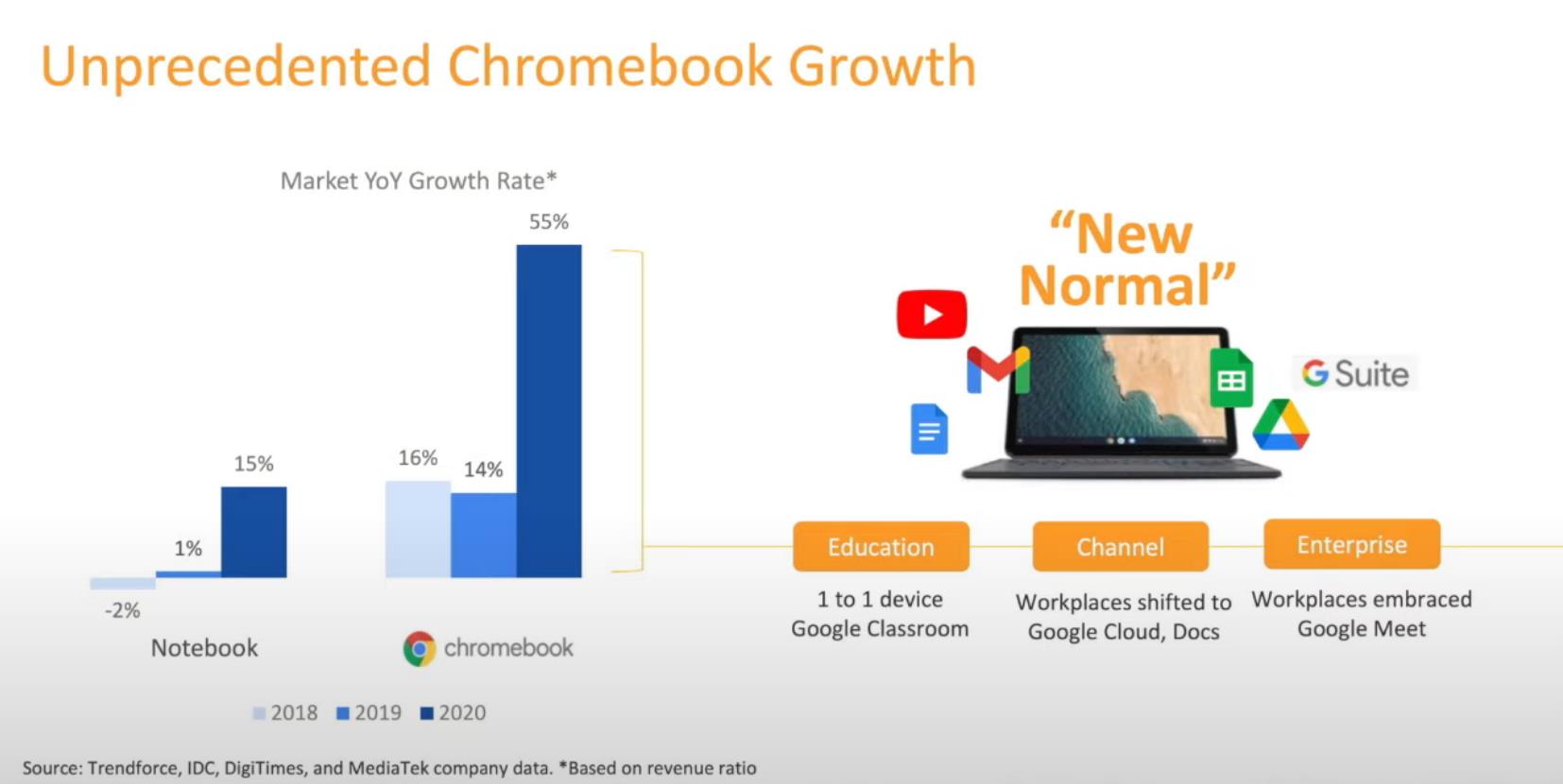 Chromebooks have gained a lot of traction in recent years, and this launch shows MediaTek's commitment to the platform.
Arm-based SoCs make a lot of sense for this style of laptop, offering you ultra lowe power devices that are perfect for portability and offer all the connectivity you want while moving around.
Posted by Mighty Gadget Blog: UK Technology News and Reviews