Today, MediaTek has announced two brand new chipsets targeting high-end devices, the Dimensity 1200 and Dimensity 1100.
While these chipsets offer improvement from the previous generation, the main thing I am hoping for is that they are more widely adopted in the global market, providing an affordable alternative to flagship phones based on Qualcomm and Samsung chipsets.
So how does the Dimensity 1200 and 1100 compare with the previous generation?
MediaTek Dimensity 1200 & 1100 vs Dimensity 1000+ Specification Table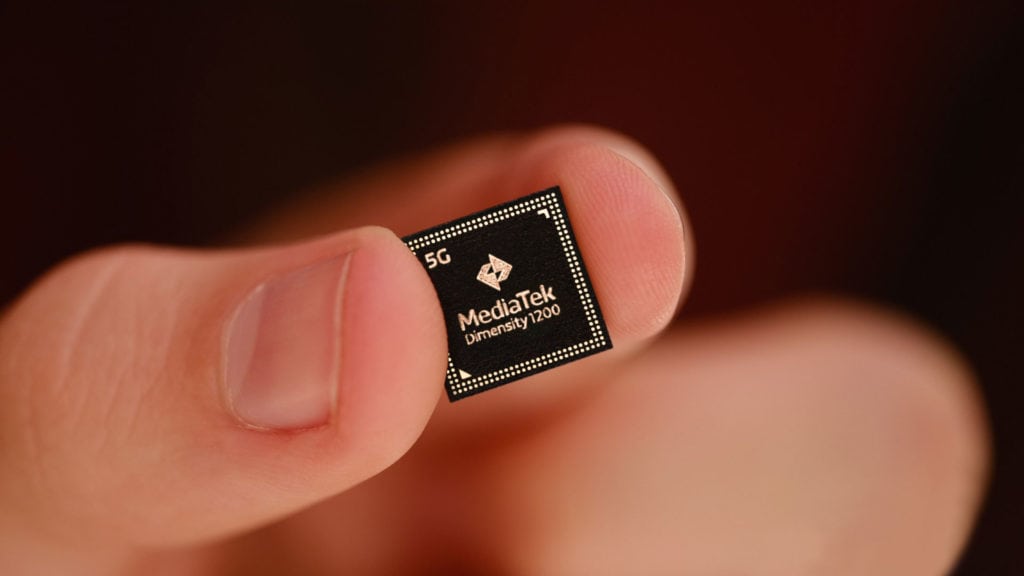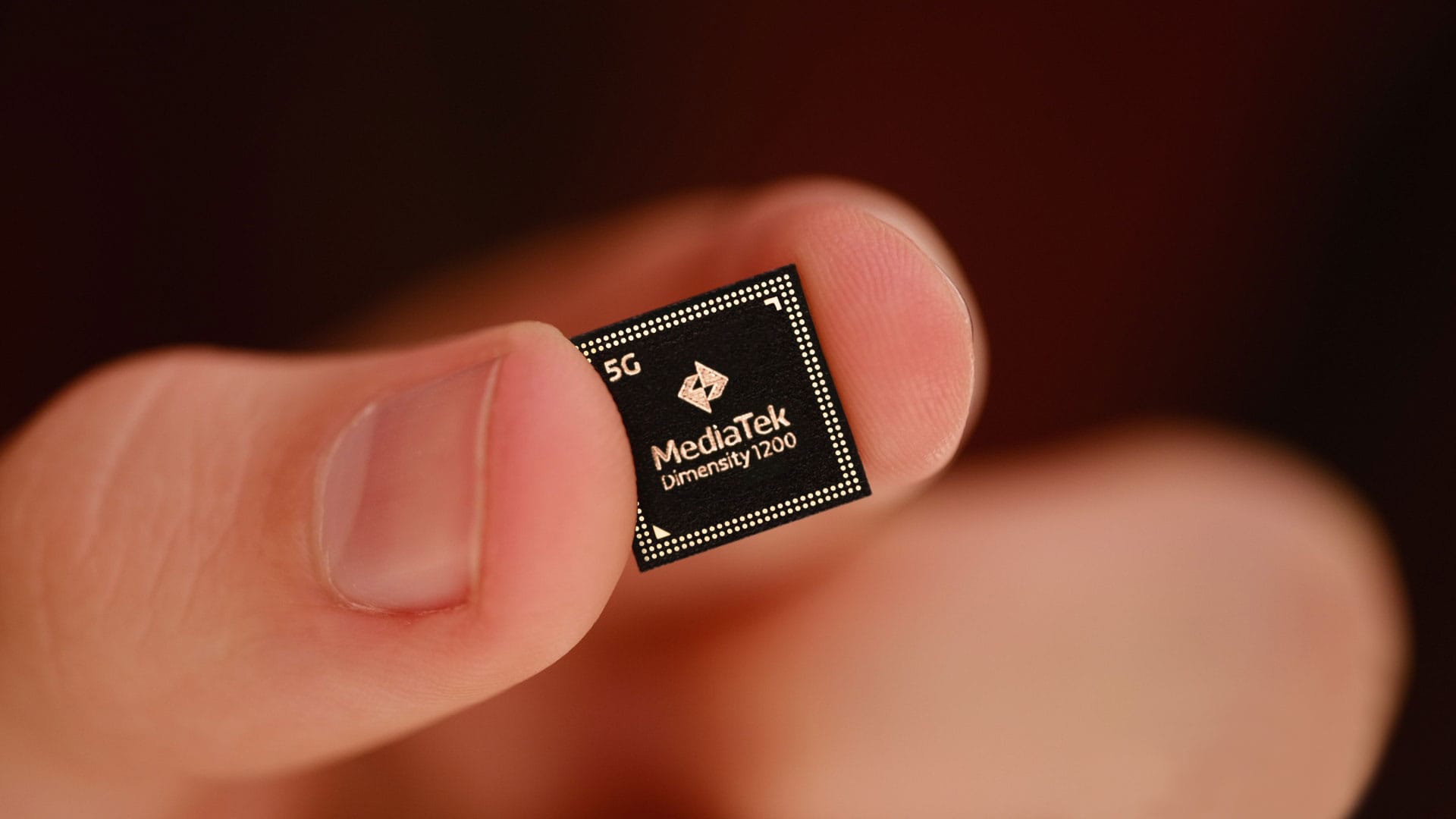 Dimensity 1200
Dimensity 1200
Dimensity 1000+
Fabrication Process
TSMC 6nm
TSMC 6nm
TSMC 7nm
CPU 
1 x A78 @ 3.0Ghz
3 x A78 @ 2.6Ghz
4 x A55 @ 2Ghz 
4 x A78 @ 2.6Ghz
4 x A55 @ 2Ghz 
4x A77 @ 2.6GHz
4x  A55 @ 2GHz
GPU
Mali G77 MC9
Manhattan 3.0 @ 130fps peak
PUBG Smooth 90fps
Mali G77 MC9
Manhattan 3.0 @ 120fps peak
PUBG Smooth 60fps
Mali-G77 MC9
Memory
4x LP4x 2133Mhz PoP
UFS 3.1 2 Lane
4x LP4x 2133Mhz PoP
UFS 3.1 2 Lane
LPDDR4x UFS 2.2
Camera
1x 200MP
32MP + 16MP dual
1x 108MP
32MP + 16MP dual
32MP + 16MP,  80MP
AI
APU 3.0 +10% perf
APU 3.0 
APU 3.0
6 AI processors and offers up to 4.5 TOPS
Video Decoding
4K 60fps, 10-bit AV1
4K 60fps, 10-bit AV1
Video Encoding
4K 60fps, 10-bit 
4K 60fps, 10-bit 
4K
Display
QHD+ 90Hz
FHD+ 168Hz
QHD+ 90Hz
FHD+ 144Hz
2520 x 1080 144Hz
Connectivity
Wi-Fi 6
L1 + L5 GNSS
Bluetooth 5.2
Wi-Fi 6
L1 + L5 GNSS
Bluetooth 5.1
Wi-Fi 6
L1 + L5 GNSS
Bluetooth 5.1
CPU & Fabrication Process
The biggest upgrade we see with these new chipsets is the shift to the 6nm fabrication process, down from 7nm and the switch to the latest Arm Cortex A78 chipset.
This year, the Arm Cortex A78 isn't the best of the best, that's reserved for the X1. However, MediaTek has made up for missing this by offering very high clocks for all the A78 cores.
In particular, the Dimensity 1200 hits 3.0Ghz on a single core, making it the 2nd chipset to do so since the SD865. Even the middle cores are clocked 7.5% higher than Qualcomm. So it is quite possible the multi-core processing power of the Dimensity 1200 will be able to compete with Qualcomm.
These changes should also represent a massive improvement in performance vs the Dimensity 1000. Certainly with the 1200, where you have a single core on the A78, that is also clocked 15% higher than the A77 cores on the Dimensity 1000.
GPU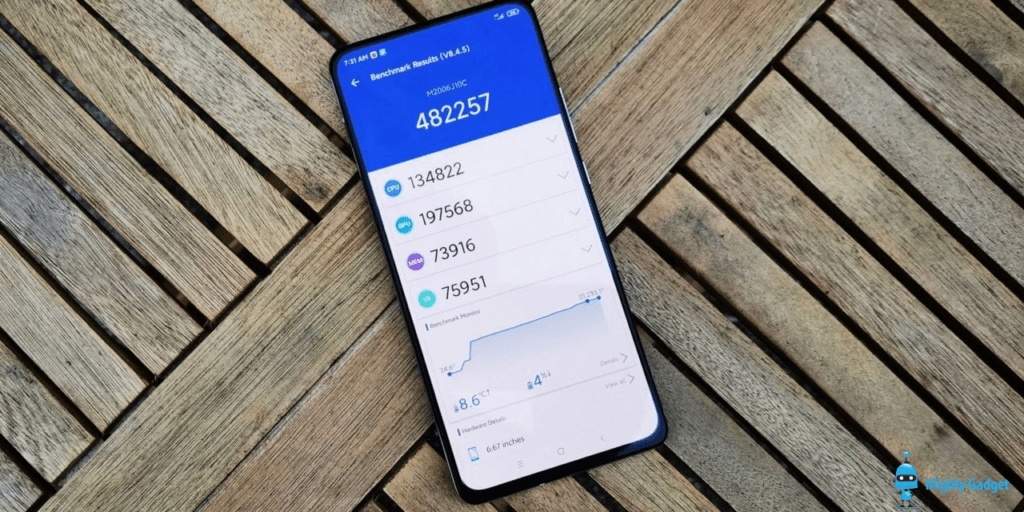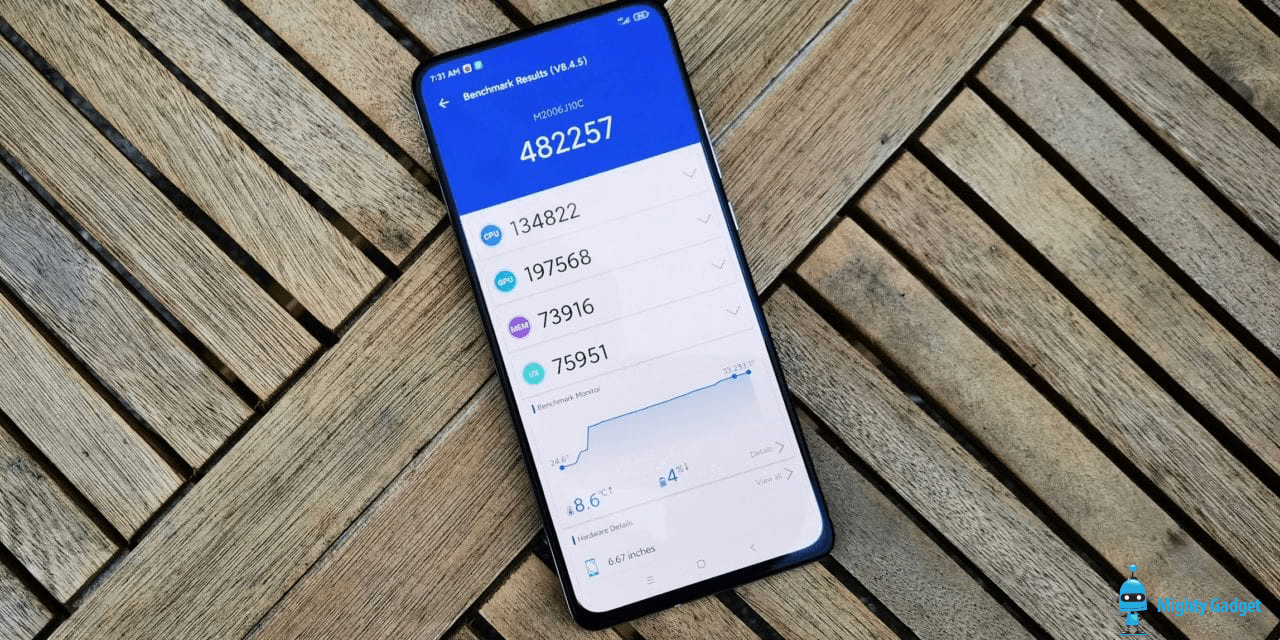 This is the odd bit, looking at the spec sheet, absolutely nothing has changed from the Dimensity 1000. This will put the MediaTek chipset on the backfoot compared to all the other flagship chipsets on the market. The Kirin 9000 may use the older A77 CPU cores, but they have
Camera & Video
The Dimensity 1200 supports 200MP photos for stunning photography with its five-core HDR-ISP. This apparently integrates an updated version of MediaTek's hexa-core AI processor (MediaTek APU 3.0), which has an enhanced multi-task scheduler that reduces latency and improves power-efficiency.
The Dimensity 1100 also packs impressive camera capabilities with its 108MP camera support, and integrates MediaTek's existing APU 3.0
However, the Dimensity 1000+ also used the APY 3.0, so it is unclear what has changed there, however that only supported 80MP with 32MP + 16MP dual.
Display
The Dimensity 1200 supports refresh rates of up to 168Hz while the Dimensity 1200 supports up to 144Hz. These refresh rates are only supported on FHD+, they are then limited to 90Hz on QHD+.
Originally the Dimensity 1000 didn't support very high refresh rates, but MediaTek updated it with Dimensity 1000+ which was identical but bumped up the display compatibility to 2520 x 1080 @ 144Hz
Connectivity
Dimensity 1200 and 1100 both support Bluetooth 5.2, which lets users stream to multiple wireless devices simultaneously. The chipsets also support ultra-low latency true wireless stereo audio and LC3 encoding for higher quality, lower latency streaming audio that's also very power-efficient to prolong the battery life of wireless earbuds.
The Dimensity 1000+ supported Bluetooth 5.1.
It looks like the Dimensity 1200 & 1100 are stuck with Wi-Fi 6 instead of Wi-Fi 6E, it is unlikely you will benefit from that technology much this year.
Modem
The modem appears to have stayed the same, but it is well featured with extensive support from 2G to 5G.
This includes things like 5G carrier aggregation (2CC) across frequency division duplex (FDD) and time division duplex (TDD), dynamic spectrum sharing (DSS), True Dual SIM 5G (5G SA + 5G SA) and Voice over New Radio (VoNR).
When will phones be released with the MediaTek Dimensity 1200 & 1100?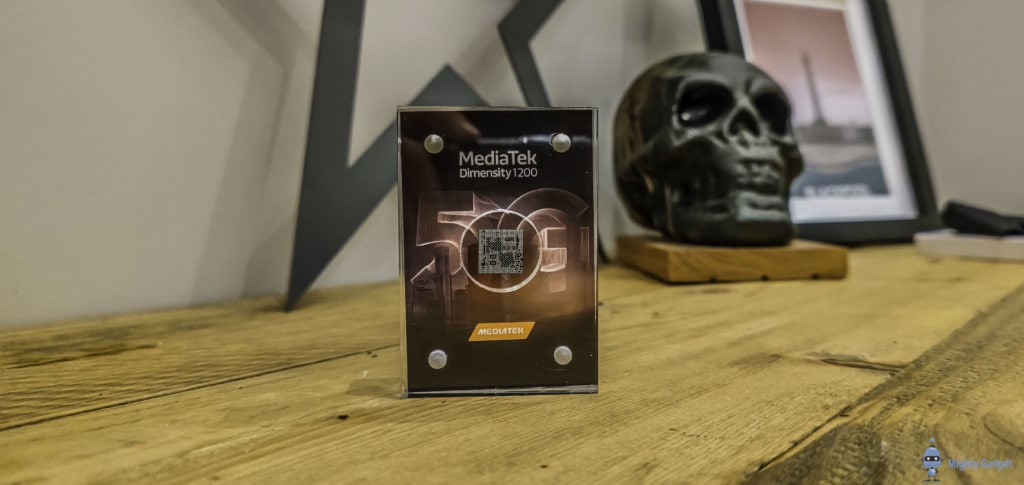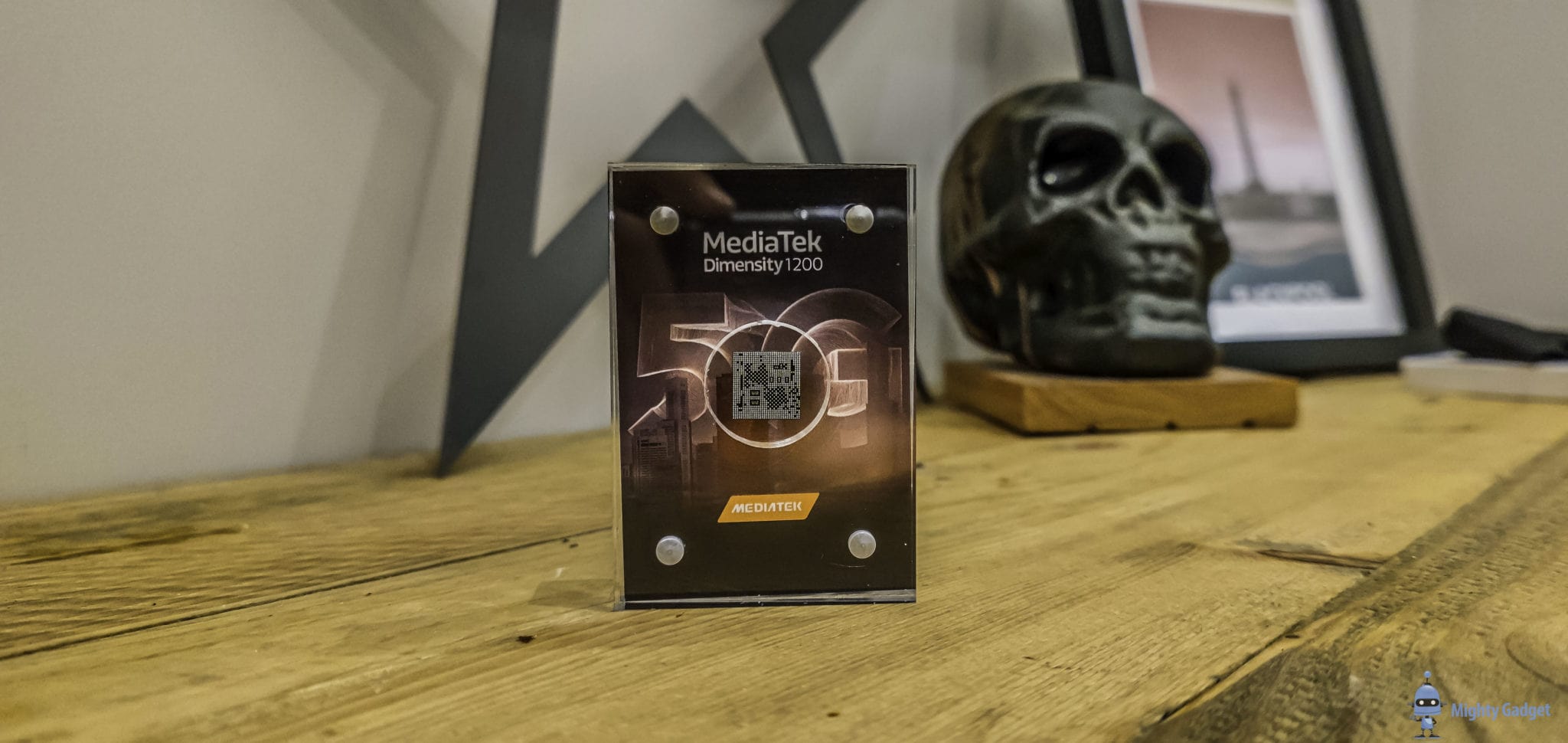 Many OEMs, including Xiaomi, Vivo, OPPO and Realme, expressed support for MediaTek's new Dimensity chip. The first devices with the new MediaTek Dimensity 1200 and 1100 chipsets are expected to hit the market at the end of Q1 and beginning of Q2 this year.
I asked Mediatek if the will be wider global availability of MediaTek Dimensity 1200 & 1100 compared to the previous generation. I am waiting to get a reply.
I would assume this to be the case though, we have seen a handful of phones launch in the UK with Dimensity chipsets
Overall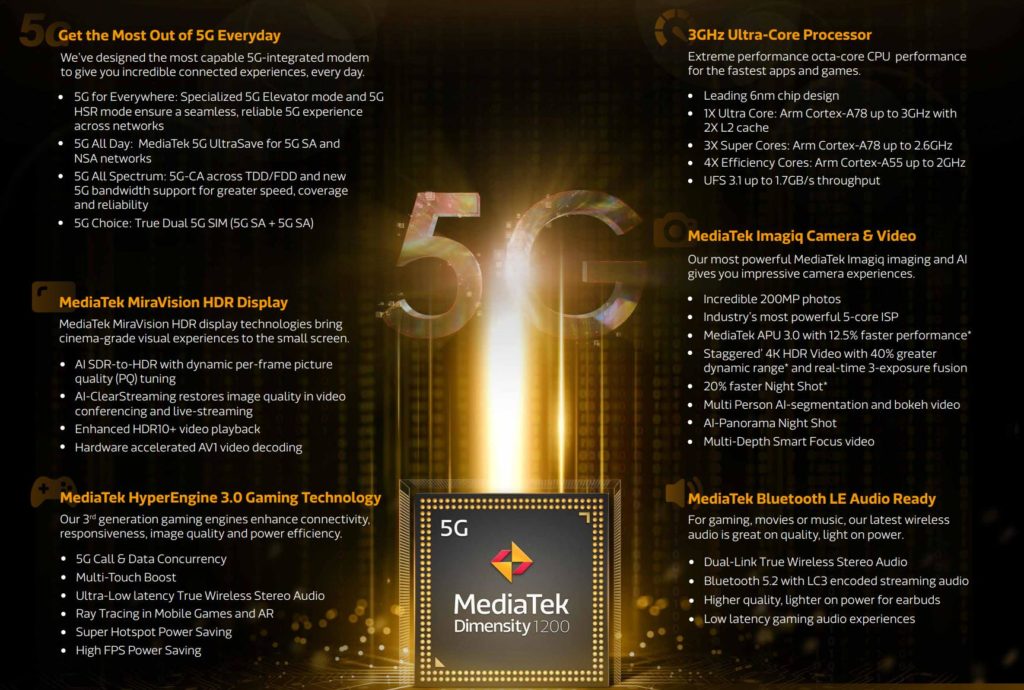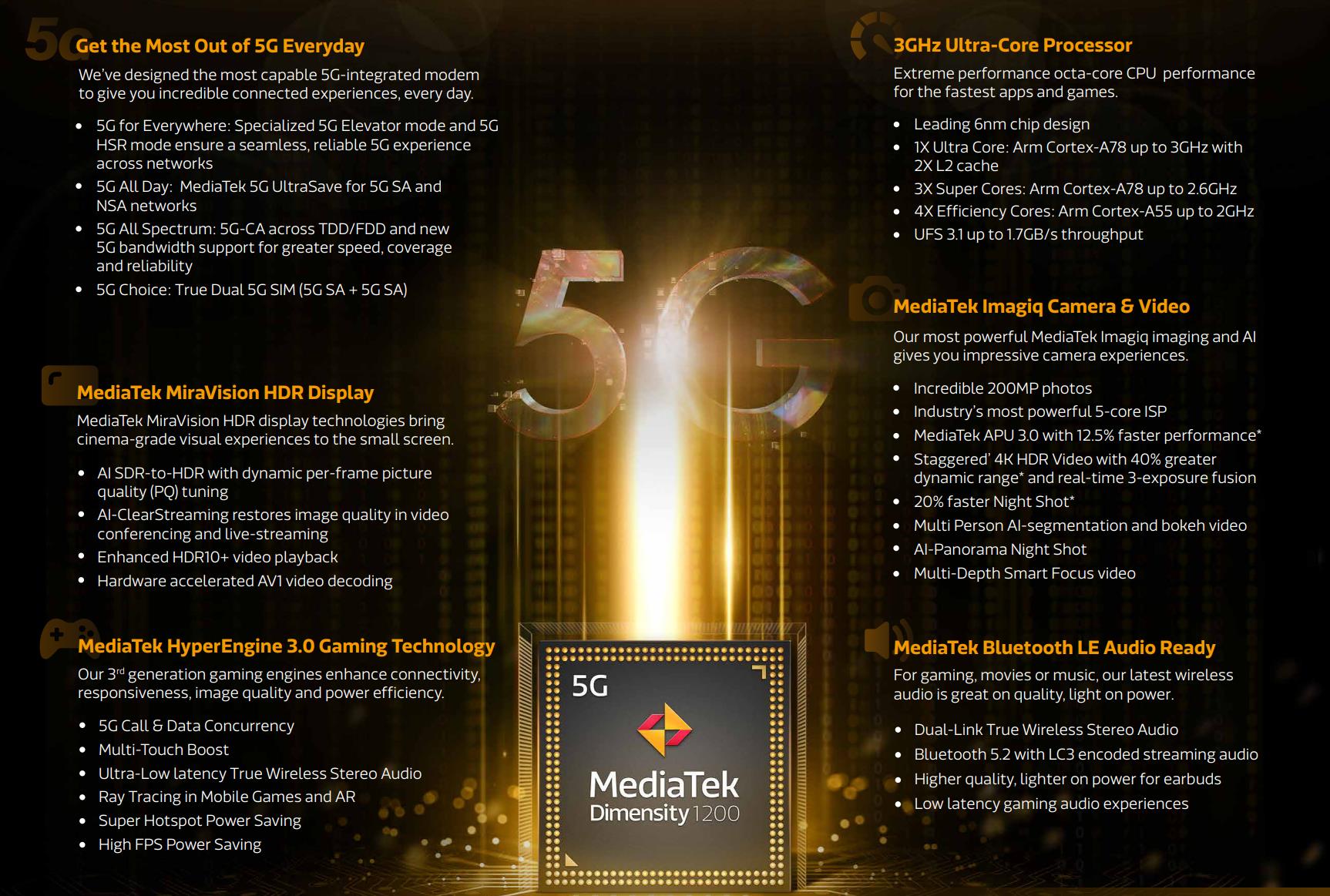 The two chipsets offer some significant upgrades vs the previous generation, but, on paper at least, significant parts of the chipset hasn't changed between generations.
The Dimensity 1200 is the second third mobile chipset ever to hit the 3Ghz mark (thanks to the SD870 for taking the shine off) which is an impressive achievement and the combination of this with the relatively high clocked middle cores should allow it to compete well against market leader Qualcomm.
Both chipsets look like they will offer a significant improvement in CPU grunt compared to the Dimensity 1000+ and the 6nm fabrication process should make them more efficient than the previous generation.
For the rest of the spec, not a great deal has changed, and it is certainly odd that there have been no obvious improvements in the GPU.
While certain aspects of the chipsets may appear underwhelming, especially when you compare to the likes of Qualcomm and Samsung, the important thing is the price of phones with MediaTek chipsets and their availability.
During my testing of the Dimensity 1000, I found it to be superb, while it didn't compete with the SD865 the price/performance was superb.
However, to date, there has still been no Dimensity 1000 phones launched in western markets. So the most important aspect of these two new chipsets is if and when the UK and EU will see phones using them.
Posted by Mighty Gadget Blog: UK Technology News and Reviews