Forgive the title gore, but with so many phones and chipsets launched I always like to see how a particular device fits in with its competitors.
Today, Realme announced the Realme 7 5G. Many publications have previously announced this is the international variant of the Realme V5, but there is one significant tweak, the chipset has been switched to the MediaTek Dimensity 800U, making it a sort of love child of the V5 and X7.
The Realme 7 5G promises to be the most affordable 5G phone in Europe, but their competitor, but it was just over a month ago when Xiaomi did similar with the SD750G equipped Mi 10T Lite 5G.
Sadly I have not been able to loan a sample of the Mi 10T Lite 5G, so for this comparison, I am forced to use third-party benchmarks for that phone.
Where is the Realme 7 Pro 5G?
If I am honest, I am a little disappointed that Realme has not launched the international variant of the X7 and X7 Pro.
In a zoom call this week I quizzed Madhav Sheth if they plan to launch the Realme 7 Pro 5G which is what I would have expected to be the international version of the X7.  He hinted that Realme is focussing on phones with the 120Hz IPS displays for this year, and new AMOLED phones will be launched early 2021.
He was also conscious of the relentless release cycle and combined with the logistical issues brought on by Covid, the stated that Realme didn't want to launch four variations of the Relame 7 all within a short period of time.
Specification Comparison
 
Dimensity 800u
Dimensity 800
Dimensity 720
Snapdragon 750G
Manufacturing Process
7nm
7nm
7nm
Samsung
7nm EUV (7LPP)
CPU
4x Cortex A76 @ 2.4GHz
4x Cortex A55 @ 2.0GHz
4x Cortex A76 @ 2.6GHz
4x Cortex A55 @ 2.0GHz
4x Cortex A76 @ 2.0GHz
4x Cortex A55 @ 2.0GHz
2x 2.2 GHz – Kryo 570 Gold (Cortex-A77)
6x 1.8 GHz – Kryo 570 Silver (Cortex-A55)
GPU
Arm Mali-G57 MC3
Arm Mali-G57 MC4
Arm Mali-G57 MC3
Adreno 619
RAM
LPDDR4x 2133MHz
LPDDR4x 2133MHz
LPDDR4x 2133MHz
LPDDR4X / 17.0GB/s / 2133MHz
Modem
Mediatek M70
Mediatek M70
Mediatek M70
Snapdragon X52 Integrated
AI
Integrated
Integrated
Integrated
Hexagon 694
In hindsight, I wish I had asked Madhav why they decided to tweak the V5 and use the Dimensity 800U for the western market.
However, the Mediatek Dimensity 800U and 720 may sound like they will be quite different, but they are not at all.
Everything about the two chipsets is identical with one chance. The Dimensity 800U has its two Arm Coretex A76 cores clocked 20% higher at 2.4Ghz vs 2Ghz.
It is the Dimensity 800 which then switches to a 4×4 design.
Not to be negative to Mediatek, but the Qualcomm Snapdragon 750G on the Xiaomi Mi 10T Lite 5G is a little more exciting, employing two of the newer Arm Coretex A77 cores.  
GPU comparison are harder, Qualcomm uses the Adreno 619 on the SD750G. Whereas Mediatek have the same three-core Mali-G57 on the Dimensity 720 and 800U, this then jumps up to four cores on the Dimensity 800.
Currently, only the Oppo Reno4 Z uses the Dimesnity 800, which costs a lot more than the new Realme and Xiaomi phones, but I have included it within this comparison to highlight that there are big differences between that chipset and the 800U.
Benchmark Comparison
Antutu Benchmarks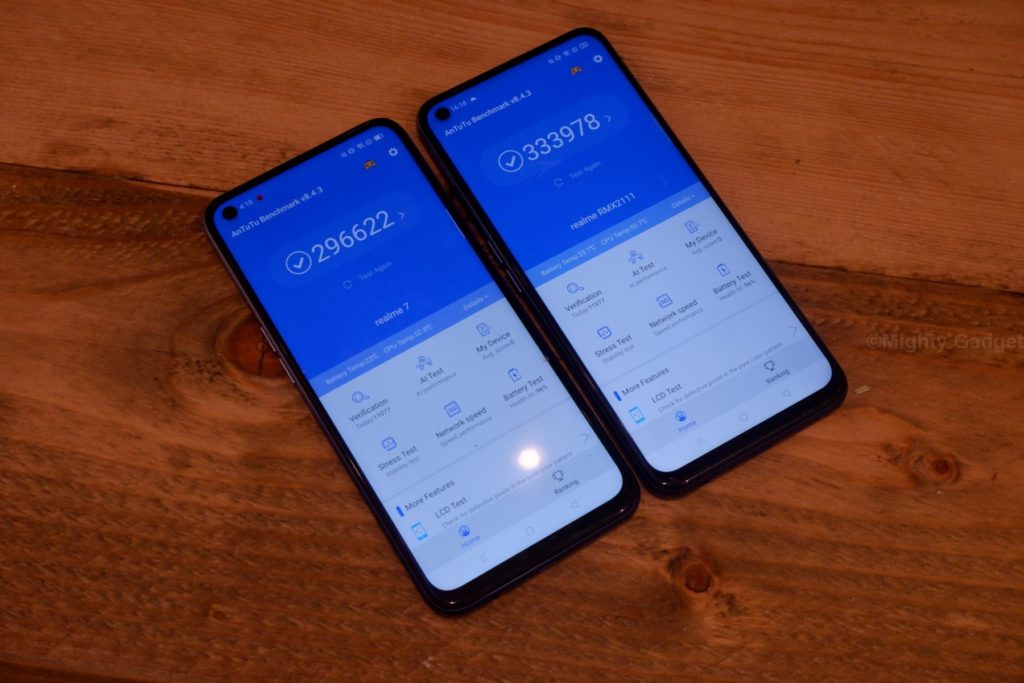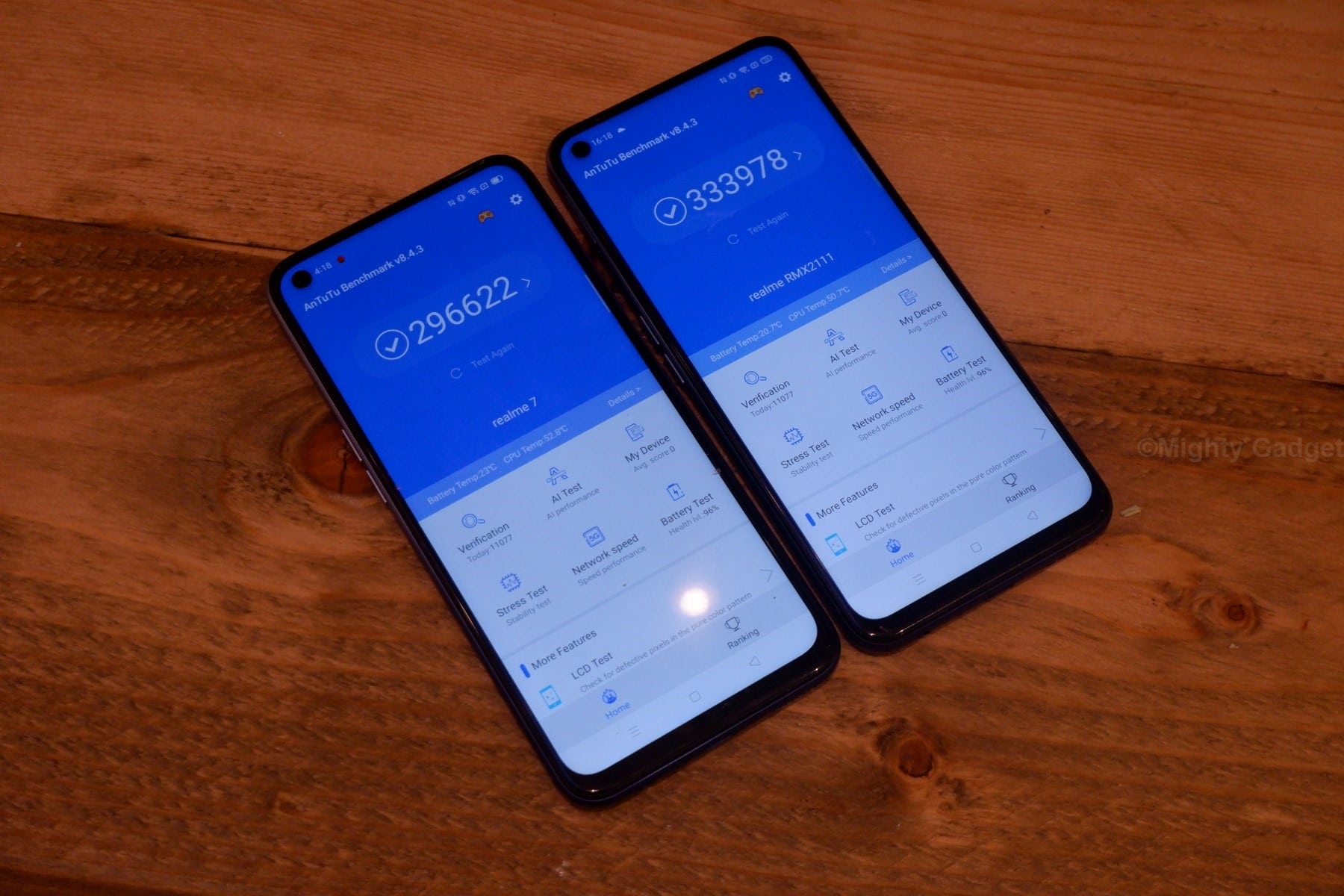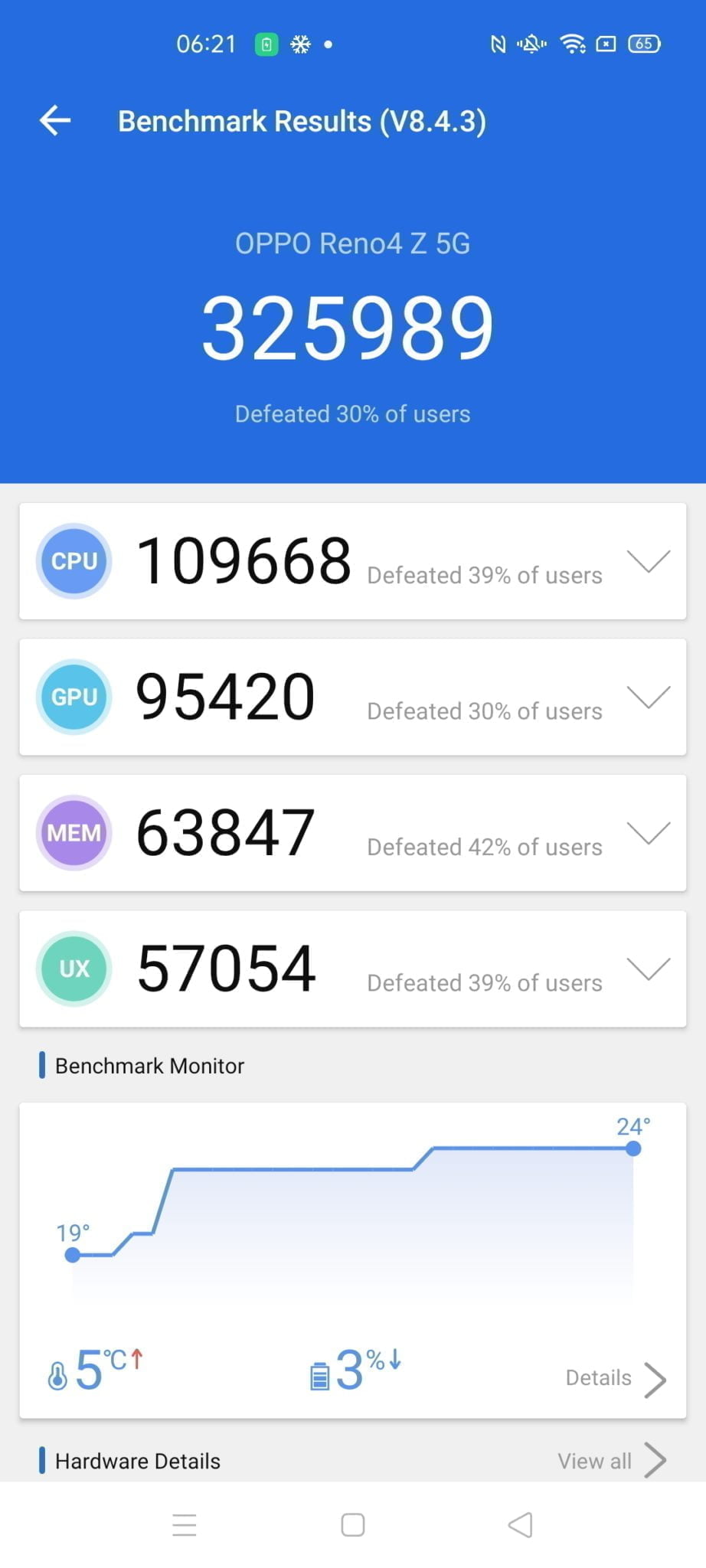 Antutu Benchmark
Total
CPU
GPU
MEM
UX
Redmi 10X – Dimensity 820
3rd party review
401419
129050
123943
68754
79672
Huawei P40 Lite 5G – Kirin 820
350308
113628
108027
69102
59551
Realme 7 5G – Mediatek Dimensity 800U
329068
104445
86478
65762
72383
Realme X50 – Snapdragon 765G
323286
103663
94154
68007
57462
Oppo Reno4 Z – Mediatek Dimensity 800
Performance Mode
325989
109668
95420
63847
57054
Xiaomi Mi 10T Lite – Snapdragon 750G
324765
Oppo Reno4 Z – Mediatek Dimensity 800
304485
102822
88856
60406
52401
Realme V5 – Mediatek Dimensity 720
Early Leak
301380
96385
73639
74302
57054
Antutu is the go-to benchmark for generic benchmarking, but in this test, we can see why benchmarking in general, is not always accurate.
The Mediatek Dimensity 800 is a superior chipset to the 800U there is no denying that. But out of the box results show the Realme 7 5G comfortably outperform the Oppo Reno4 Z.
This appears to be the way Realme aggressively clock the chipset using their smart mode battery optimisation, which is the default option. Switching the Oppo to performance mode shows a much closer result, but it is still behind.
However, looking at the breakdown of results, it is the UX score that seems to make a big difference by 14921 points which is a 25% increase. This could be that Realme UI is a little more streamlined than ColorOS, but I don't think it paints an accurate portrait of real-world performance.
As for the Snapdragon 750G, I have struggled to find a detailed Antutu breakdown, which forced me to buy the Xiaomi myself. The only score I can find is 324765 which puts it almost in line with the two Dimensity 800 chipsets and the  Snapdragon 765G
GeekBench Benchmarks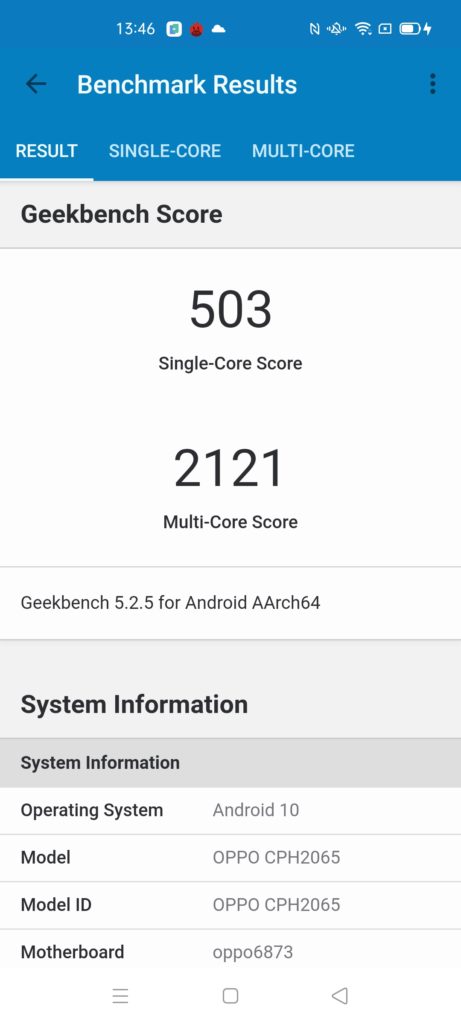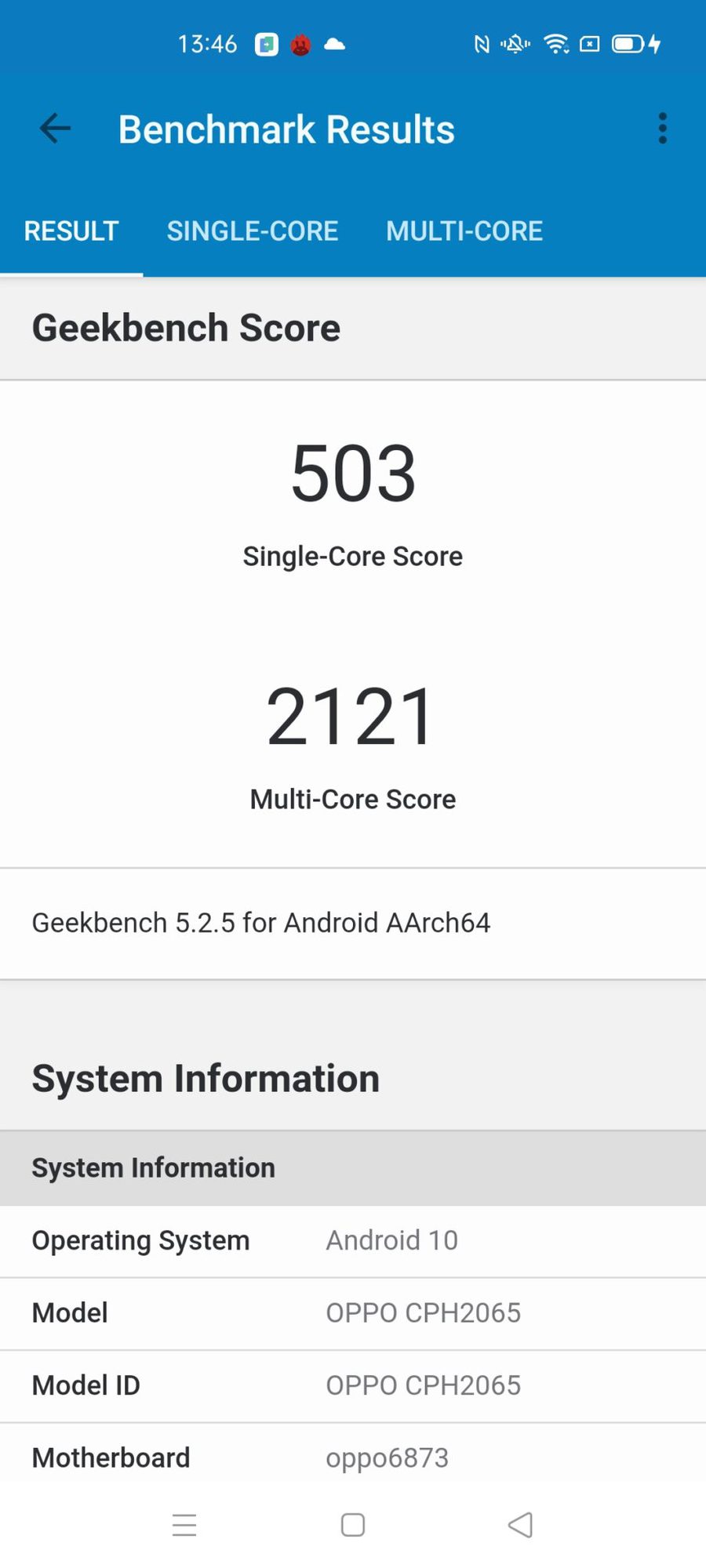 |   | Chipset | Single Core | Multi Core |
| --- | --- | --- | --- |
| Black Shark 3 | Snapdragon 865 | 903 | 3338 |
| Redmi K30 Ultra | Dimensity 1000+ | 782 | 2890 |
| Huawei P40 Lite 5G | Kirin 820 | 606 | 2304 |
| Realme X50 | Snapdragon 765G | 612 | 1899 |
| Xiaomi Mi 10T Lite | Snapdragon 750G | 606 | 1778 |
| Realme 7 | Dimensity 800u | 597 | 1776 |
| Oppo Reno4 Z | Dimensity 800 | 503 | 2121 |
| Realme 7 | Helio G95 | 459 | 1615 |
The GeekBench results appear more accurate. The Dimensity 800 has four A76 cores so scores a high multi-core result, but the cores are lower clocked than the Dimensity 800u, so the single core is lower. In fact, with a difference of 18.7% it is almost identical to the 20% increase in frequency.
Again I had to resort to a leak fo the SD750G performance, but it is about what I would expect it to be. The A77 CPU cores comfortably outperform the A76 cores which are used on all the other mid-range chipsets.
3D Mark Benchmarks
3DMark results are also roughly as expected, the Dimensity 800 sits ahead of the 800U thanks to the improved GPU, though not quite as much as expected.
I am unable to find any results for the Dimensity 720 or Snapdragon 750G
Overall
The specs and benchmarks speak for themselves. The Mediatek Dimensity 800U is an amazing chipset because it offers a new low price point. It performs a lot closer to the Mediatek Dimensity 800 than I was expecting, but I suspect this is partly a difference between the way companies optimise the chipset performance on their phones.
There is a surprising lack of Snapdragon 750G benchmarks online and I will fix this before the end of the week.
Posted by Mighty Gadget Blog: UK Technology News and Reviews