While Mediatek is quick to release new chipsets, manufacturers have been glacially slow at launching the high-end option in the western market.
While Mediatek has launched the Dimensity 1000, 1000u, 1100 and 1200, the highest spec we have seen is the mid-range Dimensity 800 on the OPPO Reno 4 Z. It is a good chipset and a decent phone, but I have been eager for something a little more high end to compete with Qualcomm in the UK.
Today, MediaTek has announced the new Dimensity 900, which is yet another well-specced chipset but at this point, who knows if or when it will be used in a phone in the UK.
The specification places it somewhere between the better specced SD780G and Dimensity 1100 and above the Qualcomm Snapdragon 750G.
Mediatek Dimensity 900 vs Snapdragon 750G vs Snapdragon 780G Specification Table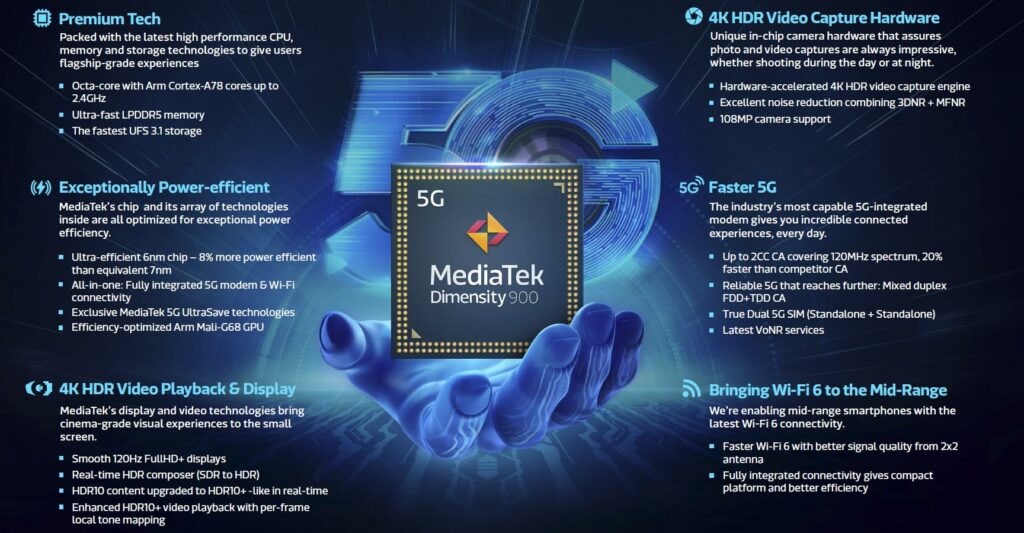 Dimensity 900 vs Snapdragon750G vs Snapdragon 780G Comparison
I won't bother making a detailed comparison of the chipsets; the spec table shows the important stuff.
The main thing is that with a 2×6 CPU design, it is most closely related to the Snapdragon 750G or the older SD765G design. However, the Arm Coretex A78 cores, which are also clocked higher, should allow it to offer significantly better CPU performance than the Qualcomm parts.
It should also achieve a bit better efficiency thanks to the smaller 6nm TSMC fabrication process.
The GPU comparison is harder; the new Mali-G78 is Arm's first GPU targeted at the "sub-premium" market, slotting between its high performance and mainstream tiers.
Overall
The Mediatek Dimensity 900 looks like it will be a superb mid-range option that should allow it to undercut similar phones equipped with Qualcomm chipsets.
It will no doubt be a popular choice in Asian markets where affordable phones thrive.
However, with a poor track record of UK or EU phone launches equipped with Dimensity chipsets, my excitement over new Mediatek chipsets is starting to wane thin.
Posted by Mighty Gadget Blog: UK Technology News and Reviews