Mediatek love to release new chipsets, it's probably a monthly affair, sometimes it feels like it is weekly. To achieve such a technological feat, they have to cut a few corners here and there.
They have genuinely launched some impressive chipsets this year, some of which could offer serious competition to Qualcomm.
However, to achieve their relentless launch cycle, they appear to alternate between an impressive launch and rebranding something they already have. This then allows companies to launch a new phone with a brand new chipset, not a two-year-old chipset, as is the case with the Redmi 9C.
This is the case with the G25, G35 and P35. I was expecting the MediaTek Helio G25 to be the same as the Helio P25, but instead, it is just a cut down G35/P35.
So let's have a look at the spec.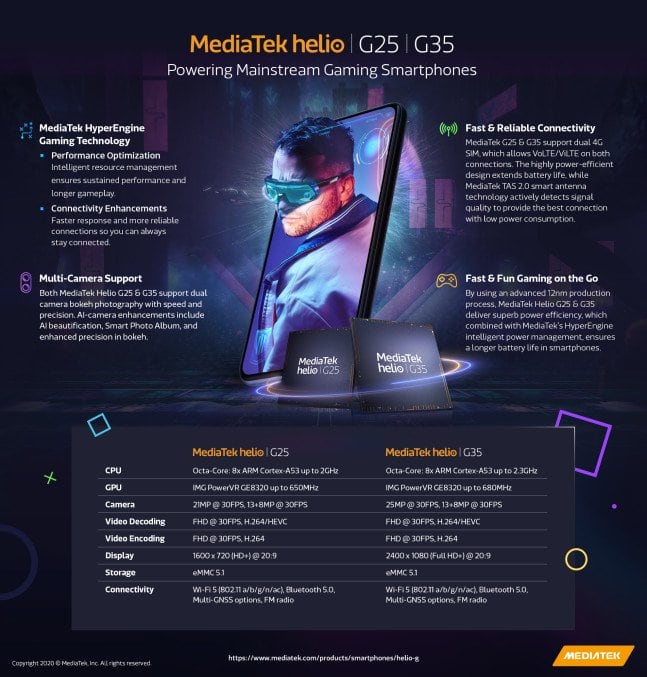 CPU
All the chipsets use the 12nm FinFET production process
Both the MediaTek Helio G35 and G25 use an eight-core Arm Cortex-A53 CPU running at 2.3GHz
The MediaTek Helio G25 differs slightly with lower clocked cores giving it eight-core Arm Cortex-A53 CPU running at 2.0GHz.
GPU


When the MediaTek Helio G35 was first hinted at by Realme with information of the CPU spec, I was expecting it to be the same spec as the P35 for CPU but swap out the IMG PowerVR GE8320 to an Arm Mali design of some form.
I was wrong.
Both the MediaTek Helio G35 and P35 have a IMG PowerVR GE8320, and they both run at 680MHz.
The Helio G25 loses 30Mhz with just 650MHz.
Mediatek list the max resolution of the G25 as 1600 x 720 whereas the P35/G35 are 2400 x 1080
Memory & Storage
Maybe the memory is different? Nope.
Both can take LPDDR3/LPDDR4x running at 933MHz/1600MHz with max memory sizes of 4GB/6GB
And both use eMMC 5.1
Antutu Benchmark
During the Realme announcement, they stated the Realme C11 with Helio G35 achieves an Antutu score of 109,054.
It comes as no surprise, that is around the same benchmark that the Helio P35 which is around 102250.