Hours after the announcement of the Qualcomm Snapdragon 732G which is set to feature on the new affordable POCO X3 NFC next week, Mediatek has announced their own new chipset of equal pointlessness for the up and coming Realme 7 due on Thursday this week.
I know I am beating a dead horse criticising these chipset launches, and I know both phones will be superb in their own right.
Confusing if not deliberately misleading to your average consumer
However, what is becoming increasingly apparent is that MediaTek and Qualcomm and being used as a marketing technique for new phones launch by these two companies. Fair play I guess, but it is confusing and misleading to consumers.
A lot of these new chipsets will only be launched on one or two phones. In the case of chipsets such as the Helio G80 this is used by both Xiaomi and Realme on the Redmi 9 and Realme 6i. So some of the deals are not exclusive.
Qualcomm Snapdragon 732G vs SD720G
Qualcomm's recent announcement compared the chipset to the Qualcomm Snapdragon 730G which launched in 2019, ignoring the SD720G which launched this year, which has the exact same CPU spec as the SD732G. The end result is a brand new chipset which at best may offer an 18% improvement for the GPU.
It is likely we won't see that chipset on another phone unless Xiaomi uses it on something else.
MediaTek Helio G95 vs Helio G90T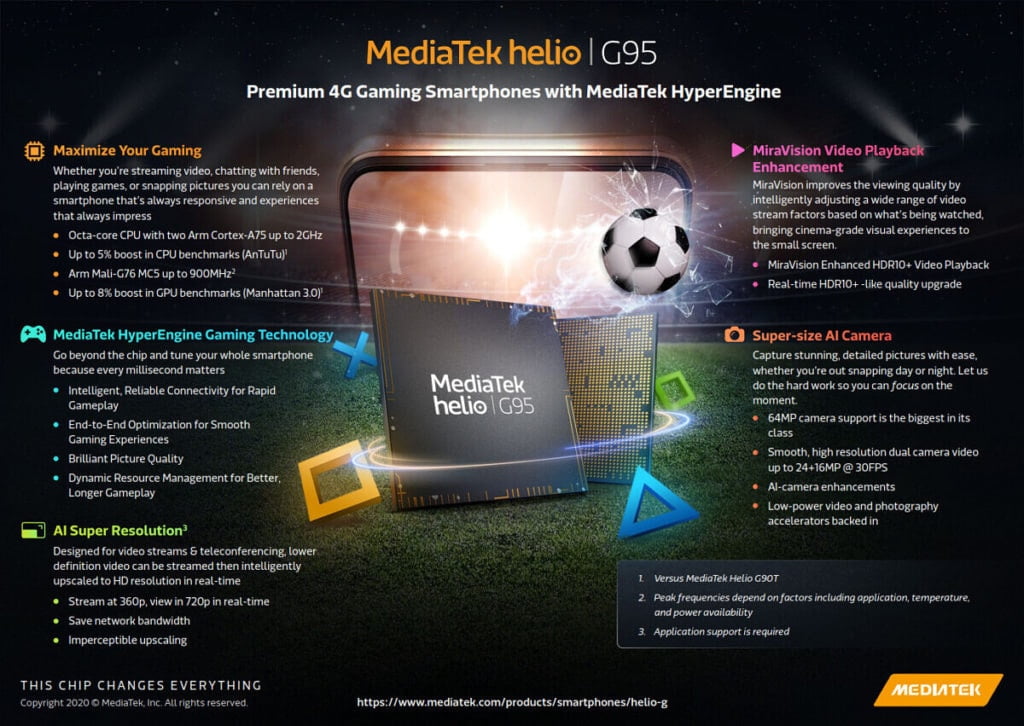 The MediaTek Helio G95 is even more disappointing; they have also launched the Helio G95 with exactly the same CPU specification as its predecessor, but they have provided just a 12.5% increase in the GPU frequencies.
Mediatek claims the CPU magically manages to achieve an increased 5% in CPU benchmarks (Antutu) and up to 8% in GPU benchmarks (Manhattan 3.0) vs. the G90T.
I would assume the CPU improvement must be from some sort of software optimisation.
MediaTek Helio G95 vs Qualcomm Snapdragon 732G Specification
| | | |
| --- | --- | --- |
| | Helio G90T | Snapdragon 732G |
| Process | TSMC 12nm | Samsung 8nm (8LPP) |
| CPU, big cores | 2 x Cortex-A76 @ 2.05GHz | 2 x Cortex-A76 @ 2.3GHz |
| CPU, small cores | 6 x Cortex-A55 @ 2.0GHz | 6 x Cortex-A55 @ 1.8GHz |
| GPU | Mali-G57 MC4 @ 800MHz | Adreno 618 (600MHz+) |
MediaTek Helio G95 vs Qualcomm Snapdragon 732G Performance and Benchmarks
One of the strange things with the previous Qualcomm Snapdragon 720G was that it was positioned as a superior chipset on more expensive phones than the Helio G90T. However, the Helio G90T outperformed the Qualcomm on a large number of benchmarks.
Qualcomm may have narrowed the difference when comparing the SD732G vs the Helio G90T, but now with the launch of the Helio G95 it looks like Mediatek will retain the lead in many GPU focussed benchmarks.
Geekbench Benchmarks
|   | Single Core | Multi Core |
| --- | --- | --- |
| POCO X3 NFC – SD732G | 571 | 1766 |
| Realme 6 Pro – SD720G | 568 | 1643 |
| Realme X2 – SD730G | 546 | 1729 |
| Realme 7 – Helio G95 | 516? | 1650? |
| Realme 6 – Helio G90T | 516 | 1650 |
Antutu Benchmarks
|   | Total | CPU | GPU | MEM | UX |
| --- | --- | --- | --- | --- | --- |
| Realme X50 – SD765G | 323286 | 103663 | 94151 | 68007 | 57462 |
| Realme 7 – Helio G95 | | | | | |
| Realme 6 – Helio G90T | 290644 | 97549 | 81058 | 55547 | 56490 |
| Poco X3 – SD732G | | | | | |
| Realme 6 Pro – SD720G | 282336 | 104143 | 70801 | 52273 | 55119 |
| Realme X2 – SD730G | 258311 | 98328 | 67574 | 47945 | 44464 |
| Realme 5 Pro – SD712 | 216501 | 73459 | 61872 | 42013 | 39157 |
| Realme 6i | 201299 | 73376 | 41633 | 45192 | 41098 |
| Realme 5 SD665 | 167866 | 71157 | 33489 | 36568 | 26652 |