Yesterday Xiaomi officially announced MIUI 12 with a wide range of updates including some privacy focussed improvements.
With Android 10 being the current version of Android this update will be based on this, but I would assume it will later be integrated with Android 11.
App Drawers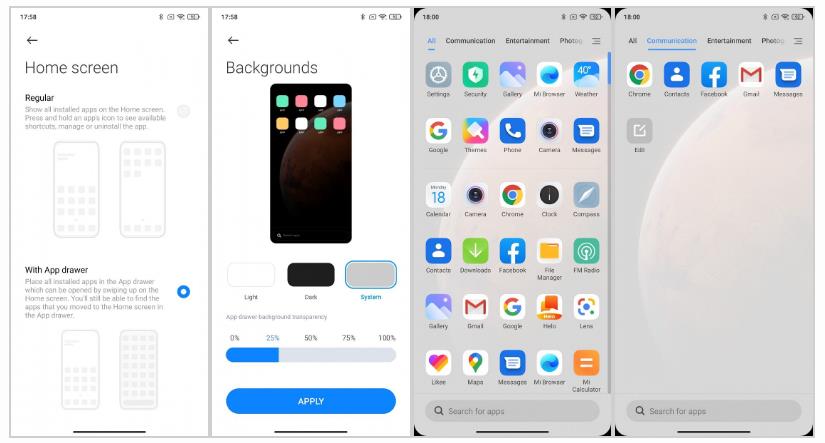 Many of the Chinese based manufacturers have a sort of iPhone-esque homepage with no app drawer and generally dumping new apps on your homepage.
A lot of people don't like this, for phones like Huawei, you have been able to switch the app drawer back on, and now Xiaomi are following suit. You will have to manually switch it on within the settings but this will make the phone much closer to the normal Android experience as possible.
Ultra Battery Saving Mode
MIUI 12 brings a new 'Ultra Battery Saving Mode', which some phones have already, which is a more dramatic version of typical battery mode which axes more features when activated, leaving just calls, texts and network connectivity.
Enhanced Privacy Protections
Recently, Xiaomi have been the latest company to be embroiled in a privacy issue, this led the company offering a detailed response of its data practices, saying it collects aggregated usage statistics on things like responsiveness and performance that can't be used to identify individuals.
While the new privacy features of MIUI 12 were likely already in development before the Forbes article, Xiaomi are no doubt putting a little extra focus on privacy to reduce the bad press associated with the accusations.
MIUI 12 brings enhanced privacy protection capabilities that will let the user stay informed of apps' behavior and take stronger control over permissions. MIUI 12 adds in a feature of permission notifications. Flaring alerts will appear in the status bar when sensitive apps including camera, location and microphone are running in the background. By clicking the alert, the user can change the permission settings and stop any suspicious background behaviors at any time. MIUI 12 grants the user stronger control over permissions which takes privacy protection to the next level. When individual apps ask for permissions, a wider range of options (such as "While using the app" and "Notify") is offered. Building on Android's rigorous permission control over location, MIUI 12 takes a step further to manage apps that request sensitive permissions. In addition to location, permissions to access camera, microphone, contacts, call history, calendar and storage are only allowed under "While using the app" mode. MIUI 12 also protects the user's privacy in photo sharing: location information and metadata can be removed before the items are sent.
Dark Mode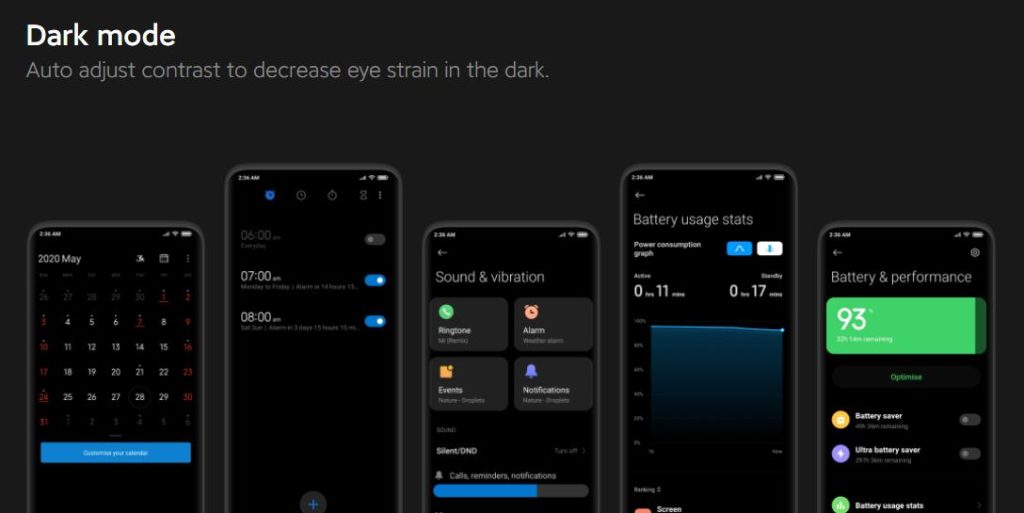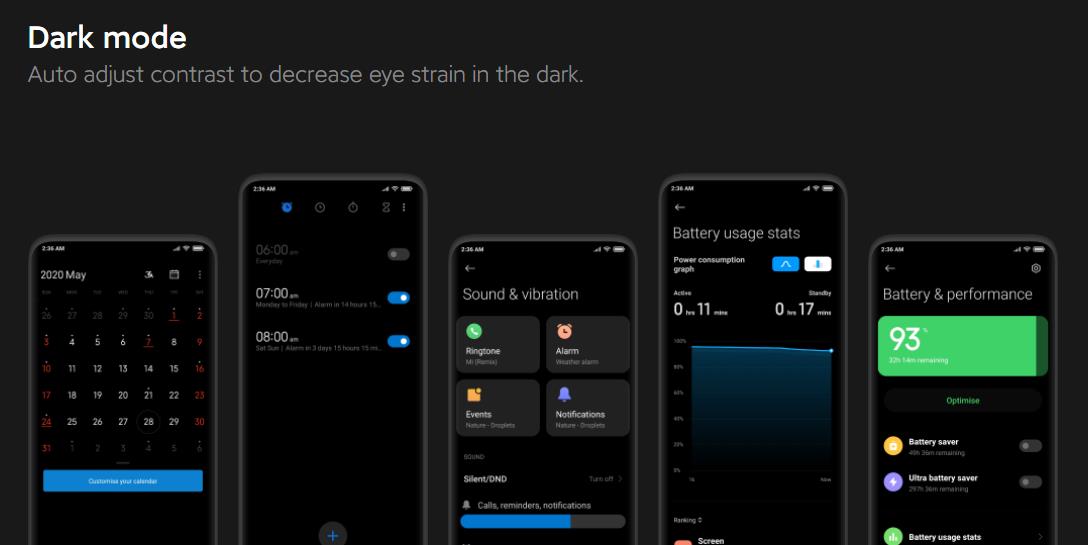 The popular dark mode has also been updated to offer superior third party support as well as system apps with the official statement being:
The enhanced dark mode now adapts to both system apps and all thirdparty apps in MIUI 12. An option is offered to automatically adjust contrast to better fit into an ambient environment when brightness is reduced. Dark mode also reduces power consumption and helps to ease eye strain.
Floating Windows for multitasking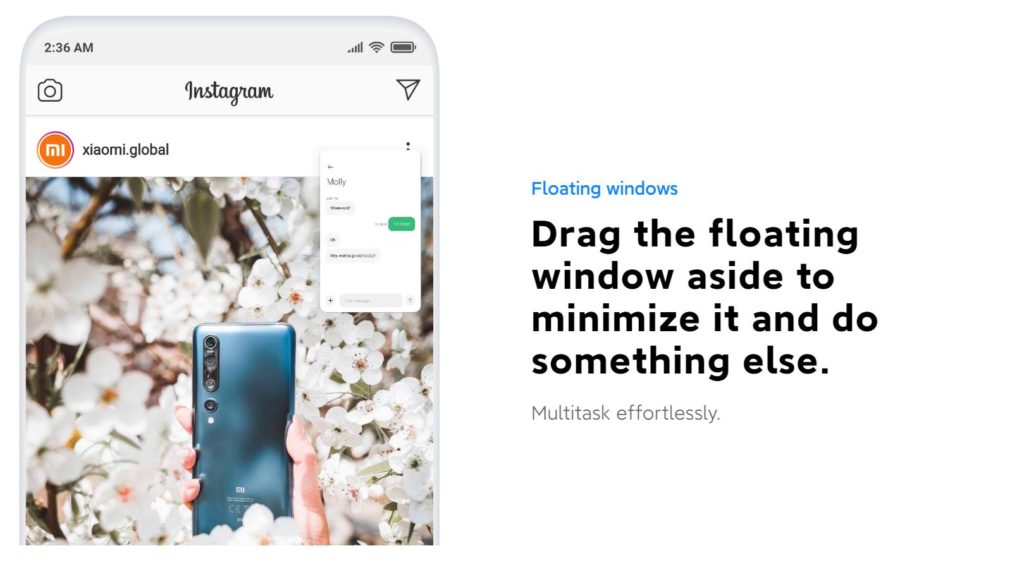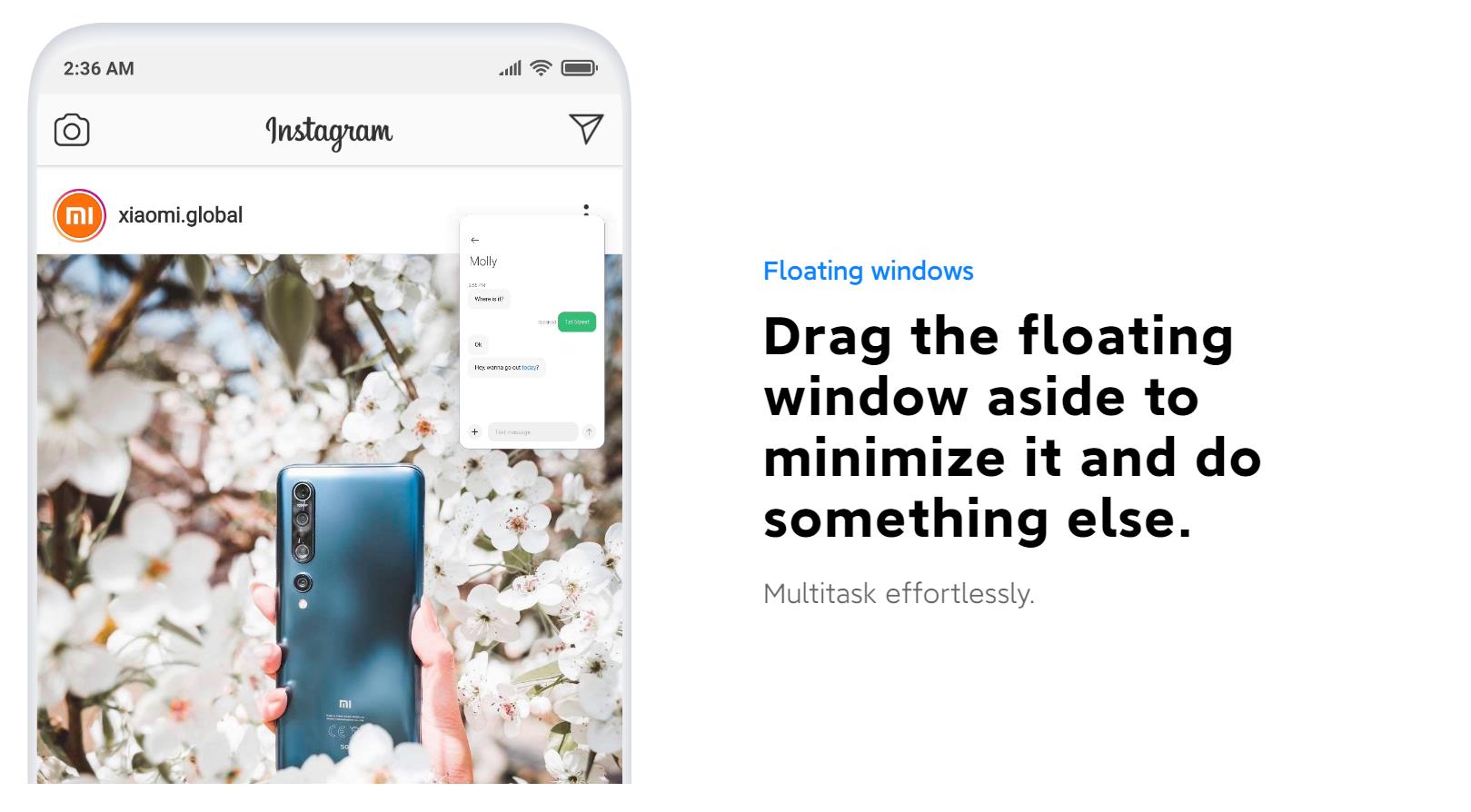 MIUI 12 brings some great new multitasking features that make Android much easier to use for power users. The new MIUI 12 global build adds floating windows which allow you to use two different apps at once. You can use these floating windows with simple gestures and resize, move, or close your windowed apps without disturbing your current activity. The floating windows also support MIUI's navigation gestures and allow you to navigate in both the apps interchangeably and without any limitation.
Native apps will be supported plus many third party apps including Netflix, TikTok, Facebook, etc
Super Wallpapers
Super Wallpapers for your lock screen offer multiple levels of aerial views above the Earth as well as Mars. When the screen is locked, the planets are visible from how they would appear in the distant space. When you tap on the display to activate it, you see a nearer view – perceivably from the planet's orbit.
There have also been many other UI improvements and you can read about them on the MIUI website
What Xiaomi phones will get MIUI 12
Phase 1 from June 2020
It wont be the latest models getting the update first, I assume this will be because there are more users available for beta testing on slightly older models
So the first phones to get the update will be:
Phase 2 sometime in the future
The next set of phones has no specific date and it is unlikely they will all roll out at once, but there are 42 phones scheduled for the update including:
| | |
| --- | --- |
| Remi Note 7 | Redmi Y3 |
| Remi Note 7 Pro | Redmi 7 |
| Redmi Note 8 Pro | Redmi 6 Pro |
| POCOPHONE F1 | Redmi Note 6 Pro |
| POCO F1 | Redmi Note 5 |
| Mi 10 Pro | Redmi Note 5 Pro |
| Mi 10 | Redmi Y2/ Redmi S2 |
| POCO F2 pro | Redmi 6A |
| POCO X2 | Redmi 6 |
| Mi 10 Lite | Mi Note 3 |
| Mi Note 10 | Mi MIX 2 |
| Mi 8 | Redmi Note 8T |
| Mi 8 Pro | Redmi 8 |
| Mi MIX 3 | Redmi 8A |
| Mi MIX 2S | Redmi 7A |
| Mi 9 SE | Redmi Note 9s |
| Mi 9 Lite | Redmi Note8 |
| Redmi Note 7S | Mi Note10 Lite |
| Redmi Note 9 | Redmi 8A Dual |
| Mi MAX 3 | Redmi Note 9 Pro |
| Mi 8 Lite | Redmi Note 9 Pro Max |