With the prospect of being able to travel again this year I have been contemplating on how to improve my mobile working experience. Whenever I go on holiday or press events, I always set up a small workstation allowing me to get a couple of hours of work done each day (the cost of being self-employed). In recent years this has expanded from just a laptop to include both a proper keyboard and mouse, which massively improves my productivity. However, working from a single monitor is not ideal for me; when writing, I almost always have side by side content so I can research and reference things.
A portable monitor is a perfect solution for this. I recently reviewed the Acer PM1, which was flawed but still good, largely thanks to its great price. However, the Mobile Pixels Trio offers a slightly alternative solution that will be particularily appealing to people that work on the move.
Rather than having a completely sperate monitor, this monitor attaches to the back of your existing laptop, sliding out as and when needed. It gives you a much more convenient set up when working in tight spaces.
The Mobile Pixels Trio name is slightly misleading initially; the monitor you buy is a single monitor, but it is designed to allow two to be attached to your laptop to create that triple monitor setup.
Specification
Display Size: 12.5″ (Max model is 14″)
Resolution:  1920 x 1080
Refresh Rate: 60 Hertz
Power: 4.5W
Brightness: 300 nit
USB: 2x USB-C (one for power if the source device can't provide it)
Design & Build
As far as portable monitors go, this is quite unique, and you have to praise Mobile Pixels for trying something innovative.
The display is contained in a plastic shell where you can slide it out. The shell is then fixed to the back of your laptop. Build quality is so-so, the actual monitor part doesn't feel too bad, but the case and sliding mechanism feels very cheap. It works though, and the plasticy nature of portable monitors seems to be inevitable if you want to keep the weight down.
The monitor has very thick bezels; the Acer PM1 had thick ones, these are thicker, so it feels like you are missing out on extra screen size.
Unfortunately, the product page doesn't immediately make it very clear how it is mounted on the back of your laptop. Watching the product YouTube video does show how it is mounted.
To mount the monitor, you need to physically stick metal disks onto the back of the display, with the case then having four magnets that attach to this. Admittedly this is an effective solution allowing you to mount and unmount quite easily, and I can't think of a better solution. However, having four big disks attached to the back of an expensive laptop monitor is not really something I want, personally.
However, as long as you are aware of this before buying, it is not really an issue, just personal preference.
Set-Up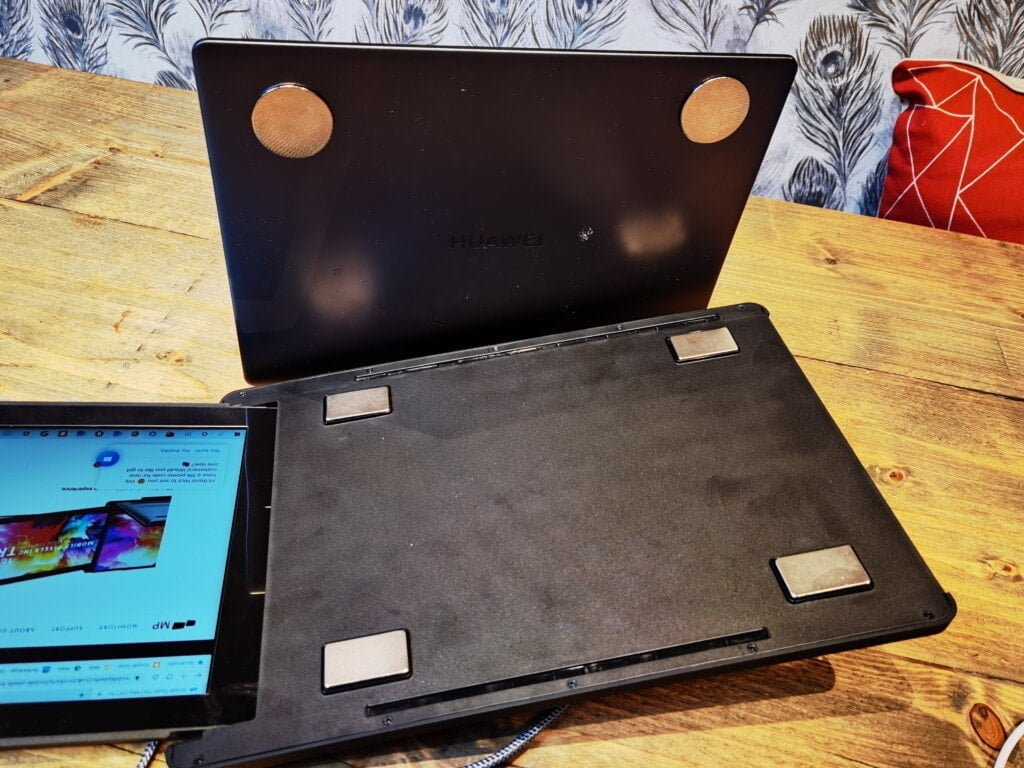 There is not much in the way of set up with any portable monitor. In this case, you need to mount it to the back of your laptop. The solution is very simple, its effective, but far from aesthetic.
Mobile Pixels includes a set of metal circles that you then stick to the back of your laptop with 3M tape. Unless you plan to constantly replace the 3M tape taking these on and off, this is going to be a permanent fixture.
The plastic monitor casing then has four magnets that attach to the metal circles. The monitor sticks there fairly securely yet easy to remove when not in use, or for when travelling.
The monitor has two USB-C ports; when in use with a laptop, you should only need one of these with the laptop driving the monitor itself. The second one is used for power and this, therefore, allows it to be compatible with other devices such as your phone or even the Nintendo Switch.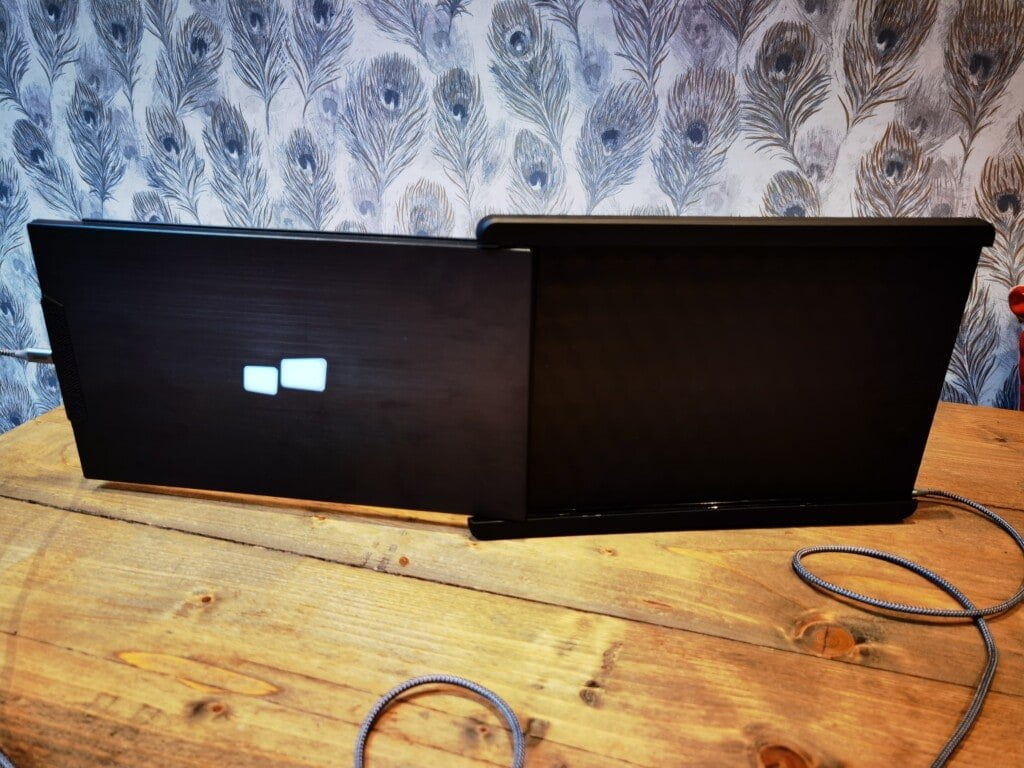 In Use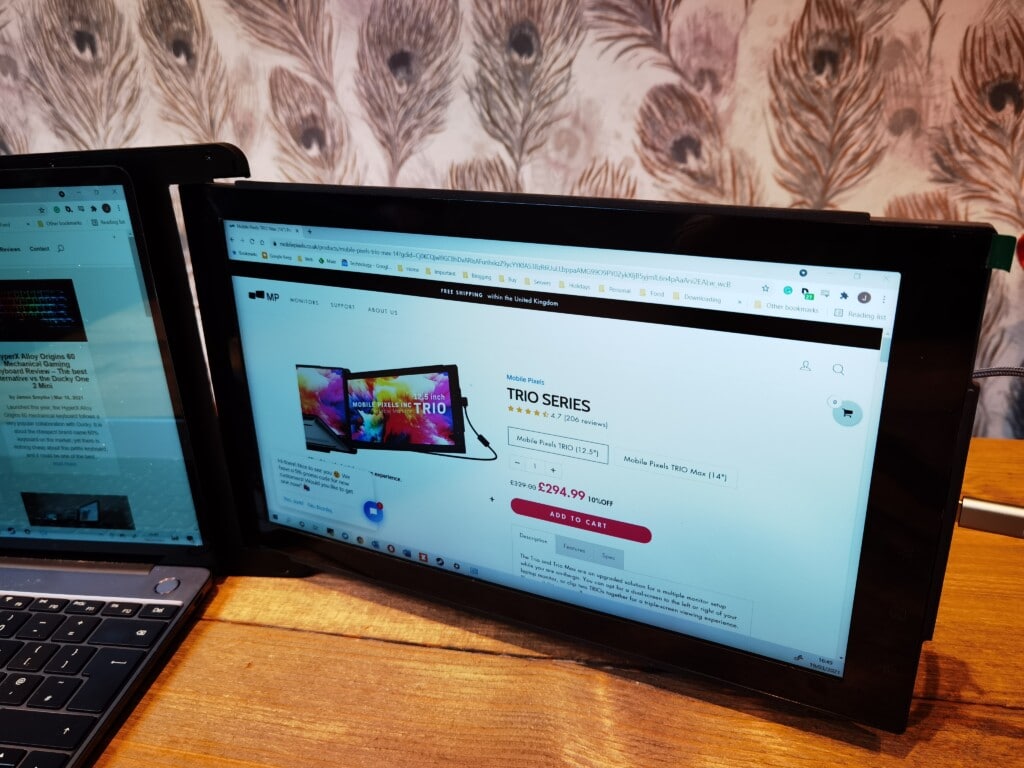 Plugging it into my Huawei Matebook 13 powered it up and allowed it to auto recognise. On one occasion, the monitor did suggest the device was not compatible, similar to the issues I had with the Acer PM1. I am not 100% sure why this happened, but it didn't seem to be a reoccurring problem.
At 12.5," the display is quite small, so some people may have an issue reading text, forcing you to use scaling, but it was fine for me.
The quality of the display is pretty good though, these are never going to be the highest quality of monitors, but I'd say this is better than the Acer. The colours seemed reasonably accurate there was no serious light bleed. Brightness is good enough, with a higher quoted peak brightness than the Acer.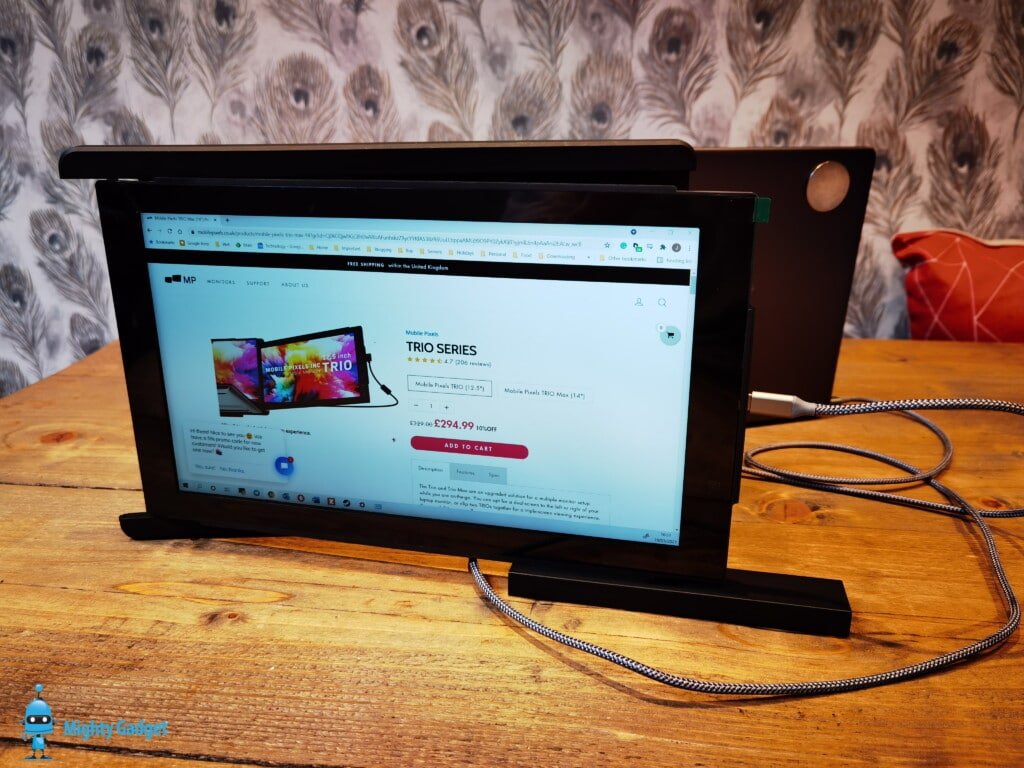 The product YouTube video shows the monitor in use separately using a stand, however at the bottom of the video, it states the stand is sold separately. Looking at the Mobile Pixels website, I can see no listing for a stand. Considering this is not the most affordable portable monitor going I would have liked to see a stand included with the retail unit, it can't add to the production cost too much to include an additional piece of plastic.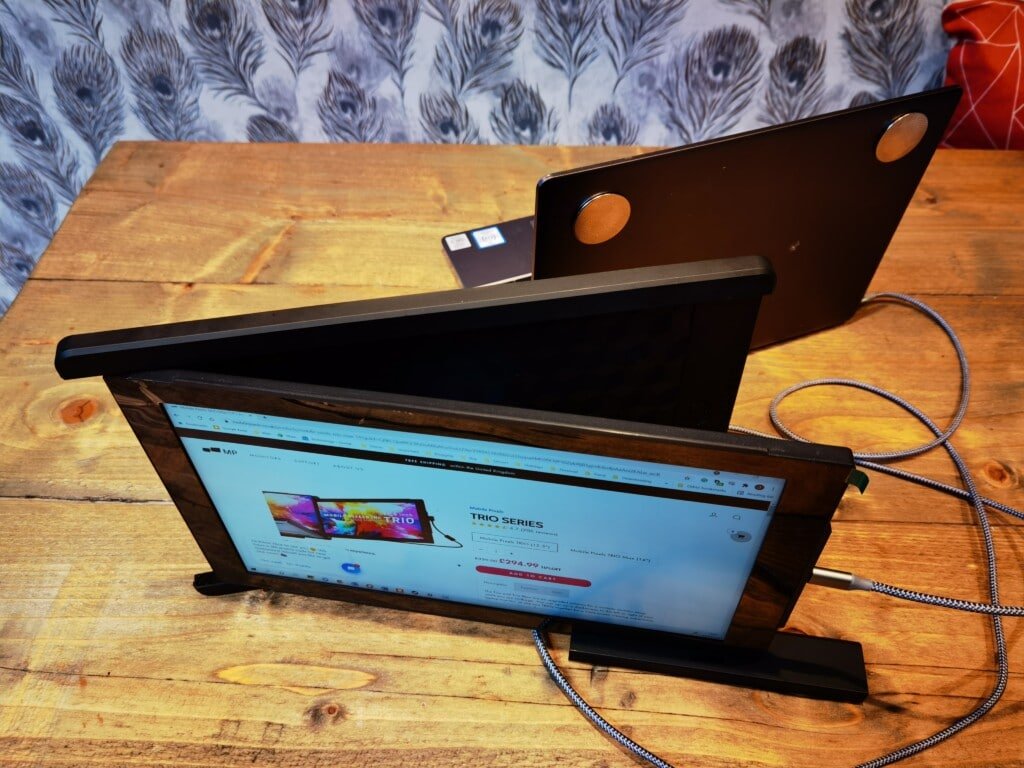 The monitor can be flipped around, and you can sort of stand it up freely by creating a horizontal A-frame, however, because the case itself is taller than the monitor, it ends up sitting wonky. You can just place something small under the monitor to prop it up, but this is hardly an elegant solution.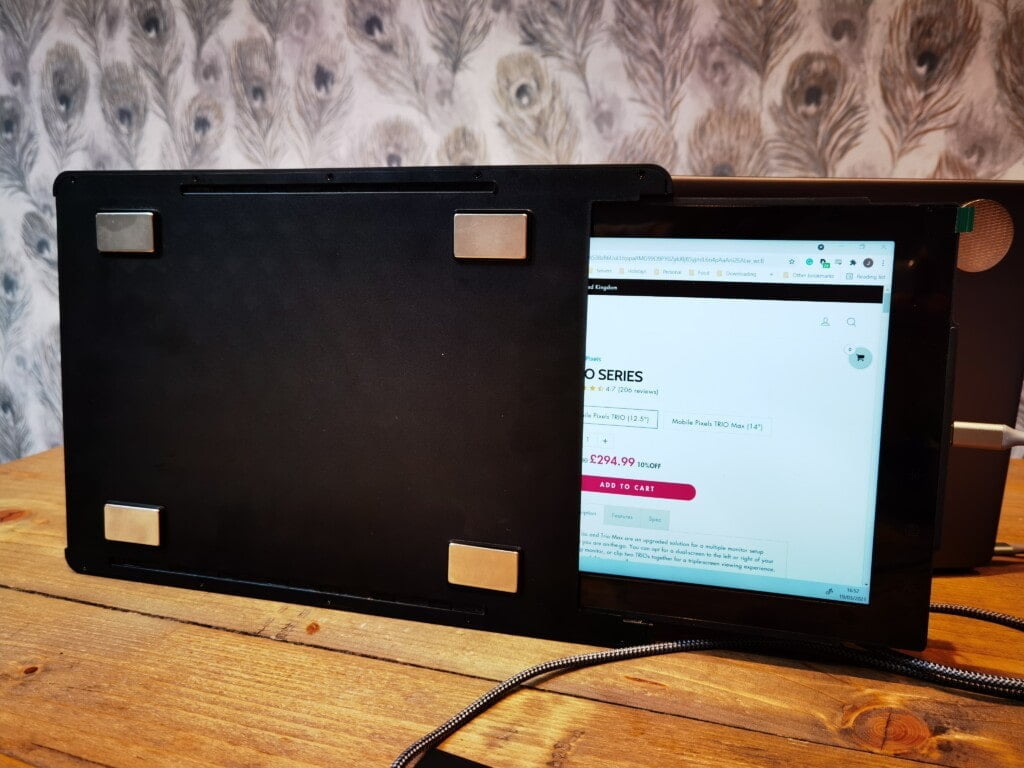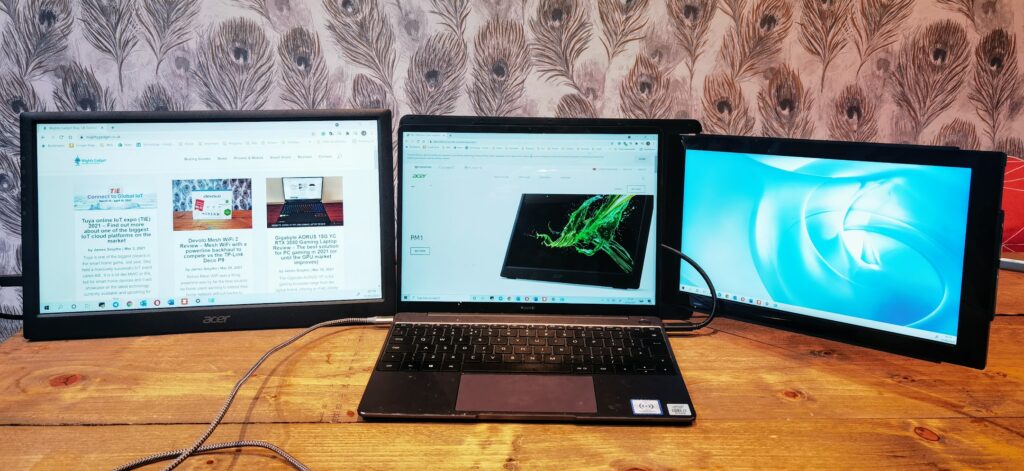 Price and Alternatives
The Mobile Pixels Trio 12 inch model is £269, while the 14-inch model is £309.
I am not aware of any competing monitors that work quite like this, so if you are looking for something that mounds to the back of your laptop, this is the best solution.
There are a lot of portable monitor though, many of which are considerably cheaper, so you are paying quite a premium for this unique design.
The previously reviewed Acer is £170 but often drops as low as £120, it's not as good as this monitor, but it is priced accordingly.
The well-reviewed ASUS ZenScreen MB16ACE is £200
Or for something closer to the size of this, the Uperfect 13-inch is just £160
Overall
I have some mixed feelings about this monitor. I don't like mounting ugly metal disks onto the back of my display which is the biggest issue, but admittedly this is a personal preference, and if you are aware of this before purchase, it shouldn't be an issue.
It is possible to use it independently, but in the horizontal position, it doesn't sit straight by itself. I feel like they missed a trick by not having some sort of built-in stand to use when off your laptop, and charging for a separate stand feels like a rip-off.
Build quality is so-so, the monitor itself feels decent, but the case and slide feel cheap. I suspect this is always going to be the case for portable laptop monitors. While I am sure there are well-made ones, they inevitably bring with them added weight.
Beyond those issues, it's a good monitor. The display itself is much better than the Acer I most recently reviewed, it is more compatible with the devices I tried it on, and the dual USB-C ports is superior to the mixed micro and USB-C Acer users.
I quite like the way the case can flip around in the shell, allowing you to transport it with a reduced risk of damaging the display.
With the monitor mounted on the back of the laptop, it does work well and gives you a reduced footprint vs a freestanding portable monitor.
Having just finished the Acer review, the price feels quite steep at £300 and it's £100 more than other big brand well-reviewed solutions. However, none of these offers the same portable experience as the Mobile Pixels Trio, and if that is something that is important to you, then the price will likely be well worth it.
Posted by Mighty Gadget Blog: UK Technology News and Reviews
Thanks for reading, check out Mighty Gadget Blog: UK Technology News and Reviews for more Tech news!