I was vaguely familiar with Mu6 when they first got in touch, originally launching on Indiegogo in early 2019 they were a company that I have never paid much attention too, drowned out by the millions of other people trying to launch products of crown funding.
It turns out they are pretty good at making headphones the original Mu6 (now Space 1) were a well-reviewed paired of headphones, and they are back again with the Space 2 upgrading many of the specs with significantly improved active noise cancelling performance (ANC).
Specification
Peak ANC value: 40dB
ANC Frequency Range: 20Hz-1000Hz
Impedance: 32Ω
Sensitivity: 100dB±3dB/mW
Bluetooth version: Bluetooth V5.0
Bluetooth range: 10m
Audio Codecs: Apt-X,Apt-X LL,SBC,AAC
Microphone: CVC Noise Cancelling Microphones
Battery Capacity: 800mAH
Battery life: claimed 24hrs (non-ANC) – 20hrs (ANC on)
Design, Features, & Fit
These are generic-looking black headphones which look a lot like the Bose QuietComfort QC35 II. While there is nothing wrong with the overall build quality, they do feel a little cheap, or at least cheaper than what they cost.
The left ear has touch-sensitive controls; this allows you to control volume, calls, and music playback.
Then on the right ear, you have a power button, ANC control, a 3.5mm jack and a microphone hole.
The ANC button allows three modes, off, transparency and active noise cancellation. The transparency mode adapts to your environment and minimizes all kinds of sounds depending on where you are.
On the inside of the right ear is a small cutout for an IR proximity sensor, this is then used to auto-pause/play when you take off and put your earphones back on.
Active Noise Cancelling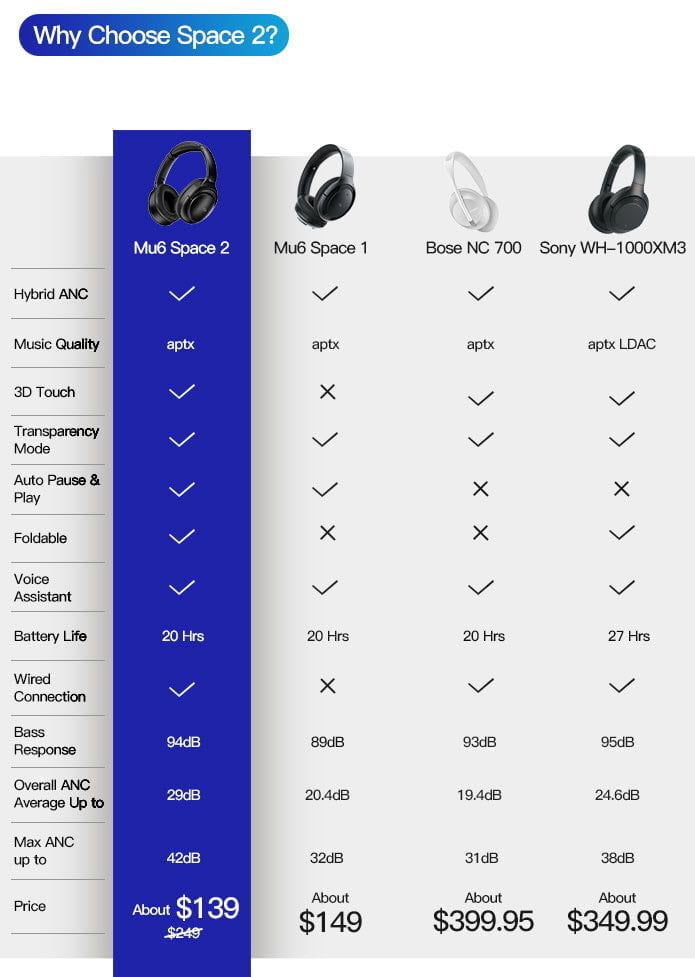 The big caveat for this review is that I have not reviewed any of the current class-leading products available. Specifically, this includes the Sony WH-1000XM3, Bose QC35 II and Bose 700. In particular, the Sony are priced with £20 of these headphones.
Mu6 claim that their ANC is superior to the Bose 700 and Sony headphones. According to the marketing literature, the Sony has an average ANC performance of 24.6dB with a max of 38dB, then the Bose is 19.4dB and 31dB respectively.
The Mu6 Space 2 performance is claimed to have an average performance of 29dB and a max performance of 42dB, which would put it significantly ahead of the competition.
To hand, I have the following ANC headphones: Kygo Life Xenon, Anker Soundcore Life Q20, Plantronics Backbeat Pro 2 as well as the Huawei Freebuds 3 earphones.
I haven't flown since I have had these, and I can't see my flying any time soon due to the current crisis, so I had to resort to using airplane noise recordings on YouTube as my main noise-cancelling test.
The Mu6 Space 2 outperforms the above options by orders of magnitude, these block out the low-end hum of the engine almost completely, turning my speakers up to high volumes there is just a slight hum.
Playing music or a TV show around 60% volume on my Huawei P40 Pro and the background noise is entirely eliminated.
Unlike the Anker Soundcore Life Q20 these go quite loud, turning my volume up to max becomes uncomfortable, so I can't imagine any scenario where you will struggle with the audio being clear on these.
The downside, there is a small amount of perceived head pressure when using the ANC. It is not uncomfortable, but it is noticeable when you activate it.
Overall, I am extremely impressed with the ANC of these, and this is clearly what differentiates affordable ANC headphones and options costing £200+, the difference is night and day.
Sound Quality
Sound quality is superb, but I would say perhaps not quite as impressive as you may expect for something costing £200+. I think this has been a common problem for high-end ANC headphones over the year, the ANC performance gets put first then sound quality second. Also, I suppose you have to factor in the fact that the ANC technology costs a lot to implement, which therefore reduces the quality of components for the audio bit. So if you don't need ANC, you will get better audio quality form normal headphones costing a similar amount.
With that cleared up, I am happy with the audio with both movies and music sounding excellent with no distortion or other significant issues with the sound.
There is a decent amount of bass, but they are not super deep, in music tracks with a lot of bass it is clear and with pleasant deeps, but not exactly head thumping. In some music tracks such as hip hop and electronica, the bass really shines, but then with heavier metal tracks the guitar and vocals can sound a little overwhelming in comparison to the bass, this can lead to some guitar-heavy tracks sounding a little harsh at high volumes. Genres sitting on the less extreme ends of the scale have no such issues.
Mid-range is strong, with plenty of separation. Vocals are smooth and clear, and the soundstage is excellent.
My phone registers these as using aptX which is better than you standard codec but not as good as some Bluetooth devices with LDAC or aptX HD.
Price and Competition
The price of these is £229 on Amazon or £195 if you can make the most of the 15% discount currently available.
The Sony WH-1000XM3 is universally well-reviewed by tech reviewers, YouTubers and the public alike, and they are just a little bit more at £238.29. That makes the Mu6 a very tough sell, even if their ANC performance is better than the Sony, I can't see many people opting for these over such a popular similarly priced option.
You then have the Bose QC35 II, which are well-established headphones with superb reviews, they cost a little bit more than the Sony headphones at £250.
Then the Bose 700 are £299 which also have excellent reviews, but at that price, I can't see why anyone would get them over the Sony WH-1000XM3, and I would recommend the Mu6 over these too.
Overall
The Mu6 Space 2 easily has the best active noise cancelling I have used so in that respect they are superb.
However, I have not reviewed the Sony WH-1000XM3, which are generally regarded as the best ANC headphones on the market. When there is only £11 price difference in the UK I really can't see many people choosing these over the Sony, or even Bose. Even if it turns out that these are better at noise cancelling than the Sony WH-1000XM3 headphones, your average consumer is still going to opt for the well known reputable brand when spending this sort of cash.
Overall though, I do really like these, if there was a big drop in price, I would strongly recommend them as the ANC is exceptional.
At the time of writing, these have an option for 15% off via Amazon which takes them down to £194.65 – this does make them much more appealing, being over £40 lower than the Sony, but I still think it is a little pricey. I would say £160-ish would be where I strongly recommend them when they launched on Indiegogo they were £122, which would have been a superb buy.
Ironically, if you go to the Mu6 website and read their story, they state
"Noise-canceling headphones can be a bit pricey, while Mu6 team spent almost 2 years on developing a pair of headphones at a reasonable price without compromising the sound quality."
I feel like that mission statement doesn't reflect accurately on the £200+ price tag of these.
As it is, I would still say they are worth considering, but I would strongly suggest you try and demo them side by side against the Sony WH-1000XM3 and see which you prefer. Thankfully Amazon stock them both and have a superb 30-day return policy.