This review was originally posted on 26th January 2019 but has now been updated on the 20th of May 2020 to reflect over a years worth of use
On my never-ending quest to improve my sleep quality, I have been reviewing several mattresses recently. Last month I had the Simba which I found to be superb and well worth the reviews it receives. This month I have a Nectar memory foam mattress.
Nectar is comparatively priced to the other options out there, at the time of writing it is identical to Simba at £699 for a King Sized. Nectar also currently includes two free memory foam pillows, so it is technically a better buy.
As of April 2019, Nectar is still £699 with two memory foam pillows, while Simba has increased to £ 749 with no current sale on.
Pricing
The current pricing for the Nectar memory foam mattresses BEFORE discount is applied:
Single – £599
Small Double – £699
Double – £699
King – £799
Super King – £899
The price has gone up a bit since I first did this review but the prices jump about with all mattress brands dependant on current promotions in this case most option have gone up about £100 but the single went up £200.
A massive £250 Discount and two free pillows
However, this is possible a marketing trick because you currently get £250 knocked off the mattresses plus two free pillows (I have never seen them not offer two pillows)
This brings the price down to lower than when I originally reviewed the mattress:
Single – £349
Small Double – £449
Double – £449
King – £549
Super King – £649
So to the the single has effectively been reduced by £50 compared to 2019, and all the others have dropped by £150 (based on the offer live on 20/05/2020)
Nectar vs Simba Pricing (May 2020)
I think Simba is still the biggest brand in the game, and I loved the Simba Hybrid Mattress when I reviewed it. Since reviewing that mattress they have doubled their trial length to 200-days, likely to compete with Nectar.
Either option is excellent, but currently, if you want the best price, Nectar offers the best value.
Simba recently launched the Hybrid Pro range, which is more expensive offering up to 5,000 miQro springs offering an increased level of comfort, so if you want something a little more luxurious this could be a good option
Why is the Nectar mattress better than others?
Nectar has some unique selling points making it stand out
from the bed in a box crowd. They are the only company to offer a 365-day trial
of their mattress, if you don't like it within the year they will pick it up
free of charge. This is a great feature, as if you read reviews of some other
competing brands, they can sometimes have issues after a few months, and will often
do their best to get out of a guarantee. So, with this, you get 12 months of worry-free
use.
On top of this they offer a lifetime warranty as long as you
own the mattress. Again, giving you some reassurance with their product. The
guarantee covers you is there are impressions of 4cm or more in the mattress.
Nectar has some solid credentials too, only being launch in
2017 in the US they are the one of the world's fastest growing e-commerce
companies by selling more than 50,000 beds and generating $55 million in
revenue in the first year of business.
Specification
Most bed in a box mattresses have similar layouts for their build. Nectar don't use micro coils unlike Simba, so this is not a hybrid mattress.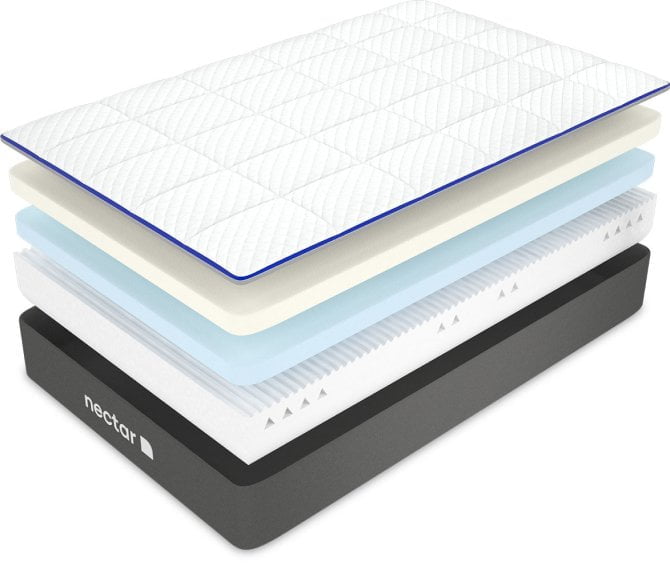 Adaptive Cooling
Cover
The Adaptive cooling cover responds dynamically to
temperature changes to keep your sleep environment cool and dry, all night,
every night. The Adaptive technology incorporates a temperature sensitive
polymer into the cooling cover; meaning the warmer it gets, the more the
cooling Adaptive cover will evaporate moisture. And even better, it works
independently so you and your partner can both sleep at the temperature that
works for you.
7 Zone Supported Base
With 7 different zones of support this super durable base
layer provides firmer support under your hips and softer support under your
shoulders. The innovative turret structure ensures optimum airflow and the high-density
foam maintains structure and shape for longer.
Smart Memory Foam
A Revolutionary Cool Sleep Concept. 30 times more breathable
than other premium memory foam, and engineered for optimum comfort and support
through innovative 4th generation foam technology.
Pressure Relieving
Memory Foam
Engineered to relieve pressure by absorbing energy and
contouring perfectly around your body. More breathable than other memory foams,
allowing greater airflow through the foam giving you a much cooler and more
comfortable night's sleep.
Positioning Base
Material
The positioning base layer material keeps your mattress in
the correct place, so it doesn't move on your bed frame. It's incredibly
durable and fire retardant.
Overall, most of the above is marketing fluff that all the brands
use, each one using their own terminology. Every company claims to have a cool
mattress and in reality this varies a lot, memory foam naturally is a lot warmer
than natural materials and it is something I have suffered with a lot.
Delivery and set up
When I got my Simba, I was a little disappointed with the
delivery service, it arrived via UPS in a beat up taped together box. There was
nothing wrong with the mattress, but it was obviously thrown around a lot by
UPS.
Nectar used Arrow XL for my delivery and the service includes a two-man delivery to the room of your choice and they will take away the old mattress too. They also gave me an estimated time of delivery and a 30-minute notice. Simba have this option too, but it costs an additional £20.
It is a small added bonus to the mattress, but I came away
impressed with this as there is nothing worse than waiting in all day for a
delivery with no idea when it will show (normally last minute).
The delivered product looks the same as Simba, it is a bed
in a box, it comes rolled up and folded up just like the Simba. I had it
delivered to my hallway, and it was reasonably easy to carry upstairs and get
to the bedroom. Once unboxed you need to use the included slicer to carefully
cut away the plastic. It is shaped to avoid accidentally cutting your mattress.
Like all other bed in a box mattresses, once rolled out it will immediately start
to expand. You should let it stand for as long as possible and this will allow
it to off-gas, where the trapped in chemicals from manufacturing and packaging
get released properly.
Once the mattress has expanded back into its correct shape,
you are left with a 25cm thick mattress which matches the Simba. The shipment
notifications didn't state a weight, and it wasn't practical to put it on my
scales, but I expect it will weigh around the same 30 kg as other mattresses in
this category.
My mattress is placed on a sprung divan base but it is compatible with most bed types including slatted. While there are no specific recommendations from Nectar, if you are using slatted, I would recommend that the slats are closely positioned to avoid the memory foam sinking in the gaps.
I found this mattress to be considerably less smelly than
the Simba. Most of these mattresses will off-gas and while I experienced little
to no smell, there is a good chance some users will experience it. The Nectar
website states:
Nectar foams are exceptional quality and off gassing is
limited or non-existent. If there is any faint opening smell of fresh foam this
will dissipate quickly and is from new foams being vacuum packed and not from
any chemicals. Some people recognise a faint new mattress smell for a few days
but this quickly dissipates.
Comfort and sleep
My initial impression of the Nectar was that it is at least a little bit firmer than Simba and Rem Fit, but perhaps less so than the Soak&Sleep Latex. It is not hard or anything so the mid-level rating is about right. I am 6ft 1 and 185lbs so heavier people will find it softer, and vice versa.
The firmness makes it compatible with most sleeping
positions and this is why most of these companies offer a similar level of
firmness. As with all memory foam mattresses there is very little motion
transfer, so this is good if you have a fidgety sleeping partner.
Edge support is also good, when sleeping with my partner I tend to cling to the edges as she hogs the bed and I over heat easily. Sometimes mattresses can feel like you will roll off, but thankfully this was not the case with the Nectar.
I am lucky enough not to have any back, shoulder or neck
pains on a day to day basis, and this mattress didn't cause me any issues in this
regard.
I have tested this during January, so it is not going to be the most accurate of opinions, however I experienced no issues at all with overheating. With my Rem Fit I would have to have a thin blanket on me all year around, with this I can comfortably sleep with a duvet on. I have even woken up in the night cold a couple of times making me get a throw out for added heat.
Long term use (over a year)
When reviewing mattresses I normally use the mattress in the spare bedroom, I have an unusual sleep pattern, so during the workweek, I sleep there 3-4 nights.
However, when using it, both my and my partner liked it enough to put in the master bedroom and it has been there ever since. My partner sleeps on it every night and me a few nights a week. She is 5ft6 and 142lbs while I am still 6ft1 and 180lbs. Not a huge difference in weight but some mattresses can have issues.
Both of us still love the mattress, it has maintained it firmness, which is a little firmer than Simba. Neither of us has had any issues with back or neck aches while using it, and out overall quality of sleep has been good.
I do still get a little hot from time to time, but there is no noticeable difference between this and the hybrid latex pocket spring I use in the other bedroom.
The mattress has continued to maintain its shape, there has been no faults with its construction so far, and with the backing of a lifetime warranty, I am confident that it will last many years.
I am not personally a fan of memory foam pillows, again, because my head gets too hot and I just prefer down feather. However, the quality is excellent, they retain their shape over time far better than down, while at the same time being moldable when in use.
Online Reviews
While Nectar are very new to the UK market, and much younger
than most other companies in this segment, they are one of the best reviewed
companies on Trust Pilot.
While I appreciate using one source of user's reviews is not always the most accurate it is the best I can do when doing a bed in a box comparison between brands.
Nectar currently has a TrustScore of 9.3/10 with a total of 1065 reviews, so my positive opinion of the mattress is backed up by this excellent score. I would of course always recommend looking for reviews from a wide range of sources to try and get a better idea of any product you are about to buy.
As of April 2019 the number of reviews has increased to 1,148 with a score of 9.2. Skimming over the reviews the main issue appears to be with delivery and not the mattress. This is more likely an issue with Arrow XL than Nectar directly, and my personal experience was exeptional with them, much better than all my other mattress deliveries. Delivery companies in general appear to have mixed reviews so whatever company is used will likely cause problems for some.
For comparison, Arrow XL have 867 reviews with a score of 7.9. Simba uses UPS for free deliveries and they have 2,871 with a score of 0.7. I've personally always had good service from UPS too, so I must be lucky.
Overall
Overall there is nothing I can fault about the Nectar
mattress at all. Comfort will be very subjective, and I can't honestly say if I
preferred it to the Simba or not, but I did find it firmer. I also can't honestly
say which is the better mattress overall, I do prefer it over the Rem Fit model
I had though.
I experienced no issues with overheating, though January isn't
the best month to put this to the test. However, it is definitely cooler than
the Rem Fit I was using last year. Again, I couldn't give an objective opinion to
say if it is better than the Simba or the Soak and Sleep that I also have.
This is another great mattress choice and based on the current pricing, free additional pillows, 365-day trial and improved delivery service it would the option I try out first over the Rem Fit, Simba, and Soak&Sleep.
The fact that we have continued to use the mattress over sveral months is testiment to how good it is. This wasn't a case of use it for a week, give it a good review then get rid. Both me and my parnter have continued to find the bed comfortable and sleep well in it.
[Original post 26th January 2019] [Updated 20/05/2020 to reflect new pricing and long term performance]