In my recent Netgear Insight review, I pointed out that Netgear lacked any multi-gig switches that could power the 2.5GbE equipped access points. Not anymore, they haven't.
Yesterday, at CES 2021, Nethear announced two new multi-gig switches, the – MS510TXM and the MS510TXUP.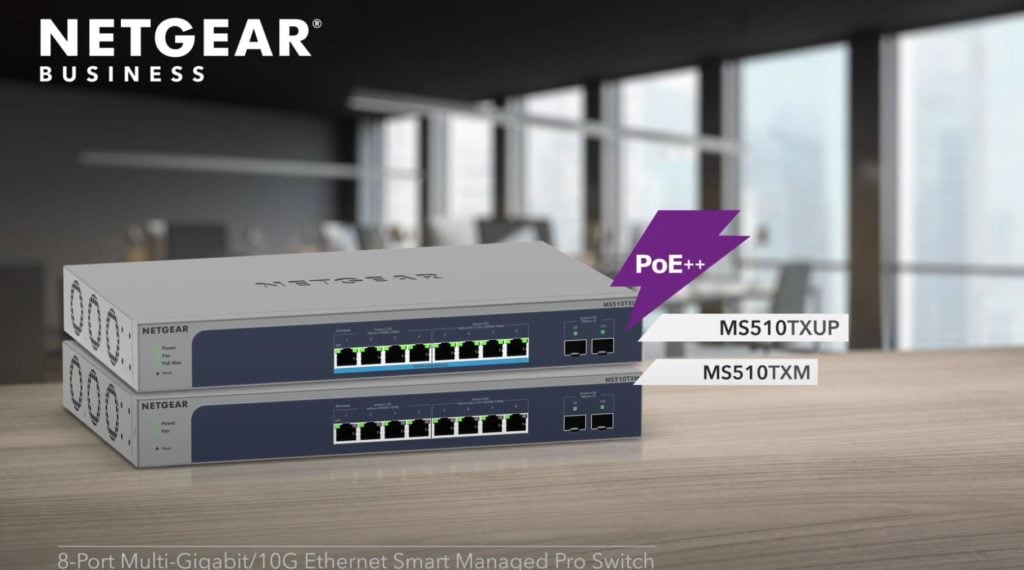 They are basically the same, but the MS510TXUP supports Ultra60 PoE++, which delivers up to 60 watts of PoE power on each port, making it the ideal solution to power all your WAX610 and WAX610Y WiFi 6 access points.
The MS510TXUP also has a uninterrupted PoE feature ensures that power to the connected devices is not disrupted in the event of a switch firmware update or switch reboot.
Both switches have two sets of ports. The first four offer 100Mb/1G/2.5G/5G/10G speeds, the other 4 ports provide 100Mb, 1G and 2.5G speed. You then also get two SFP+ uplink ports which can handle 1G and 10G.
Netgear Insight + Local Management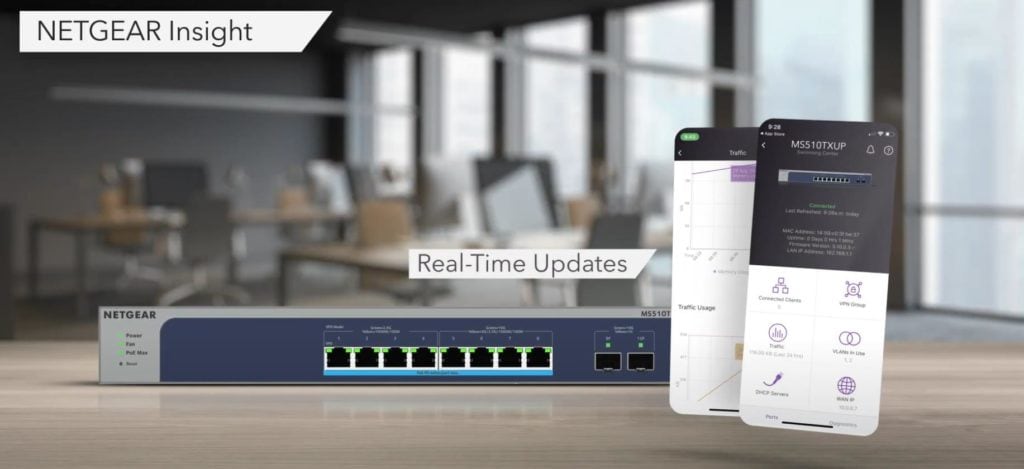 It looks like you have the choice to manage these via three methods:
Insight mobile app or Insight Cloud Portal
Web browser-based management GUI
Smart Control Center Software for multi-switch management
So even if you are not sold on cloud managed networking yet, these are appealing looking switches.
Advanced Features
IPv6 management, ACL, DiffServ QoS, LACP link aggregation (port trunking) and Spanning Tree, and static routing features are supported on the MS510TXM and MS510TXUP switches to ensure even the most advanced needs of small business are satisfied.  Additionally, in order to maintain the proper speed, the switches have auto-sensing ports: Four of the eight ports will automatically switch between 100Mb/1G/2.5G/5G/10G speeds, the other 4 ports provide 100Mb, 1G and 2.5G speeds, and two uplink ports automatically switch between 1G and 10G as needed with SFP+ ports.
Competitively priced vs Zyxel XS1930
There are not many affordable multi-gig switches on the market, POE options are like unicorns. Combine that with cloud-managed networking and your choice becomes very limited.
Last year Zyxel launched the XS1930 series. The none POE option is very attractively priced at £370 with 10GbE on all ports.
However, the POE++ equipped XS1930-12HP is over £800.
The Netgear MS510TXM is priced at £429.99 so a bit more expensive, but the PoE MS510TXUP is only £579.99, which is a bit of a bargain really.
Posted by Mighty Gadget Blog: UK Technology News and Reviews