With 2020 being all about work at home, the need for fast home Intenet has increased considerably. Not everyone has access to VDSL or cable broadband, many people in the UK are still stuck on the legacy ADSL connections.
4G, on the other hand, is widely available with superb speeds with its coverage often being able to provide superior speeds than ADSL or even VDSL in some areas.
As long as you are not an online gamer requiring superfast ping times, 4G or 5G home internet makes a lot of sense, and Netgear are continuing to expand their product lineup at CES 2021.
Yesterday they revealed the Industry's first WiFi 6 mobile wireless router – the Nighthawk 4G LTE WiFi 6 Router (LAX20) – and the Netgear 4G LTE Modem (LM1200). 
Nighthawk 4G LTE WiFi 6 Router (LAX20)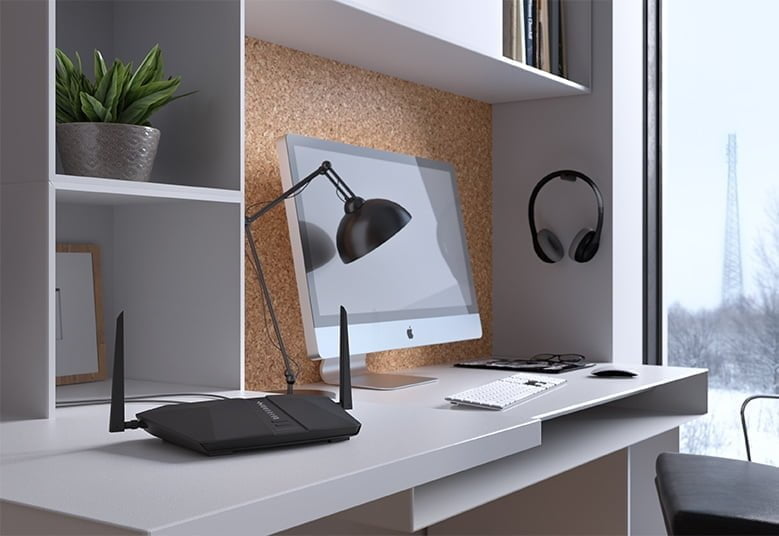 The Nighthawk LAX20 router supports advanced WiFi 6 networking technology delivering 1.8Gbps of high-performance WiFi and improved network capacity to handle a greater number of connected devices on the home network. Combined with a 4G LTE modem for instances where traditional wired internet options are not available or reliable, the Nighthawk LAX20 router provides an alternate mobile internet connectivity option. The new router also serves as an ideal solution for those who need internet access for limited time frames for instances such as a vacation home or short-term rentals.
The 4G LTE wireless capability is also designed for those who need to maintain a consistent high-speed connection when wired broadband is not fast enough, spotty or unavailable. Having a consistent and reliable internet connection has come to be regarded as a necessity with the surge of online activity due to the massive increase in work from home, distance learning and video streaming for entertainment. Certified for both AT&T and T-Mobile and other major wireless carriers worldwide, the Nighthawk LAX20 Router provides the peace of mind that you'll have internet access even during a network outage with its fail-over capability to seamlessly switch over to LTE when needed. A great solution for families and those who value their network security, the new Nighthawk 4G LTE WiFi 6 Router also comes equipped with NETGEAR Armor for advanced cyber threat protection for the home network and all connected devices.
The LAX20 now available worldwide and on NETGEAR.com for an MSRP of £309 in the UK, €329 throughout Europe and $299.99 in the US.
Netgear 4G LTE Modem (LM1200)
This is a good option if you already have a decent WiFi router or mesh system, you can just plug it into the WAN port of any existing system.
The Netgear LM1200 modem is an affordable and reliable internet connection via the 4G LTE network when faced with slow internet options (DSL) or the lack of a fixed-line broadband service. The latest 4G LTE modem from NETGEAR is certified to work with AT&T and T-Mobile at launch. Get connected easily to strong and reliable internet using a 4G SIM on the LM1200 and connect to a WIFi Router or Mesh solution for internet connectivity throughout your home.
The LM1200 is now available in North America from NETGEAR.com for an MSRP of $149.99 USD. The 4G LTE modem is expected to be available in the rest of the world later this year.
Nighthawk M5 5G Mobile Router
This was launched last CES and is available now in the UK and EU, but it will become available unlocked for North American customers in the first half of this year (its currently exclusive to AT&T in North America)
This is a high end solution, with a price to match at for £739 GBP in the UK and €799 in the rest of the Europe. However, the The Nighthawk M5 Mobile Router can be the ideal solution for those who work or learn remotely and can serve as an alternative or backup option for home internet with the gigabit Ethernet port and external antenna ports which allow the home user to improve signal reception.  With the option to connect the M5 Mobile Router to an existing home router, through the 1Gbps Ethernet port, the Nighthawk M5 brings 5G speeds into a home network and it can also be used as a fail-over option for uninterrupted internet. The router includes a long-lasting lithium-ion battery, which is rated to provide up to 13 hours per charge and can also be removed when used in a stationary location such as a home or office.
Posted by Mighty Gadget Blog: UK Technology News and Reviews