The Netgear Nighthawk EAX80 was announced a year ago at IFA, allowing users to extend their home Wi-Fi with the highest performance Wi-Fi possible.
Unlike Wi-Fi extenders of yesteryear, this claims to offer mesh support allowing home users to retain their SSID for seamless roaming across the home.
Specification and Features
AX6000 Wi-Fi speed provides up to 6Gbps performance using Dual-band Wi-Fi technology for heavy-duty 4K HD streaming and multi-player gaming.
4 ethernet ports to connect ame consoles, streaming players, or other wired devices into the four 1 Gigabit ports for maximum speed.
Optional wired connection to work as an access point
Works with any wireless router, gateway, or cable modem with Wi-Fi, and is optimised for all Wi-Fi 6 routers.
Adds Wi-Fi range coverage up to 2,500 sq. ft., and connects up to 30+ devices such as laptops, smartphones, speakers, IP cameras, tablets, IoT devices, and more.
Uses your existing network SSID name, so you never get disconnected as you move around your home or office
Is there 160Hz channel bandwidth?
This extender features 160Hz channel bandwidth, but there is no way to customise the settings. It seems to work out of the box, initially, my laptop wouldn't connect at 2400Mbps, but my Huawei P40 Pro would. After messing around with some of the settings via the browser, it will consistently connect to 2400Mbps (if you are using 5Ghz).
However, this does not mean you will get anywhere near that speed.
Is it really mesh? 802.11k support but no 802.11v / 802.11r
I was a little confused by some of the mesh claims. Traditionally when you mixed vendors, there was no two-way communication, so roaming when using the same SSID across multiple different access points can be problematic. This is why most Wi-Fi extenders use a separate SSID.
The mesh claims come from the fact that this supports the smart roaming 802.11k standard. This standard provides information to discover the best available access point. For this to work properly, the other Wi-Fi devices on the network need to support this feature too (and this includes the client devices).  
However, there is also 802.11v which allows client devices to exchange information about the network topology, then also 802.11r which is known as fast roaming allowing clients to band handed off to a new access point in a seamless manner.
Not all mesh systems support all these protocols fully, however with a pre-packaged system from one brand, you get guaranteed compatibility with at least some of these features. With the EAX80 you will need to make sure the corresponding router you pair it up with also supports  802.11 k. In my case, I tested it with the Netgear RAX120, which does support it.
Set up, Settings and App
Like other Netgear Nighthawk networking gear, you will need the Nighthawk app, you then just need to select the device and follow the basic set up procedure. It worked the first time with no issues.
The app and settings are very limited. By default it re-broadcasts your existing SSID, you can optionally change this to something else, which is useful if you opt to use this in wired mode without smart roaming.
Beyond that, that's about it for your settings. You can't even switch 2.4Ghz off, though you can name each band as a different SSID.
This is also reported as being 160Hz compatible, but there are no options to change the channel width or even the channels.
Browser Settings
If you go into the browser settings, you have much more customisation options. I am not sure why all these are not in the app.
You can disable the two different channels; you can also enable what Netgear calls FastLane. This establishes one channel as the backhaul then the other as the signal it extends. The caveat here is that one of them is only ever going to use 2.4Ghz so you will be restricted to the maximum speeds that is capable of.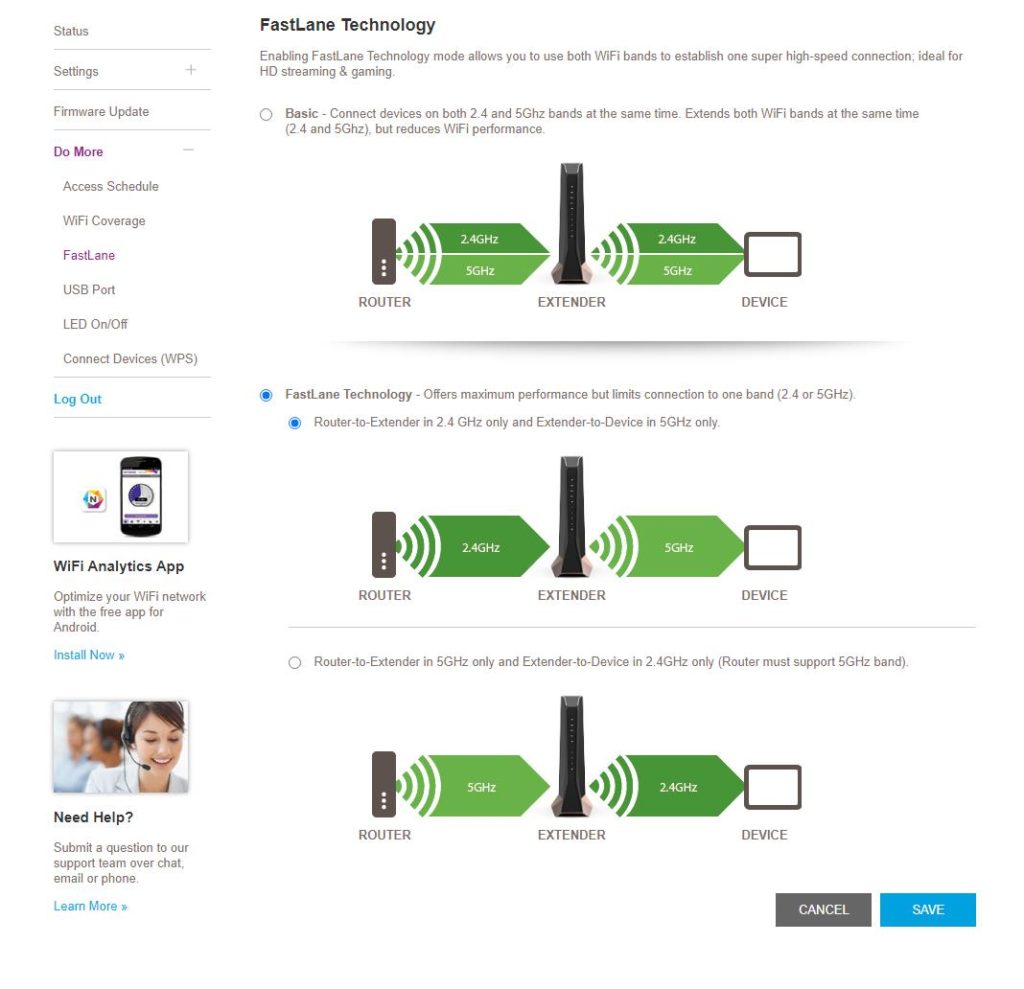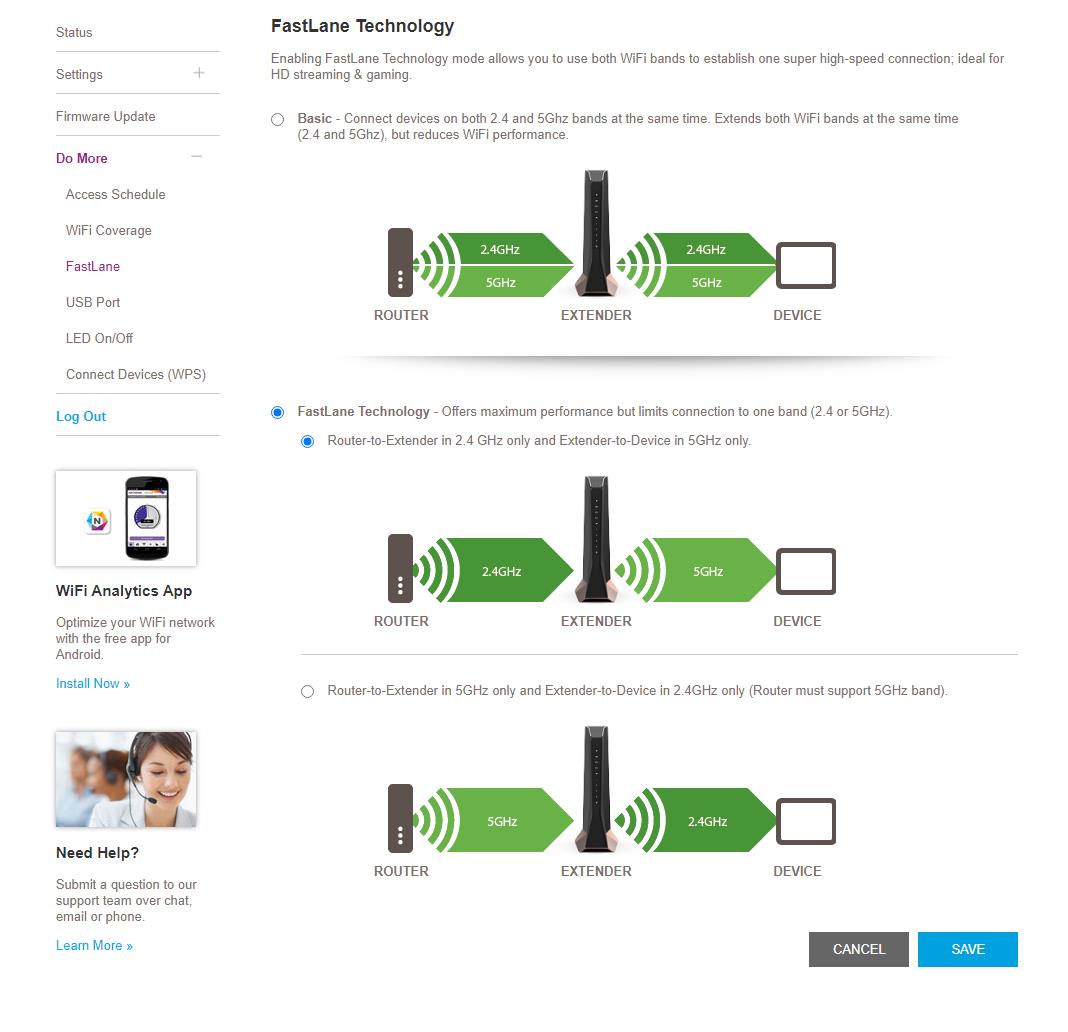 You can also adjust the power of the extender. This can be useful if you are having roaming issues, where devices stay connected to the extender for longer than you would like.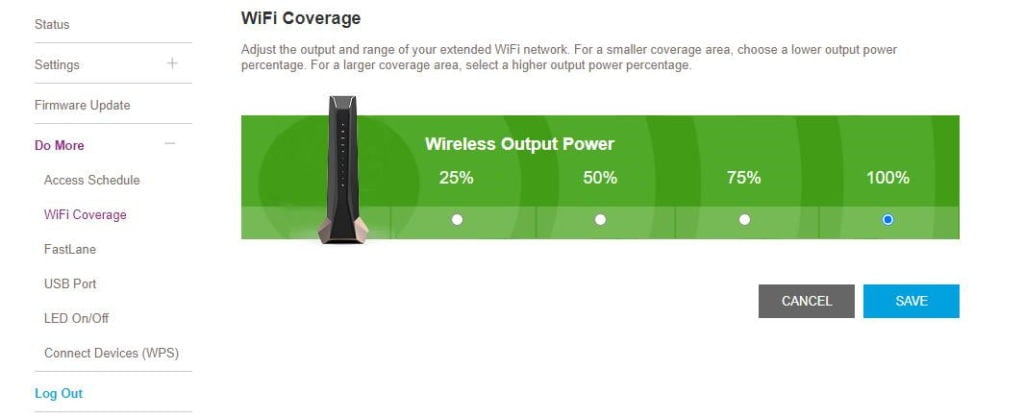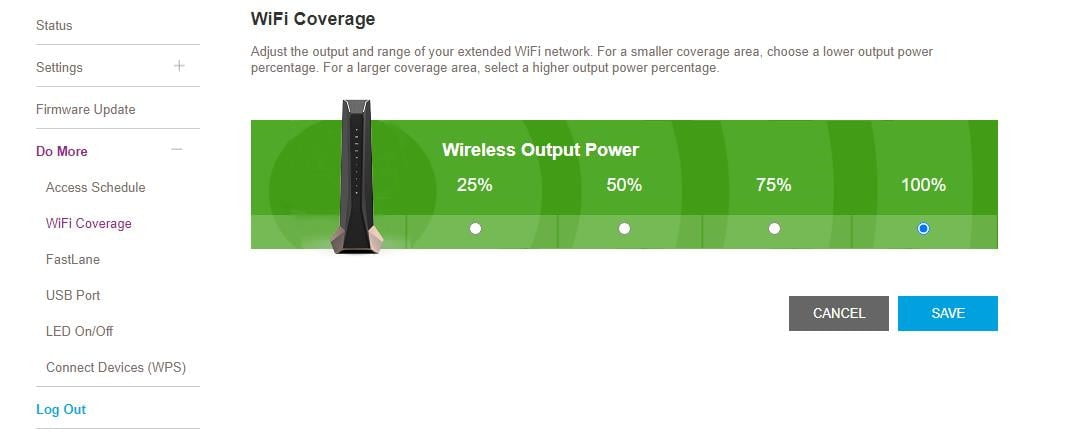 It is also possible to set it up as an access point with a wired ethernet connection. When you do this you also have options to select the Wi-Fi speed (which is effectively telling it what channel width to use). You can also manually select your channels.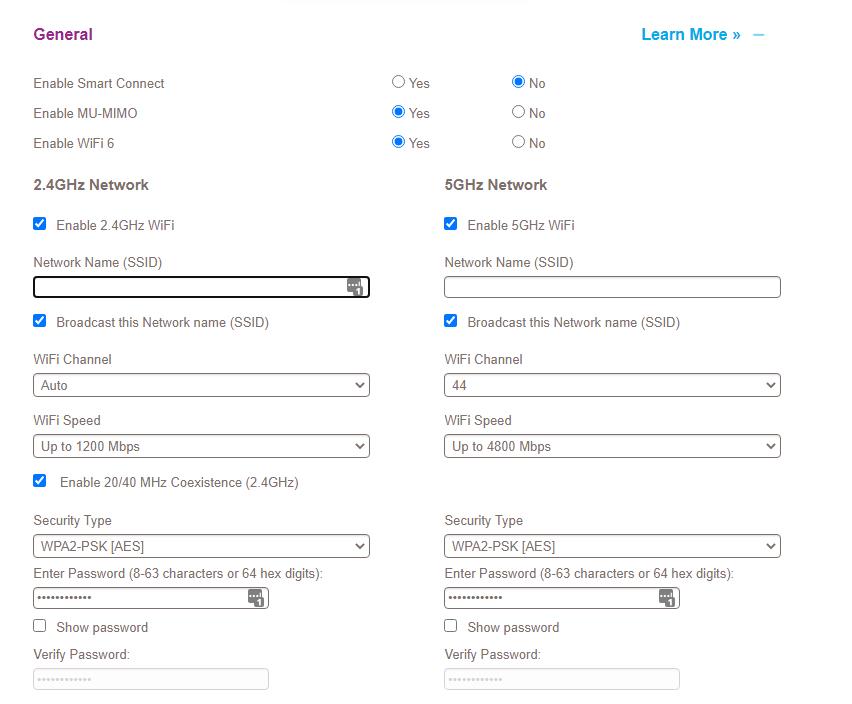 Performance
Being a dual-band Wi-Fi extender/mesh device, this inevitably suffers from signal loss causing the peak speeds to drop in half compared to a tri-band system or vs connecting via a wired connection.
Using the EAX80 as a wireless extender as it is intended to be used has some mixed results. It basically suffers from the same issues as you get with a dual band mesh system.
With the different connection options, you get different results
FastLane 5Ghz backhaul with 2.2Ghz for the client:

Achievable speeds of 450Mbit/s or 55MB/s

FastLane 2.5Ghz backhaul with 5Ghz for the client:

Achievable speeds of 300Mbit/s or 38MB/s

Standard on 5Ghz

Achievable speeds of 450Mbit/s or 55MB/s
Netgear claims the Fastlane options are the best, and if you follow the smart setup via the browser, it sets 2.5Ghz backhaul with 5Ghz for the client. While my devices registered the fastest setting via this method, it was by far the slowest option.
Of course, your mileage may vary, distance from the router, walls and Wi-Fi congestion will all affect the results.
It is a little disappointing that this is not tri-band allowing you to leverage a single 5Ghz backhaul channel then broadcast 2.4Ghz and 5Ghz to clients.
With the wired option, you will get superior performance, but from my understanding, you will lose out on the smart roaming (because it no longer talks directly to the corresponding router). However, this is a good option if you want to extend the Wi-Fi quite far away (and can get a cable there).
In this mode, the speeds improve considerably with devices connecting at 2400Mbps indicating 160Hz is working.
With this mode, the speeds become limited by the gigabit ethernet ports, with it generally hitting 950Mbps or above with file transfers to my NAS typically being around 110MB/s.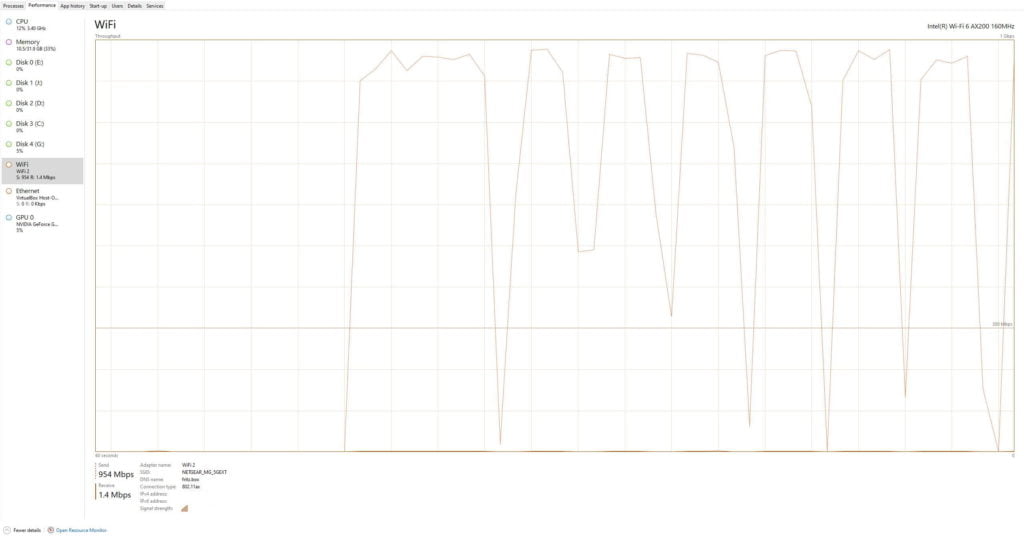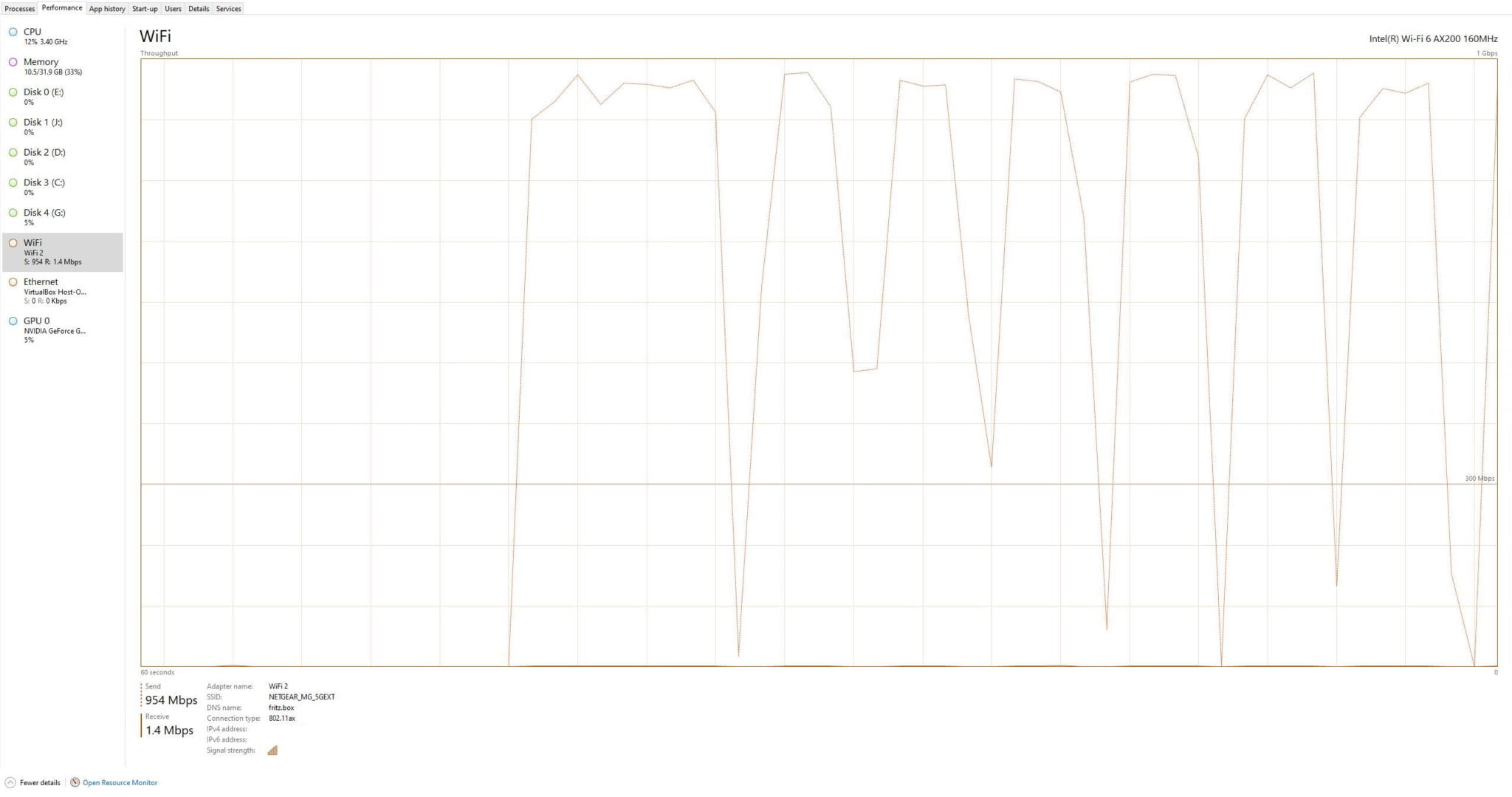 Price and Alternative Options
Priced at £265 this is not cheap in the slightest, especially considering it is essentially a Wi-Fi extender. Alternative options would depend on why you are buying it in the first place, and what your requirements are.
If you have spent £410 on the RAX200 and want to improve the signal in your home with the best speeds possible, then this is the best option.
Netgear has other smart roaming compatible extenders, the cheapest being the Wi-Fi 5 EX7700 at £120. So if you just need to boost the signal in a bedroom or part of your house that isn't very important, then this is likely a better choice. Alternatively, there is also the Wi-Fi 6 EAX20 for £159.99 or the tri-band Wi-Fi 5 EX8000 for £178.
If you are setting up your home network from fresh, then the Wi-Fi 6 Netgear Orbi  RBK852 mesh system for £705 would be a more sensible option vs an expensive router and separate extender.
A more affordable option to that would be the ASUS ZenWiFi AX which is also a tri-band Wi-Fi 6 mesh system and costs just £399.99.
Or for a bargain, there is the 3-pack Netgear AX1800 at just £229, this is a dual-band system, so the satellite of this would likely offer similar performance as the EAX80.
Overall
If you have already invested in one of the excellent, and expensive, Nighthawk routers and have realised it can't quite cover your entire property then the Nighthawk EAX80 is a logical choice. Pairing it up with Netgear hardware should also help ensure you get the  802.11k support required for smart roaming.
I suspect the Nighthawk EAX80 was designed specifically for those existing Netgear users. However, it can work with any other system out there, and would therefore make a good choice for other high-end Wi-Fi 6 routers such from TP-Link. ASUS has its own AI Mesh built into their routers, so they have better in-house solutions.
With it being a £265 device with limited mesh support, this is quite a niche device that I would say only appeals to those users that own a high-end router in the first place.
The big numbers in the spec sheet don't represent real-world performance either. This is the case for all Wi-Fi but more so here, where you are losing considerable bandwidth on the link back to the router. So the best scenario is to place your existing Wi-Fi 6 router in the most important place within your house (if possible).
For large homes looking who don't have existing Wi-Fi 6 hardware, you would likely be better off investing in a mesh system from the get-go. As expensive as it is the Netgear Orbi  RBK852 (2-pack) or the RBK853 (3-pack) would likely offer superior performance, with faster speeds across the house as a whole.
Overall though, while some of the numbers don't look amazing, this is a problem inherent with all Wi-Fi extenders and many mesh systems. If you specifically need a Wi-Fi extender, then this is about as good as it gets, offering the best speeds with the added benefit of smart roaming giving you a mesh-like system.