If you have ever used a Netgear Router or mesh system, you will likely be familiar with their interface, both Orbi and Nighthawk use a very similar design and feature set.
A couple of years ago, Netgear launched a new Nighthawk Pro router which uses something completely different, DumaOS. This has been built by UK firm Netduma from the ground up with gamers in mind.
It has grown a loyal userbase, and it is the most visually impressive interfaces you will find on any router I am aware of.
But can a router really improve your gaming experience?
Specification & Features
WiFi 6 (802.11ax) Dual Band AX5400

2.4GHz AX: 2×2 (Tx/Rx) 1024/256 QAM 20/40MHz, up to 600Mbps

5GHz AX: 4×4 (Tx/Rx) 1024 QAM 20/40/80/160MHz, up to 4.8Gbps

Five (5) 10/100/1000Mbps Gigabit Ethernet ports – 1 WAN & 4 LAN
Memory: 256MB flash and 512MB RAM
Powerful 1.5GHz Triple-Core processor
USB 3.0 with streaming, backup and easy access to your stored media
DumaOS 3.0 gaming orientated OS with server geofencing, application QoS, and ping heatmap
Nighthawk app for mobile management
Alexa and Google support
Netgear Armor for system-wide security
OpenVPN
Netgear Nighthawk Pro Gaming XR1000 vs Nighthawk RAX50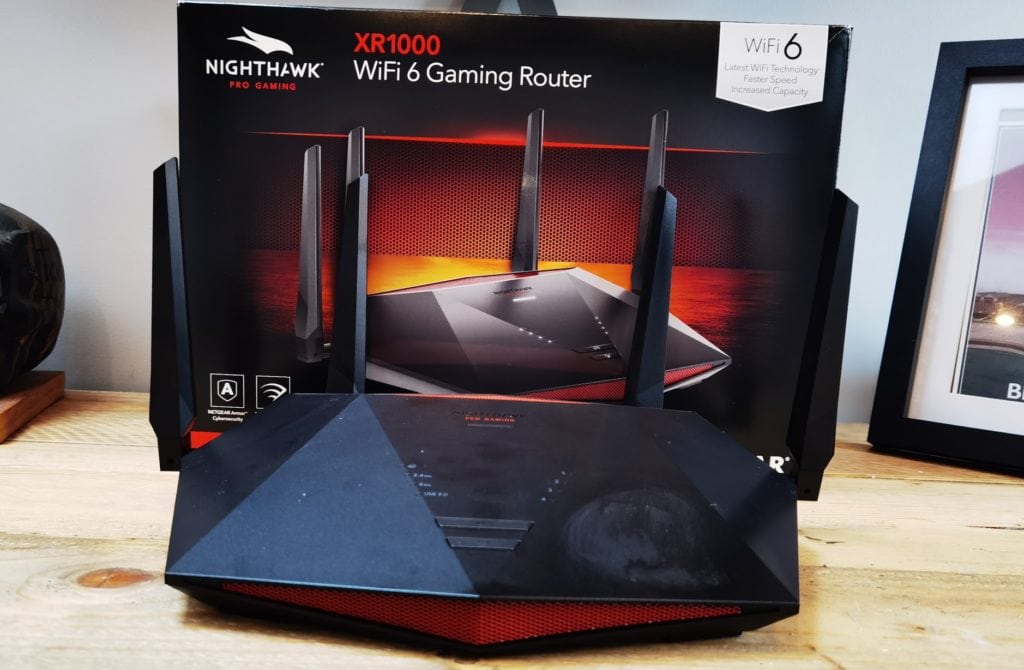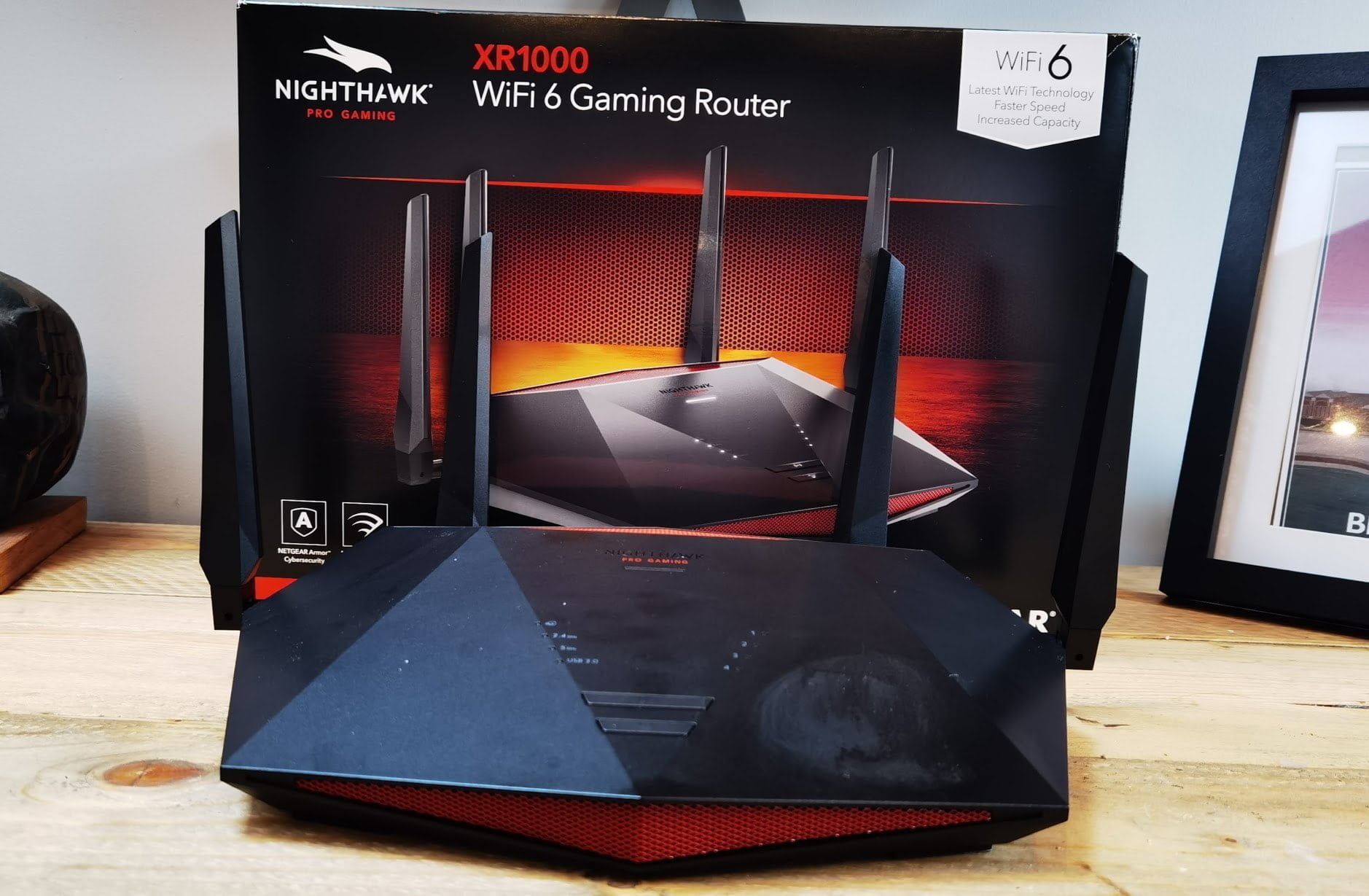 The XR1000 is technically anything new; the hardware is essentially the same as the existing Nighthawk RAX50. They have added some red to the vented bit on the rear, and that is it.
However, the Nighthawk RAX50 uses the standard Nighthawk app and web interface while the  XR1000 uses the fancy DumaOS.
DumaOS offers a lot of gaming orientated features which allow you to avoid connecting to slow servers or players.
For this privilege, Netgear hikes up the price by around £70. It is quite a steep price rise, I doubt the extra costs Netgear incur installing this are relative to the price rise for consumers.
It is what it is though, not many other routers have an OS that is so gaming focussed, and gamers tend to be one of the more eager demographics to part with their money.
DumaOS Features
DumaOS is the stand out feature of this router, it is a gaming orientated router OS that is generally well-received compared to most router OS options out there. The overall UI is not that dissimilar to Grafana or other dashboards that are used in enterprise environments.
The features on the DumaOS are:
The Geofilter tab allows you to reduce lag in your games by guaranteeing that the server you are using is close to your location.
The QoS tab allows you to prevent congestion on your network within the options include : anti-bufferbloat, traffic prioritisation, and bandwidth allocation.
Ping your favourite game servers to display your connection quality to each server on a World Map
The Device Manager tab allows you to view a web diagram of all the devices connected to your router.
The Network Monitor tab allows you to choose which of your devices are displayed on graphs that show upload and download speed.
The System Information tab provides information about the hardware usage and firmware of the Nighthawk router.
DumaOS Ad Blocking – Not on Netgear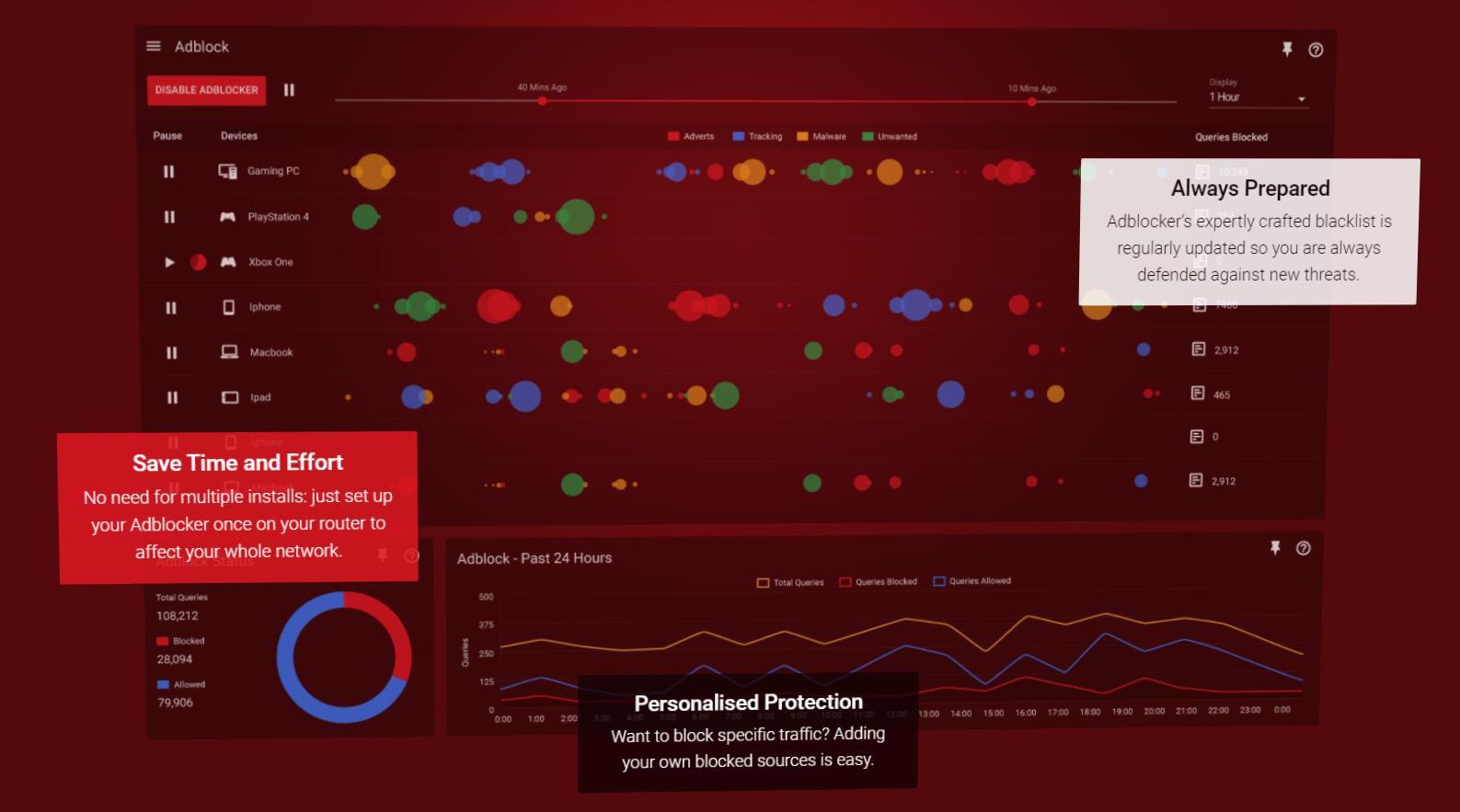 One of the things that piqued my interest in DumaOS 3.0 was the router level adblocker allowing you to block ads on every device including Smart TVs, consoles, mobile apps and more.
Sadly, this appears to be absent from the Netgear Nighthawk Pro Gaming XR1000. With Netgear being quite a large company with many corporate clients, I suspect they had no option but to leave this out.
It is not that hard to set up PiHole on a Raspberry Pi, and privacy focussed DNS servers such as NextDNS can block most adverts. So it is not a significant loss, but it would have been nice to see.
Set-Up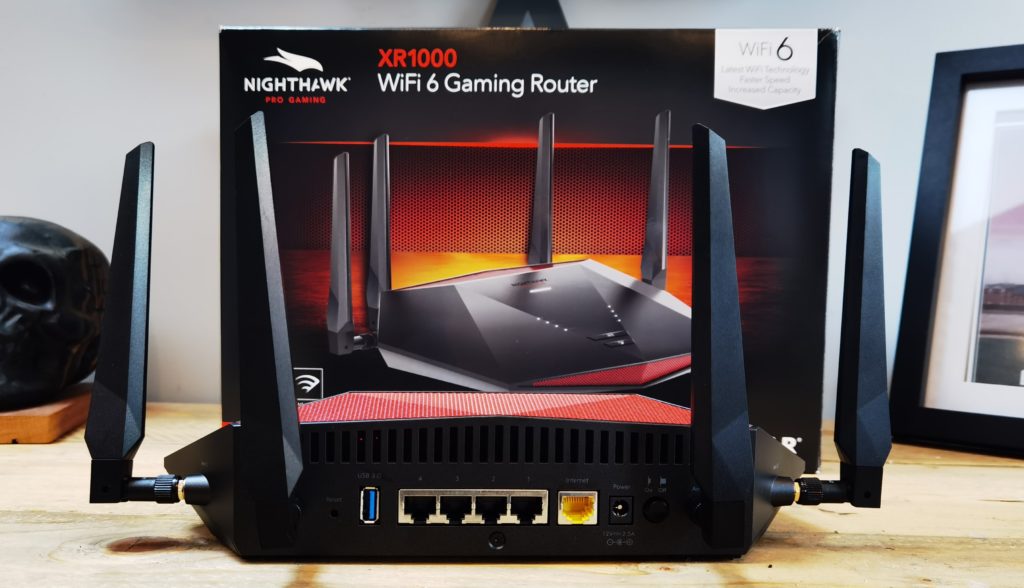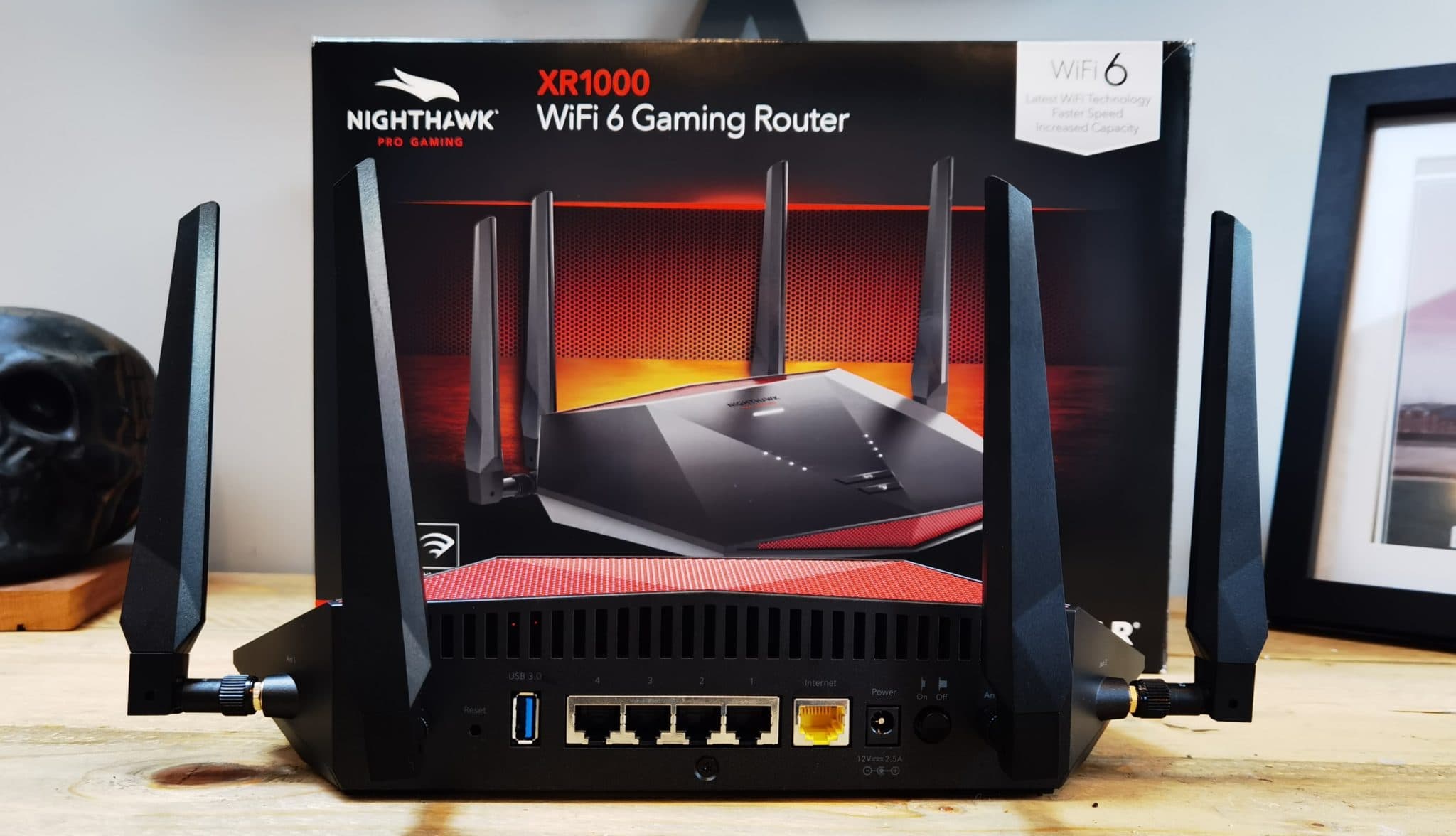 Set up is identical to most routers nowadays. For this review, I opted to do it via the browser, logging into the router directly. You can optionally use the Nighthawk app.
DumaOS Settings & Performance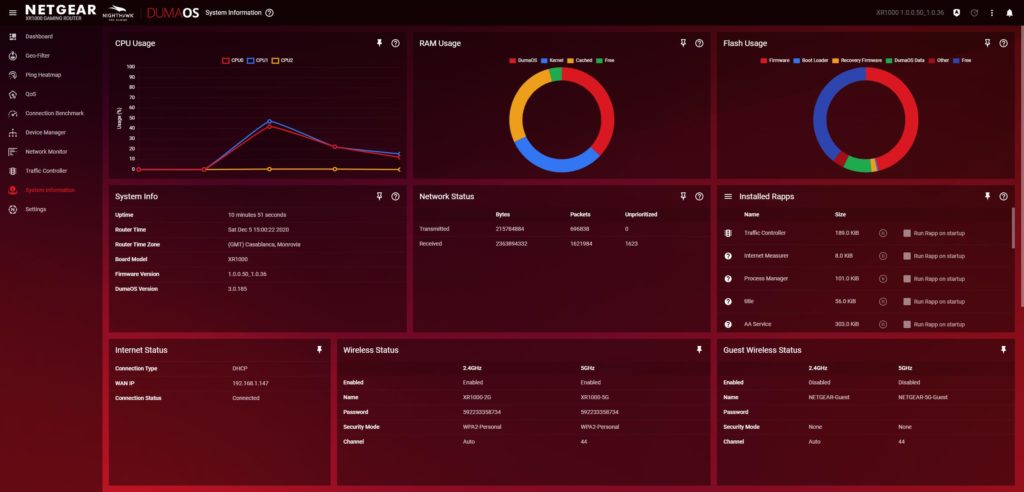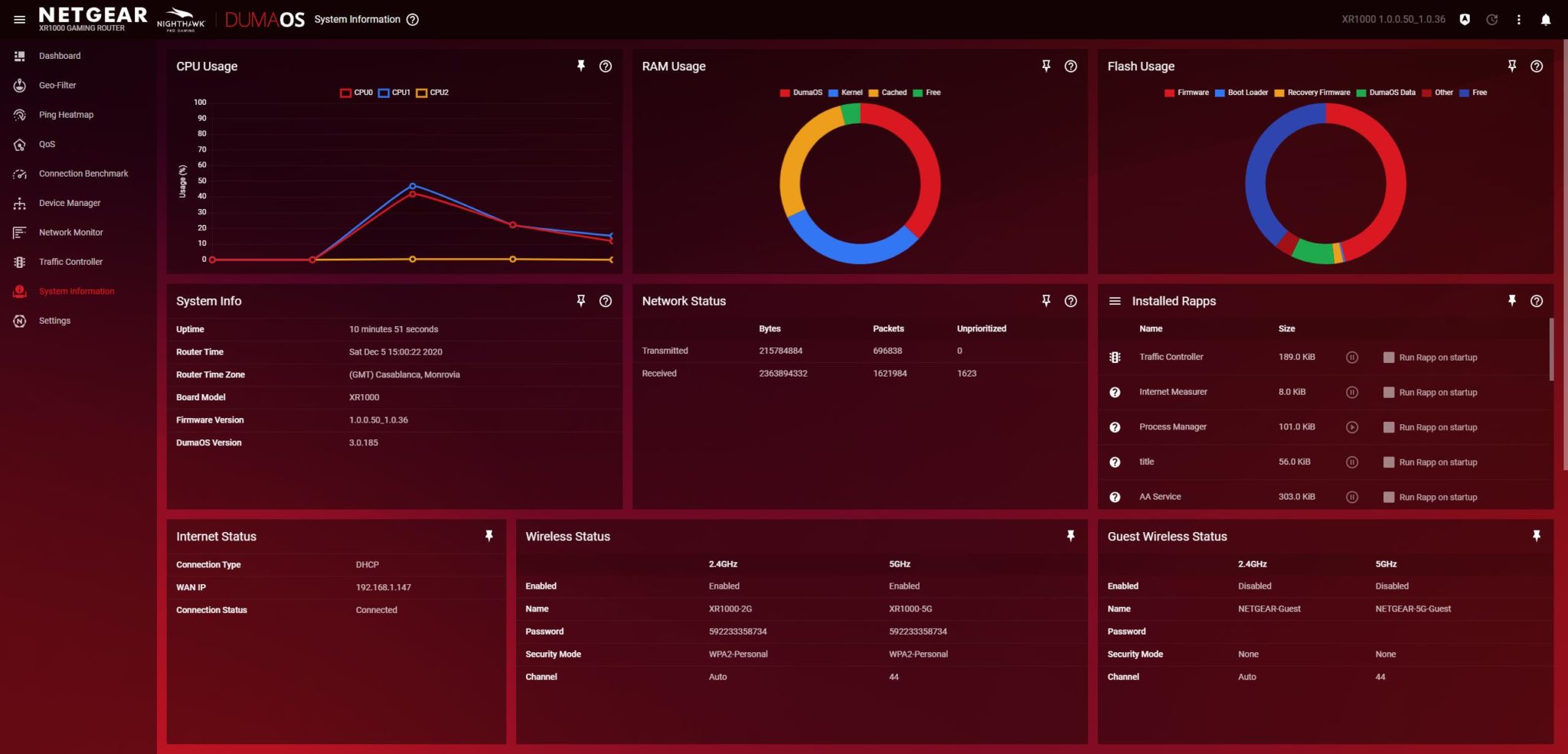 With the launch of DumaOS 3.0 it is now possible to access most of the features of this router via the DumaOS app, this appears to be a very early version of it, and I only tested it breify, opting to use the browser instead.
The router can still use the Nighthawk app for basic management, this offers the same functionality as all the other Nighthawk routers with none of the DumaOS features.
DumaOS has the fanciest interface of any router I have tried, but the consequence of this is that the interface can sometimes feel a little slow. It wasn't uncommon for me to have to wait a few seconds for tabs to fully load. In particular, it seems to affect the graphically intense elements such as ping heatmap and device manager. Going into the settings tab appears to have less of a problem.
It is not a massive problem, the main delay has initially loaded a tab, or Rapp as they refer to them. With the main Rapp interface loaded, data is presented without issue. CPU load never seems to be very high, so I am not sure why there is an issue.
Geo-Filter


This is likely the main element of the router that will improve your gaming. It allows players to geofence and areas on the world map. Unlike older versions which were restricted to a certain radius around your location, you can now set up zones. For example, you may find US servers perform better than many in the EU even if you are located in the UK.
When you load up a game and connect to servers, you will see servers and users pop up in real-time on the map.
To make the most of this function, you will either need two screens or two devices, allowing you to visualise data while in-game.
Ping Heatmap


To complement the geo filter is the ping heatmap which allows you to ping both servers and players and locate them on the map. You can then use this to select your server or set up a geofilter.
Device Manager


I love how the device manager maps out your network, you can then categorise the devices which can then be used for QoS. However, under the options you can't reserve an IP for the device, you need to go into settings, LAN set up and address reservation.
I am not sure how popular DHCP address reservation is for normal people, but I use it extensively on my network, avoiding the hassle of setting up static IPs while retaining their benefit.
Connection benchmark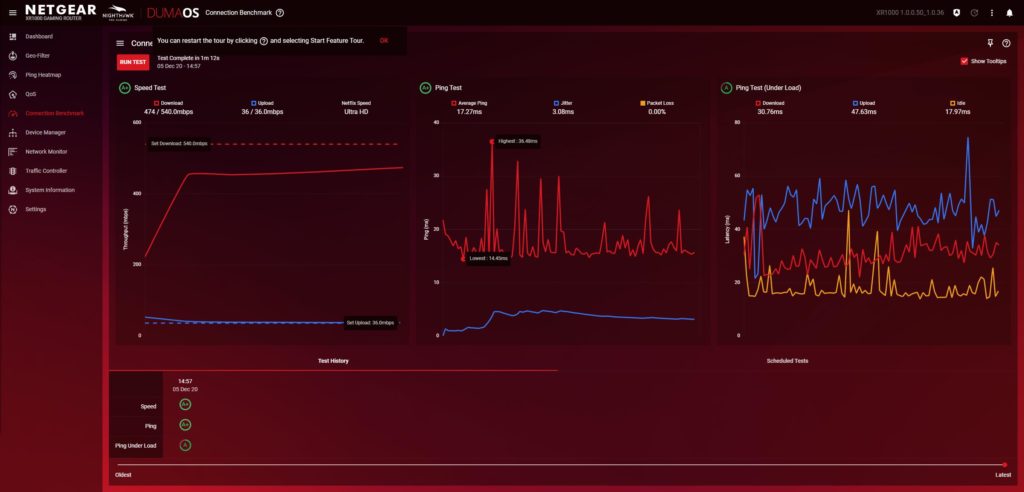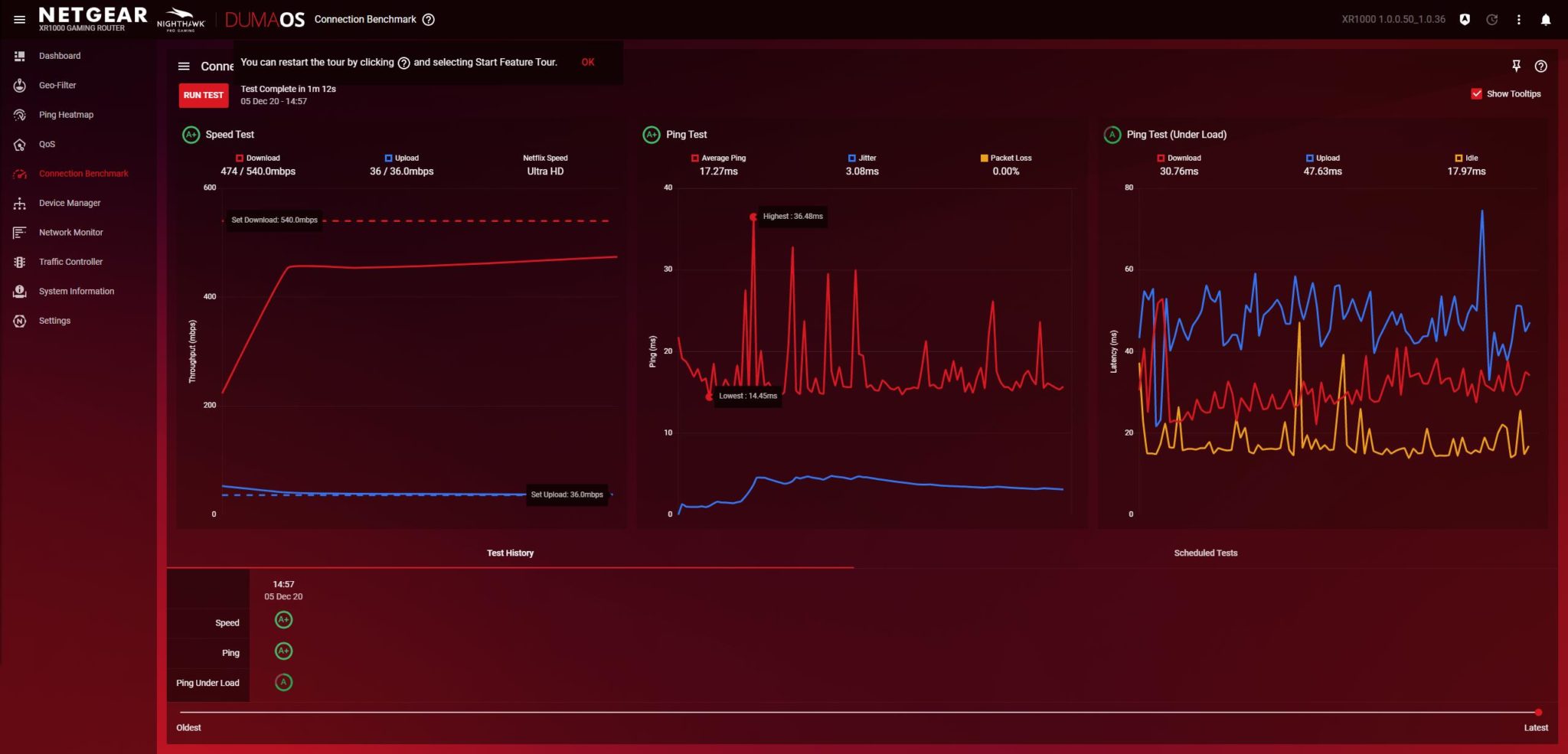 I had some interesting results on the connection benchmark. I am on the Virgin M500 package, so my download speeds are consistently above 400Mbps, while upload is a more disappointing 36Mbps.
However, the benchmark revealed several problem areas. This is likely due to the complexity of my network. While testing I was running double NAT, then on top of that, I have been experiencing with PiHole and AdGuard Home for privacy and adblocking DNS, as well as NextDNS. It looks like one of these is causing some ping issues on my network. With the help of this tool, I have been trying to fix some of these issues.
Quality of Service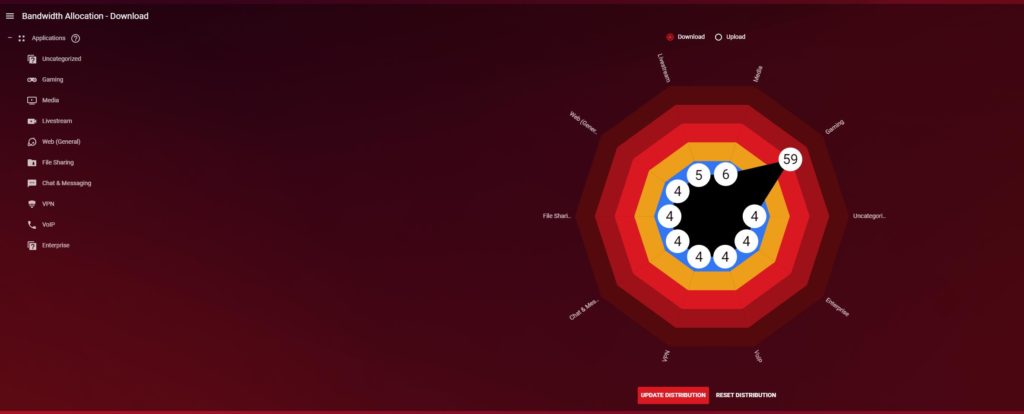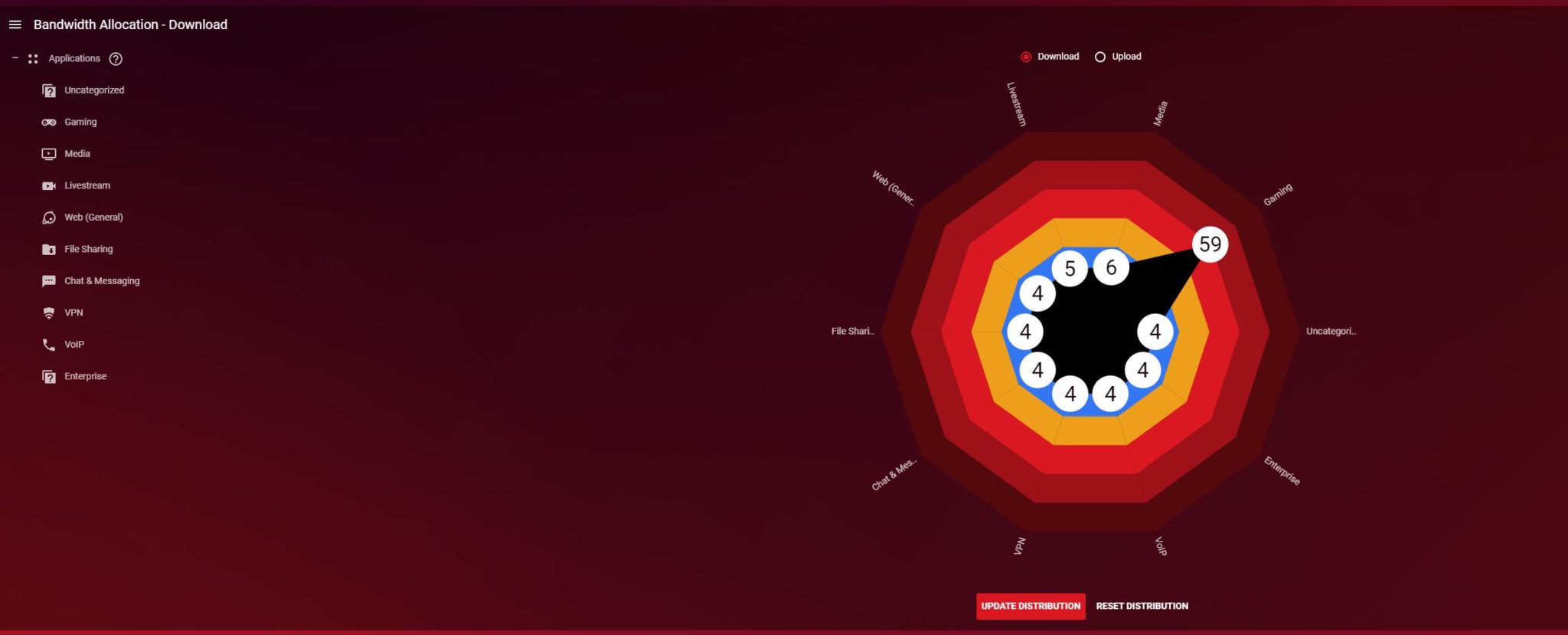 The QoS settings are impressive and intuitive. You can easily prioritise gaming or live streaming on the network as a whole, and you can then set up traffic prioritisation at the device level too.
There are 100 points of priority and 10 services laid out in a decagon, you then use sliders to prioritise services. It is an impressive way of visualising the network and makes for an intuitive way to manage it.
On a network of 2 users, it is unlikely I need to worry about the download settings, but with Virgin having a mediocre 36Mbps upload it could be quite easy for the network to get bogged down. Things like file sharing, Zoom, and streaming can all quickly eat away at the upload bandwidth, all of which would then reduce gaming performance.

Wi-Fi Performance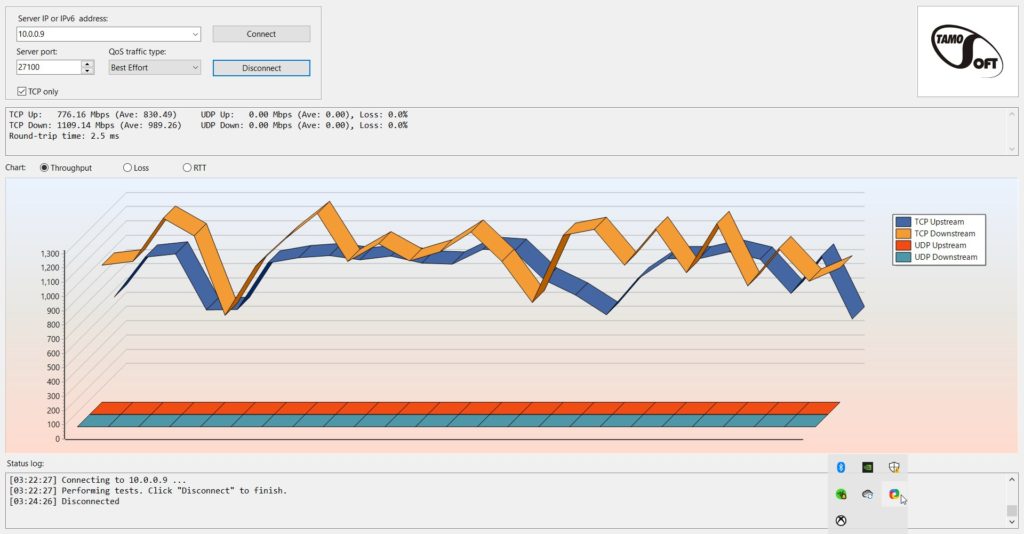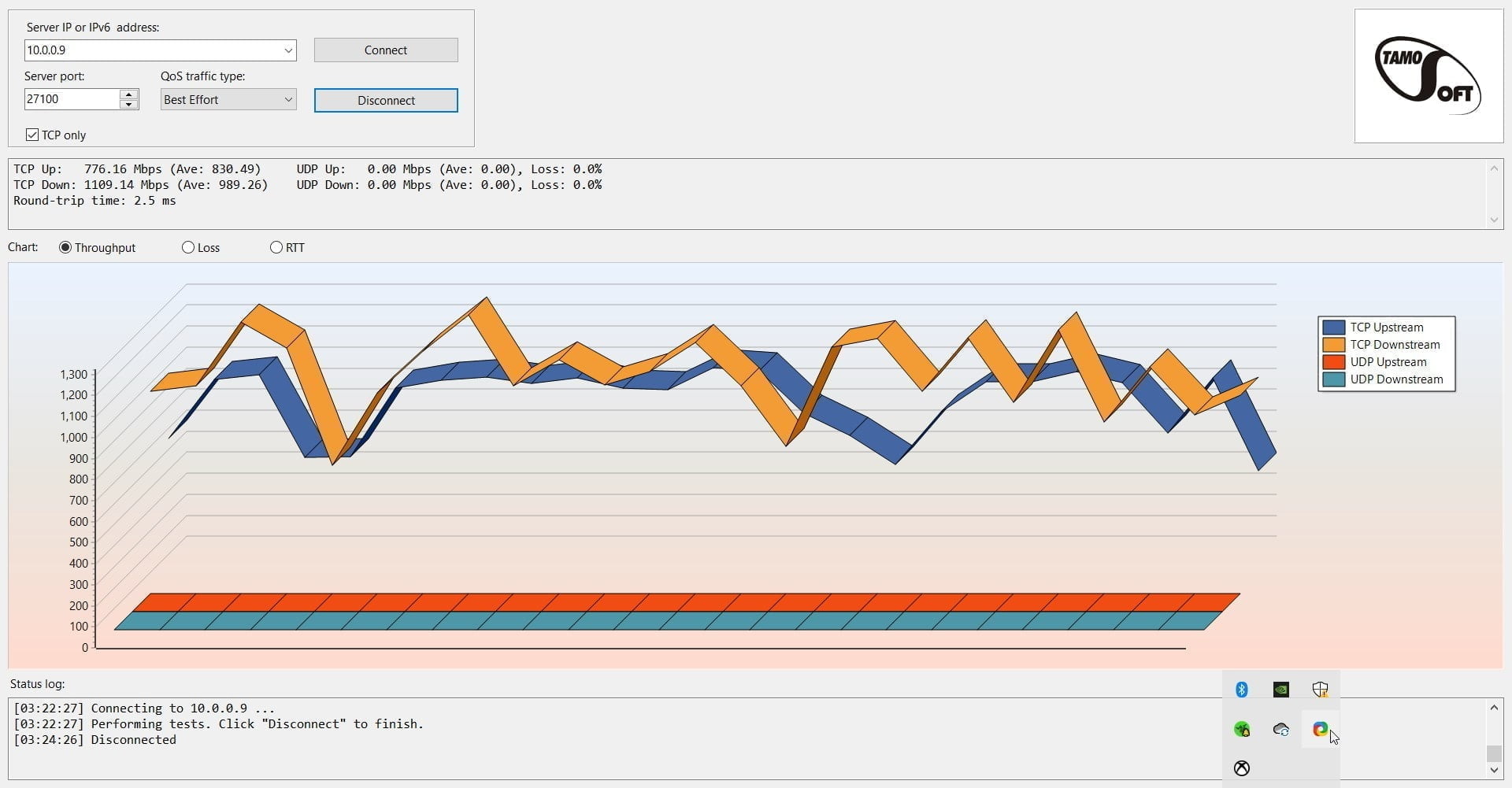 This router is capable of using 160Hz wide channels, I have found this a bit hit or miss to get working sometimes, but with the XR1000 it worked out of the box, with my PC connecting at the full 2.4Gbps with ease.
With the Ethernet ports limited to gigabit, the best you can hope for is hitting gigabit transfer speeds.
Like a lot of Wi-Fi 6 routers, the marketing goes on about the benefits of OFDMA, but then out of the box, this is disabled.
Performance is excellent, in the same room with a line of sight of the router I was able to achieve 989Mbps down and 830Mbps up with the TamoSoft Throughput Test.
Transferring files locally, Task Manager reported 960Mbps while the file transfer speed was over 110MB/s, which is typically around the limit of gigabit.
With its 4 large aerials, the range is good too, with the router centrally located in my home it can just about cover the full 4-bedroom brick built property.
Price and Alternatives      
The Netgear XR1000 is priced at £321.96 on Amazon, which is expensive but not peak Netgear pricing.
If it is DumaOS you are interested in, then it is available on: Netduma R1, R2 and Netgear Nighthawk Pro Gaming XR300, XR450, XR500, XR700, and XR1000. The XR1000 is the only model that also has Wi-Fi 6.
The Netduma R2 uses DumaOS 3.0 and should feature the adblocking functionality. The RRP is £150 but a pre-order launch discount is £130. This is only Wi-Fi 5 and has a lower spec processor.
If you don't game much online, then you can save a lot of money with the Nighthawk RAX50, or you could even bump up the spec and still have money left over with the Netgear RAX80
The TP-Link Archer AX6000 looks like a good buy featuring multi-gig WAN Ethernet, 8 additional Ethernet ports and 160Hz support for just £239
Asus build in a lot of gaming features into their routers, it is a little challenging to cut through all the marketing crap, but they offer various QoS features and Game Radar to ping servers allowing you to select the best one. Then built-in support for the Gamers Private Network, powered by WTFast, which provides private, optimised internet connections to game servers. I think it is the ROG Rapture models that have these features which would limit you to the ROG Rapture GT-AX11000 if you want Wi-Fi 6 which costs around £378
Overall
It is frustrating being charged quite a large premium to have a different OS on your router. But at the end of the day paying £70 to reduce the number of laggy servers you connect to will likely be well worth it if you are a keen online gamer. Netgear will have to factor in the cost of support too, which will be disproportionally high when only a small number of routers use this OS.
DumaOS is fantastic, and I much prefer the UI and features to the native firmware Netgear runs on their routers, but at the same time, the UI feels a little bloated and laggy for the router. I would love to see Netgear adopt some of these UI elements and features into the mainstream routers, though I won't hold my breath.
Many of the features of DumaOS will be appealing to none gamers, the QoS and device manager are superb, but I am not sure the price premium is worth it just for them.
For most, this router won't transform your gaming experience, but the promise of reducing lag by avoiding players and servers with high pings, I would expect many gamers will think the premium pricing of this router is well worth it.
Overall, for anyone serious about online gaming, this is a superb router and worth the premium price it commands.
Posted by Mighty Gadget Blog: UK Technology News and Reviews