With a large percentage of the population working from home this year the demand for reliable Internet has skyrocketed.
This has led many people to realise that their internet service provider options are poor and/or their home networking equipment such as Wi-Fi routers are not up to the job.
Currently, the average download speed for UK users is 64Mbps; however, in rural areas speeds drop down to 39Mbps on average.
Superfast broadband is classed as 24Mbps or more and the government has only just achieved a target of over 96% of UK households for this. Depending on which piece of research you read, we currently sit at around 47th globally for broadband speeds.
So for many of us, our fibre and copper broadband is not designed for working from home. Thankfully, over the years, 4G has gotten pretty good and has become a viable alternative, boosted by the relatively low cost of mobile data.
Orbi 4G LTE LBR20 Specification & Features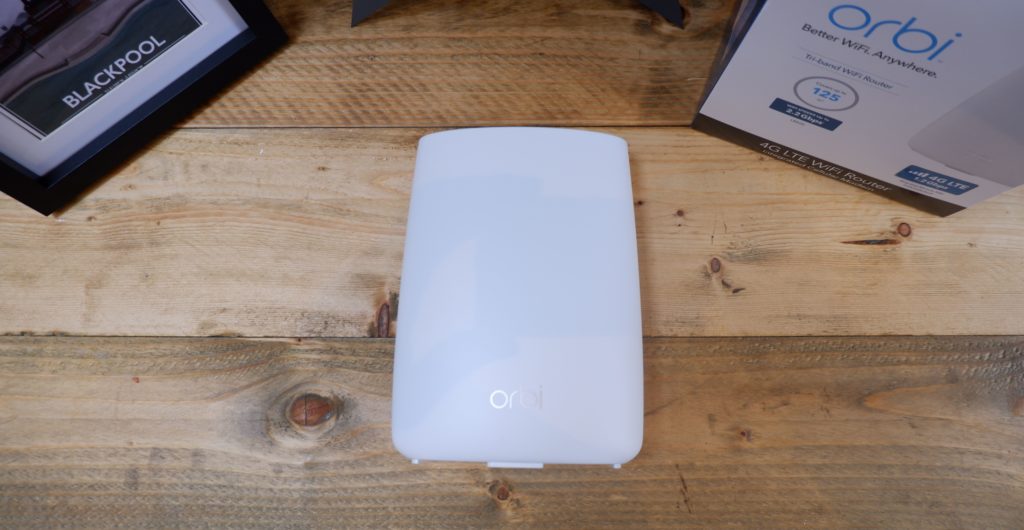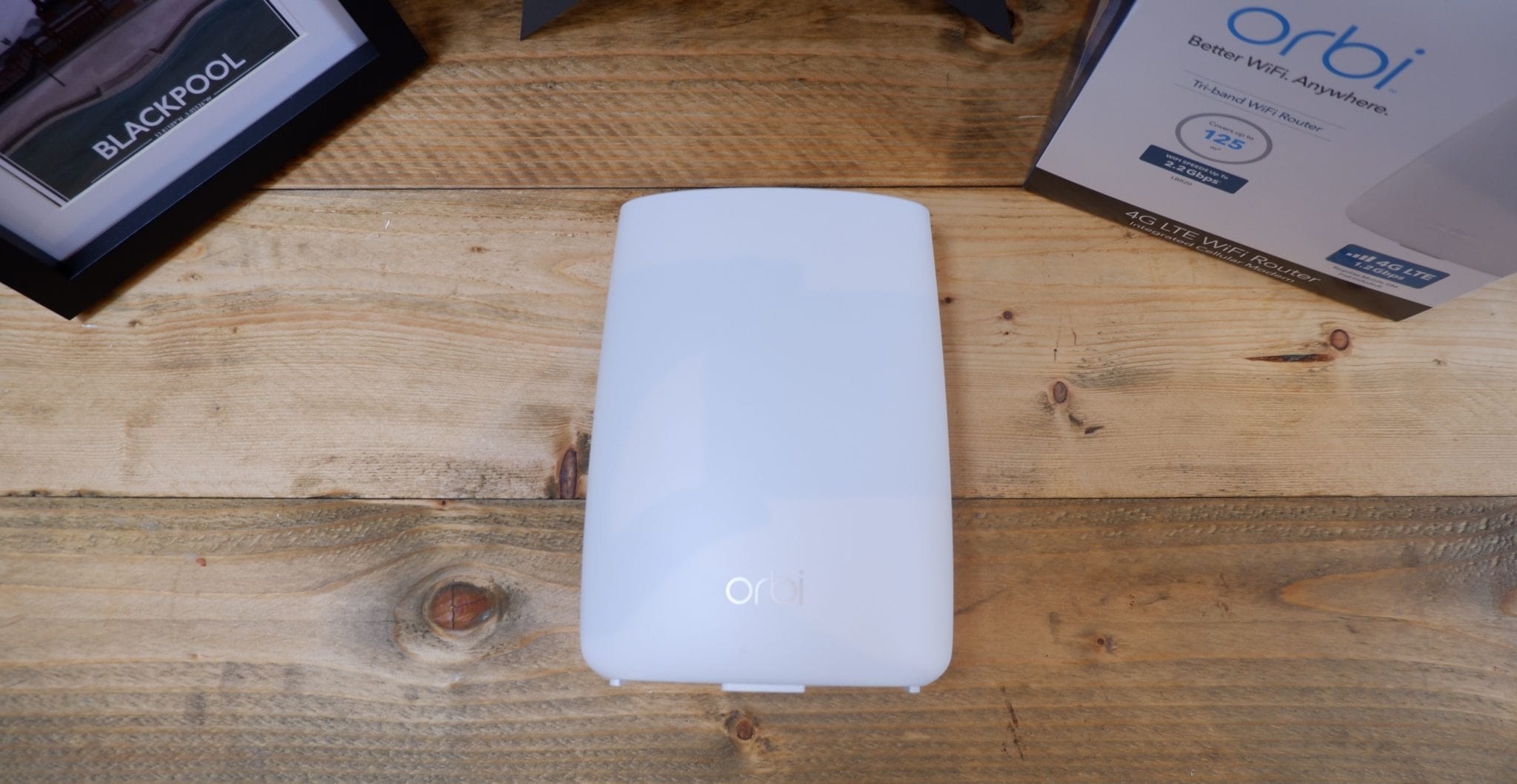 Built in 4G LTE Category 16 modem capable of up to 1.2 Gbps

4G band (LTE-FDD): B2,4,5,7,12,13,14,17,25,26,29,30,66,71

Tri-band Wi-Fi 5 mesh router (this is just the router with no satellites).

Dual 5GHz networks @ 866Mbps with one used for backhaul

Two (2) Gigabit Ethernet ports (1 WAN + 1 LAN) keep your wired devices connected.
Two (2) External LTE antenna connectors (antennas not included)
Works with Amazon Alexa and the Google® Assistant – use simple voice commands to control your home network.
Netgear Armor – Network wide anti-virus and security (incurs a monthly fee)
Set-Up
Set up seemed even more straightforward than usual for Netgear. You will need the Orbi app, once logged in you can set up a new system by scanning in the QR code. Once it registers the device, it will tell you the SSID and password allowing you to copy the password so you can paste it in.
When you connect to the SSID, you will then need to follow some other basic set up steps including adding a router password, security questions and enabling biometrics if you want.
I didn't buy a dedicated data SIM but used my two different contract SIM cards. Smarty, which is based on Three, is super affordable, but Three doesn't have the best coverage in my area.
I set up with Smarty at first as this is my spare sim. This worked out of the box, no settings were required.
Once I had finished testing that I switched to Vodafone, switching over to a new SIM worked fine, but it takes ages.
Adding a satellite
This doesn't come with pre-paired satellites like other Orbi systems, so you have to buy whatever fits your needs. Pairing up is simple; you will need to add the satellite through the app and follow the steps which include pressing the sync button. This can sometimes take a little while to register, so you will need to be patient.
4G Performance with Smarty and Vodafone & benefits of LTE Antenna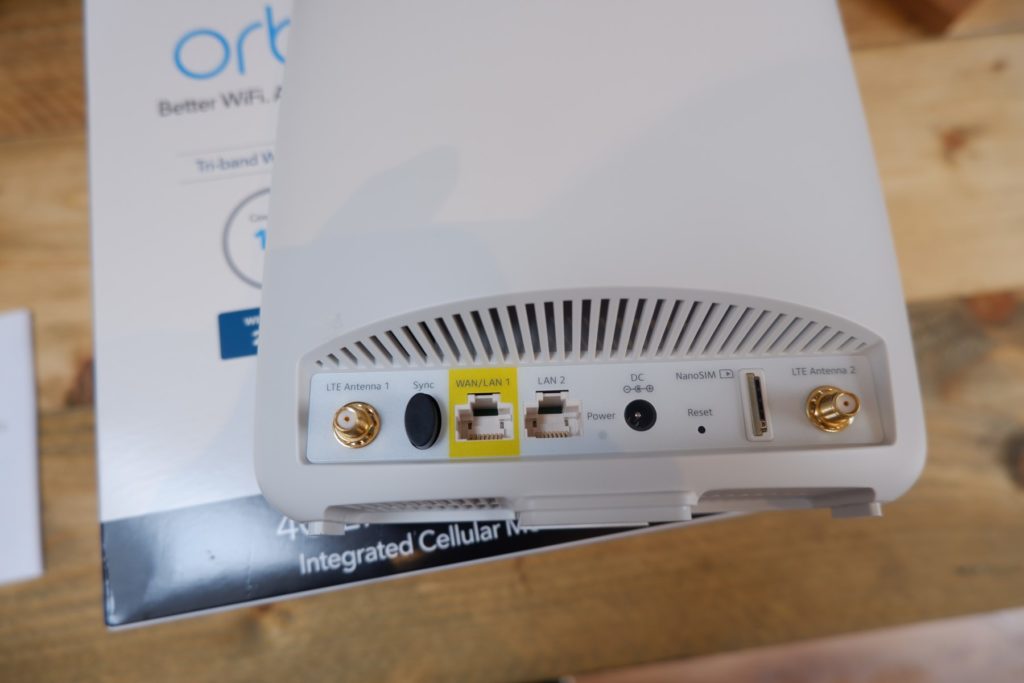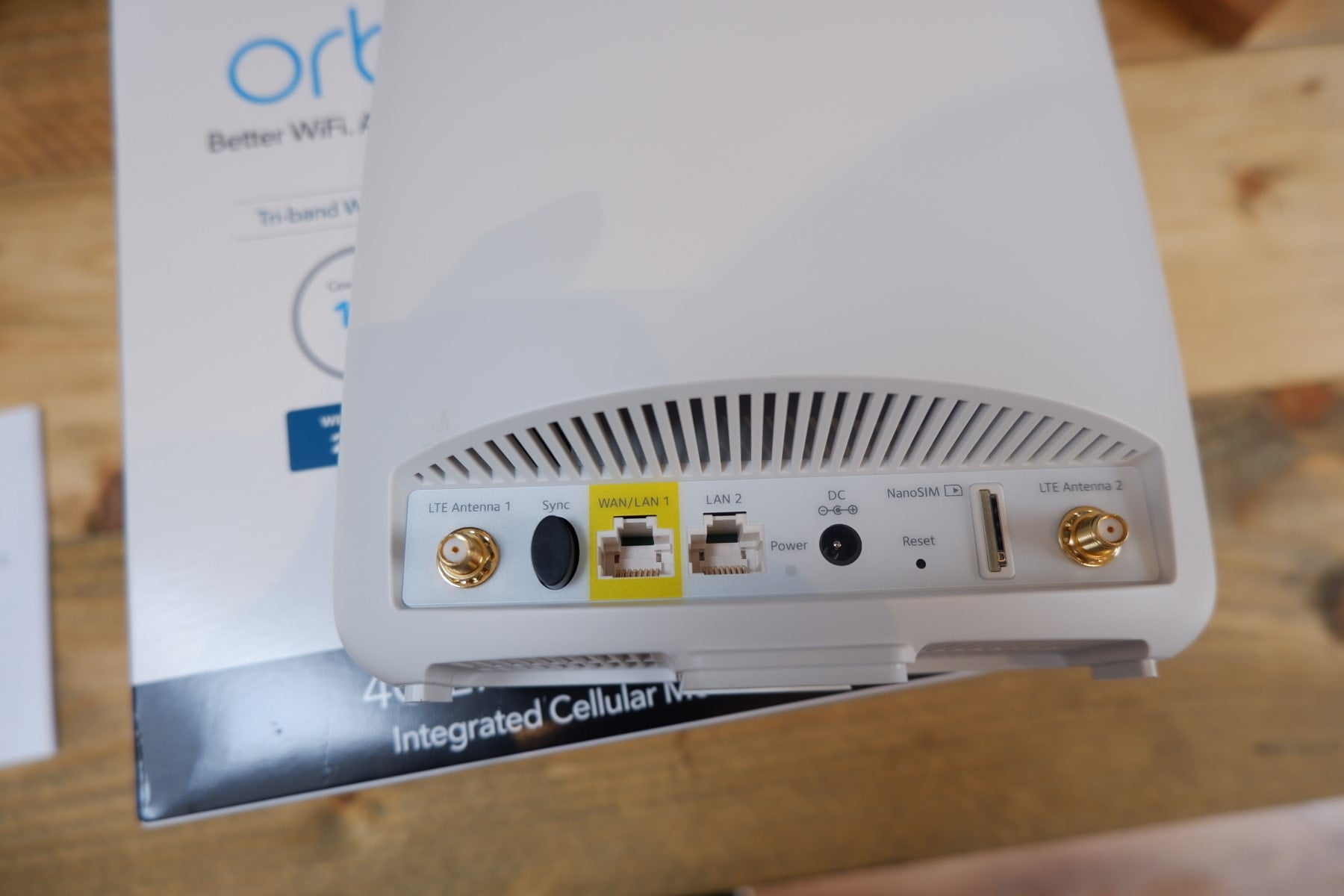 For comparison, my Virgin line is the M500 package so unlikely to be beaten by any 4G contract. However, BT currently quote speeds of their VDSL service as 35Mb – 50Mb with 7Mb – 9Mb upload. So around 5MB/s download and 1MB/s upload.
I was quite impressed with the performance from Smarty, download speeds registered at 70Mbps with uploads of 16 Mbps  
Attaching a single LTE antenna that I use for my Helium Hotspot, I managed to increase the speed to 75 Mbps and 32 Mbps.
The caveat for the 4G connectivity is a massive increase in ping time, which was typically over 50ms in all tests vs 9ms on Virgin. This isn't a huge issue for me, but for things like online gaming, it could be annoying.
Vodafone had some inconsistent results, but in general, it was superb.
Without the LTE antenna, the speeds were typically around 110 Mbps  down and 28 Mbps  up with a ping of 39ms
With the LTE antenna attached I achieved download speeds of 130 Mbps with an upload of 35-52 Mbps, the upload is faster than my Virgin Fibre line.
Ping dropped but was still relatively high at 35ms.
Wan performance & testing 4G failover
The other aspect that has affected many people now working from home is the unreliability of their ISP. Virgin is reasonably good where I live, but last week we had some intermittent connectivity issues, and as I wrote this review, Virgin went down in my town for most of the working day.
So the Orbi 4 ended up being a blessing.
With this. and many other 4G routers, you have the option to user ethernet connectivity with the 4G as a failover for when you get cut off.
In an attempt o find out how seamless this was I did a couple of basic tests.
Downloaded a large file online disconnecting the ethernet midway
Tested SIP/VoIP connectivity when cutting off the ethernet
In both cases, the connection was cut off, which was expected but restarting a download or call worked almost immediately.
Other Router Features
Apart from the 4G modem, this is pretty standard as far as a Netgear Orbi goes, the Orbi app is basic but functional.
Like most Netgear devices now, this has Armor which is $69.99 per year, which offers network-wide security provided by Bitdefender.
Wi-Fi range is good, if not excellent, I could easily connect to the router, which is up a level and two rooms across.
Price – don't forget to factor in the cost of satellites
This is priced at £369.99, so not exactly an affordable device but I think it easily justifies the price.
If you want mesh, you will need to pair it up with an add-on satellite. Due to the extensive Netgear range, you have lots of options, but you won't be able to pair up a Wi-Fi 6 routers, and with this being a tri-band system you will likely want an equivalently specced satellite.
The RBS20 is probably the best option at £129.99, taking the total cost of a 2-piece system to £500.
Alternatively, there is the RBK50 which is the top of the range in the Wi-Fi 5 options, or you could go for the RBK40V, which is basically the RBK20 with a speaker and Alexa built-in.
Alternative options
The only other 4G mesh router on the market is the MikroTik Audience LTE6 Kit AC1200 priced at around £280. I like MikroTik, they offer some fantastic affordable networking hardware, but they are not really consumer-orientated.
Beyond that, you will need to assess your requirements, will you use fibre/VDSL mainly with 4G fallback or are you on 4G only? There are quite a lot of Wi-Fi routers with mobile data on the market, just not many good ones.
If you don't need mesh, then the TP-Link Archer MR600 is probably the best affordable alternative, offering category 6 300 Mbps LTE speeds and AC1200 Wi-Fi for a bargain £127.27. This would also be a good option for anyone looking for 4G as backup connectivity.
The Huawei 5G CPE Pro2 is a 5G router with Wi-Fi 6 and costs around £400. This is also the device that is used on 5G home internet contracts.
Vodafone offers the 5G Gigacube for £50 upfront then £50 PCM with unlimited data which is quite a good deal as you get the router for more or less RRP but spread the cost.
The contract works out at £900 in total. The unlimited SIM-only data deal is £33pcm but half price for 6 months. So for 18-months, it is £495, making the provided router cost £405
The 4G Netgear Nighthawk M1 Mobile Hotspot offers about the same speed as the Orbi 4G for £283 and has the benefit of being a travel router. You would then need to pair it up with a mesh Wi-Fi system, such as the Netgear RBK22 two-pack tri-band got around £219.
So those two add up to the same price as the 4G system, but there will be no 4G/WAN fallback.
Overall
I am lucky that I have access to both VDSL and Virgin where I live, so I don't need to rely on a 4G router. The same can't be said for a lot of the people in the UK, I know plenty of people in the centre of London that can't get a decent speed via a traditional ISP.
While 4G is not without its faults, it offers a genuine alternative to poor ADSL alternatives, and if you are stuck on ADSL, I doubt you will notice the long pings that 4G suffers from.
In my opinion, the Orbi 4G offers the most compelling 4G solution for home users, offering you an all in one mesh Wi-Fi system that is not excessively priced.
The 4G fallback functionality turned out to be a huge benefit to me. While I can be flexible with my work, my partner works in insurance and can't really have the Internet going down sporadically for unknown lengths of time. I expect many people in the current work from home environment are in the same situation. While this feature is not unique to this router, it is the first that combines 4G failover into a consumer-friendly mesh system.
It would have been nice if this had a 5G modem. However that would have inevitably led to a much higher price, and I am sure Netgear will release one of these sooner or later
Overall, I think this is a superb router and something that a lot of people would benefit from with the current conditions.
Posted by Mighty Gadget Blog: UK Technology News and Reviews