With most flagship phones and new laptops using Wi-Fi 6, there is a growing demand for routers and mesh systems that can serve them. As seen on my router reviews, Wi-Fi 6 comes with a high early adopter tax, so then when you double up and get a mesh system, you end with the crazy-expensive Netgear Orbi WiFi6 RBK852.
The two-pack system will set you back £700, and if you need three devices to cover a large property, you will be forking out just shy of £1000!
Features & Specification
Ultimate Performance Whole Home Mesh WiFi System–Covers large homes up to 5,000 sq. ft with fast WiFi. System includes a WiFi router and one satellite.
2.4GHz (1200Mbps) + 5GHz (2400Mbps) for WiFi devices to connect to the Internet
Multi-Gigabit Internet Speeds Ready – 2.5Gbps Ethernet port support multigigabit Internet speeds available from service providers. Or use port aggregation to combine two Gigabit Ethernet (LAN and WAN) ports for multi-Gigabit speeds.
5GHz (2400Mbps) dedicated WiFi link for faster data connections between Orbi Router and Orbi Satellite
4 Gigabit Ethernet LAN ports on each router and satellite is ideal for home offices or home entertainment areas.
Works with Amazon Alexa and the Google Assistant so you can use voice commands to control your home WiFi network.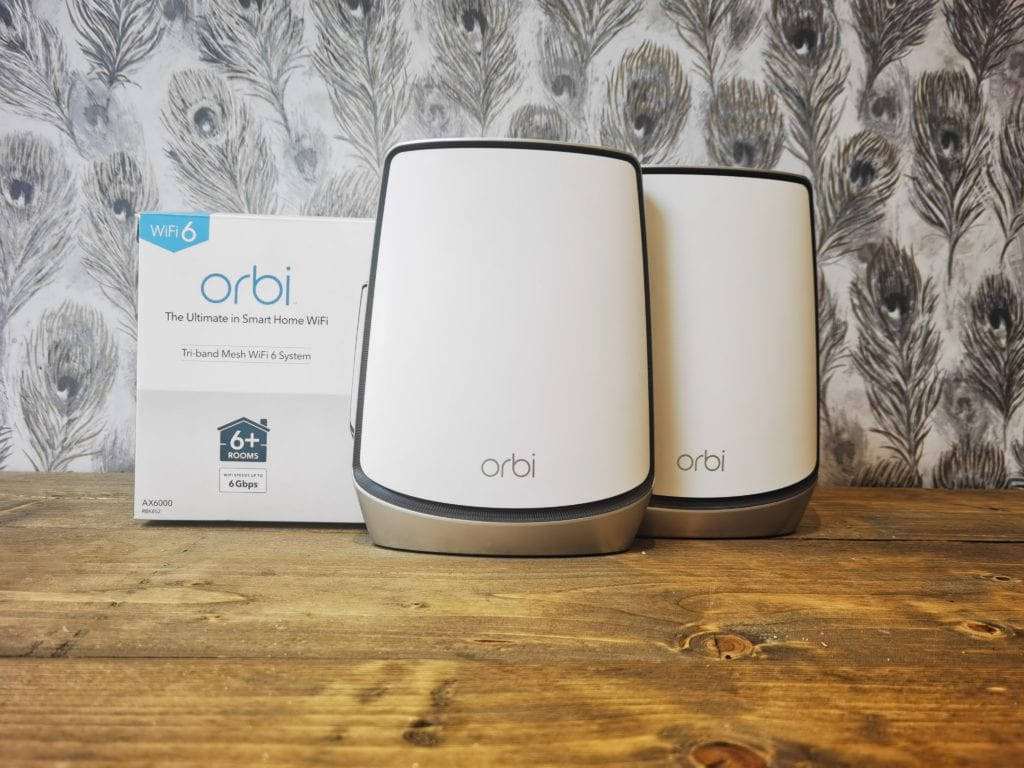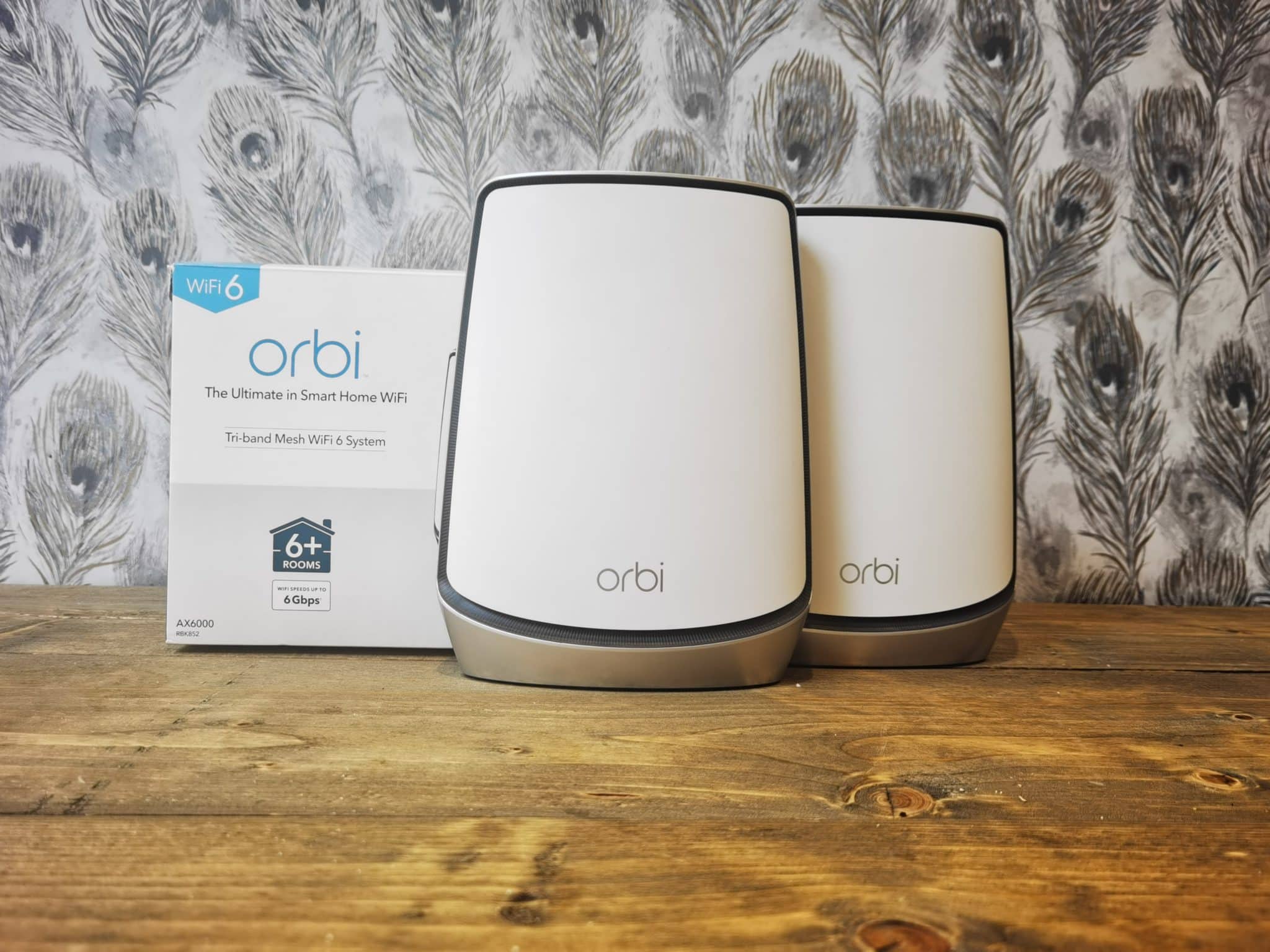 Multi-Gig LAN Ethernet port
At this point, I feel like it must be me that has something wrong because companies still continue the trend of putting the multi-gig port as the WAN port. Have multi-gig internet connections exploded in popularity recently? I know gigabit is growing in popularity, but multi-gig seems far less common from what I am aware.
Netgear are not the only company to do this, the TP-Link Archer AX11000 has a 2.5Gbps WAN port and the ASUS ZenWiFi AX XT8 also does this.
In the case of Netgear, with it being on the WAN port, only one of the devices has multi-gig, so while you can switch to AP mode, only one of the access points will be able to theoretically go over multi-gig.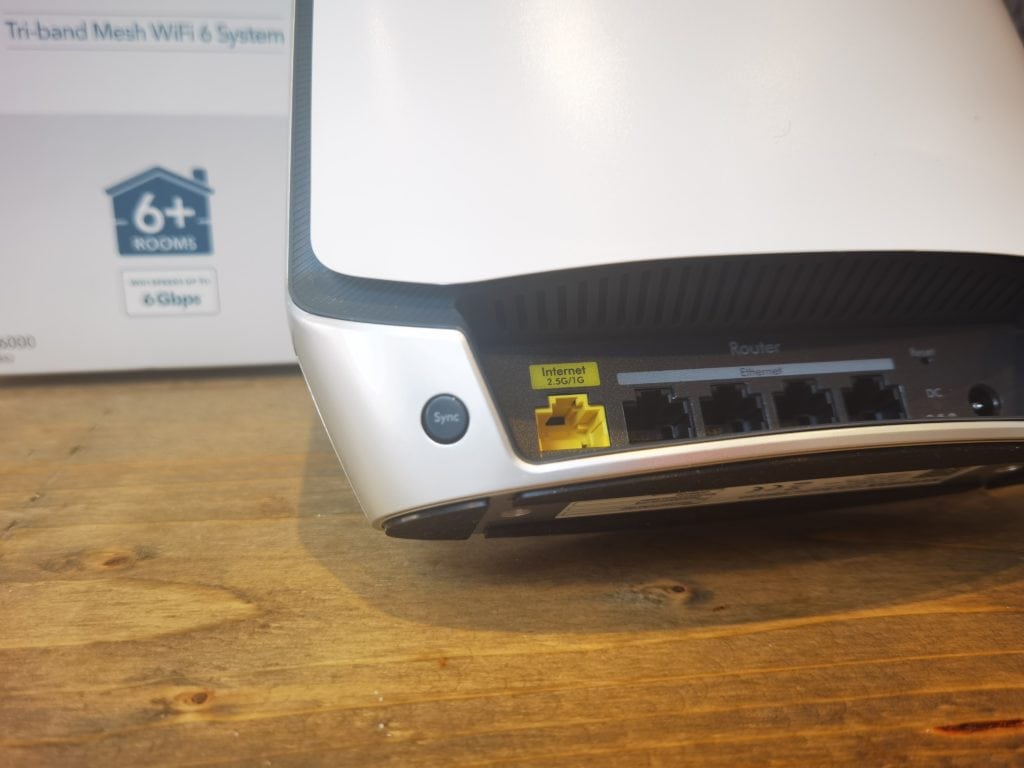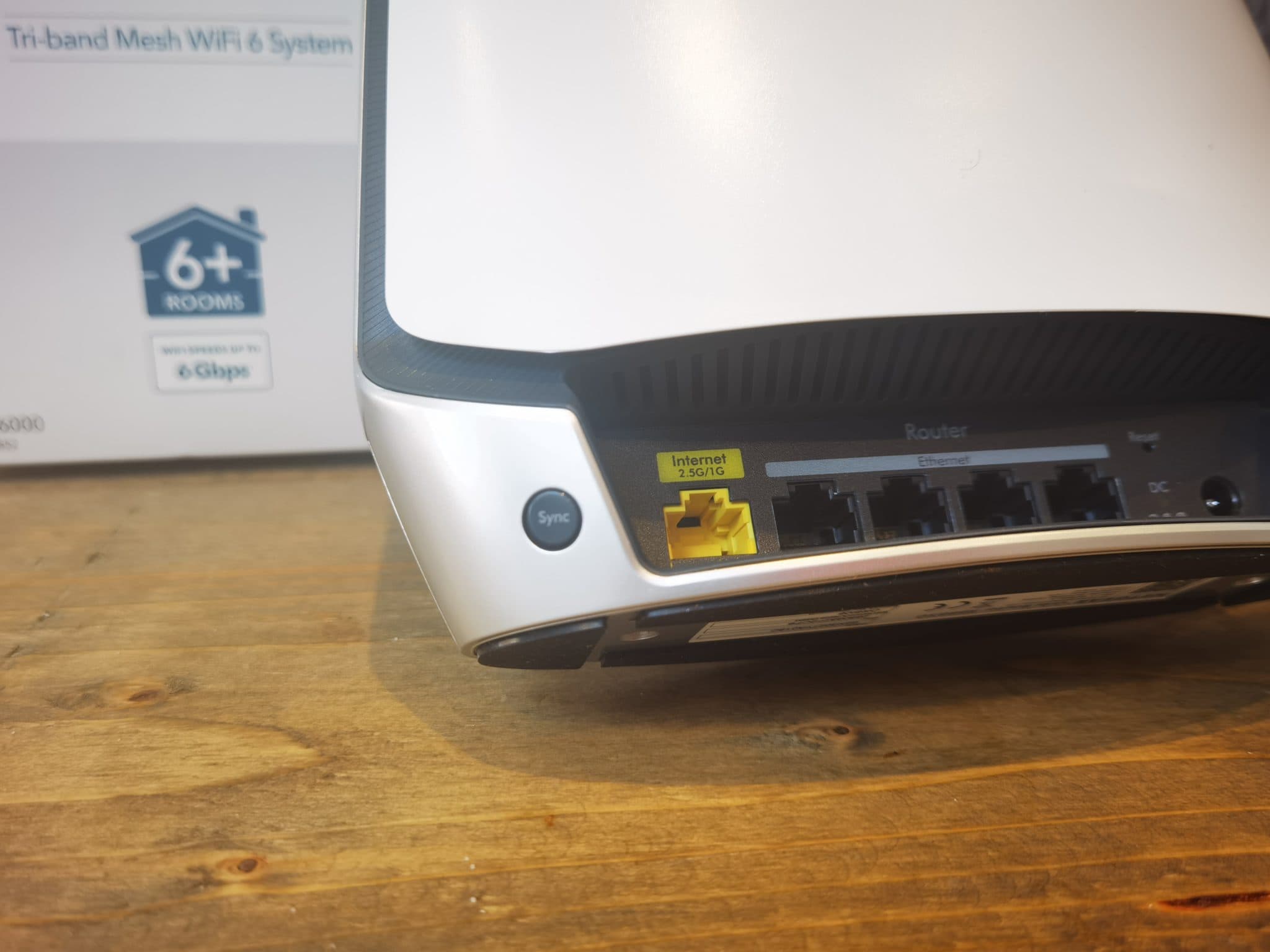 Is multi-gig Wi-Fi possible? And what about 160MHz channel width?
There is no 160MHz channel width with this Orbi, so currently there will be no way to transfer data at over gigabit speeds because there are currently on 2×2 clients available which would offer 1200mbps connection rate at best.
However, you have fewer options with this because one of the 5Ghz channels is reserved for the backhaul. Netgear offers considerably fewer options compared to the AX12 RAX120.
This thread referenced to the RBR50 but the same scenario applies here I think. There seems to be limited (or no) compatibility with the DFS channels so this, therefore, leaves a very limited range of channels available to operate two 5Ghz channels running at 160MHz.
However, this is a 4×4 system, so if there was a client that could connect with 4 streams, you would get 4×600 giving you that 2400mbps.
So while 2400Mbps is theoretically possible (which then translates to around 1.5Gbps true max Wi-Fi speeds), it is highly unlikely you will be able to achieve it here any time soon.
This isn't really Netgears fault, it is just 5Ghz is a bit of a mess with the channels you can and can't use, nor is it there fault if no clients can make use of the hardware. It does, however, mean that marketing materials can be a little confusing with claims of 2400mbps.
Set-up
Set up went relatively smoothly, I have had a few minor niggles setting up Orbi systems before but less so here. For this review, I did everything via the Orbi app, I assume you can still do everything through the web interface too.
With the app you can scan the QR code of the base of the main router, this means you don't need to type in any passwords etc. I did have to manually select the Orbi SSID, but this is likely a combination of me still having my existing Wi-Fi in place and my Huawei phones being aggressive about their data connection management.
App
I guess a polite way to call the app would be basic. The whole Orbi system feels like it is lacking in options compared to some of the fully-fledged routers Netgear does.
There are no NAS features, very limited options to customise your Wi-Fi, and most of the advanced features are hidden way in the web interface rather than the app.
Within the web interface, you do gain access to many of the more advanced features you want from a router, including QoS, Dynamic DNS, fixed IP address reservation, port-forwarding, and more.
For most, this is not too much of an issue, it is pretty much plug and play, if you just want decent quality Wi-Fi you will be happy with this.
Wi-Fi 6 Performance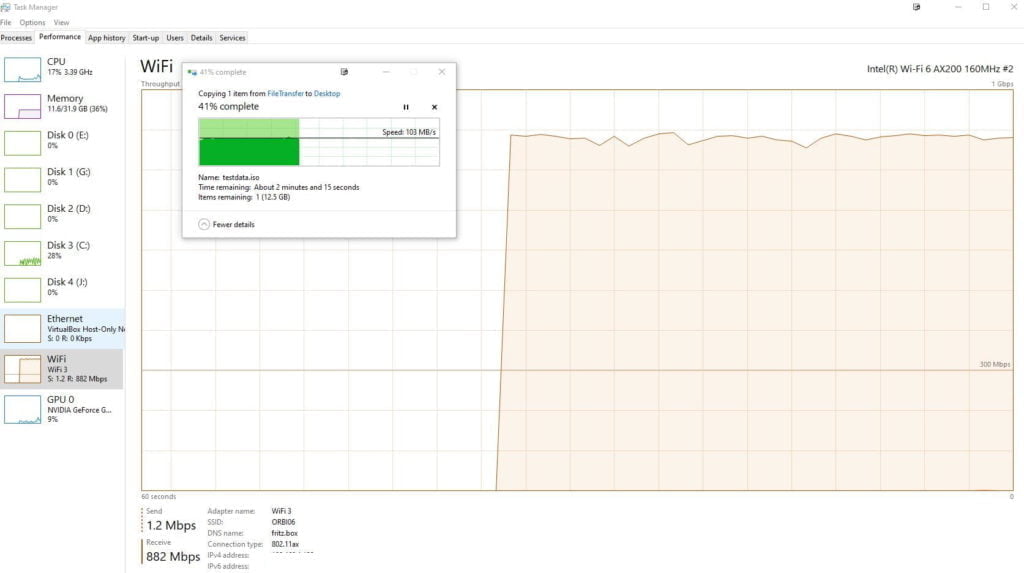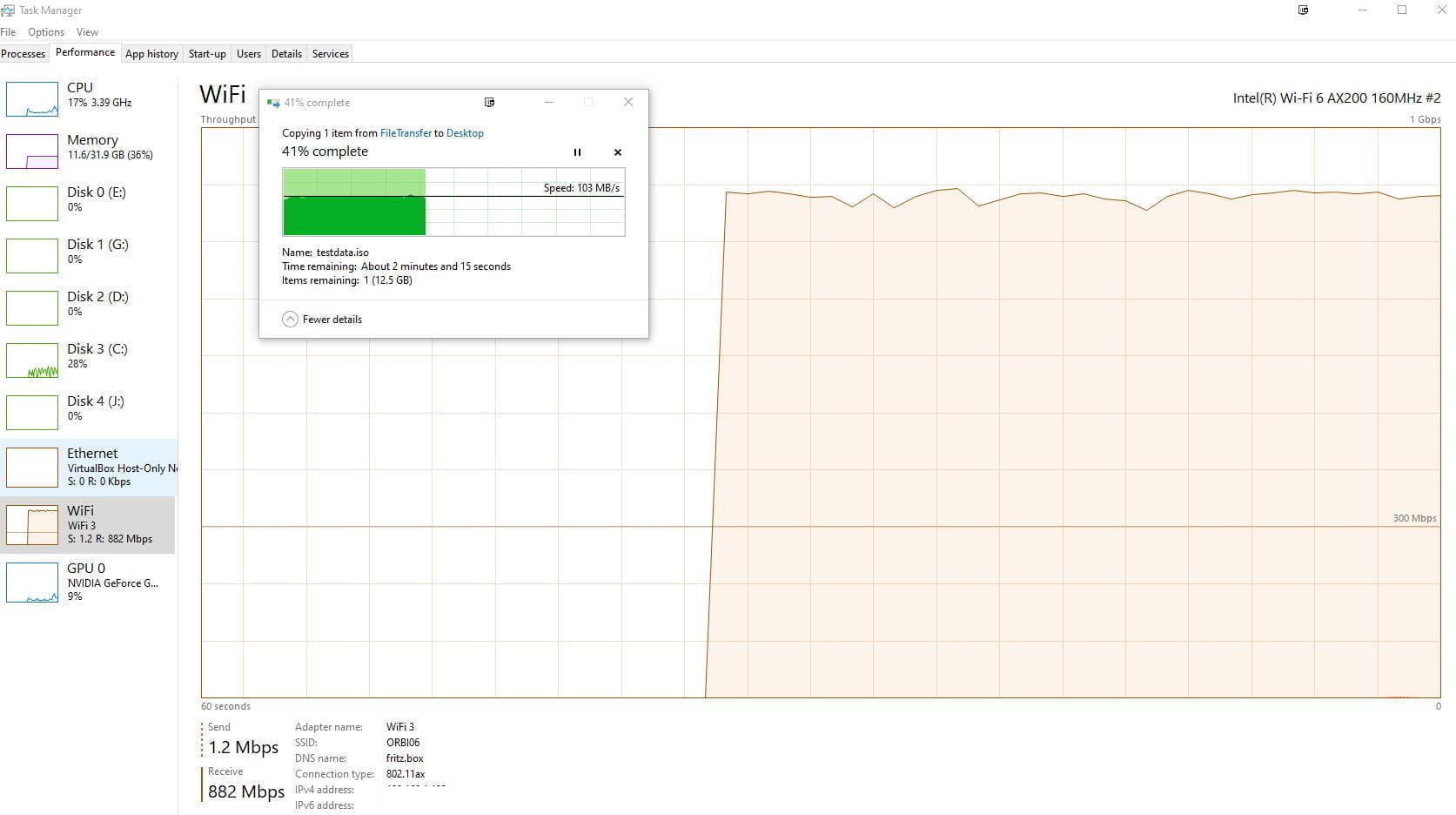 I think I have more Wi-Fi 6 devices than Wi-Fi 5 at the moment, this includes the Huawei P40 Pro, Realme X50 Pro, and the Black Shark 3. Then both my laptops and my desktop all use Wi-FI 6 chips. These are all 2×2 Wi-Fi 6 clients with the computers using the Intel AX200 and one laptop with the Killer AX1650.
With the connection limited to 1.2 Gbps, transfer speeds feel in line with other Wi-Fi 6 devices connecting at this speed. That is just below gigabit with file transfer speeds over just over 100MB/s and Wi-Fi throughput measured as around 850mbps consistently for most large files transfer.
I comparison, connecting to my Wi-Fi 5 access point in the same room approximately the same distance between devices, I connect at 866Mbps with network throughput sitting around 500mbps. So even though the numbers may not sound too impressive initially, you are looking at a 70% improvement in throughput.
Wi-Fi 5 Performance
Switching to my Wi-Fi 5 equipped Huawei P30 Pro I was able to achieve speeds superior to most other Wi-Fi 5 systems, including my Zyxel Nebula access points. With this, speeds jumped up and down a but I was able to get 530 to 630mbps for most of the tests I carried out.
Satellite Performance
The backhaul channel uses a 5Ghz Wi-Fi 6 connection too, so there is also considerably more bandwidth available here, which in turn seems to allow the RBK852 to outclass all other mesh systems I have used.
With the satellite locate two rooms apart I was able to achieve almost identical speeds to the primary round, typically consistently above 800Mbps.
Range is good, better than more affordable mesh systems but a 2-device system isn't quite enough to cover my property. I have a gym in the garage, which is set away from the house. The Netgear does just about stretch this far, which is impressive, but the quality of the signal is not good enough for me to risk losing connection in the middle of a Zwift session.
For this reason, I don't run Wi-Fi 6 in my home for personal use, instead opting for four Wi-Fi 5 access points, which don't offer the same peak speeds but do offer better average speeds across the home.
Ethernet Backhaul
I always have issues getting the Ethernet backhaul to work with Orbi systems, the same is true here. It seems to be an issue with my switches not playing nicely with the system
Netgear Armor by Bitdefender
When the RBK852 launched there was no built in malware protection (or for any other Orbi devices for that matter), this has now changed and Netgear now offer Armor by Bitdefender.
You get a month's free trial then it is $45 per year. Router based anti-virus and security is very appealing, protecting all your devices in one without any performance hit from running software on your phone or PC. While that is more money than I would like to spend on protection, the fact it protects multiple devices in one does justify the cost slightly. Considering the price of this router, I don't think a year's free protection would have been an unreasonable expectation.
Price and Competition
For a time there was notjhing on the market priced anywhere near this or with this specification. While there are a growing number of Wi-Fi 6 routers, mesh systems are less common, things have started to change, but UK availability of the more advanced systems is more or less none existent.
In the US there is the AmpliFi Alien, and the Linksys MX10 which are both similarly priced to the Netgear. They are all tri-ban 4×4 MU-MIMO devices with claims of up to 2400mbps speeds on Wi-Fi 6 (802.11ax). However, neither Amplifi or Lynksys offer a multi-gig port.
The ASUS ZenWiFi AX XT8 seems to be a dark horse in this race, in the past, Asus mesh Wi-Fi systems don't appear to have received good reviews, but the XT8 has favourable reviews, a competitive spec and is almost £300 cheaper.
The Netgear Nighthawk looks impressive initially costing a 66% less than the Orbi, however, this is a dual-band system with max speeds of 1200 + 600Mbps, so the backhaul channel will be shared with your main 5Ghz channel.
Overall
Most of my reviews have a strong emphasis on price vs performance, I am not opposed to a premium-priced product, but it has to offer enough to justify that cost.
A flagship device demonstrating a new technology is, therefore, going to throw things off for me. On the one hand, it is hard to recommend spending £700 on a mesh Wi-Fi system, and I would imagine this has very limited appeal to anyone with an ounce of common sense.
The previous generation flagship RBK50 is just £299.99 so you are paying a £400 premium here for Wi-Fi 6. A 3-pack of this system is £399.98, and for your average consumer, I would argue this would provide better performance overall giving you're the best speeds possible everywhere in your house vs the 2-pack RBK852.
On the other hand, there is hardly any competition with this specification, 2 of the 3 competing devices are priced the same and both of those lack multi-gig ethernet. A single Wi-Fi 6 router or access point easily costs over £300, so the price starts to look more justifiable.
Wi-Fi 6 isn't getting replaced any time soon (apart from perhaps Wi-Fi 6E) so spending £700 now will likely give you a top of the range mesh Wi-Fi system for many years to come, and this appears to be the most logical justification for spending so much money.
If money is no object, at the end of the day, this is the highest specced mesh system on the market, offering superb performance all round and throughput speeds 70% higher than Wi-Fi 5 counterparts.
For anyone with an unusually high demand for Wi-Fi this will obviously be more appealing than the Wi-Fi 5 alternatives. If, for example, you have to transfer large files regularly over Wi-FI you will save a lot of time, so anyone editing video will likely appreciate this.
I'd say this would work well in a small office environment, where the user density is higher and Wi-Fi requirements more demanding.
Overall, there is no denying this is a superb system and very likely the fastest Wi-Fi 6 mesh system on the market right now and for the foreseeable future. So if you want the best of the best and don't mind paying for it, then this is it.