With many of us working from home the past few months, many people have been in need of upgrading their home Wi-Fi network and/or home internet.
I have covered Wi-Fi routers and mesh systems extensively the past few months, but they are only as good as the internet connection you are able to achieve.
I am fortunate to have Virgin and the option for VDSL, but many people are still stuck on ADSL, or the in some cases the VDSL is not fit for purpose.
In these scenarios, the best solution is normally to use mobile data, either 4G or even 5G if you are lucky enough to be able to get it.
I have already done a comparison post of the best-reviewed 4G/5G routers for home use on the market, and recently I have been trying out the Nighthawk M1 Mobile Router which was the worlds first Gigabit LTE router to launch. Since then, Netgear has launched the 2Gbps capable 4G M2, and this year they announced the 5G capable M5 which can hit theoretical speeds of close to 4Gbps and even has Wi-Fi 6. However, Ethernet is capped at 1Gbps, and the Wi-Fi 6 will hit a theoretical 1.2Gbps.
Specification & Features
Superfast Mobile Broadband Internet to deliver incredible download speeds up to 1 Gbps and 150 Mbps upload
Supports 4G LTE Advanced Pro Category 16 with 4X4 MIMO and 4-band Carrier Aggregation
Media Streaming from microSD, USB Type-C or external hard drive to all connected devices
Supports the Arlo Smart Home Security System as the base station for Arlo cameras
Travel Router with WiFi/Ethernet offloading capabilities
Always-on connection you can count on and share with up to 32 WiFi devices on-the-go
Parental controls to protect or guard access to online content
Increase network performance and reduce interference with 802.11ac and Dual-Band 2.4GHz/5GHz dual concurrent WiFi
Simple, intuitive NETGEAR app-driven UX to monitor data usage, manage device and network settings
Powerful, long-lasting battery for all day continuous use
Improved JumpBoost feature to charge smartphones and small portable USB devices
Two TS-9 connectors available for optional 4G/3G antennas
Simple setup with no software to install – just power on and connect
Setup
Set up the router was quite straight forward, it would have been easier if I had read the instructions first though. Ideally, you will download the companion app to set things up, I did it via the browser.
When you power on the router, you can switch between screens via the power button and doing this allows you to find the Wi-Fi login details. When you log in, in my case, I was redirected to the setup page. From here it isn't much different than setting up a normal router, with the one exception of needing the APN settings.
APN Settings
The router comes with a few pre-defined APN settings to connect to the 4G network. For my testing, I used Voxi, which uses Vodafone. However, the default settings did not work.
So there is a good chance you will need to find the APN settings for your provider then change them within the device.
It is quite easy, in my case, it was changing the APN URL to pp.vodafone.co.uk then the username and password to wap
Performance via Wi-Fi on mobile & laptop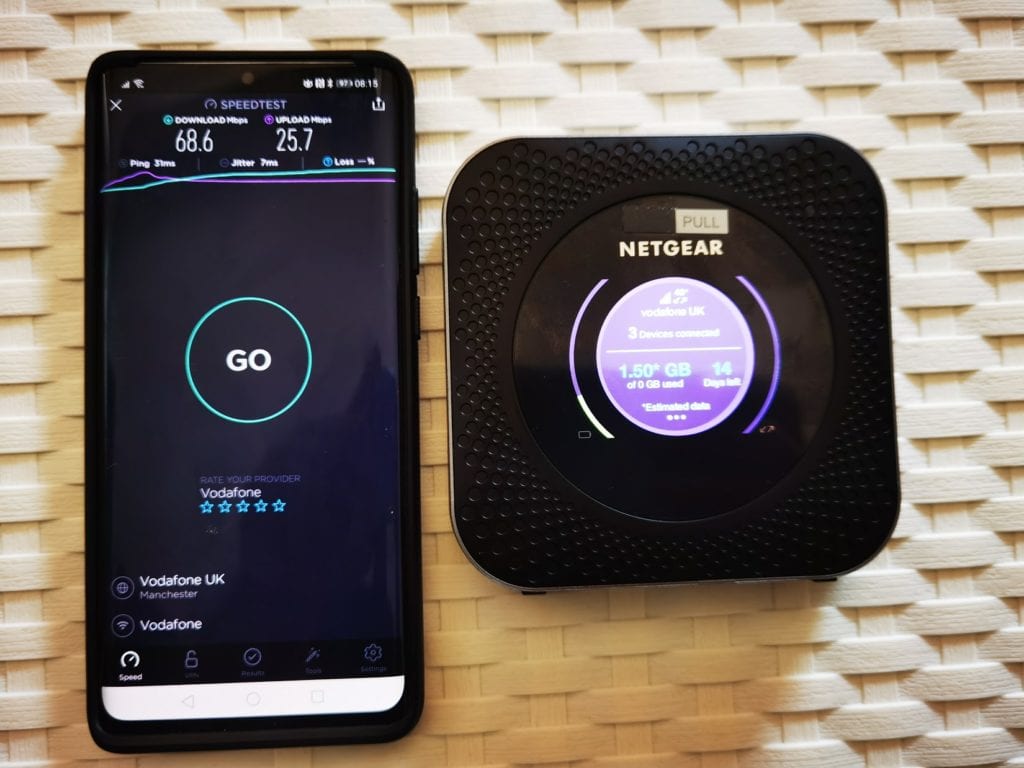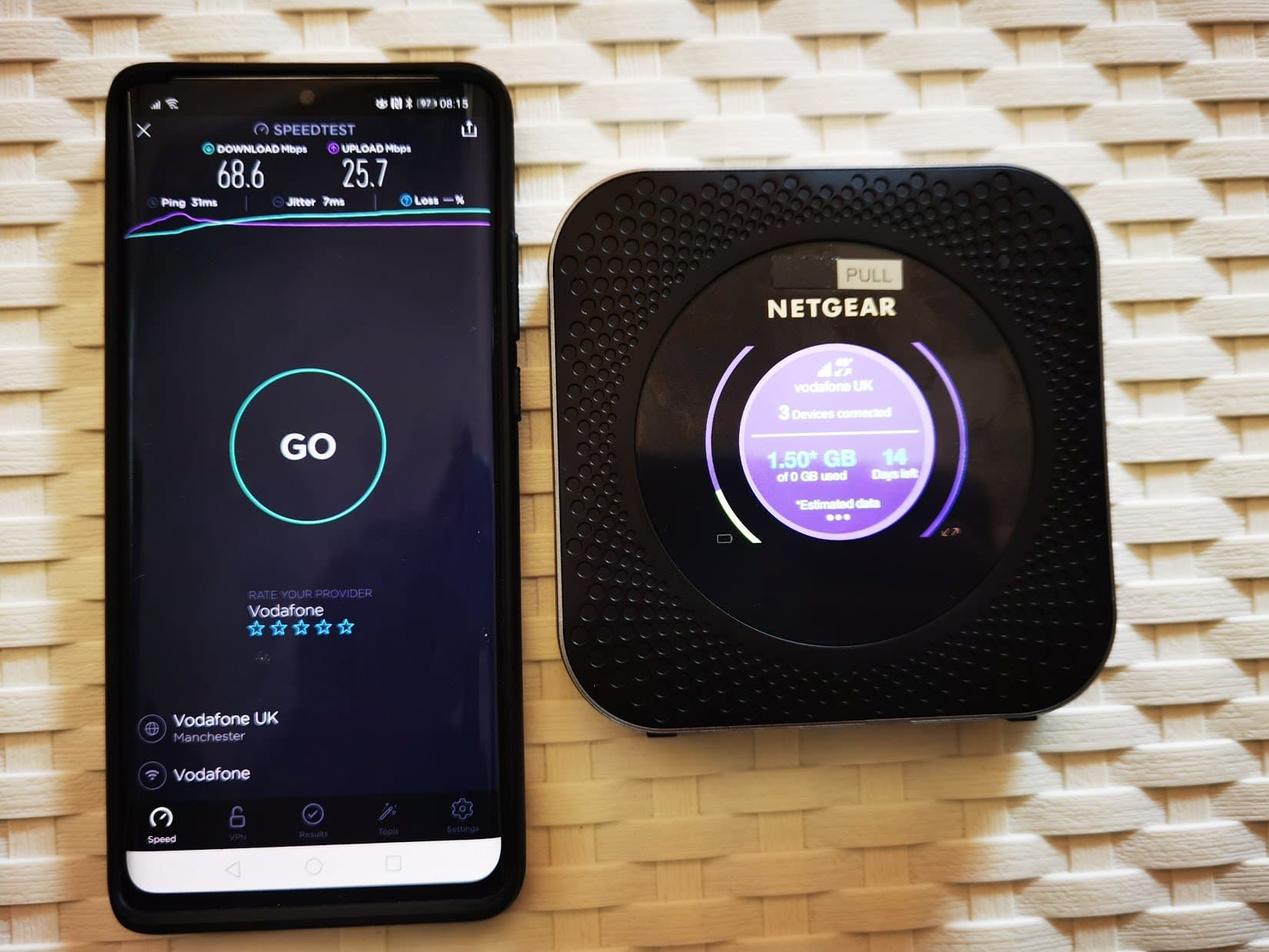 The performance of the router is largely dependant on the 4G signal you get, in Blackpool the Vodafone signal is quite good, but a long way of the theoretical maximum speeds.
For me, that means I can consistently hit 65-90Mbps download and 25-30Mbps upload. This is considerably faster than the BT quote of 32Mb – 50Mb down and 7Mb – 9Mb up for VDSL in my area.
The caveat to this fast speed is the high ping times. I typically see over 30ms on mobile data whereas on my Virgin fibre line it is just 8ms. This will have an effect on perceived speeds and will have a negative effect on online gaming.
However, for your average person working from home, browsing the web, and streaming TV, 65-90Mbps with a 30+ms ping is more than adequate enough for the vast majority of people.
Performance via Ethernet to a router
If you plan to use this at home as the primary source of internet, you may find this router (or any other travel router) is not quite cut out for a large number of devices.
This can handle 32 Wi-Fi devices, on my network currently, there are 53 live IP addresses. A lot of these are not wireless, so the router by itself would not be suitable for the job.
However, unlike other mobile routers, this has an ethernet port, you could optionally plug it into a switch to expand the wired connections, or into the WAN port of a Wi-Fi router or mesh system.
It might seem like a convoluted process, having another Wi-Fi router, but this would be the superior solution for a home network.
Plugging this into the WAN port of the Netgear Nighthawk RAX120 everything works perfectly, and I am able to run my entire network on a 4G connection. The speeds remain almost identical to the mobile testing too, with 87.89Mbps down and 26Mbps up achieved at the time of writing.
USB Media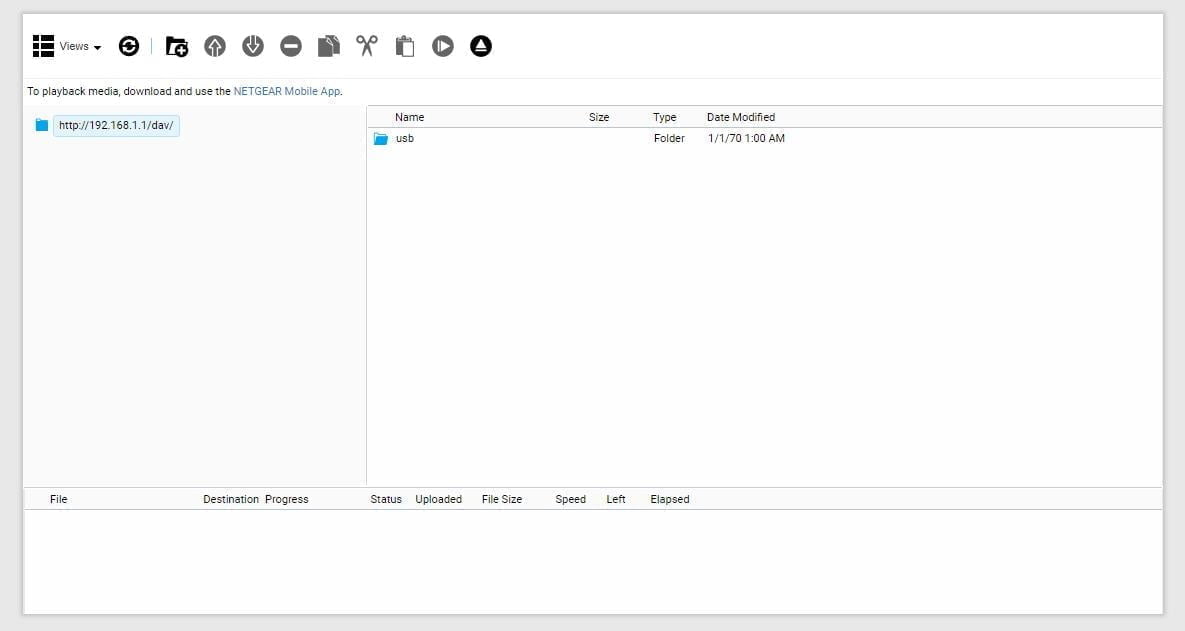 An additional feature of this router is the ability to host files on either USB or microSD. It works similarly to USB NAS function of most routers, including options from Netgear.
I tend to find these a little clunky and much prefer a dedicated device that will offer much more performance when at home. However, in this scenario, I think it is genuinely useful, allowing you to create network storage when working away allowing multiple people to access one device or giving your mobile/tablet access to media stored on a USB.
The USB will power a portable 2.5-inch hard drive, but I did have some issues getting a 4TB Toshiba drive to work. According to support articles, some drives need additional drivers so may not work.
I did, however, manage to get it working using a 32GB Sandisk stick and a 2TB 2.5-inch drive.
Arlo Home Surveillance Carmeras
I have not tested this, but one interesting feature is integration with Arlo home surveillance devices. This would then allow you to monitor a remote location without easy access to the internet. You would still need electricity, as the home station for the Arlo cameras needs to be plugged in, but this would work well for industrial units or things like campsites/caravan parks.
Admittedly, I am not sure how much better native compatibility with Arlo is vs connecting the cameras to the Wi-Fi of any 4G mobile router, but it is worth mentioning.
Price and Competition
Like for like, there isn't really much competition, I can't find any mobile router with close to these speeds and an ethernet port.
However, if you only need a portable device for Wi-Fi with no need for Ethernet, there are a lot of more affordable options. Similarly, just want 4G for your home connection, you could get a more affordable traditional router that connects via 4G. It looks like most of the home 4G routers do not achieve anywhere near the 1Gbps speeds the Netgear M1 does though (Except 5G options like the Vodafone GigaCube).
4G Data deals
Mobile data has become so cheap that it is now feasible to have a 4G router as a permanent solution for your home broadband. Many providers allow tethering with their normal contracts, so if you find a good deal with unlimited data, you can often use that.
All of the below are actually cheaper than I pay Virgin for just data
Vodafone
12 months unlimited data for £28PCM but 6 months half price so £21pcm on average
30-day contract unlimited data £33 (the cheaper deal caps you at 10Mbps)
Voxi 30 day contract for normal phones (but includes unlimited tethering & data) £35
EE
EE doesn't have any good unlimited deals on the best they do is 50GB for £45 on a 1-month contract or £39 for 24 months.
Three
On PAYG Three have a 24GB data option that lasts 24 months for £60, which is useful if you need mobile data occasionally.
For unlimited data on a 1-month contract, they charge just £24, or if you are willing to take a 24-month contract, it is just £22. However, their definition of unlimited appears to be 1TB per month.
Smarty uses the Three network and their unlimited SIM plan with a 1-month contract is just £20pcm and they will even knock off 10% for the first 12 months you use it. They allow unlimited tethering, so this should work without issue on this router.
Overall
The Nighthawk M1 Mobile Router is a superb mobile hotspot router, it offers pretty much everything you would want from a mobile router and more. It will work as a work-at-home 4G router if ADSL/VDSL is not an option, and it will then happily transition to a mobile router for when you work away or go on holiday.
All this comes at a cost though, at just shy of £300 it is one of the most expensive options out there. However, when you factor in the competition,it is not that unreasonable. The top of the range TP-Link M7650 caps out at 600Mbps lacks Ethernet and will set you back £165.
I can't find any mobile routers with an ethernet port either, so this is the only device that works equally as well when you are at home as it does when you travel.