Last year the Asus ROG Phone differentiated itself from the other gaming phones on the market with its binned Snapdragon 845 chipset with higher 2.96GHz clocks than the standard 2.8GHz.
This year things are different, Qualcomm has announced a specific Snapdragon 855+ chipset and multiple manufactures are on board to use it.
The Plus model is based on the same hardware as the Snapdragon 855 chipset. This means one "prime" core running at 2.96GHz (up from 2.84GHz), three other big cores (the A76-based Kryo 485 Gold) at 2.42GHz and then the four small cores.
The boost to the single high-performance core represents a 4.2% increase while the GPU has been improved by a more impressive 15%.
It is no surprise that the Asus ROG Phone 2 will be the first phone to feature the chipset, but now the Nubia Red Magic 3 has been confirmed there will be a special edition that uses the new high-performance SoC.
Furthermore, RealMe have indicated that they will also be teaming up with Qualcomm to launch a phone with the Snapdragon 855+, but at the moment there is no information on that phone.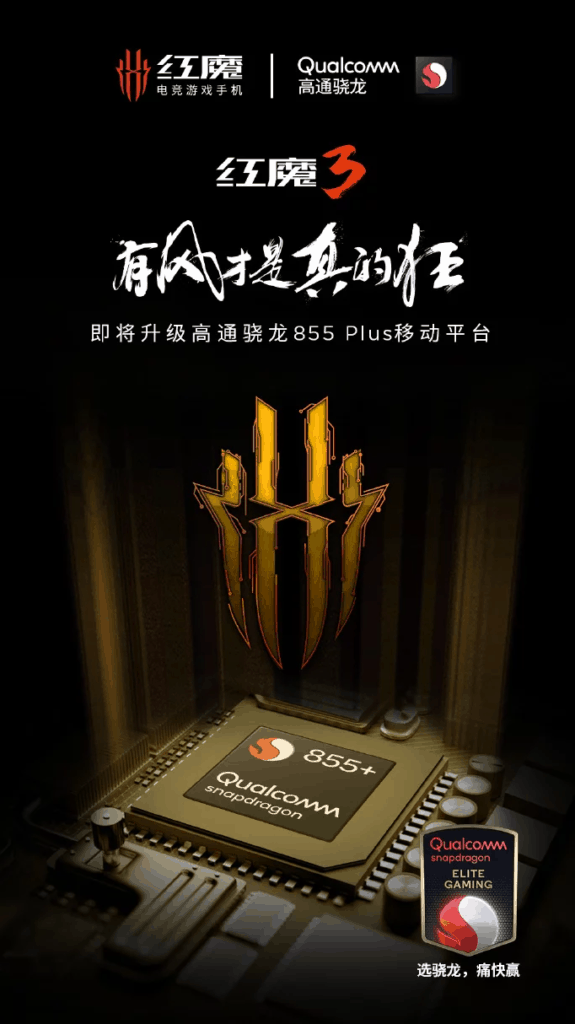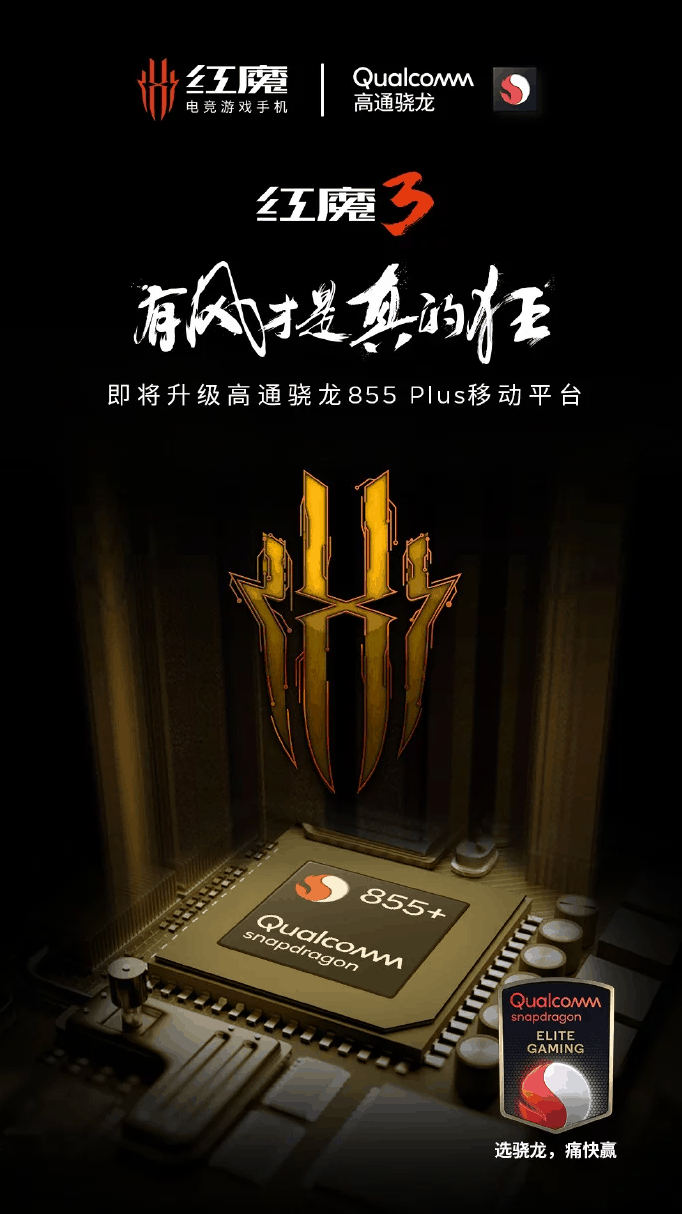 New leaks show some of the performance that has been achieved with the ROG Phone 2. Benchmarked as the "asus ASUS_I001DC", the ROG Phone 2 runs Android 9 Pie. It also has 12GB of RAM, though we expect there will be another RAM variant.
For the single-core test, the device scored 3616 points and scored 11,103 points in the multi-core test. This is just a bit higher than the average score of Snapdragon 855-powered phones.
This isn't a large improvement, but Geekbench is CPU focussed, and the single-core has only been boosted by about 4%, and the Geekbench indicates around a 3% improvement. As expected there is less of a difference between the typical SD855 and SD855+ multi-core score.
The main differences will come from the GPU tests, and the moment there are no leaked benchmarks for this, so we will just have to wait and see.
Snapdragon 855
Snapdragon 855+
Exynos 9810
HiSilicon Kirin 980
Exynos 9820
Process
7nm (N7)
7nm (N7)
2nd Gen 10nm FinFET
7nm
8 nm LPP (Low Power Plus) FinFET
CPU Cores
Octa-Core, 64-bit
Octa-Core, 64-bit
Octa-Core, 64-bit
Octa-Core, 64-bit
Octa-Core, 64-bit
CPU
1x Kryo 485 Gold (A76)
@ 2.84GHz 1x512KB

3x Kryo 485 Gold (A76)
@ 2.42GHz 3x256KB

4x Kryo 485 Silver (A55)
@ 1.80GHz 4x128KB

1x Kryo 485 Gold (A76 derivative)
@ 2.96GHz 1x512KB pL2

3x Kryo 485 Gold (A76 derivative)
@ 2.42GHz 3x256KB pL2

4x Kryo 485 Silver (A55 derivative)
@ 1.80GHz 4x128KB pL2

2MB sL3

4 x 2.9GHz Exynos M3 + 4 x 1.9GHz Cortex-A55
2x Cortex-A76 @ 2.6GHz
2x Cortex-A76 @ 1.92GHz
4x Cortex-A55 @ 1.8GHz
(4MB shared L3 cache)
2x Custom CPU
2x Cortex-A75
4x Cortex-A55
GPU
Adreno 640 @ 585MHz
Adreno 640 @ ~672MHz
ARM Mali-G72 MP18
Mali-G76 MP10
ARM Mali G76 MP12
NPU
Yes (Hexagon 690 DSP)
Yes (Hexagon 690 DSP)
No
Dual NPU
Yes
RAM
4x 16-bit CH @ 2133 MHz
LPDDR4x
34.1GB/s
4x 16-bit CH @ 2133MHz
LPDDR4x
34.1GB/s

3MB system level cache

LPDDR4X
LPDDR4X @ 2133MHz
LPDDR4x
ISP
Dual 14-bit Spectra 380 ISP
1x 48MP or 2x 22 MP
Dual 14-bit Spectra 380 ISP
1x 48MP or 2x 22MP
Dual ISP
Dual ISP
Dual ISP
Video Playback & Codecs
2160p60 10-bit H.265
HDR10, HDR10+, HLG
720p480
2160p60 10-bit H.265
HDR10, HDR10+, HLG
720p480
MFC, Up to 4K @ 120FPS; 10-bit HEVC (H.265), H.264, VP9
4K @ 30fps – capture
4K @ 60fps playback
2160p60 HEVC & H.264 Decode
2160p30 Encode
HDR10
Modem
Snapdragon X24 LTE
(Category 20)
DL = 2000Mbps
7x20MHz CA, 256-QAM, 4×4
UL = 316Mbps
3x20MHz CA, 256-QAM
Support for WiFi 6 standard (802.11ax) as well as the new 60GHz "Wi-Gig" 802.11ay, enabled by an external WiFi combo chipset.
LTE Cat. 18 6CA 1.2Gbps Download; LTE Cat. 18 2CA 200 Mbps Upload
LTE Cat 21
1.4Gbps down / 200Mbps up
LTE-A Cat.20 8CA (2Gbps download)
Cat.20 3CA (316Mbps upload)
Wi-Fi
Support for WiFi 6 standard (802.11ax) as well as the new 60GHz "Wi-Gig" 802.11ay, enabled by an external WiFi combo chipset.
Wi-Fi ad, Multi-gigabit Wi-Fi ac/b/g/n with MU-MIMO
Dual-Band Wi-Fi ac/b/g/n with MU-MIMO
Hi1103 WiFi chip supports 1732Mbps with Wi-Fi and, Multi-gigabit Wi-Fi ac/b/g/n with MU-MIMO
Wi-Fi 802.11 a/b/g/n/ac
Charging
Quick Charge 4+ (USB PD Compatible)
Quick Charge 4+ (USB PD Compatible)
Samsung Adaptive Fast Charge, Fast Wireless Charging (Qi & PMA)
SuperCharge 4.5V / 5A low-voltage fast charging
Samsung Adaptive Fast Charge, Fast Wireless Charging (Qi & PMA)
Post from: Mighty Gadget – Gadget and Technology Blog
Nubia Red Magic 3 joins Asus ROG Phone 2 with Snapdragon 855 Plus chipset