A private listing in the 3DMark database has been revealed to show a card from the Ampere RTX 30 series.
It is not confirmed which card it is to be exact, it could be the RTX 3080, 3080 Ti or the rumoured RTX 3090. The logical assumption would be that this is the RTX 3080 Ti (or 3090 if it is renamed), but some optimistic people think it could be the RTX 3080.
RTX 3080 Ti Specification
Three cards have been tested so far:
GA102 with 24GB of VRAM
GA102 with 12GB of VRAM
GA102 with 10GB of VRAM
Within the benchmark results the specification revealed so unexpected clock numbers, being lower than expected:
GPU vendor : NVidia Corporation
GPU core clock : 1935MHz (Time Spy only reports boost clocks)
Memory clock : 6000MHz
It is likely (especially with the memory clock) that 3D Mark is just not detecting the spec properly due to this being a pre-release card with early drivers.
3DMark Time Spy Benchmark Results RTX 3080 Ti vs RTX 2080 Ti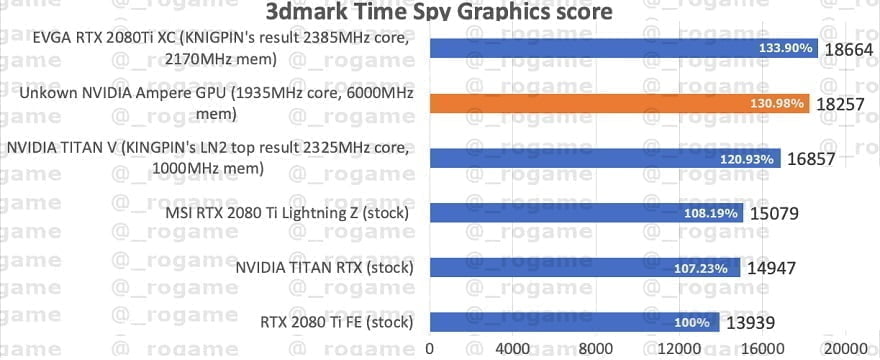 What we think is the RTX 3080 Ti manages to achieve a score of 18257
For comparison, _rogame listed results for the current generation with three cards running at their stock frequencies then two overclocked cards:
MSI RTX 2080 Ti Lightning Z – 15079
Nvidia Titan RTX – 14947
RTX 2080 Ti Founders Edition – 13939
Nvidia Titan V result under LN2 – 16857
KINGPIN's overclocked EVGA RTX 2080 Ti XC – 186664
This result means it comfortably beats all the cards with the exception of KINGPIN's overclocked EVGA RTX 2080 Ti XC where it falls 2.18% behind. That limited release card sold for $1899.99.
When compared to the RTX 2080 Ti founders edition which is likely to be the best comparison you are looking at a 30.97% uplift in performance.
The MSI RTX 2080 Ti Lightning Z, which sold for £1500 on Overclockers was outclassed by 21% with this new card.
Specification Comparison
Currently the rumoured specifications have the cards as follows:
| | GPU | CUDA Cores | Memory | Memory Bus |
| --- | --- | --- | --- | --- |
| RTX TITAN Ampere | GA102-400 | 5376 | 24GB GD6(X) | 384-bit |
| RTX 3090 / 3080 Ti | GA102-300 | 5248 | 12GB GD6(X) | 384-bit |
| RTX 3080 | GA102-200 | 4352 | 10GB GD6(X) | 320-bit |
| TITAN RTX | TU102-400 | 4608 | 24GB GD6 | 384-bit |
| RTX 2080 Ti | TU102-300 | 4352 | 11GB GD6 | 352-bit |
| RTX 2080 | TU104-400 | 2944 | 8GB GD6 | 256-bit |
Pricing
One thing we don't know is price. Nvidia have raised the prices of cards considerably in recent years, the RTX technology brought with is a sharp price rise. Currently the cheapest RTX 2080 TI cards start at around £1080 quickly jumping up to £1200 for many AIB options.
Recent leaks indicated that the new cooler design for the RTX 30-series could cost up to $150 just for the cooler. So it seems likely that prices will increase yet again.
So you may be able to get a 30% uplift in performance but the performance vs cost is unlikely to improve the same.