OneOdio has been popular on Amazon for a few years now, with a wide range of headphones, all of which are incredibly affordable.
They are generally all superbly reviewed on Amazon, but you never know how accurate that actually is. OneOdio sent me two pairs of headphones to try for myself, the A30 ANC and the A70 Fusion. I have only just got the A70, so that review will be in a few days.
My initial impression is that both are excellent for the money, with the A30 ANC being the stand out pair.
Specification
Bluetooth Version: V5.0
Battery Capacity: 3.7V/500mAH
Bluetooth Chipset: QCC3003
Noise Reduction Depth: 26±3dB
Charging Time: About 2.5 hours
Battery:  

15 hours (ANC+BT)
 25 hours (BT Only)
45 hours (ANC Only)

Bluetooth Profile: HFP/HSP/A2DP/AVRCP
Bluetooth Range: 10m/33ft
Sensitivity: 100±3dB
Impedance: 32Ω
Driver Diameter: 40mm
Frequency Response: 20Hz-20kHz
Weight: 268 grams
USB-C charging
Included:

USB-C cable
Dual 3.5mm airplane jack
AUX 3.5mm cable
Fit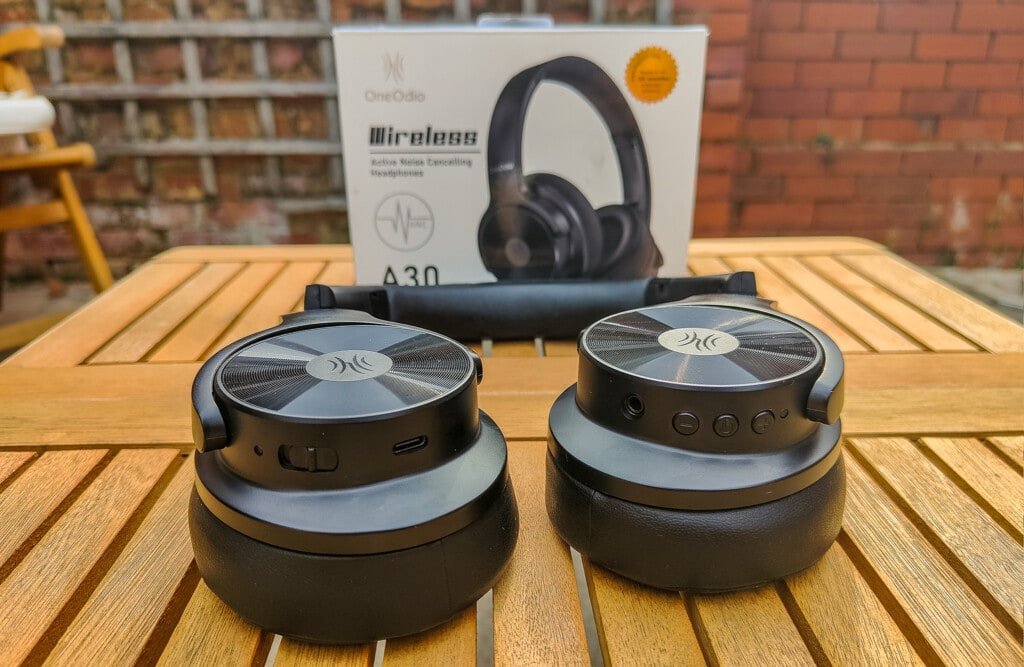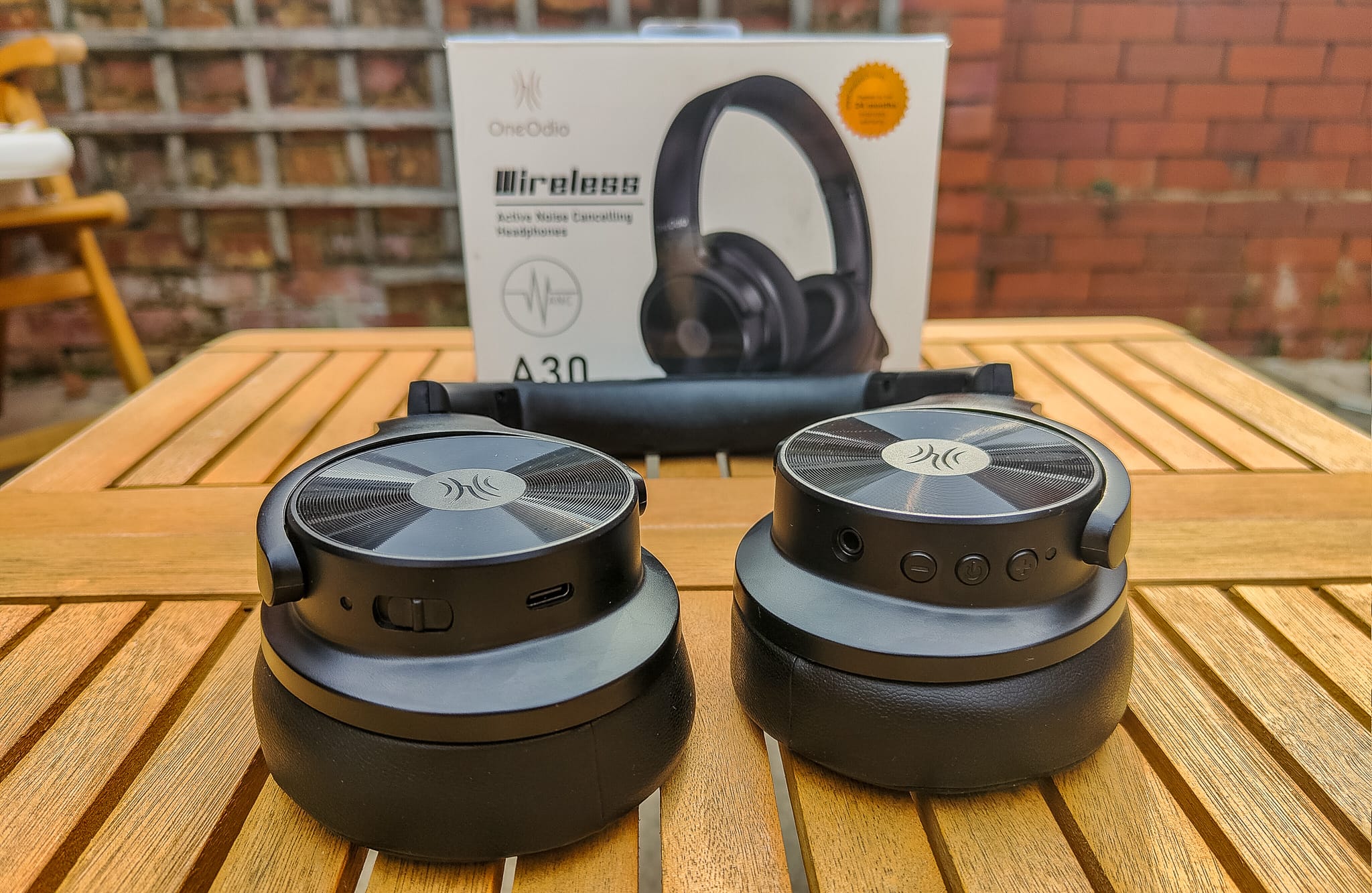 These are comfortable to wear with the foam pads having a large enough circumference that they go over my large ears, not on them. The A70, which I am also reviewing, appear to have the same earcup dimensions, but they feel like they sit on my ears slightly, which will likely create a little bit of earache after long periods of time.
Like most earphones, these have a uPVC coating and wearing them for long periods of time can lead to hot ears.
I have a reasonably large head but don't need to extend the headband much, so these should fit on the largest of heads. The clamping force is moderate, not loose and not squashing my head.
Sound Quality
These appear to offer SBC and AAC, so no higher quality codecs, which is to be expected at this price.
The sound quality is surprisingly good. Like most consumer headphones, there is an emphasis on the low end, and I prefer the sound profile of these vs the A70. With the A70, they are extremely bass-forward, and I feel like it is a little too much, whereas the A30 offers a cleaner bass.
The other frequencies are well represented, there is no noticeable harshness with the higher end, and the enhanced low ends don't muddy up the different frequencies too much.
Mids offer excellent clarity, managing to shine through the lows and providing a warm texture to the sound.
Treble is slightly rolled off at the upper end, which works well for me as I find higher frequencies can be quite harsh on my ears.
Activating/deactivating ANC will affect the sound profile slightly, with the soundstage changing a little and the bass being moderately adjusted.
Active Noise Cancelling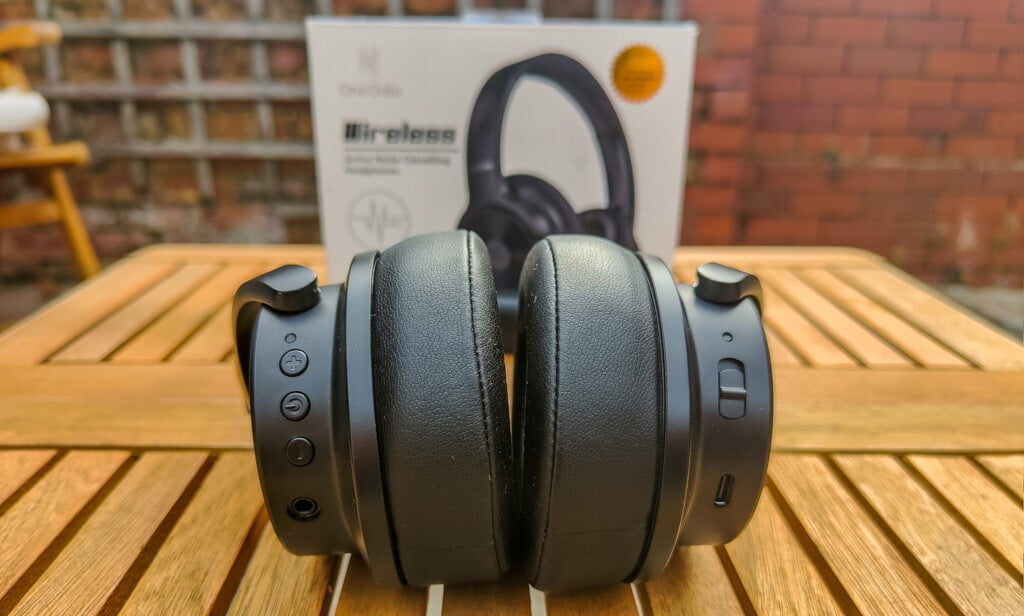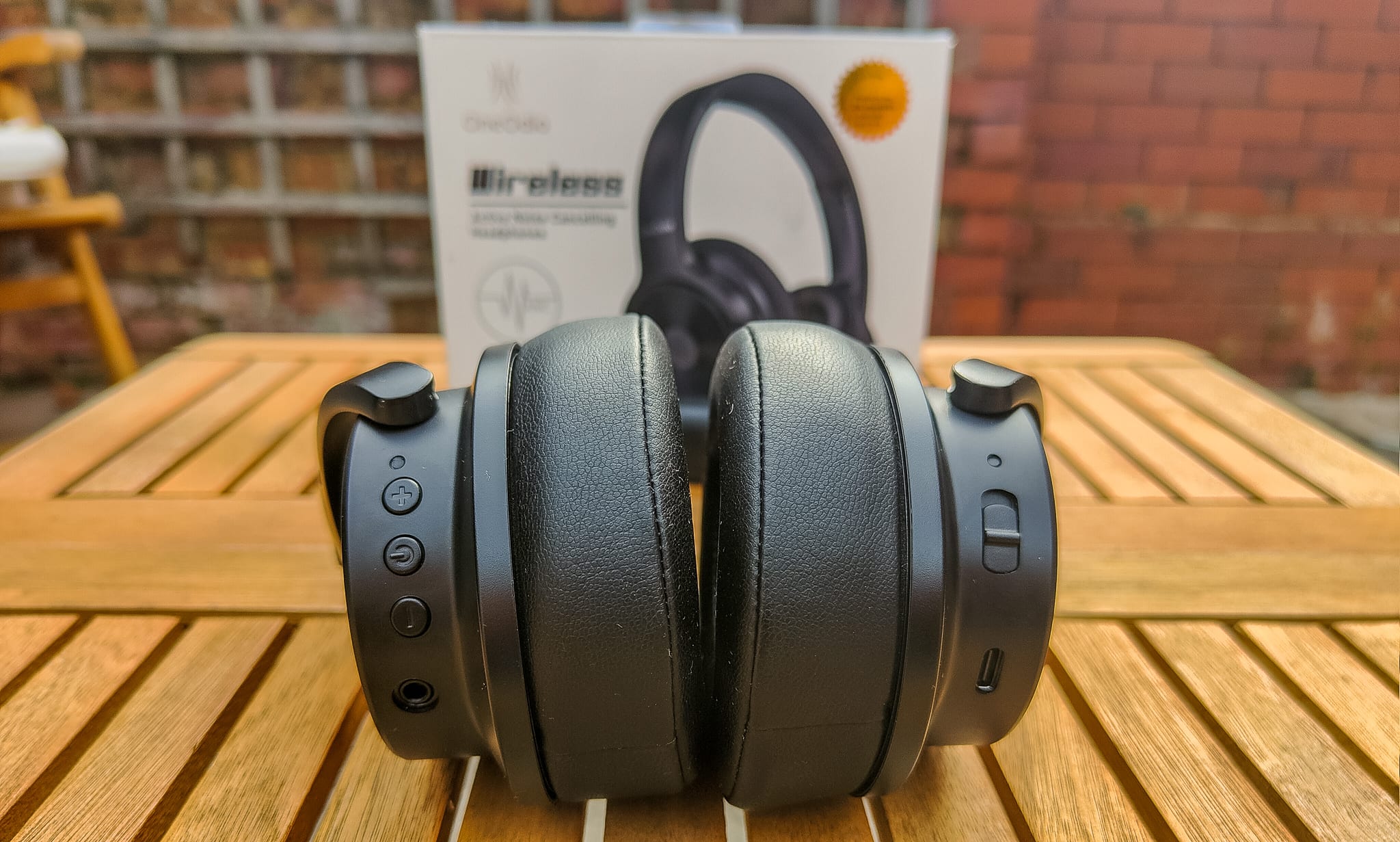 Cheap active noise-cancelling headphones typically offer poor performance; these seem to be better than average.
They certainly can't compete with the big brand names; the Anker Life Q30 will likely offer the best performance close to this price, but they are still £15 more expensive when on sale.
OneOdio claims up to 29dB of noise reduction, which is reasonably low when you look at claims from the likes of Huawei that go up to 40db+. Brands seem to pull these numbers out of the air, but I'd see that gives a good representation of the performance here.
Using my normal aeroplane cabin noise test, there is a noticeable drop off in the low-end hum. I'd say it only cancels out around 50% of the noise, but it should make watching movies or listening to music a little more enjoyable in noisy environments.
Battery
Battery life is excellent, with ANC and Bluetooth, OneOdio claims 15 hours or 25 hours with ANC off. I haven't run them from full to flat timing them, but these should offer more than enough battery for anyone.
I was pleased to see that these use USB-C for charging, whereas the A70 is using the out of date microUSB. It is not a massive issue for headphones, but I find it annoying to have a mixture of cable standards.
Price and Alternative Options
20% Off Discount on All Products at OneOdio
The OneOdio A30 are price at £49.98 on Amazon with a £7 off voucher available..
However, you can get them even cheaper if you buy direct from OneOdio. Using the code HAPPY20 will give 20% off all products sitewide, taking the A30 down to £38.40 with free shipping.
The OneOdio A70 are a touch cheaper at £39.99 with a 15% off voucher also available. These are then £28.80 direct from OneOdio. My initial impression would be to go with the A30.
If you want superb ANC performance, the Anker Life Q30 are probably your best bet. These are currently £79.99 but regularly drop to £60. However, I'd say the audio quality of the OneOdio A30 is better, as the Anker are a little too bass dominant.
Overall
I am pleasantly surprised with the OneOdio A30, they offer excellent performance for the money.  
Like most affordable ANC headphones, I wouldn't buy them specifically for the noise cancelling, the performance isn't that great, it is more of an added bonus than the stand out feature.
Sound quality is where these excel, these can easily compete with much more expensive headphones.
For a sub-£50 pair of headphones, I doubt you will find much better.
Posted by Mighty Gadget Blog: UK Technology News and Reviews