OnePlus have arguably shifted their strategy from being the flagship killer to going right up against premium-priced flagship phones. As they introduced more features to keep critics happy, the prices went up, causing critics from a different direction.
Similar to previous years, the OnePlus 9 Pro ups the spec with a new Hasselblad collaboration with aims to be recognised as one for the best camera phones out there. While the S21 dropped in price (cutting back some specs) the OnePlus 9 Pro sees a small price rise of £30, taking the base model to £829. This still makes them one of the most affordable premium options out there but do all these new features justify this cost?
OnePlus 9 Pro vs OnePlus 9 Specification
 
OnePlus 9 Pro
OnePlus 9
Size/Weight
163.2 x 73.6 x 8.7mm / 197g
160 x 74.2 x 8.7mm / 192g
Screen
6.7-inch AMOLED with LTPO
6.55-inch AMOLED
3216 x 1440 pixels
525 ppi
2400 x 1080 pixels 402 ppi
120Hz refresh rate (Variable; able to drop to 1Hz)
120Hz refresh rate
20.1:9 aspect ratio
20:9 aspect ratio
Audio
Dual stereo speakers
Dual stereo speakers
Chipset
Snapdragon 888
Snapdragon 888
RAM
8GB or 12GB LPDDR5
8GB or 12GB LPDDR5
Storage
128GB or 256GB UFS3.1
128GB or 256GB UFS3.1
Camera (front)
16MP Sony IMX471
16MP Sony IMX471
Camera (rear)
Primary: Sony IMX789 48MP f/1.8, 1/1.43'' OIS
Primary: Sony IMX689 48MP f/1.8, 1/1.43″
Ultra-wide: Sony IMX766 50MP f/2.2
Ultra-wide: Sony IMX766 50MP f/2.2
Telephoto: 8-megapixels f/2.4
Mono: 2-megapixels
Mono: 2-megapixels
Video: 8K/30, 4K/60 1080p/60 with EIS
Video: 8K/30, 4K/60 1080p/60 with EIS
Connectivity
Dual band Wi-Fi 6 2×2 MIMO
Dual band Wi-Fi 6 2×2 MIMO
5G with VoLTE, ViLTE and VoWiFi
5G with VoLTE, ViLTE and VoWiFi
Bluetooth 5.2 + aptX & aptX HD, LDAC, AAC
Bluetooth 5.2 + aptX & aptX HD, LDAC, AAC
USB-C 3.1 Gen 1
USB-C 3.1 Gen 1
Battery
4,500mAh
4,500mAh
65T Warp Charge (10V/6.5A)
65T Warp Charge (10V/6.5A)
50W Warp Charge 50 Wireless
15W Qi Wireless Charging
Other
Dual-SIM
Dual-SIM
Alert Slider
Alert Slider
OnePlus 65W charger in box
OnePlus 65W charger in box
Pre-applied screen protector
Pre-applied screen protector
IP68 rated
Not IP68
There is not actually a great deal separating the two phones. On paper, they look superb. Mainly the cheaper model uses a flat display that lacks the variable refresh rate but still has 120Hz. The main camera is last year's Sony IMX689. There is 15W wireless vs 50W (saves you money on the £70 50W charger). Then it appears the OP9 lacks an IP rating, which is quite a big deal for me as I run and cycle a lot, inevitably exposing the phone to sweat and rain.
Design & Display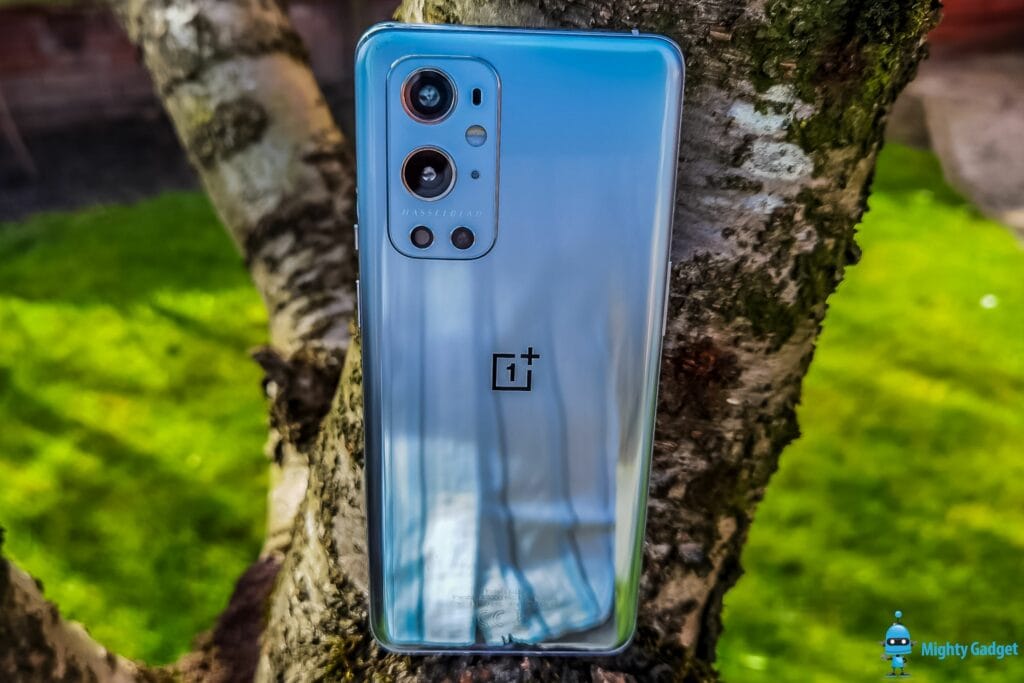 The overall design and build quality are excellent, some people dislike the camera bump, but it seems to be as good/bad as pretty much anything else out there.
I opted for the Morning Mist colour giving you a shiny metallic silver back bordering on a mirror finish. It is visually impressive but was quickly placed inside a thick ugly black Spigen case because I have no intention of breaking an £800+ phone.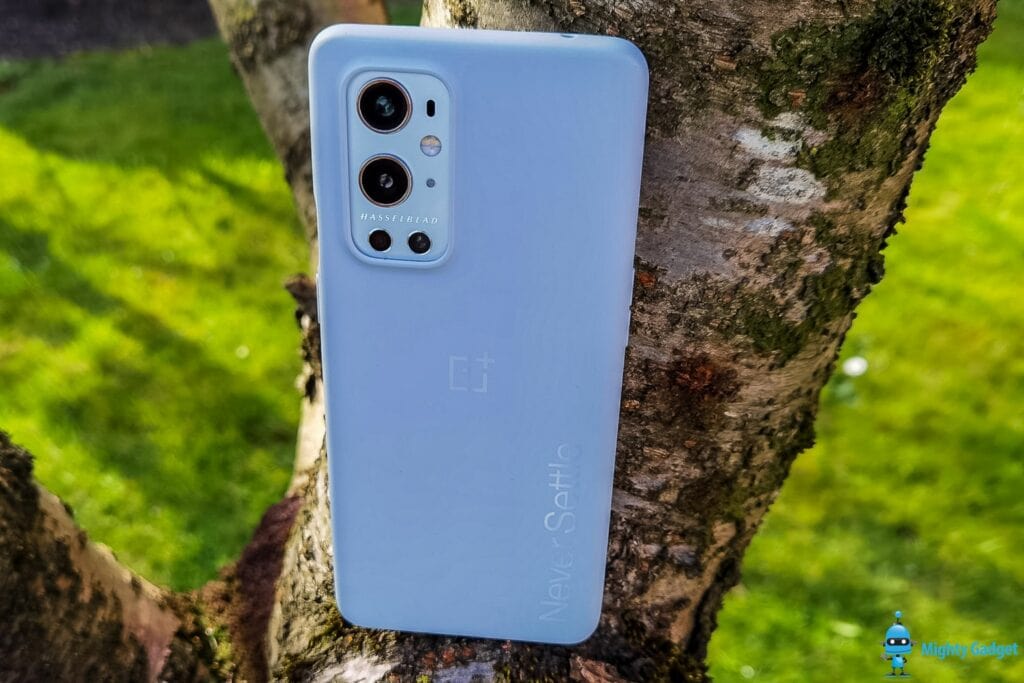 The 6.7-inch AMOLED display offers a moderate curve ging the phone an attractive appearance without the curve being too annoying. This uses LTPO, which allows the phone to have a variable refresh rate compared to the static refresh rate of the OnePlus 9; this should help with battery performance, lowering the refresh rate when not needed.  However, some people are sensitive to this, due to PWM sensitivity, so it may not be ideal for everyone.
The auto-brightness sometimes didn't ramp things up well enough outdoors, and on a sunny day, screen visibility didn't seem quite as good as the peak brightness would suggest. Most of the time, the display is fantastic.
I love the notification toggle on the side, admittedly it rarely gets switched from silent, but it does make managing your phone notifications much more convenient. The inclusion of this means the volume buttons are on the left, which is different from most of the phones I reviewed and has taken some time to get used to.
Biometrics
Biometrics works well on the phone with quick unlock speeds using the fingerprint, it is not quite as fast as the Samsung S21, but it is quick and accurate to unlock.
Face unlock is excellent, often quicker than the finger, albeit less secure.
Camera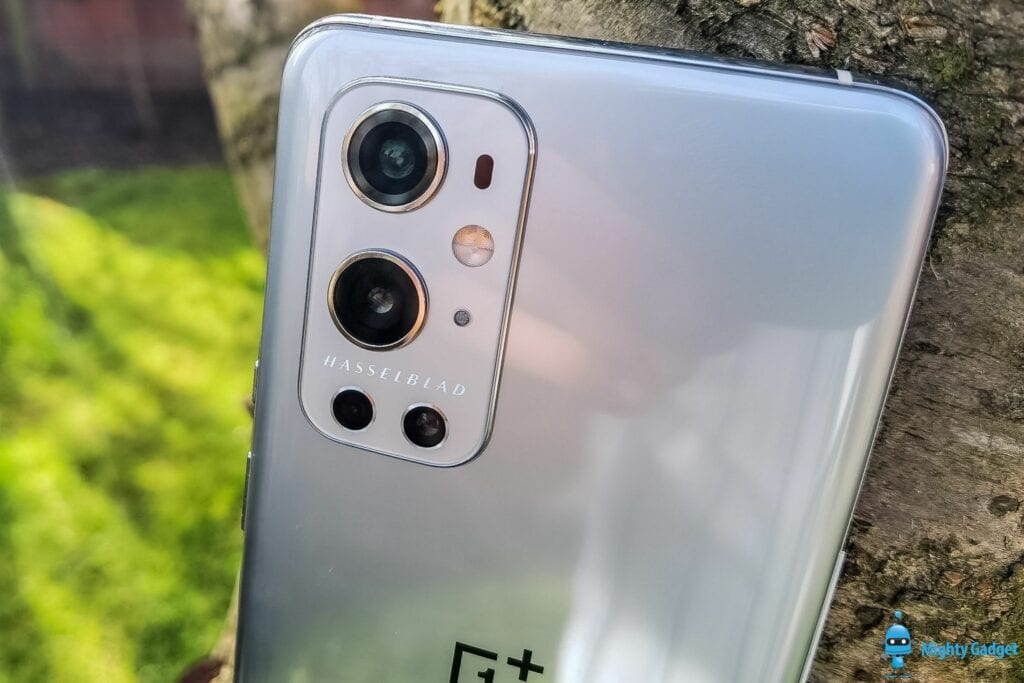 OnePlus has made a big deal about the camera; this is the first phone to use a camera developed in collaboration with Hasselblad. At the moment, it sounds like the collab has been limited to colour accuracy, but their handiwork will become more ingrained as the partnership progresses.
I have been mostly happy with the camera performance, in particular, it is capable of producing excellent shots from either the main camera or ultra-wide. Whereas the comparably priced Mi 11 has a generic unexciting 13MP ultra-wide.
However, this is unlikely to be the best camera phone of the year, I have found the performance to be a bit inconsistent, and after a couple of years with Huawei devices, the 3.3x 8MP zoom lens feels very dated.
I also found the Night Sight good, but not as good as either the Samsung S21 or last years Huawei P40 Pro
The colours are much more natural with this phone, especially when compared to Huawei or my recent Realme 8 Pro review. Photography nerds will approve, but the general public may prefer the exaggerated colours competing brands offer.
Overall, the camera is excellent, just not as good as the best (and more expensive) phones out there.
Camera Samples
Night Sight Samples
The OnePlus 9 Pro does a good job, but adds a blue hue in very dark situations. Both the OnePlus 9 Pro and Huawei P40 Pro struggle a little outdoors when trying to take photos of blossoming trees due to the branches swaying causing some bluriness.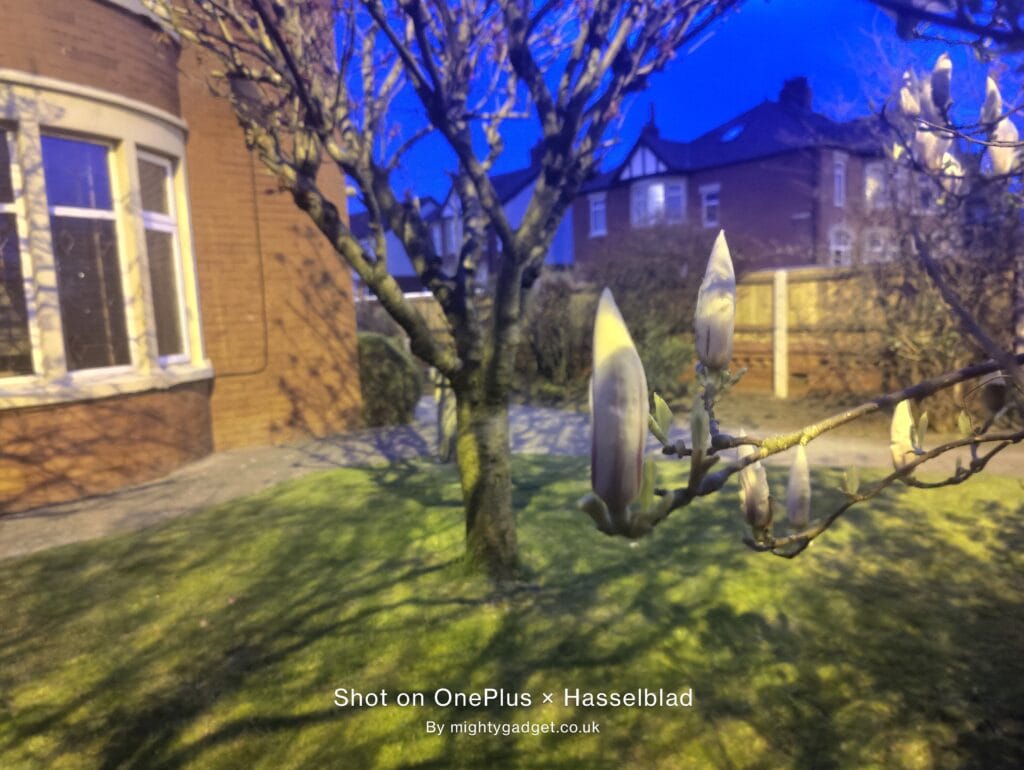 Performance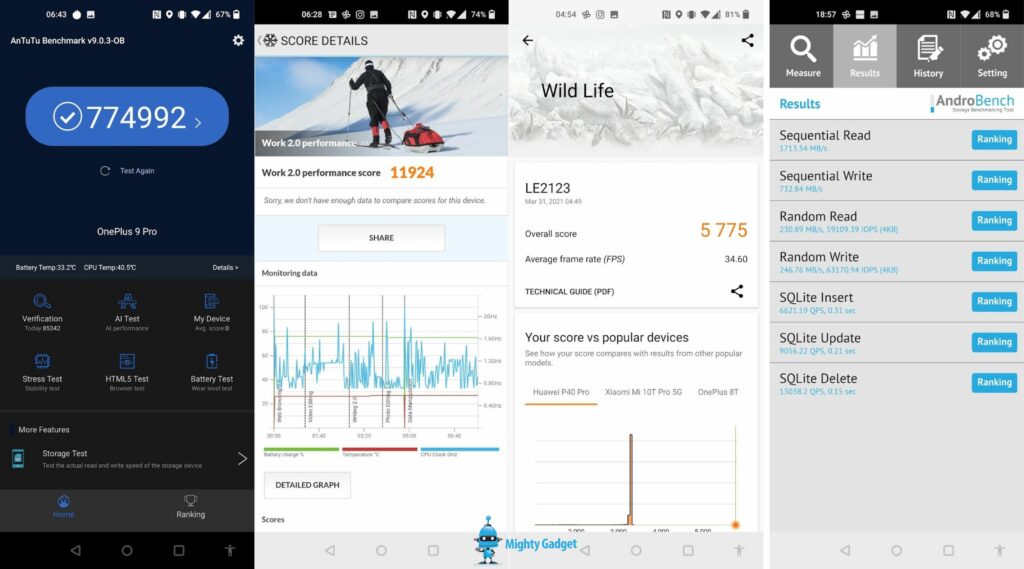 I have covered the performance of the OnePlus 9 Pro and the SD888 in more detail in a dedicated post.
The combination of an excellent UI, fast refresh rate display and the incredibly powerful Qualcomm Snapdragon 888 means that this phone is a pleasure to use day to day. Performance is flawless.
Benchmarks were suitably impressive, with Antutu v8 showing a score of 684K while the newer V9 posts just shy of 775K.
The 3DMark Wild Life score was higher than either the Samsung Galaxy S21 Ultra, or the Xiaomi Mi 11, which are the only two flagship phones I have reviewed this year.
Thermal Throttling Problems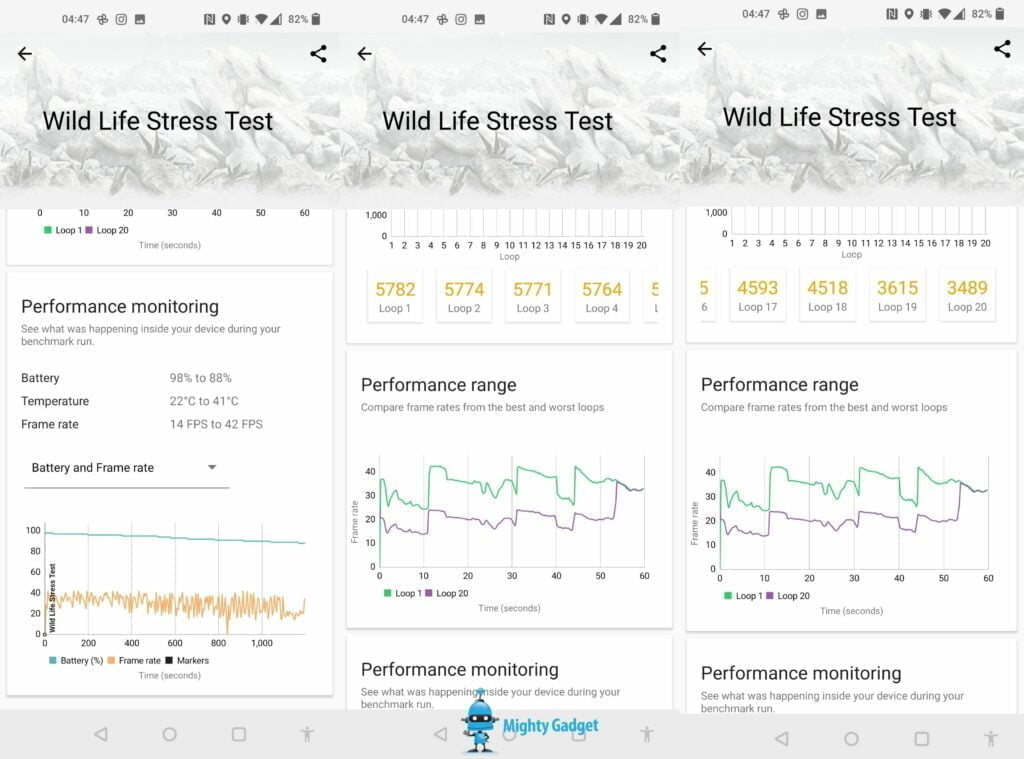 All this power comes at a cost; the SD888 chipset is power-hungry and runs hot. Testing this with the 3Dmark Wild Life Stress Test saw a significant deterioration in performance over the 20 mins of testing.
This throttling was greater than I experienced with the Xiaomi Mi 11, which was tested in January in a freezing cold office.
How much this is likely to affect you will depend on how you use the phone. Recording a lot of 8K footage or playing graphically intensive games for long periods could likely see a dip in performance.
Gaming
Gaming is fantastic, the high refresh rate screen is complemented with a 240Hz touch sampling rate, so everything is ultra responsive.
I am not a massive mobile gamer, so I don't game for hours at a time, but during my time with this, I didn't experience any noticeable issues with the thermal throttling addressed above.
Wi-Fi
While I don't test the Wi-Fi extensively on every phone, the new Qualcomm Snapdragon 888 uses the FastConnect 6900 System, which supports Wi-Fi 6E and the 6 GHz band. Similar to when Wi-Fi 6 first launched, the SD855 only supported it, so not all phones implemented it. This is true here. OnePlus make no mention of Wi-Fi 6E or 6Ghz. Unlike last year, the FastConnect 6900 System does allow the phone to connect with 160 MHz, so you can get a 2400Mbps connection rate which should allow a compatible router/access point to allow transfer speeds over a gigabit. Admittedly I have never felt much need for a multi-gig wireless connection on my phone.
Battery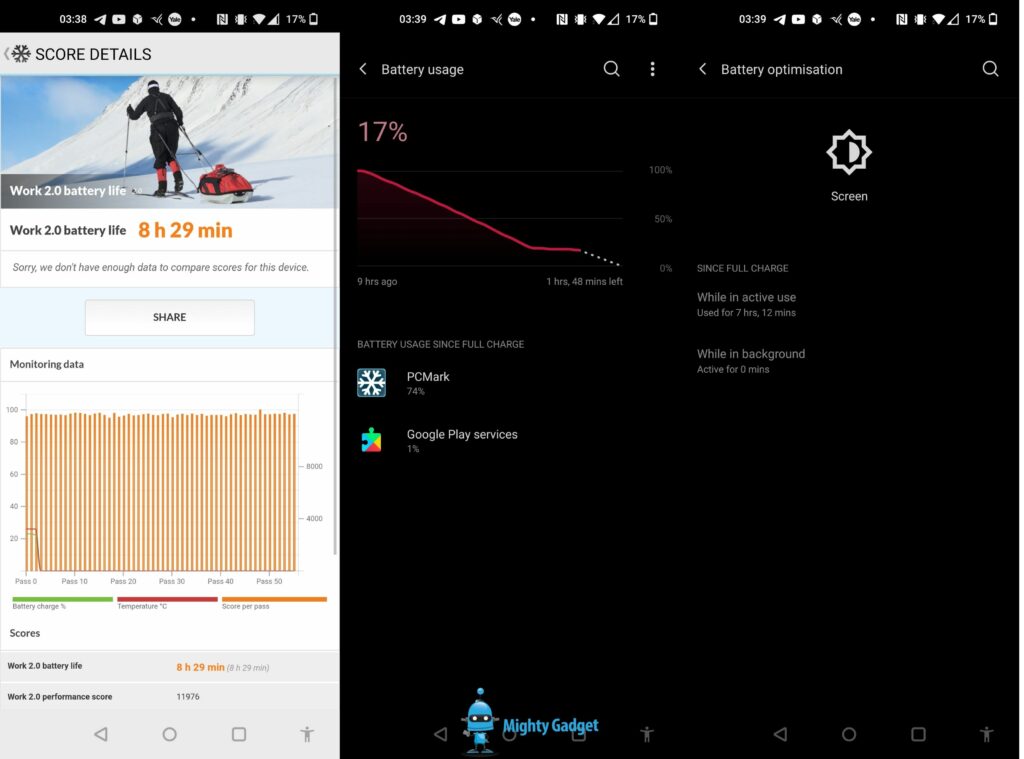 The battery is the biggest issue with the OnePlus 9 Pro, it was so bad the first few days of use I was furious and more than once shouted at the phone for how crap it was. This was far worse than the normal first few days of a phone when you hammer it, and it drains quickly. I was charging it twice a day.
However, as the days progressed, it did improve, I forced myself not to charge mid-day to see how well it does, and it seemed to get a bit better each day. The first couple of days, the battery would drain as soon as I took it off charge, but as I sit here writing this, 2 hours after waking up, the phone sits at 100%.
The past couple of days, I have been going to bed with about 35% charge, which I can live with. This is for light usage though, so I am far from happy with it, but I can cope.
I have noticed some defensive people online criticise people that moan about the battery, suggesting you can easily charge it, and you should take charge or battery pack with you.
While it is true, I am rarely away from my desk for long, and topping up via the 50W wireless charger can have it back to 100% in minutes, this is not always the case. Come summer, with lockdown easing up, I will go out for a full day, if it is hot ill be in shorts and a t-shirt so I don't want to lug around a battery pack as well.  Nor do I think it is good that you need to make a conscious decision to charge your phone before you leave the house for most of the day. I want to be able to take my phone off charge when I wake up and not have to stress about at all.
All Snapdragon 888 phones will likely have mediocre battery performance
This year, I face a bit of a predicament, the SD888 appears to be very power-hungry. It is quickly becoming apparent that all phones will inherently have a poor battery performance compared to their counterparts last year.
This is not technically the fault of OnePlus or Xiaomi before it, so do I give every phone this year a poor review because they are forced to use the Qualcomm Snapdragon 888 for the flagship phone?
I am not doing that, so this is just a word of warning, any flagship phone you pick this year will likely offer underwhelming battery performance.
Incredible wired and wireless charging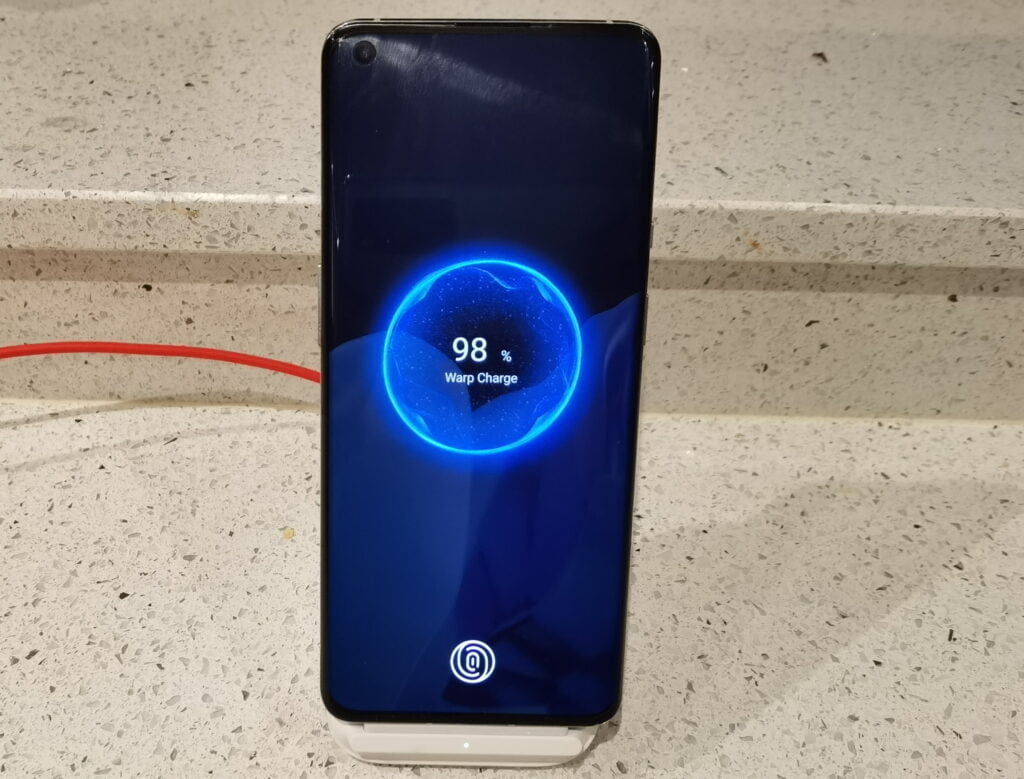 While the battery is the worst part of this phone, the charging is a highlight. 65W wired, 50W wireless, it is incredible. You also get the 65W plug included with the phone, something that Samsung can't say.
I think OnePlus asking £70 for the wireless charger but then not including a 50W compatible plug is a complete rip-off, but thankfully mine came free with the pre-order.
It is so fast and powerful, the charger has a fan built-in, which is very audible, if you choose to charge when you go to bed, you can switch it to silent mode, where it drops to 15W. I keep it on my desk and use it for them top-up charges, which it is absolutely perfect for.
Software
Everyone has always said the OnePlus OxygenOS is the best OS UI for Android after stock/Pixel. Some even argue it is better.
It is certainly one of the best, with the highlights being what it doesn't have. No annoying bloatware or other excessive UI tweaks.
It is far from perfect though, I have had a few app crashes, and quite frequently, some apps will open up to a blank black screen, forcing me to close down and reopen. I have also had some connectivity issues with Garmin, though I'd put most of the blame here with the rubbish Garmin Connect app.
I expect most of these minor issues will be ironed out with software updates. The phone has had two since I got it.
Price and Alternative Options
The OnePlus 9 Pro starts at £829 or is £929 for the Pine Green 12GB/256GB model.
Not many flagship phones have been launched this year, so alternatives are slim on the ground.
The OnePlus 9 is the best alternative, in my opinion, it is smaller, drops the 50W wireless charging for 15W and then drops the fancy new 48MP Sony IMX789 camera for last year's 48MP Sony IMX689. It is then £200 less, which is a big price difference for what seems like small compromises.
 The Xiaomi Mi 11 was £649 at launch, which was a great buy, but it has gone back up to £749, and at that price, I think the OP9Pro is better, thanks to the more versatile camera arrangement.
Then, of course, you have the Samsung S21 series, the Ultra is better than this phone, but at £1110, I am not sure it is £280 better than the OnePlus. It is certainly beyond what I would be comfortable spending on a phone. If money isn't an issue, then yes, it is much better.
The OnePlus 8 Pro is quickly looking like a tempting offer, dropping down to £650 currently for the 12GB/256GB model, and I suspect your average person wouldn't notice the difference in overall performance, either from the chipset or camera.  
Overall
Even though I have a few gripes with this phone, so far, for 2021, the OnePlus 9 Pro offers the best balance of price and performance.
The camera is not as spectacular as OnePlus would like you to think, the SD888 chipsets throttles worse than same chipset on the Mi 11, and then of course there is the battery issue.
Battery problems and thermal throttling are going to be issues with all flagship phones this year, so it seems pointless criticising it too badly, when relative performance to other phones will be similar.
The camera will likely improve with time, and overall, it is pretty good in the first place, just a bit inconsistent, and the zoom is not as good as competing brands.
OxygenOS is generally excellent. While the SD888 may drain the battery, it offers incredible performance above and beyond anything I could need from a phone. The display is also beautiful and responsive, which could be a common trend for 2021 phones. The OS, performance and display make the overall user experience superb.  
65W and 50W wireless charging are amazing, it feels transformative being able to charge your phone up to 100% just by leaving it on the wireless charger for a few minutes.
So, for the time being, at least, the OnePlus 9 Pro is my favourite phone of 2021.
Posted by Mighty Gadget Blog: UK Technology News and Reviews
Thanks for reading, check out Mighty Gadget Blog: UK Technology News and Reviews for more Tech news!