Announced back in June, the Oppo Reno 4 Pro 5G has only recently been made available in the UK.
This adopts a similar approach to the Google Pixel 5, providing users with an almost flagship phone experience at a reduced cost by using a mid-range chipset. Oppo has done this for a while, so technically it is Google adopting this approach.
With a price of around £649 this is £50 more than the Pixel 5 and around the same price as the just-launched Xiaomi Mi 11.
Don't be put off too much by the SIM-free pricing, the phone works out better priced on contract, which I cover further down.
Specification – Oppo Reno4 Pro 5G vs Find X2 Neo vs Reno3 Pro 5G
Reno4 Pro 5G 
X2 Neo / Reno3 Pro
Display
6.5-Inch AMOLED 500 nits
FHD+ 2400 x 1080
90Hz Refresh Rate, 402ppi
6.5-Inch AMOLED 500 nits
FHD+ 2400 x 1080
90Hz Refresh Rate, 402ppi
Chipset
Snapdragon 765G
Snapdragon 765G
RAM
12GB
12GB
Storage
256GB
No microSD
256GB
No microSD
Rear Camera
48MP Ultra Clear Main Camera, OIS, Ultra-Steady video, 4-in-1 Pixel technology;
12MP Ultra-wide Lens, 120-degree FOV, Autofocus;
13MP Telephoto Lens
48MP Ultra Clear Main Camera, OIS, Ultra-Steady video, 4-in-1 Pixel technology;
8P Ultra-wide Lens, 115-degree FOV, Autofocus;
13MP Telephoto Lens
2 MP B/W
Front Camera
 32MP
 32MP
Battery
 4,000mAh
4025 mAh
Charging
65W SuperVOOC 2.0 Flash Charging
No wirless charging
30W SuperVOOC 2.0 Flash Charging
No wirless charging
OS
ColorOS 7.2, Android 10
ColorOS 7.2, Android 11
Dimensions
159.6 x 72.5 x 7.6mm
159.4 x 72.4 x 7.7 mm
Weight
 172g
 171g
Other Features
Has: Bluetooth 5.1, NFC
Does not have: WiFi 6, IP rating, 3.5mm
Has: Bluetooth 5.1, NFC
Does not have: WiFi 6, IP rating, 3.5mm
Price 
£550-650 dependant on discounts
£699 launch price
£430
£599 launch price
Oppo has quite a confusing product line up with the Reno series releasing a new generation approximately every 6 months, releasing a lot of phones within the series and having Chinese and international specific models.
To make things confusing, the UK didn't get a Reno3 Pro 5G, Oppo decided to ditch the Reno branding in favour or the Find X2 Neo. Which is fine, but then they changed their minds again and switch back to Reno for the Reno4 series.
You have the Reno4 Pro 5G and Reno4 Pro, two different phones, they are not just appending 5G to the name like most other brands
The Oppo Reno4 Pro 5G appears to be the last of the Reno4 series to launch internationally, it was originally announced last June but only arrived in the UK this October. On paper, it is almost identical to the Oppo Reno3 Pro 5G/Find X2 Neo which was originally announced in China on December 2019, being one of the first phones to used the SD765G.
Oppo has just announced the Oppo Reno5 Pro 5G in China, but who knows when a western variant might be launched or what it might be called.
Are you confused yet? Welcome to the world of Oppo phones.
Design & Display
The only give away that this may not be a £900 phone is the overall weight and dimensions. While not small at 6.55 inches it is smaller and lighter than the increasingly large flagship phones.
This weighs just 172g, the Find X2 Pro is 217g, the Huawei P40 Pro is 209 g, and the Mi 11 is 196g
The overall dimensions and weight work mean this is a little easier to handle than the other phones, it really does feel very small and light in my hands (and I don't have big hands).
Beyond that, the curved AMOLED display with glass front and back exudes that premium look. It is a 90Hz AMOLED screen running at 2400×1080 which is not dissimilar to the P40 Pro.
The quality of the display is superb too, colours are bright with the benefit of true blacks the AMOLED offers over LCD.
The small punch hole camera stays out of the way over on the left, leaving you notification bar quite free.
Sadly, lacks an IP rating, something that the Pixel 5 has, as do most premium flagships (including the Find X2 Pro), but other affordable options like the Mi 11 lack it.
There is no microSD slot and of course no 3.5mm.
Camera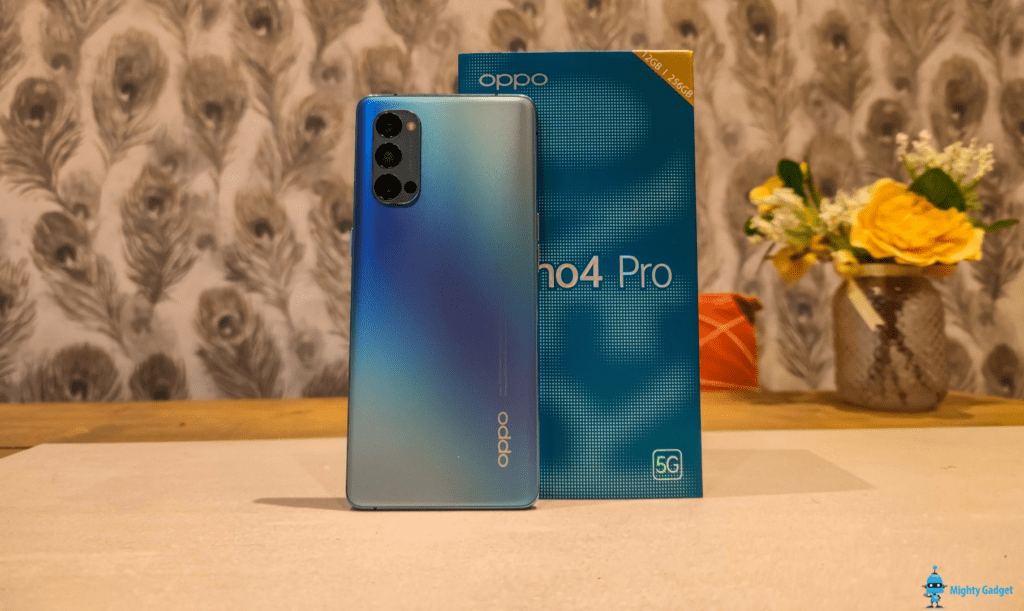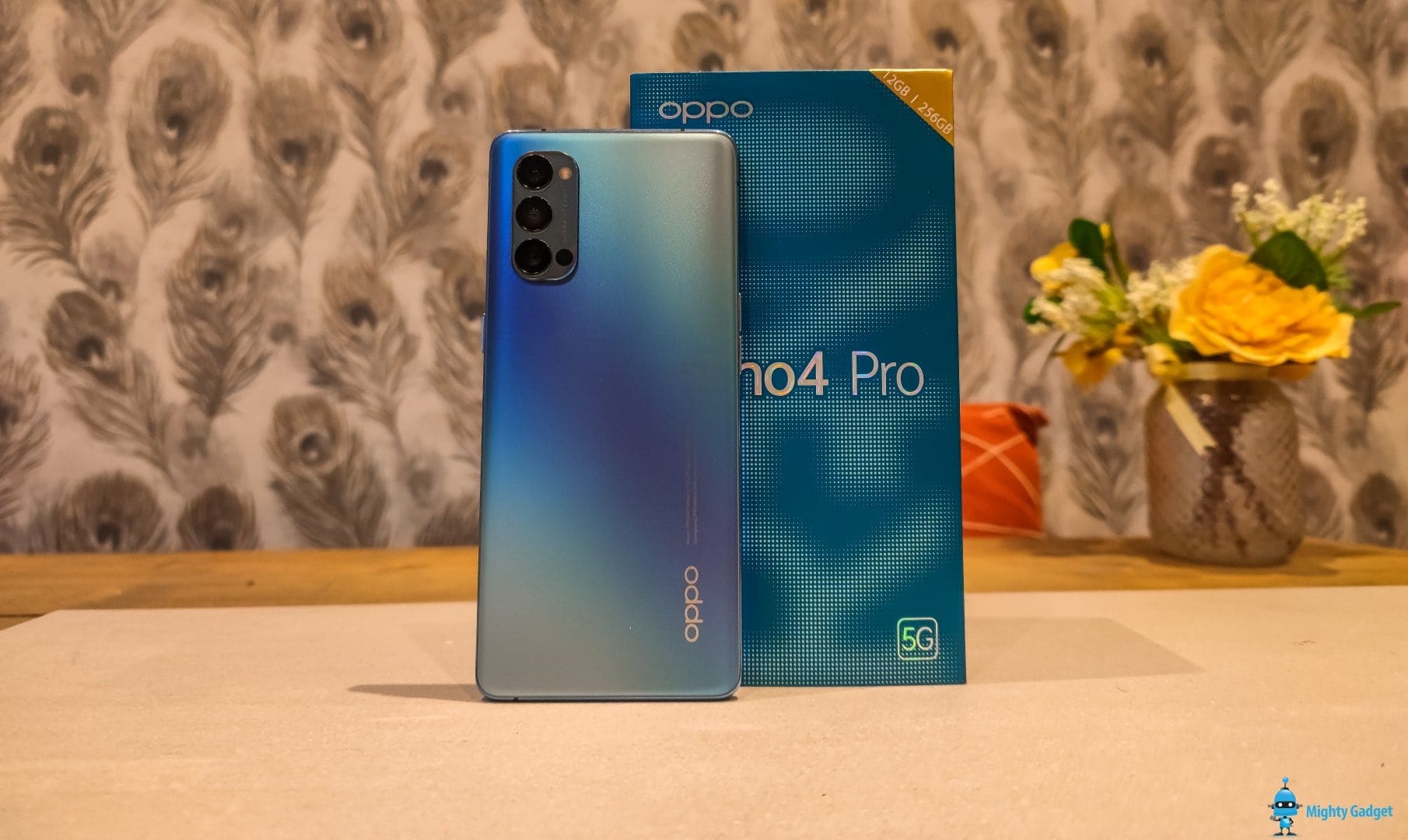 The camera is the stand out feature, the combination of this and the display are the things that differentiate this and phones that cost half the price.
The combination of the 48MP sensor with a telephoto lens and ultra-wide give you much more flexibility than the Pixel 5.
I have not used the Pixel, but many regard it as an amazing camera phone. However, I find it somewhat a limited specification and I suspect the Oppo could easily trade blows with it as the best camera phone at this price
This is where you see one of the minimal changes from the Find X2 Neo/Reno3 Pro 5G. Oppo has upgraded the 8MP ultra-wide sensor to a 12MP sensory but ditched the 2MP B&W sensor.
It is such a small change. I am not sure what the real-world differences would be.
The 48MP 1/2.0″ sensor may sound poor compared to more affordable alternatives but this uses the Sony IMX586 and the software processing Oppo does elevates the quality of the shots above other phones.
The  13MP telephoto camera supports 4x hybrid optical zoom and 20x digital zoom. Like most phones, I wouldn't recommend venturing into digital too much, but the optical zoom is a welcome addition and takes good shots.
Photo Samples
Performance
Performance is excellent, the Snapdragon 765G is over a year now but sits at the top of the mid-range options from Qualcomm offering more than enough performance in everything but the most demanding usage scenarios.
With so many other phones featuring the SD765G there is no point going into detail with every benchmark. If you specifically want a gaming phone, there are better options out there, but for everything else, this is fine.
There is a surprisingly large amount of RAM at 12GB, more than you would likely ever need of a phone this spec, it helps justify the high price tag, but doesn't have much noticeable difference vs 8GB in either day to day use or benchmarks.
With some controversy about thermal throttling on the Snapdragon 888 and Exynos 2100, I have been stress testing all phones that I review. While this doesn't exactly score amazing 3DMark Wildlife scores, the consistency of the score remains almost perfect in a 20min stress test with negligible battery drain.
Battery
Battery life is generally good, though not class-leading. The 4000 mAh is good enough to see you through a day of moderate to heavy use without too much concern. If you play games or are taking photos all day, it may need a top up.
Running the PC Mark benchmark provides a reasonably impressive result, while the battery may not be massive, the chipset is efficient as is the FHD+ AMOLED display.
Where few phones will be able to compete, is the 65W SuperVOOC 2.0 charging, offering a full charge in 36 minutes. Admittedly, this hasn't been much use recently, but I absolutely love ultra-fast charging when travelling or working away
On the phone this price, I think it is quite disappointing that there is no wireless charging. With this being positioned at the very top of the market for an SD765G phone I think is unacceptable for this feature to be missing, even the Pixel 5 has it.
Software
I am reasonably familiar with ColourOS now, so I find it quite pleasant to use, Realme UI is based on this, so both brands offer a similar experience.
The highlight of the software is that it is relatively bloat free unlike some other brands
ColourOS 11 has started to roll out, and at some point the phone should get an OTA update bringing this up to Android 11
Price and Alternative Options
The RRP of this phone seems to be £699 with typically available for £649, but Amazon has the Black model in for £551.
At £700 this is a very hard sell. At £649 it is still £50 more than the highly praised Google Pixel 5. Technically the Oppo is a much better-specced phone, so is easily worth the extra £50
The Oppo Find X2 Neo is £430 direct from Oppo or via Amazon. On paper, they are almost identical apart from the Find X2 Neo having a lower spec ultra-wide and slower charging.
The OnePlus 8 Pro offers a similar aesthetic and superior spec all round while only costs £699. Or, for £550 the OP 8T offers far superior performance, but the camera isn't quite as good, and the display is flat.
Similarily the Samsung Galaxy S20 FE offers arguably a superior all-around spec but at a lower price point, though there are reports of poor battery life, the camera won't be as good, and it has a plastic back.
Contact Deals
Similar to my review of the Oppo Reno4 Z, the phone starts to look more appealing when you look at contract deals.
Carphone Warehouse has the Reno4 Pro 5G on ID Mobile with 20GB + unlimited everything else for a total cost of £673, this is the same price as they were quoting for the Oppo Find X2 Lite which is a far lower specced phone. Or for £4 more in total, you get 50GB
This makes it £52 cheaper on the same contract than the Google Pixel 5 which is £725 and £97 cheaper than the S20 SE (£770)
Then, with the Oppo you can also claim a pair of B&O H4 Headphones (if you buy before the 30th of March). John Lewis sell the 2nd gen model for £250, so if you don't want them you should easily be able to sell them for £100+
With the free gift, the total cost of the contract ends up being less than the SIM-free price plus you get 2 years worth of data and calls.
In the time it took to write this section, Carphone Warehouse dramatically changed the prices either I landed on the website at a funny time or they were dynamically adjusting things based on my browsing.
Overall
I originally wrote my overall opinion before looking at the contract deals. My overall outcome was not very positive.
I do really like the phone, the overall user experience is excellent, it does feel like a flagship phone, the camera performance is superb, and the SD765G offers more than enough performance for your regular user.
The lack of an IP rating or wireless charging is poor, considering the premium they are asking for the phone.
However, it makes no sense to buy the Oppo Reno 4 Pro 5G for £550-£650 when you can get the Neo for £430.
Thankfully, the phone redeems itself when you want to buy it on contract. It becomes better priced than the Pixel 5 and S20 FE by a considerable margin if you factor in the free gift.
On contract, this is a pretty good option overall, I think most people will find £26pcm is quite a manageable sum of money to come out of your account, and you end up with (the basic S21 is £40pcm).
Posted by Mighty Gadget Blog: UK Technology News and Reviews