The MagEZ Juice 2 is an innovative take on wireless chargers. This integrates both a power bank and wireless charger together. The power bank slides into the charger, and then your phone with a compatible MagEZ case sits magnetically on it. This allows you to keep your phone and a battery pack fully charged while at home.
When you leave the house for the day, you can slide the battery pack out magnetically attached to your phone for convenient charging throughout the day.
Specification
2800mAh battery
Wireless Charging Speed Output: 5W
Power Bank Wired Charging Speed Output: 10W
Input/Output: 5V/1.5A
The led indicator shows the recharging status of the wireless power bank.
Works with the MagEZ Case and MagEZ Case Pro
Charges all Qi-Enabled Mobiles (except Huawei P40 Pro, OnePlus 8 Pro, Samsung Galaxy S21 Ultra, Samsung Galaxy S20 Ultra and Samsung Galaxy Note20 Ultra).
The power bank has a USB-C port and can be charged using a USB-C charging cable. The battery pack can also charge a non-wireless enabled device using a cable.
Compatible Phone Cases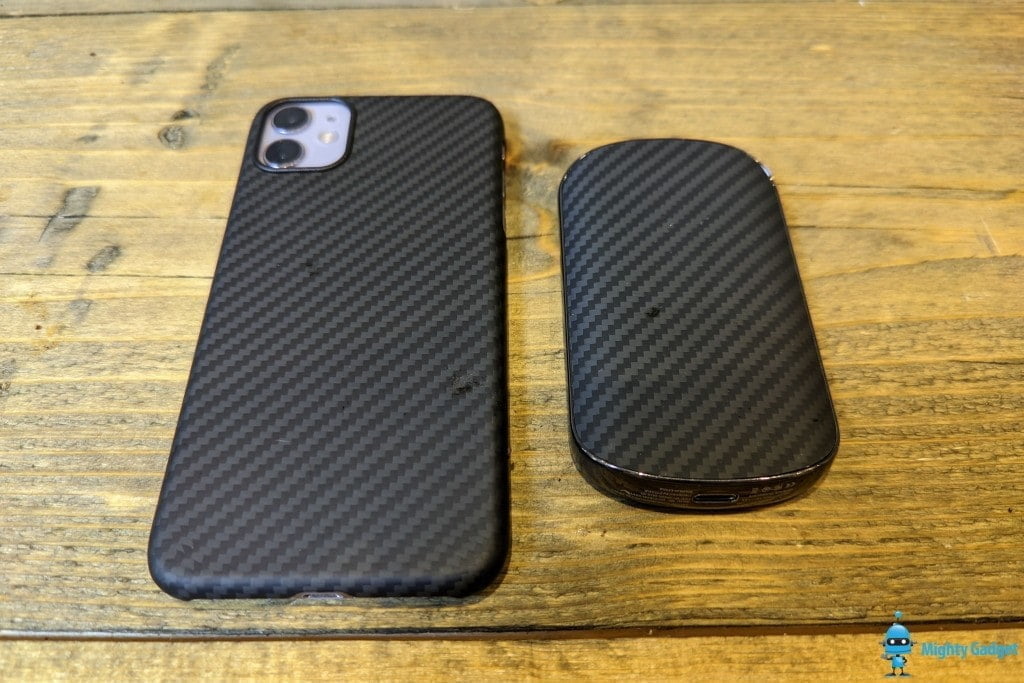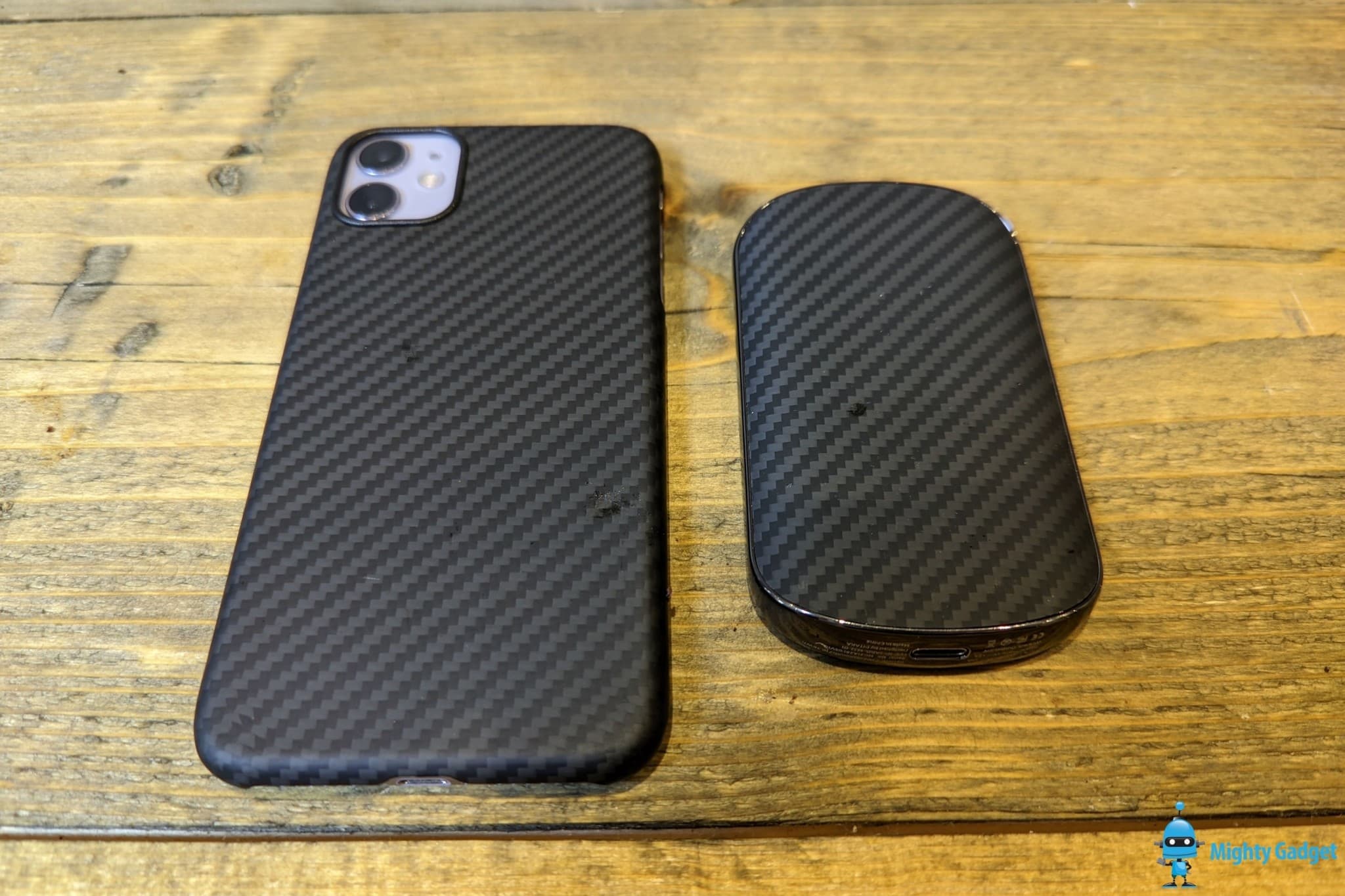 MagEZ Case and MagEZ Case Pro are available for:
All iPhones from the iPhone 7 to the iPhone 12 Series
Samsung Galaxy phones from the S9 to the Galaxy S21 series
OnePlus 8/8 Pro
HUAWEI P40/P40 Pro
Google Pixel 4/4 XL
Pitaka claims that this will not charge HUAWEI P40 Pro, OnePlus 8 Pro, Samsung Galaxy S21 Ultra, Samsung Galaxy S20 Ultra and Samsung Galaxy Note20 Ultra. Presumably, the iPhone 7 can't be charged either, as it lacks QI charging.
In Use
This works well, it looks attractive and offers a much more convenient way to keep your phone charged than a separate wireless charger and battery pack. You are much more likely to remember the charger when leaving the house, because you can slide it out when you take the phone off charge. It is also considerably more convenient to charge and use your phone at the same time vs having a wired charger dangling in the way.
It looks good, too, as far as these things go, and the battery pack doesn't add too much weight or thickness to your phone. Even with slim jeans, you should easily be able to have your phone charging in your pocket.  
There are a few downsides to this charger. The battery pack is just a 2800mAh battery, and the wireless charge speed is 5W. Both of these are quite low by modern standards. The iPhone can take a 15W wireless charge, and most wireless charging battery packs do 10W or higher.
Then most of the smallest wired battery packs are 5000mAh which will barely add any bulk to your packets.
However, none of those options offers the seamless use of the MagEZ Juice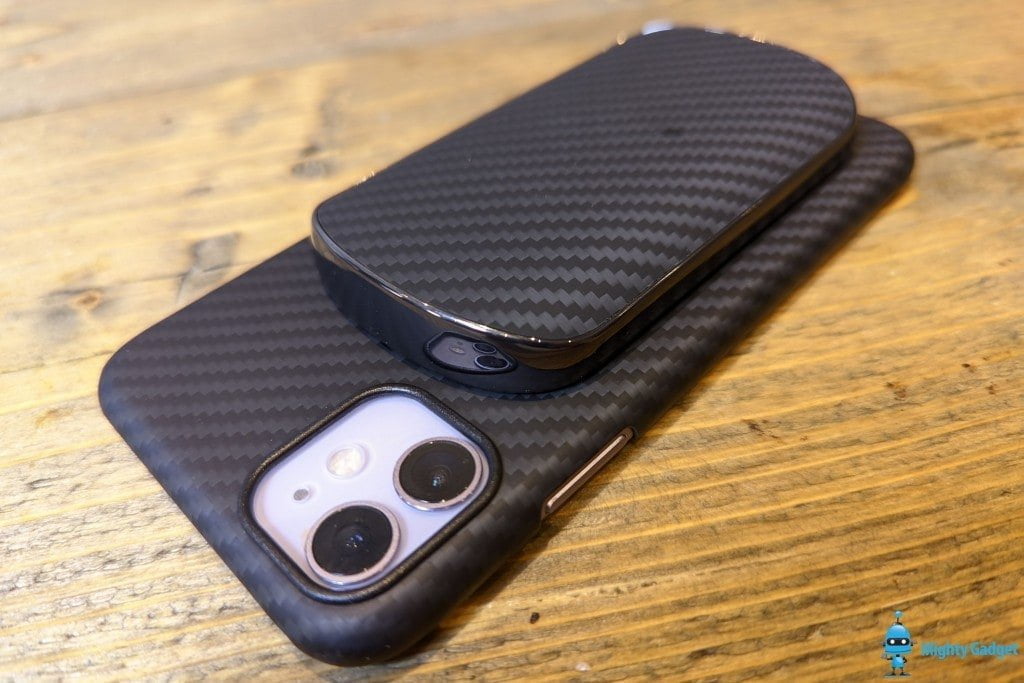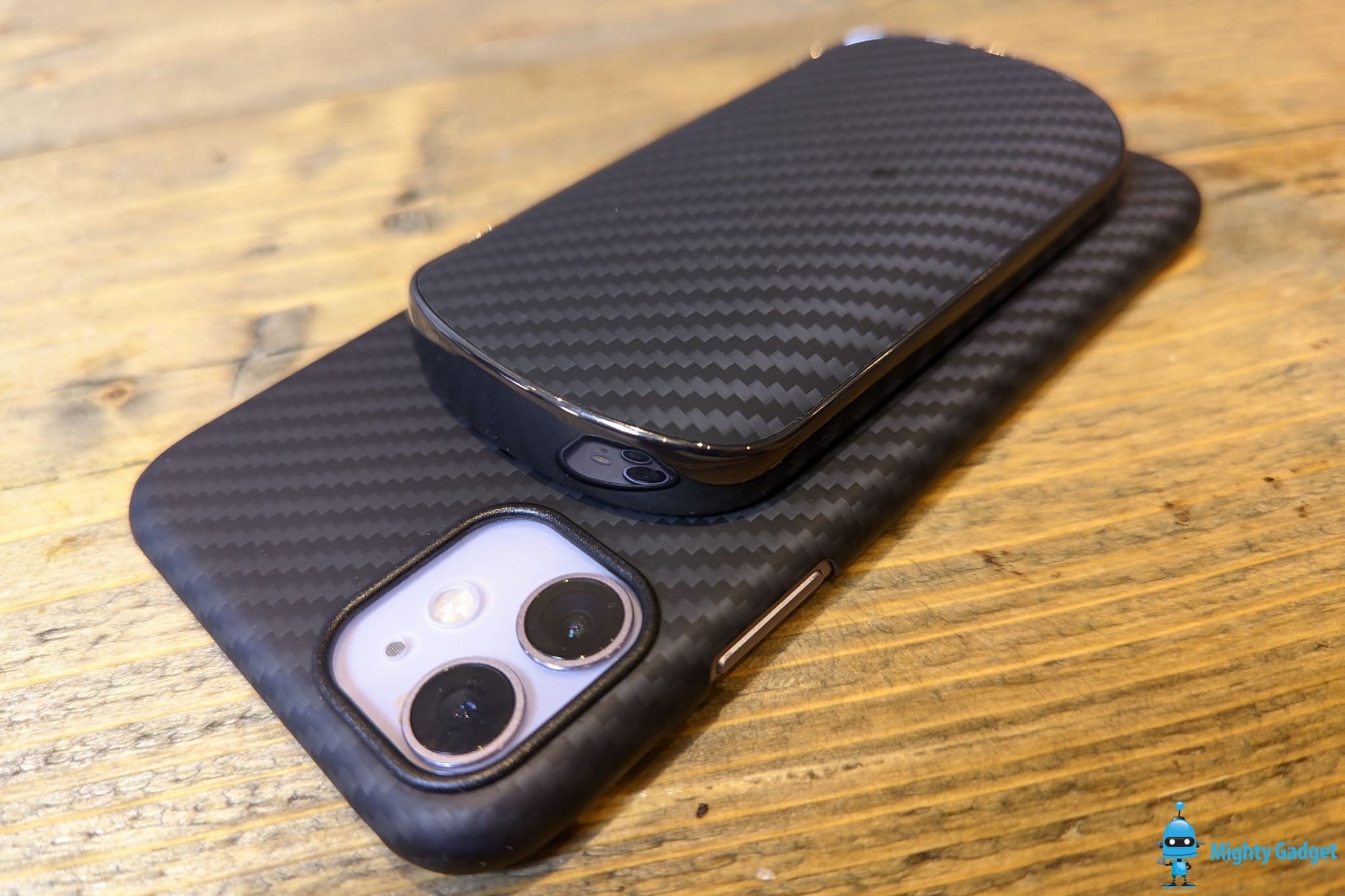 Price and Alternative Options
The PITAKA MagEZ Juice Magnetic Wireless Charger is £80 on Amazon then the cases themselves are around £45. So you are looking at about £125 in total. The case seems a bit overpriced, in my opinion.
There are no like for like products that I am aware of.
There are also no MagSafe battery pack from reputable companies that I can find, but this would be the best alternative. The best one I can find is some no-brand option that has 5000mAh and can do up to 15W for £35.
If you don't mind swapping your case regularly or permanently having an ugly thick case, then there are loads of battery pack cases for the iPhone.
Then you have options such as the Anker Wireless Power Bank for £29.99, but it is big and not magnetic.
PITAKA MagEZ Juice 2 Review – Overall
The MagEZ Juice is one of the most innovative and convenient chargers on the market currently.
However, its attractive looks and convenient nature comes at a high price and lower performance compared to traditional solutions.
With no like for like competition at the moment, it is hard to criticise the price too much, and this seems like an excellent solution for power users needed to keep their phone topped up regularly.
PITAKA MagEZ Juice 2 Review Rating
Overall
Posted by Mighty Gadget Blog: UK Technology News and Reviews