The Poco X3 Pro is one of the first phones to launch with the new Qualcomm Snapdragon 860 chipset. This chipset is identical to the flagship Snapdragon 855+ that launched two years ago and offers a significant performance improvement compared to other chipsets found on phones at this price.
The Poco X3 Pro, therefore, offers substantially more performance than last years Poco X3 NFC; however, there have been a couple of minor downgrades for the camera to accommodate this.
Poco X3 Pro vs Poco X3 NFC Specification
Display: 6.67-inch IPS LCD, 2,400 x 1,080 pixels, 120Hz refresh rate, 450nits
Chipset: Qualcomm Snapdragon 860
RAM: 6GB RAM
Storage: 64/128GB UFS 2.1 storage
Rear Camera:

48MP Sony IMX 582 sensor 1/2 "sensor size, 1.6μm 4-in-1 large pixel – f/1.79, 6P lens, AF
8 MP, f/2.2, 120˚ (ultrawide), 1/4.0″, 1.12µm
2MP macro, f/2.4
2MP depth

Front Camera:

20MP, f/2.2, 1.6μm 4-in-1 super pixel

Battery: 5, 5160mAh battery, 33W fast charging
Other Features: Stereo speakers, NFC, 3.5mm, IP53 splash-proof protection
The X3 NFC is basically identical but:
Chipset is much less powerful with the Qualcomm Snapdragon 732G
Primary camera is better with 64 MP Sony IMX682, 1.6μm 4-in-1 Super Pixel, 1/1.73 "sensor size, f/1.89
Ultra wide is better with 13 MP, f/2.2, 119˚ (ultrawide), 1.0µm
Design & Display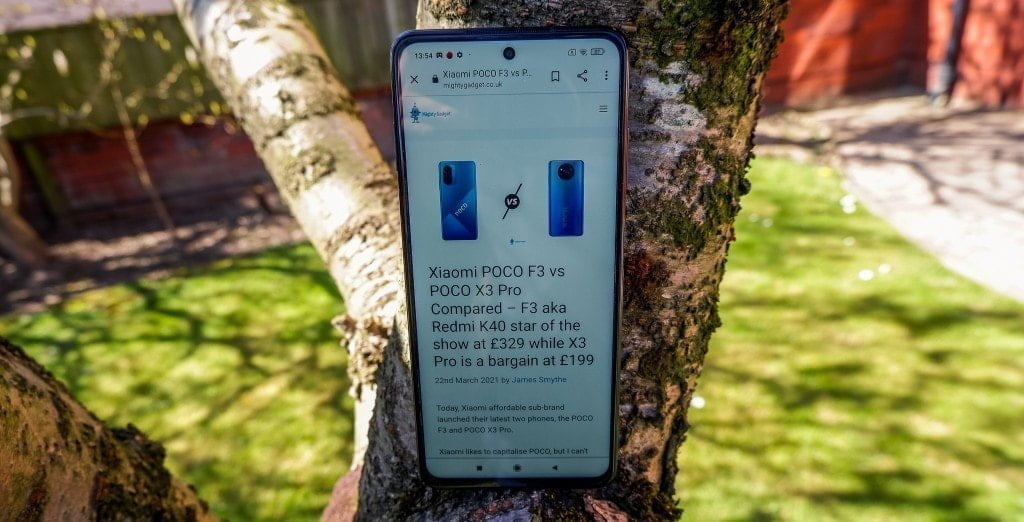 The overall design, apart from colour, is identical to the Poco X3 NFC. You still have that weird camera design, but with my Phantom Black model, both the camera and branding seem less obtrusive.
The display remains the same 6.67 inches 2400x1080P 120Hz, out of the box, you will need to switch the 120Hz on within the display settings. The IPS display is rated at 450 nits; on sunny days, I didn't notice that much difference with screen visibility when using the 1300 nits AMOLED on the OnePlus 9 Pro. While I don't usually love IPS displays, this is one of the better ones, and I found it good in all scenarios.
It is has a plastic back which is standard on phones at this price, while it doesn't feel quite as nice as other materials, it looks decent and is durable.  
Like many other budget phones, this retains the 3.5mm headphone jack, giving you more affordable options for your audio.
The fingerprint scanner is also still on the side where the power button is. It's more accurate than an under-display scanner, and I find it easier to unlock when holding the phone, such as getting it out of my jeans.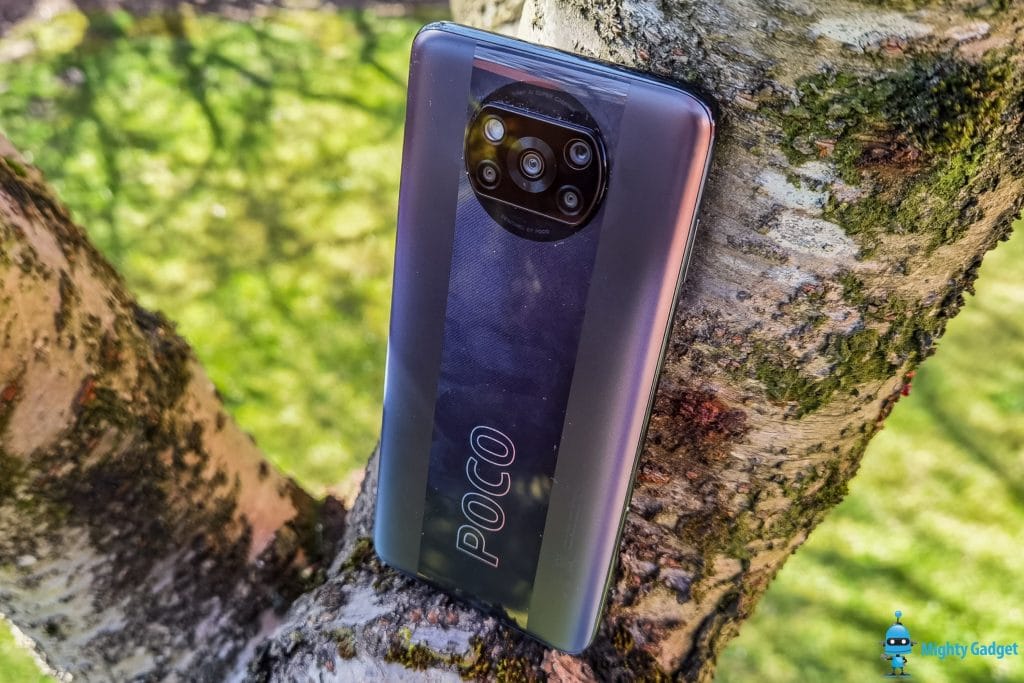 Camera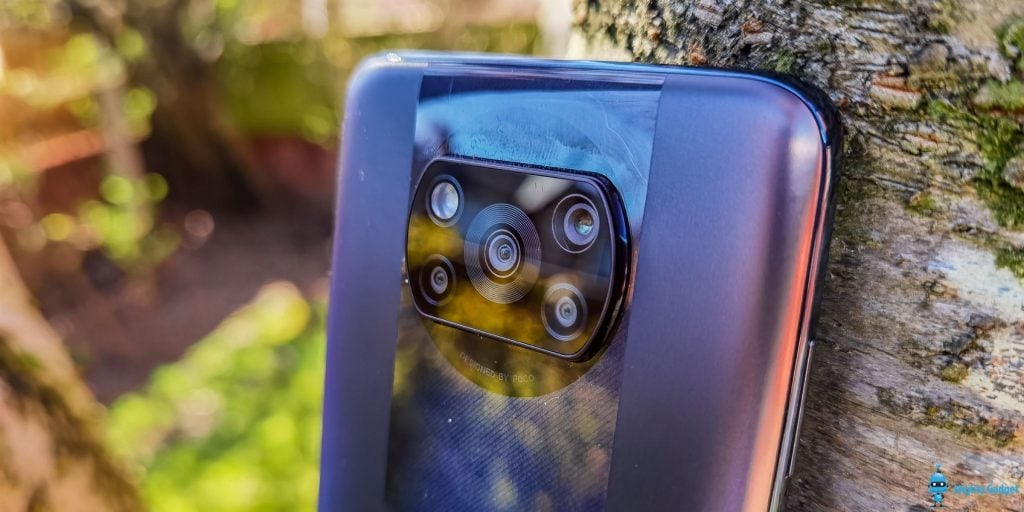 The camera is, without a doubt, the weak spot of this phone, it is not so much that it is bad, but it is a downgrade from the Poco X3 NFC.
To be fair, the Sony IMX 586 can still produce excellent photos, and it will likely be more than adequate for most peoples needs.
The Realme 8 Pro offers far superior photos, but that has a substantially slower chipset, so if you want an affordable phone, you have a choice of a fast phone or a great camera.
The Sony IMX 586 generally performs quite well, photos look crisp, and colours look good. Low light situations are better than expected, while the sensor itself may not be ideal for these scenarios, the software does a good job of using long exposure to capture enough light to produce decent shots.
You get loads of camera modes, so there are plenty of options to produce some impressive results.
Camera Samples
Performance
I have done a more thorough post on the performance of the Poco X3 Pro with the Snapdragon 860.
However, the phone's performance is phenomenal for the price; it is literally a 2-year old flagship chipset on a phone that costs £199/£249.
Combine the high-performance chipset with a 120Hz refresh rate IP display; this phone offers the same sort of performance as you would expect on phones 2 or 3 times the price. The chipset embarrasses all of the Qualcomm Snapdragon 7 series options out there.
Unlike the new SD888 chipset, this doesn't suffer from thermal throttling when stress testing. This means that after 20 mins of stress testing in 3DMark Wildlife, this phone scores about the same as the OnePlus 9 Pro, which has been severely throttled by that point.
Gaming
While I don't normally dedicate much to gaming performance, it is worth noting here because you have so much power for your money. There is no other phone on the market that offers this level of performance at this price point. So if you are a gamer on a budget, this is about as good as you can get.
Battery
As you might expect, the battery life is not quite as good as the Poco X3 NFC; you have the same display, the same battery size but a much more powerful chipset. The X3 NFC had incredible battery life, scoring the highest mark on the PC Mark battery life test on any phone I have used. This still scores an impressive 14h 33m, and it can still last well over a day worth of use which puts to shame my OnePlus 9 Pro, which can barely make it through a day without a top-up.
Charging is 33W, which is impressive for a phone in this price segment. Realme offers 50W on some of its affordable phones, but good look finding a Samsung or Pixel phone that offers this speed.
Software
This runs MIUI 12 like all other Xiaomi/Poco phones launched recently. It is mostly OK, the UI is pleasant enough to us, and I have not had any performance issues.
However, as usual, when you install an app, it gets security scanned, and the security app has adverts in it. This is easy to turn off, and considering the price of the phone, it is far from a deal-breaker.
You also get promoted apps, which I find even more annoying. These are apps that show up within folders. If you create a folder, I don't think they will show up by default, but the standard install will create a folder full of promoted apps. You can just delete this or you can go into the folder, click on its name to change it then switch off the promoted apps toggle.
There are also a lot of pre-installed apps, some are Xiaomi apps which are OK, but there are various games and other unwanted things. These are all easy to remove, though.
Price and Alternative Options
The only option for the Poco X3 Pro on Amazon is the  6GB/128GB model, which is £249. The X3 NFC with the same storage is £225.
Then there is the Xiaomi Mi 10T Lite, which is basically identical to the X3 NFC but with a better 5G Snapdragon 750 chipset for £299
The Realme 8 Pro is £279 with 8GB/128GB, it has a significantly better camera but a much less powerful Snapdragon 720G chipset.
The Poco F3 is a bit more expensive at £329 but well worth the extra £80 over the X3 Pro, with it swapping out the LCD display for a 120HZ AMOLED display, then using the even more powerful Snapdragon 870 5G chipset, and with faster storage,
It is hard to declare which phone is the best overall, it depends on your requirements and budget. The Poco X3 Pro is by far the most powerful option (unless you upgrade to the F3) and perfect for gamers, but people that take a lot of photos may want to consider the alternatives.
Overall
If you are looking for an affordable phone with enough performance, it will last several years without showing any slowdown; then the Poco X3 Pro seems to be a perfect choice.
As much as I criticise Qualcomm for rebranding existing chipsets, the SD860 offers incredible performance for the price without being too much of a battery drain. This phone, by far, offers the highest level of performance for your money than any other phone I have used or I am aware of.
The camera could be better, but it's not bad, and I think most people with a £250 phone budget will be quite happy with the camera performance.
The bloatware and adverts are not ideal, but all of this can be removed or disabled.
Overall, at this price, you really can't criticise the phone much for anything.  
Xiaomi Poco X3 Pro Review Rating
Overall
Posted by Mighty Gadget Blog: UK Technology News and Reviews