Wi-Fi 6 is fantastic, but it is not quite as revolutionary in speeds as you might hope. For most scenarios, the best connection you are likely to achieve is a 2×2 on 80Mhz channels giving you a connection rate of 1200mbps. That is a far cry from the 4804 Mbps you will see printed on the side of many flagship Wi-Fi 6 router boxes.
Wi-Fi 5 devices using 2×2 on 80Mhz, which is the standard connection nowadays, will connect at 866Mps. So the current range of Wi-Fi 6 devices offers a 39% increased connection speed, and during my reviews, I have found many Wi-Fi 6 routers are capable of transferring files at around 100MB/s.
160Mhz wide channel and DFS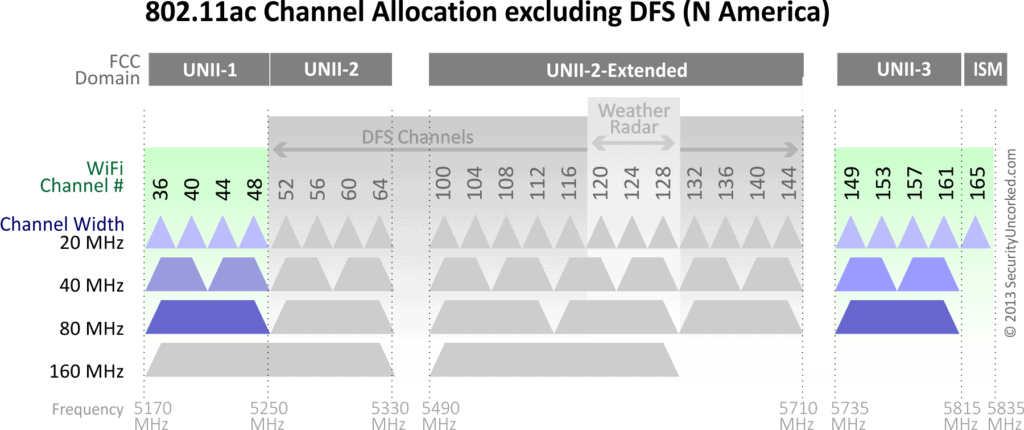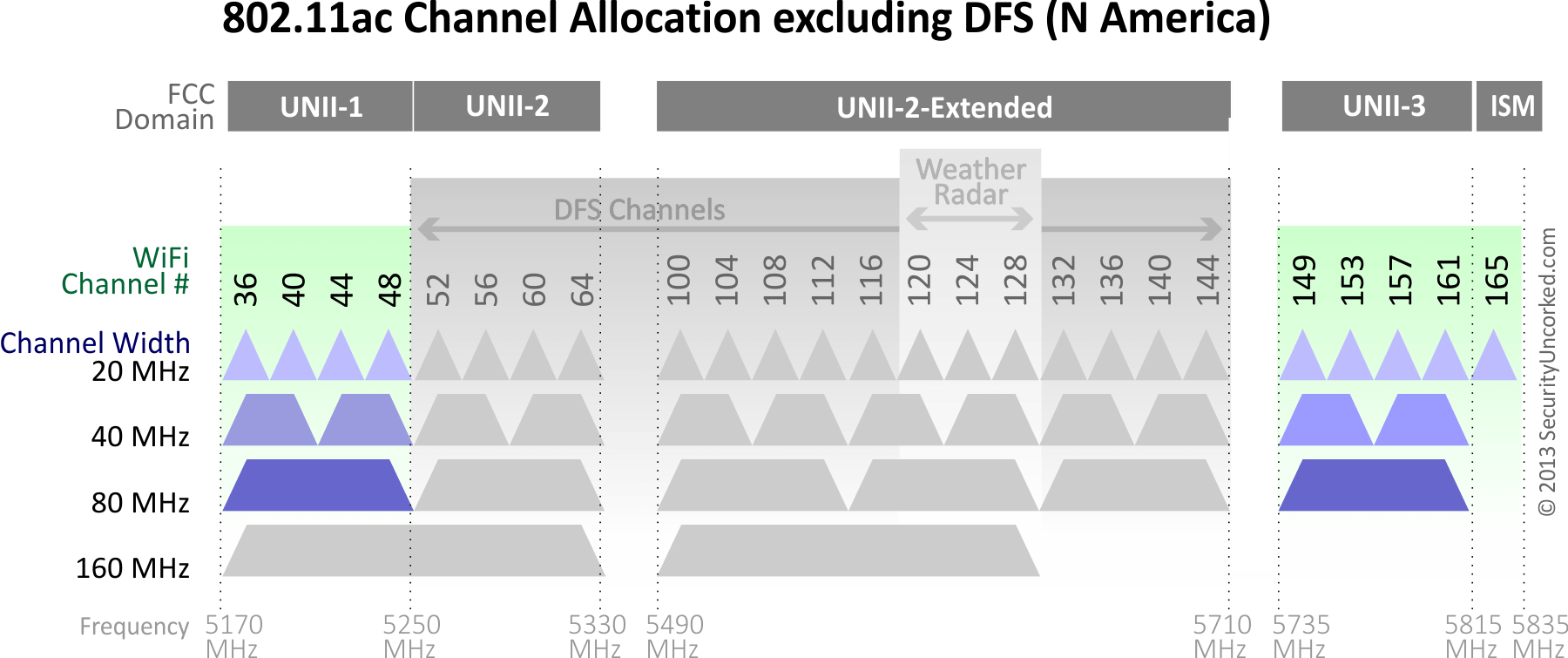 While Wi-Fi 6 is capable of those 4804 Mbps speeds you need to a client that can connect with 4 streams at once (there are none), then use a 160Mhz wide channel.
The problem with this is that there are only a small number of channels available and some of these are shared with radars, that are used for planes. So the DFS channels are allowed to be used but only when the access point does not detect any radar.
To the best of my knowledge, there is just 25 20Mhz channels with 16 of those being classed as DFS.
Wi-Fi 5 and Wi-Fi 6 use 80Mhz channels as default, reducing the number of channels that doesn't cross over down to just 6.
So then when you double this up again, the options drop down to just two, with one of them falling into DFS.
So, while most Wi-Fi 6 devices are capable of connecting with 2 streams giving you 2400mbps it is often not that easy
Wi-Fi 6E and 6Ghz vs Wi-Fi 6 and 5Ghz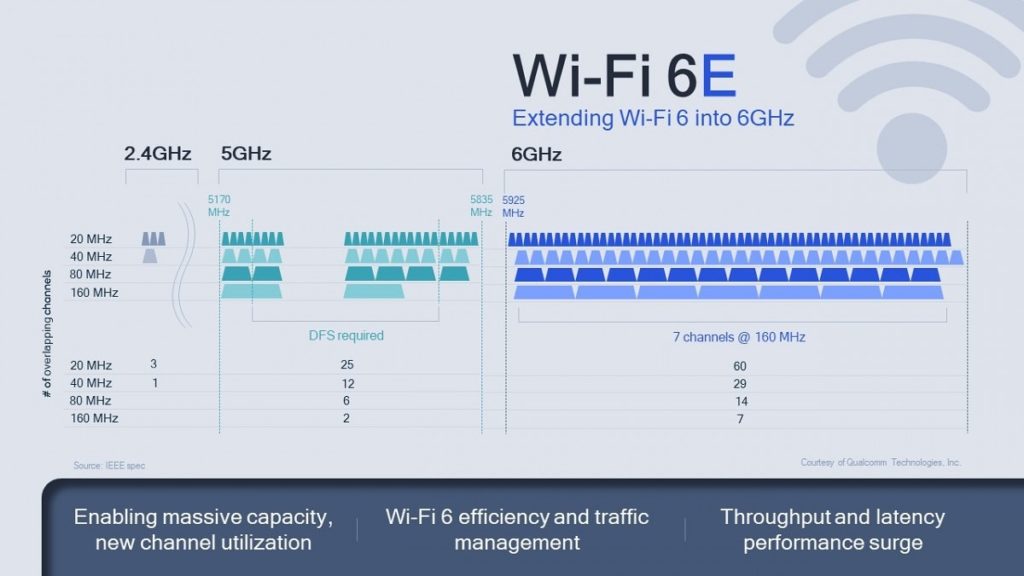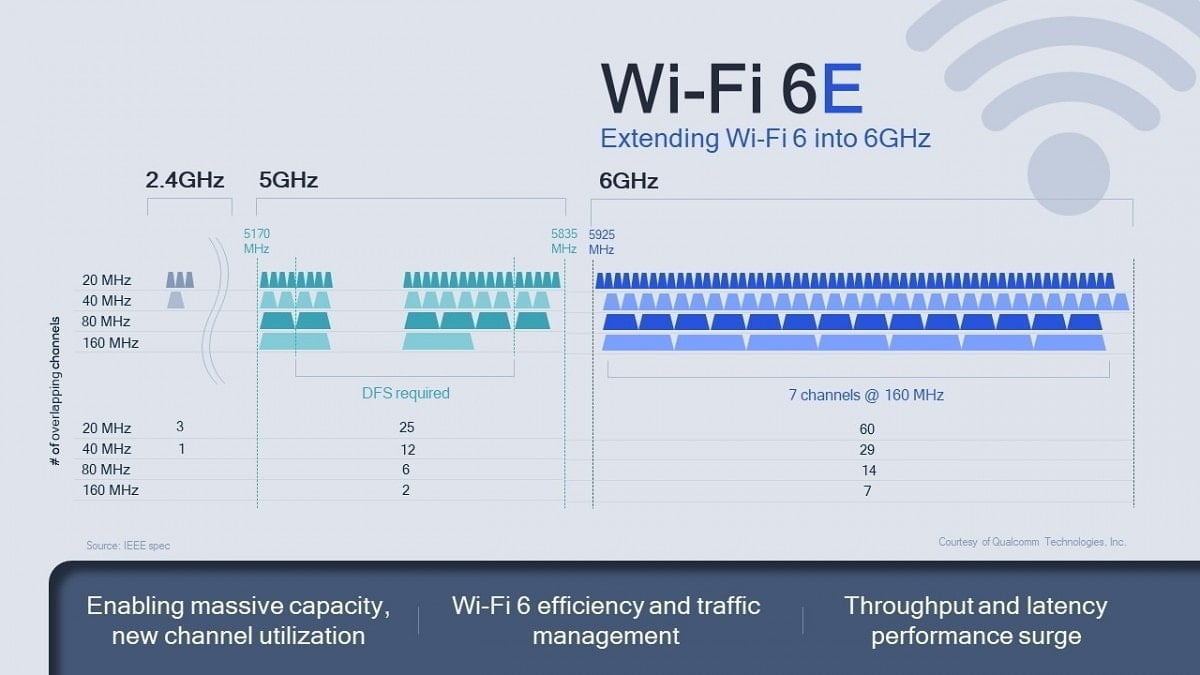 Wi-Fi 6 was always designed to go beyond 5Ghz, but with all the red tape around the wireless spectrum this wasn't done at first.
Wi-Fi 6E is the first step moving beyond that being compatible with 6Ghz and the U.S. FCC allocated almost 1200MHz of that spectrum to the 6GHz band for Wi-Fi 6. Previously the Wi-Fi had approximately only 400MHz of the spectrum. So now Wi-Fi is getting three times the spectrum range previously possible.
Furthermore, the 6Ghz channel isn't currently used for anything else too important so there are no DFS channels to worry about (from what I know).
This then gives you a massive number of options on 6Ghz with 7 channels available at 160MHz and 14 at 80MHz. Due to the lack of congestion on these channels, devices should be able to perform better too.
So theoretically, there should be no issues connecting a Wi-Fi 6E device using 2×2 at 160Mhz giving you access to that impressive 2400Mbps connection speed. In real life, I have found that equates to around 150MB/s files transfer speeds, finally allowing Wi-Fi to go beyond gigabit ethernet.
What about 6Ghz in the UK and EU?
The UK has been less generous with the 6Ghz spectrum. In January it was announced that 500MHz of spectrum in the 6GHz frequency band would be allocated to Wi-Fi 6E
It will also remove the Dynamic Frequency Selection (DFS) requirements from Wi-Fi channels in the 5.8 GHz band (5725-5850 MHz).
Qualcomm FastConnect 6900 and 6700
We have previously seen Broadcom announced the BCM4389 and now Qualcomm has taken the wraps of their first Wi-Fi 6E chips, the FastConnect 6900 and FastConnect 6700.
These mobile connectivity systems are sold alongside Qualcomm's Snapdragon mobile SoCs. The Qualcomm Snapdragon 865 uses the older Wi-Fi 6 quipped FastConnect 6800, while the Snapdragon 765 comes with the FastConnect 6200.
So it is possible that the new FastConnect 6900 might get used in the Qualcomm Snapdragon 875 which will likely launch in December.
The FastConnect 6900 offers the fastest available Wi-Fi 6 speed at up to 3.6Gbps of any mobile Wi-Fi offering in the industry, according to Qualcomm. The FastConnect 6700, on the other hand, delivers peak speeds approaching 3Gbps.
These high speeds are driven by features such as Qualcomm 4K QAM at 2.4GHz, 5GHz, and 6GHz.
The he FastConnect 6900 delivers extra performance through a unique feature implementation of 4-stream Dual Band Simultaneous (DBS) with multi-band (including 6GHz). In laymans terms, this means the FastConnect 6900 can use 2.4GHz, 5GHz and 6GHz bands for Wi-Fi at the same time.
The FastConnect systems' feature implementation is said to deliver latency reduction up to 8x in congested environments for improved gaming experiences. Wireless VR-class latency (<3ms) for Head Mounted Displays (HMD) is offered, and Qualcomm hopes that it provides a strong foundation for XR applications.
These two new chips bring more than just Wi-Fi, they are also used for Bluetooth and these will introduce Bluetooth 5.2 and LE audio. LE Audio includes tech such as multi-point audio sharing and broadcast audio, enabling multiple audio connections simultaneously.
Qualcomm also claim that the new chips offer up to 50% improvement in power efficiency when compared to previous generation.
Can my Wi-Fi 6 router be upgraded to Wi-Fi 6E?
Sadly not, this is not something that can be enabled via a firmware update, you will need new hardware for everything. This includes your router and the client devices such mobiles and network cards inside your PC.
This does make the thought of buying any current Wi-Fi 6 hardware less appealing, but in reality, we are not likely to see Wi-Fi 6E until some point next year. The current flagship models, such as the TP-Link AX11000, are already prohibitively expensive for your average user and it is likely that Wi-Fi 6E will come with even higher costs.
This is always the case for technology, something newer and better is always due out in the next few months. So I wouldn't specifically avoid buying Wi-Fi 6 hardware right now, it will likely offer more than enough performance for your needs as is.
If you are happy with your existing Wi-Fi 5 hardware but flirting with the idea of upgrading in the near future, it may be worth holding out to see what options become available early next year.
Is 6GHz Wi-Fi 6E safe?
It is sad that I need to add this section at least semi-seriously, but with a growing issue with conspiracy theories around 5G and Coronavirus, it is inevitable some people will claim this new technology is dangerous.
The answer is, not it is not dangerous, we have lived with 5Ghz for years, and it is only recently that conspiracy theory nut-jobs have blamed it for things like Coronavirus. People claimed 4G was dangerous too, and many people used to thing microwaves would kill you if you stand near them.