Yesterday Qualcomm announced its latest 5G chipset, the Qualcomm Snapdragon 480, which represents quite a significant moment for 5G. Qualcomm is now all-in with 5G across its product line-up. 5G is here to stay whether you like it or not, and it has gone mainstream.
Qualcomm Snapdragon 480 vs Snapdragon 460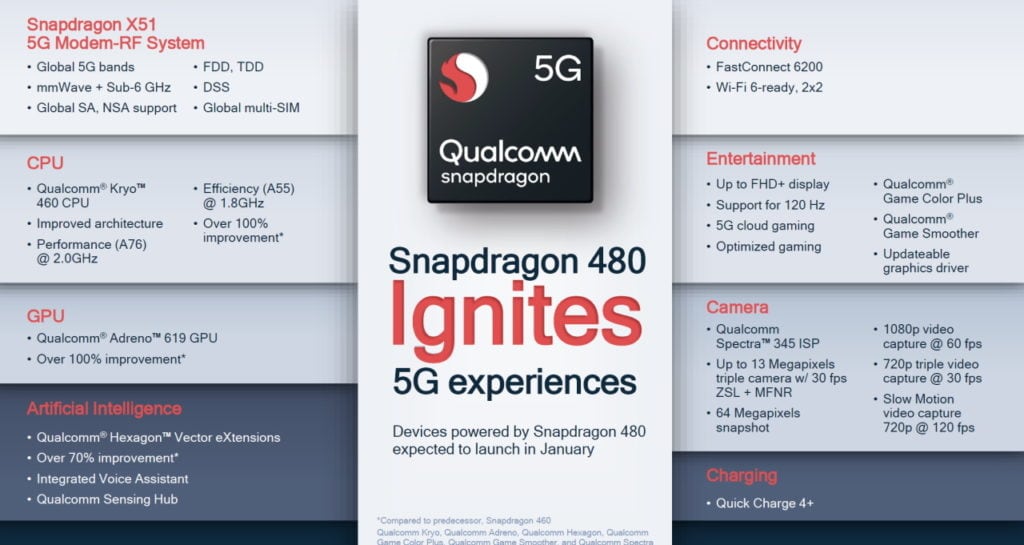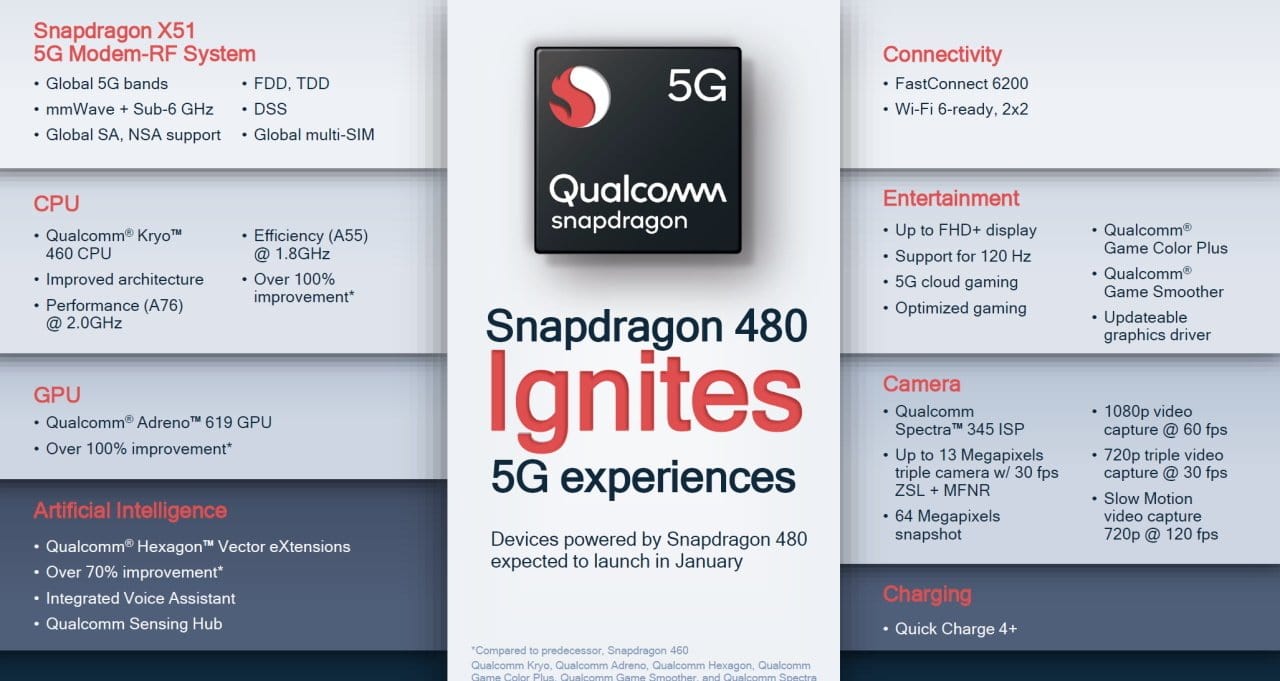 Ignoring the 5G aspects, the chipset is a massive generational improvement from the previous Snapdragon 460.
The Qualcomm Snapdragon 480 looks more like a mid-range chipset from last year or 2019 adopting design with 2 x Cortex-A76 running at 2.0Ghz and then 6x Cortex-A55@ 1.8GHz.
The chipset it replaces, the Snapdragon 460 uses a 4×4 design but significantly less powerful CPU cores with 4x Kryo 240 (CA73) at 1.8GHz then 4x Kryo 240 (CA53) at 1.8GHz.
The new Qualcomm Snapdragon 480 chipset's overall performance should be a bit about the Snapdragon 675, which was a solid mid-range chipset used on the Redmi Note 7 Pro Samsung Galaxy A70s and Moto Z4.
How will this upgrade affect pricing? What's the cost of 5G?
One concern of such a significant improvement with the chipset is going to be how it affects the price of phones that use it.
Currently, phones that use the Snapdragon 460 include:
So, it will be interesting to see how future iterations of these phones are priced.
Qualcomm Snapdragon 480 vs Snapdragon 690 & 750G vs MediaTek Dimensity 720 & 800
 
Qualcomm Snapdragon 480
Snapdragon 690
Mediatek Dimensity
720
Dimensity 800
Manufacturing Process
8nm LPP
8nm LPP
7nm
7nm
CPU
2x Cortex-A76@ 2.0GHz
6x Cortex-A55@ 1.8GHz
2x Cortex-A77 @ 2.0GHz
6x Cortex-A55 @ 1.7GHz
(Kryo 560)
2x Cortex-A76 @ 2.0GHz
6x Cortex-A55 @ 2.0GHz
4x Cortex A76 @ 2.6GHz
4x Cortex A55 @ 2.0GHz
GPU
Adreno 619
Adreno 619L
Arm Mali-G57 MC3
Arm Mali-G57 MC4
RAM
2x 16-bit @ 2133MHz
LPDDR4X 17.0GB/s
LPDDR4X 1866MHz
LPDDR4x 2133MHz
LPDDR4x 2133MHz
Modem
Snapdragon X51
Snapdragon X51 5G NR Sub-6 (no mmWave)
LTE
DL = 1200 Mbps
UL = 210 Mbps
5G
DL = 2500 Mbps
UL = 1200 Mbps
Mediatek M70
Mediatek M70
AI
Hexagon 686
Hexagon 692
HVX + Tensor
Integrated
NPU 1 big core
Looking at the chipset compared to other recent affordable 5G chipsets, it looks to be positioned well against the MediaTek Dimensity 720. However, we are yet to see a phone with the Dimensity 720 launch in the UK. The Realme 7 5G uses the Dimensity 800u which has a superior spec.
Faced up against the MediaTek Dimensity 720, the Qualcomm Snapdragon 480 has a similar CPU spec but clocks the six Cortex-A55 cores a 10% lower at 1.8Ghz.
Against the Dimensity 800 and 800U, the CPU spec falls short, with the two Mediatek chipsets using four Arm Coretex A76 cores al of which are clocked higher (2.4GHz for 800u and 2.6GHz for 800)
When looking at the Snapdragon 690 and 750G, they use the same 2×6 design, but it uses the newer Arm Cortex A77 CPU cores which were only used on flagship chipsets last year.
GPU comparisons are harder, Qualcomm uses their own Andreno GPUs and is very vague about the spec. The SD480 has the Adreno 619 which is the same as the Snapdragon 750G and better than the Snapdragon 690 which uses the Adreno 619L. However, we don't know if there will be frequency differences or something else to reduce performance.
Qualcomm Snapdragon 480 vs Snapdragon 690 & 750G 5G Modem and Connectivity
The Qualcomm Snapdragon 750G uses the Snapdragon X52 5G Modem while the SD690 and the new SD480 use the Snapdragon X51 5G Modem.
According to Qualcomm's' specs, the X52 can do o 3.7 Gbps down and 1.6 Gbps
The can do X52 on the SD480 can do  2.5 Gbps down and 660 Mbps up but the SD690 can go up to o 900 Mbps for the upload.
The SD480 offers mmWave: 200 MHz bandwidth, 2×2 MIMO, but this is lacking on the SD690, while the SD750G has mmWave: 400 MHz bandwidth, 2×2 MIMO
All the Qualcomm chipsets feature the FastConnect 6200, which offers up to WiFi 6 using 2×2 MIMO with 80Mhz channel utilization. However, it is up to the manufacturer to integrate this with a phone. The superb affordable Xiaomi Mi 10T Lite lacks WiFi 6 (probably to keep costs low)
Posted by Mighty Gadget Blog: UK Technology News and Reviews