A new report from Tencent's QQ News indicates that Qualcomm may launch the Snapdragon 775G tomorrow on the 17th of June 2020.
If true, this would make an unusual departure from the Qualcomm launch cycle, their two main chipsets in the 7 and 8 series usually get launched in December during the Qualcomm Snapdragon Tech Summit in Hawaii. So, I am sceptical if this is true or not.
Qualcomm Snapdragon 775G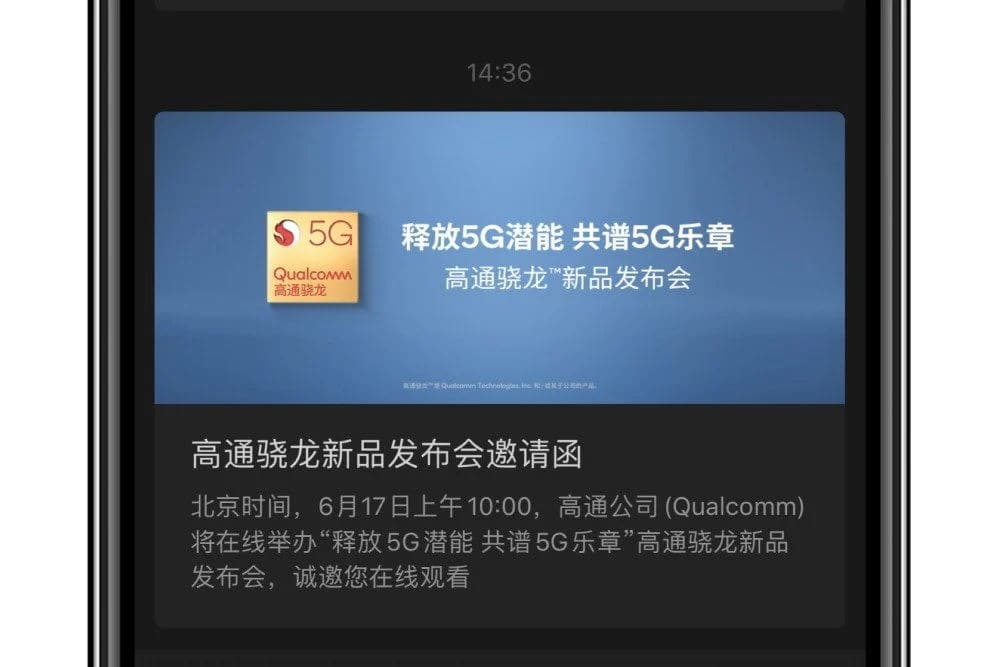 Not much is reported about the chipset but The chip will reportedly be shipped in small scale in mid-June and compared to the Snapdragon 765, the performance has reportedly been improved by 40% while the upgraded GPU is 50% better. It also features Vulkan support.
Those numbers are quite big, moving from the Snapdragon 730G to the Snapdragon 765G there was a reported 38% performance upgrade for the GPU.
New Xiaomi CC Phone
Another rumour indicated that Xiaomi is working on the Mi CC10, the successor to the Mi CC9. The rumour also tips the device to run on the unannounced Qualcomm Snapdragon 775G chipset. The phone is said to bear the internal codename "Gauguin and will be equipped with a 64MP main camera while the high-end version, possibly the CC10 Pro will have a 108MP camera. The phone is expected to be unveiled in July.
Previous Reports and SM7350 Codename
In the past, and LG phone was spotted on Geekbench with a Qualcomm 'lito' chipset that has a base clock speed of 1.8GHz.
It has also been rumoured the Qualcomm Snapdragon 775G is currently using the codename SM7350 which was used in the Galaxy S20 series kernel source. The SD 765G used the codename SM7250
Qualcomm Snapdragon 775G Specifications
There is no mention of any specification at all, so this is completely guess work by myself.
I would guess the most likely upgrade is a shift from the Arm Cortex A76 based CPU to the newer Cortex A77.
A statement like that is normally a given when talking about flagship chipsets, but currently, all the active 700-series chipsets are running two Arm Cortex-A76 and six Arm Cortex-A55.
As for the GPU, the obvious guess would be an Adreno 622 but has no meaning without the relative performance numbers.
Overall
I think it is unlikely Qualcomm will launch a major chipset tomorrow, they have only just refreshed the Snapdragon 765G with the Snapdragon 768G which is used on the Xiaomi Redmi K30 5G Racing Edition.
I guess we will find out tomorrow!
Current Qualcomm Snapdragon 700-series Specification Comparison
| SoC | Snapdragon 768G | Snapdragon 765G | Snapdragon 730G | Snapdragon 720G |
| --- | --- | --- | --- | --- |
| CPU | 1x Cortex A76 @ 2.8GHz | 1x Cortex A76 @ 2.4GHz (765G) | 2x Cortex-A76 @ 2.2GHz | 2x Cortex-A76 @ 2.3GHz |
| | 1x Cortex-A76 @ 2.4GHz | 1x Cortex-A76 @ 2.2GHz | 6x Cortex-A55 @ 1.8GHz | 6x Cortex-A55 @ 1.8GHz |
| | 6x Cortex-A55 @ 1.8GHz | 6x Cortex-A55 @ 1.8GHz | | |
| GPU | Adreno 620 @ 750MHz | Adreno 620 @ 625MHz | Adreno 618 @ 575 MHz | Adreno 618 @ 500 MHz |
| | +15% perferformacne vs 765G | +38% perf vs 730G | | |
| DSP / NPU | Hexagon 696 | Hexagon 696 | Hexagon 688 | Hexagon 688 |
| | HVX + Tensor | HVX + Tensor | HVX + Tensor | HVX + Tensor |
| | 5.4TOPS AI | 5.4TOPS AI | | |
| | (Total CPU+GPU+HVX+Tensor) | (Total CPU+GPU+HVX+Tensor) | | |
| Memory Controller | 2x 16-bit CH | 2x 16-bit CH | 2x 16-bit CH | 2x 16-bit CH |
| | @ 2133MHz LPDDR4X / 17.0GB/s | @ 2133MHz LPDDR4X / 17.0GB/s | @ 1866MHz LPDDR4X 14.9GB/s | @ 1866MHz LPDDR4X 14.9GB/s |
| | | | | |
| ISP/Camera | Dual 14-bit Spectra 355 ISP | Dual 14-bit Spectra 355 ISP | Dual Spectra 350 ISP | Dual Spectra 350 ISP |
| | 1x 192MP or 36MP with ZSL | 1x 192MP or 36MP with ZSL | 1x 36MP with ZSL | 1x 36MP with ZSL |
| | or | or | or | or |
| | 2x 22MP with ZSL | 2x 22MP with ZSL | 2x 22MP with ZSL | 2x 22MP with ZSL |
| Integrated Modem | Snapdragon X52 Integrated | Snapdragon X52 Integrated | Snapdragon X15 LTE | Snapdragon X15 LTE |
| | (LTE Category 24/22) | (LTE Category 24/22) | (Category 15/13) | (Category 15/13) |
| | DL = 1200 Mbps | DL = 1200 Mbps | DL = 800Mbps | DL = 800Mbps |
| | 4x20MHz CA, 256-QAM | 4x20MHz CA, 256-QAM | 3x20MHz CA, 256-QAM | 3x20MHz CA, 256-QAM |
| | UL = 210 Mbps | UL = 210 Mbps | UL = 150Mbps | UL = 150Mbps |
| | 2x20MHz CA, 256-QAM | 2x20MHz CA, 256-QAM | 2x20MHz CA, 64-QAM | 2x20MHz CA, 64-QAM |
| | (5G NR Sub-6 4×4 100MHz | (5G NR Sub-6 4×4 100MHz | | |
| | + mmWave 2×2 400MHz) | + mmWave 2×2 400MHz) | | |
| | DL = 3700 Mbps | DL = 3700 Mbps | | |
| | UL = 1600 Mbps | UL = 1600 Mbps | | |
| Fabrication Process | Samsung | Samsung | Samsung | Samsung |
| | 7nm EUV (7LPP) | 7nm EUV (7LPP) | 8nm (8LPP) | 8nm (8LPP) |