Back in March, I reported about the leaked SM7350, which was expected to be the Snapdragon 775G. That was partially inaccurate, with it turning out to be the impressive Snapdragon 780G.
However, Qualcomm has now just launched the Snapdragon 778G offering minor differences between the Snapdragon 780G.
Qualcomm Snapdragon 778G vs Snapdragon 780G differences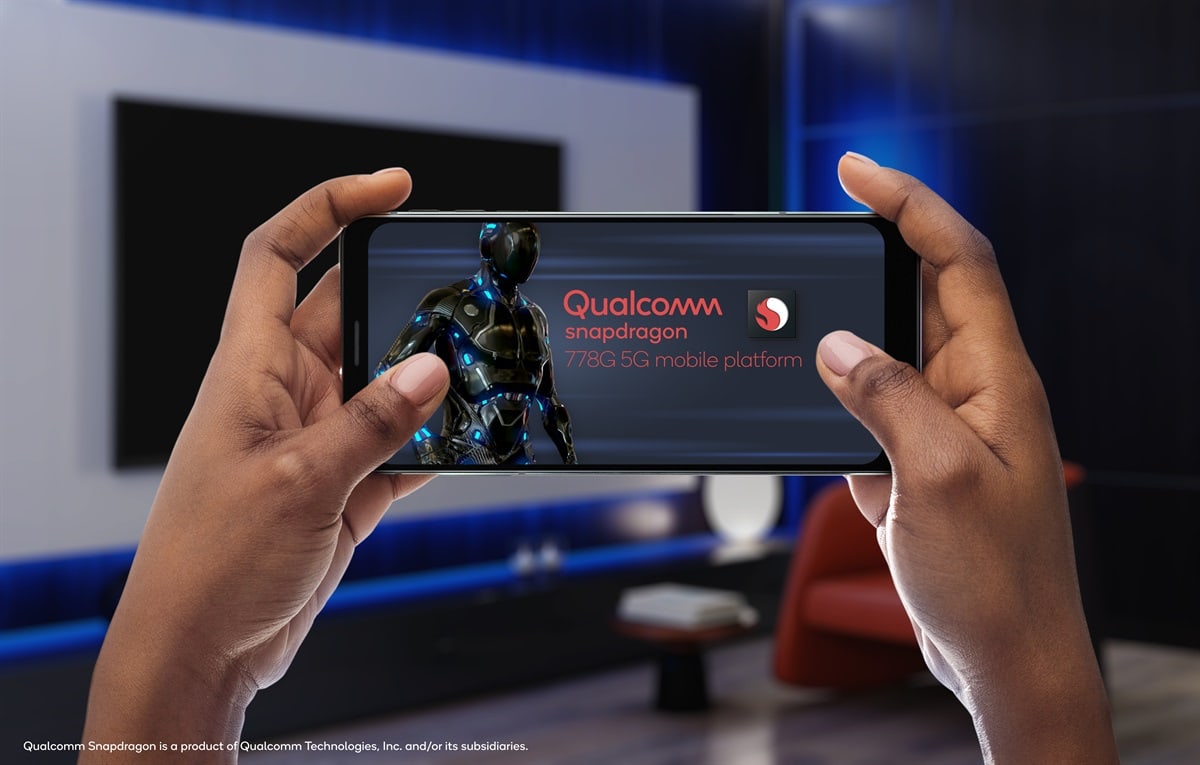 The main difference appears to be the manufacturing process. Qualcomm has switched from the 5nm Samsung process to 6nm TSMC for the new SD780G
The CPU design and spec is identical, but the GPU is slightly different, claiming to be the Adreno 642L rather than Adreno 642. What that means in real-world performance remains to be seen.
Interestingly, the SD768G has a superior memory specification with support for LP-DDR5 memory up to 3200 MHz. However, as this is only supported for, what you get in your phone could very well be identical to phones equipped with the SD780G
Phones with Qualcomm Snapdragon 778G
The Qualcomm Snapdragon 778G is expected to arrive in smartphones launching in Q2 2021. Motorola, Realme, iQOO, Xiaomi, Honor, and OPPO are among the list of OEMs who have confirmed to launch a phone with Snapdragon 778G.
Honor has confirmed that its upcoming Honor 50 series will feature the new chipset.
It is worth remembering that the Snapdragon 768G had a very limited release, it was only used on the Xiaomi Redmi K30 5G Racing Edition for an entire year. It is only in the past couple of months that Oppo, Vivo and ZTE have made announcements with phones using this chipset.
Qualcomm Snapdragon 778G vs 780G vs 768G vs 750G Specification Comparison Table  
| Specifications | Qualcomm Snapdragon 778G | Qualcomm Snapdragon 780G | Qualcomm Snapdragon 768G | Qualcomm Snapdragon 750G |
| --- | --- | --- | --- | --- |
| CPU | Kryo 670 CPU cores (up to 2.4GHz) | Kryo 670 CPU cores (up to 2.4GHz) | Kryo 475 CPU cores (up to 2.4GHz) | |
| | 1x ARM Cortex-A78 @ 2.4GHz | 1x ARM Cortex-A78 @ 2.4GHz | 1x ARM Cortex-A76 @ 2.8GHz | 2x Cortex-A77 @ 2.2GHz |
| | 3x ARM Cortex-A78 @ 2.2GHz | 3x ARM Cortex-A78 @ 2.2GHz | 1x ARM Cortex-A76 @ 2.4GHz | 6x Cortex-A55 @ 1.8GHz |
| | 4x ARM Cortex-A55 @ 1.9GHz | 4x ARM Cortex-A55 @ 1.9GHz | 6x ARM Cortex-A55 @ 1.8GHz | |
| GPU | Adreno 642L | Adreno 642 | Adreno 620 | Adreno 619 |
| Display  | Maximum On-Device Display Support: FHD+ @ 144Hz | Maximum On-Device Display Support: FHD+ @ 144Hz | Maximum On-Device Display Support: FHD+ @ 120Hz | Max On-Device Display: FHD+ @ 120 Hz |
| AI | 6th gen AI Engine | 6th gen AI Engine | 5th gen AI Engine | |
| | Hexagon 770 processor | Hexagon 770 processor | Hexagon 696 processor | Hexagon 694 |
| | 12 TOPS performance | 12 TOPS performance | 5.5 TOPS performance | 4TOPS AI |
| Memory | LPDDR5 (3200MHz) | LPDDR4 (2133MHz) | LPDDR4 (2133MHz) | 2x 16-bit 2133MHz LPDDR4X / 17.0GB/s |
| | Up to 16GB RAM | Up to 16GB RAM | Up to 12GB RAM | |
| ISP | Triple 14-bit Spectra 570L ISP | Triple 14-bit Spectra 570 ISP | Dual 14-bit Spectra 355 ISP | Dual 14-bit Qualcomm Spectra 355L |
| | Single-camera: Up to 64MP with Zero Shutter Lag (ZSL) | Single-camera: Up to 84MP with Zero Shutter Lag (ZSL) | Single camera: Up to 36MP with ZSL | Up to 192 MP |
| | Dual camera: Up to 36MP + 22MP with ZSL | Dual camera: Up to 64MP + 20MP with ZSL | Dual camera: Up to 22MP with ZSL | : Up to 16 MP |
| Modem | Snapdragon X53 4G LTE and 5G multimode modem (integrated) | Snapdragon X53 4G LTE and 5G multimode modem (integrated) | Snapdragon X52 4G LTE and 5G multimode modem (integrated) | Snapdragon X52 |
| | Downlink: 3.7Gbps (5G) | Downlink: 3.3Gbps (5G) | Downlink: 3.7Gbps (5G), 1.2Gbps (4G LTE) | Downlink: 3.7Gbps (5G), 1.2Gbps (4G LTE) |
| Charging | Qualcomm Quick Charge 4+ | Qualcomm Quick Charge 4+ | Qualcomm Quick Charge 4+ | Qualcomm Quick Charge 4+ |
| Connectivity | Qualcomm FastConnect 6700 | Qualcomm FastConnect 6700 | Qualcomm FastConnect 6200 | Qualcomm FastConnect 6200 |
| | WiFI 6E, WiFI 6 | WiFI 6E, WiFI 6 | WiFI 6 ready | WiFI 6 ready |
| | 2.4GHz, 5GHz, 6GHz bands | 2.4GHz, 5GHz, 6GHz bands | 2.4GHz / 5GHz bands | 2.4GHz / 5GHz bands |
| Manufacturing process | TSMC's 6nm process | Samsung's 5nm process | Samsung's 7nm process | Samsung 8nm (8LPP) |

Posted by Mighty Gadget Blog: UK Technology News and Reviews