Today, Qualcomm took the wraps of their latest chipset which sits somewhere in a no man's of being last years tech and flagship spec.  
The Qualcomm Snapdragon 870 snapdragon follows a similar trend we have seen from both Qualcomm and MediaTek in the past couple of years. Take an old chipset, tweak it by the smallest of degrees and pass it off as something new.
MediaTek did it with various Helio chipsets, both Qualcomm and MediaTek also appear to have done custom orders for specific brands, namely Xiaomi and Realme, with the likes of the SD732 and Helio G95.
The new Snapdragon appears to be used across OEMs who are predominantly geared towards value-orientated phones. So far, they have Motorola, iQOO, OnePlus, OPPO, and Xiaomi signed up to produce phones with the SD870.
What's changed?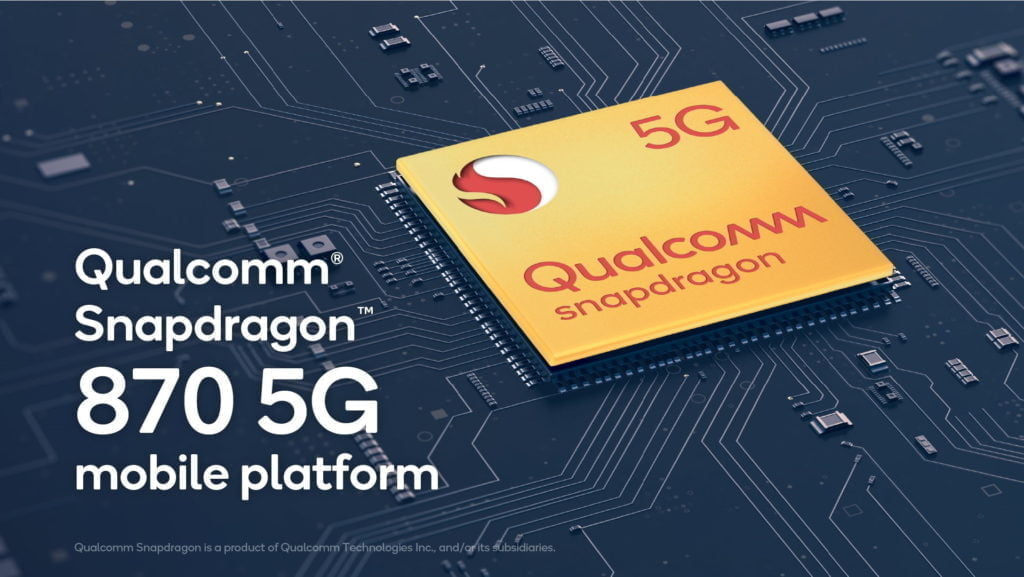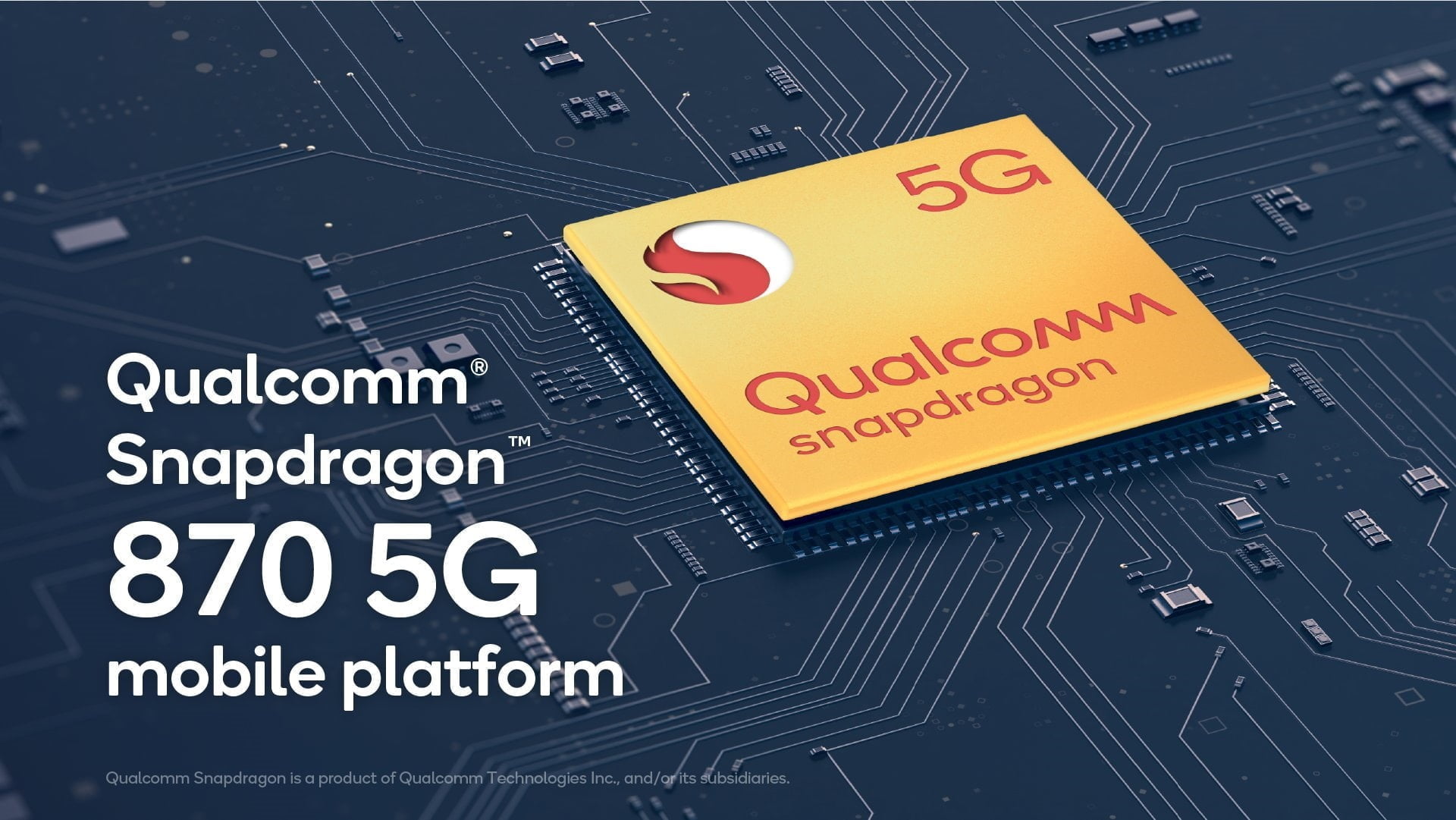 So, what's changed? Not much. The spec table below covers most of it, but it is essentially a 0.1GHz bump in frequency on the Cortex A77 core taking it 3.2Ghz representing a 3.23% increase in frequency on a single core.
Timing of this announcement is convenient with MediaTek holding an announcement tomorrow for their flagship chipset, so Qualcomm are perhaps hoping to take the shine off things.
Lower Price Point?
The SD865 increased the price of flagship phones considerably last year, several phones shot well past the £1k point and even affordable brands such as Realme with their X50 Pro were not all that cheap.
The 3.2% frequency difference may not be the important bit here. If the SD870 allows phones to be sold at a new lower price point, it could be a fantastic chipset. The Qualcomm Snapdragon 888 offers impressive performance, but I doubt most people would notice the difference in performance it offers vs last years chipset.
Motorola Moto Edge S with SD870 confirmed to launch in China on 26th of January
Motorola was quick to announce a phone featuring this new chipset with the new Moto Edge S. Last year the Motorola Edge+ launched in the EU and US for €1,199 / $999.99.
It looks like the new phone keeps the same design, and initial leaks suggest the same battery size. So it will be interesting if much else has changed and how the price will relate to last years model.
Qualcomm Snapdragon 870 vs 865 Plus vs 888 Specifications Compared
SoC
Snapdragon 888
Snapdragon 870
Snapdragon 865+
Snapdragon 865
CPU
1x ARM Cortex-X1 @ 2.84 GHz
1x Cortex-A77@ 3.2GHz
1x Cortex-A77@ 3.1GHz
1x Cortex-A77@ 2.84GHz
3x ARM Cortex-A78 @ 2.42 GHz
3x Cortex-A77@ 2.42GHz
3x Cortex-A77@ 2.42GHz
3x Cortex-A77@ 2.42GHz
4x ARM Cortex-A55 @ 1.8 GHz
4x Cortex-A55 @ 1.80GHz
4x Cortex-A55 @ 1.80GHz
4x Cortex-A55 @ 1.80GHz
GPU
Qualcomm Adreno 660
+35% perf
Adreno 650 (same as SD865+?)
Adreno 650 +10% Perf vs SD865
Adreno 650 @ 587 MHz
APU / NPU / AI Proc. / Neural IP
Hexagon 780
26 TOPS AI
Hexagon 698
15 TOPS AI
Hexagon 698
15 TOPS AI
Hexagon 698
15 TOPS AI
Memory
3200MHz LPDDR5 / 51.2GB/s
3MB system level cache
2133MHz LPDDR4X / 33.4GB/s
or
2750MHz LPDDR5 / 44.0GB/s
3MB system level cache
2133MHz LPDDR4X / 33.4GB/s
or
2750MHz LPDDR5 / 44.0GB/s
3MB system level cache
2133MHz LPDDR4X / 33.4GB/s
or
2750MHz LPDDR5 / 44.0GB/s
3MB system level cache
ISP/Camera
Triple 14-bit Spectra 580 ISP
1x 200MP or 84MP with ZSL
64+25MP with ZSL
3x 28MP with ZSL
4K video & 64MP burst capture
Dual 14-bit Spectra 480 ISP
1x 200MP or 64MP with ZSL
2x 25MP with ZSL
Dual 14-bit Spectra 480 ISP
1x 200MP or 64MP with ZSL
2x 25MP with ZSL
Dual 14-bit Spectra 480 ISP
1x 200MP or 64MP with ZSL
2x 25MP with ZSL
Modem
X60 integrated
(5G NR Sub-6 + mmWave)
DL = 7500 Mbps
UL = 3000 Mbps
X55 external
5G NR Sub-6 + mmWave)
DL = 7000 Mbps
UL = 3000 Mbps
X55 external
5G NR Sub-6 + mmWave)
DL = 7000 Mbps
UL = 3000 Mbps
X55 external
5G NR Sub-6 + mmWave)
DL = 7000 Mbps
UL = 3000 Mbps
Process
Samsung
5nm (5LPE)
TSMC
7nm (N7P)
TSMC
7nm (N7P)
TSMC
7nm (N7P)

Posted by Mighty Gadget Blog: UK Technology News and Reviews