I previously reviewed the excellent RAVPower 61W Power Delivery GaN charger, which is a single port charger that is smaller and more affordable than the official Apple 61W USB‑C Power Adapter.
Now RAVPower is back with a dual-port charger, this time with the USB-C port capable of up to 65W, and a USB-A port capable of 18W, with the total output being 65W max.
Features
65W Power Delivery: USB-C PD charging port powers up your MacBook Pro 15.4" from 0% to 100% in only 2 hours via a USB-C to USB-C cable with E-Mark chipset (Not Included)
Ultra Compact: 30% smaller than other 60W chargers, perfectly fits in your pocket, purse and the palm of hand.
Latest GaN Technology: Powered by GaN tech, USB C charger becomes smaller & maximizes charging efficiency while generates less heat
Intelligent Power Allocation: Cleverly distributes 65W of power between 2 devices when charging simultaneously and supports high-speed charging up to 65W when a single device is connected
Monumental Compatibility: One-stop charging solution that works flawlessly with virtually all USB-C and USB-A powered devices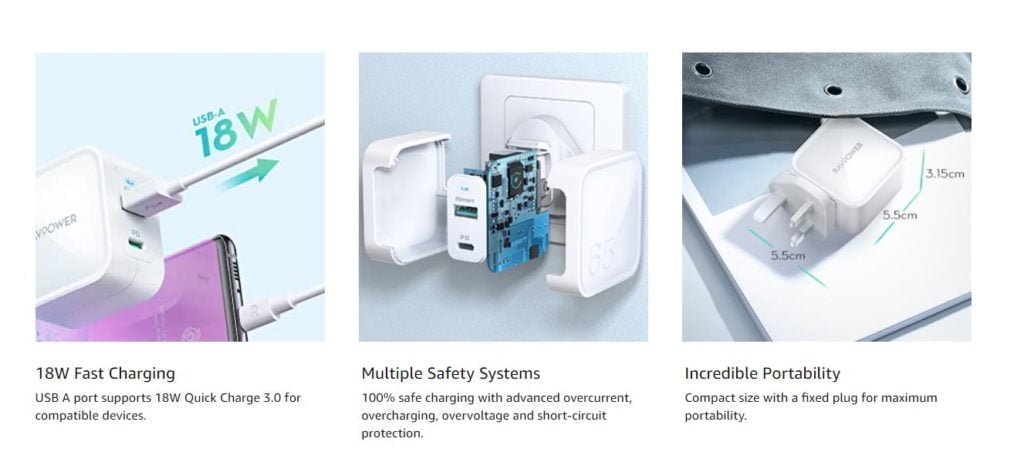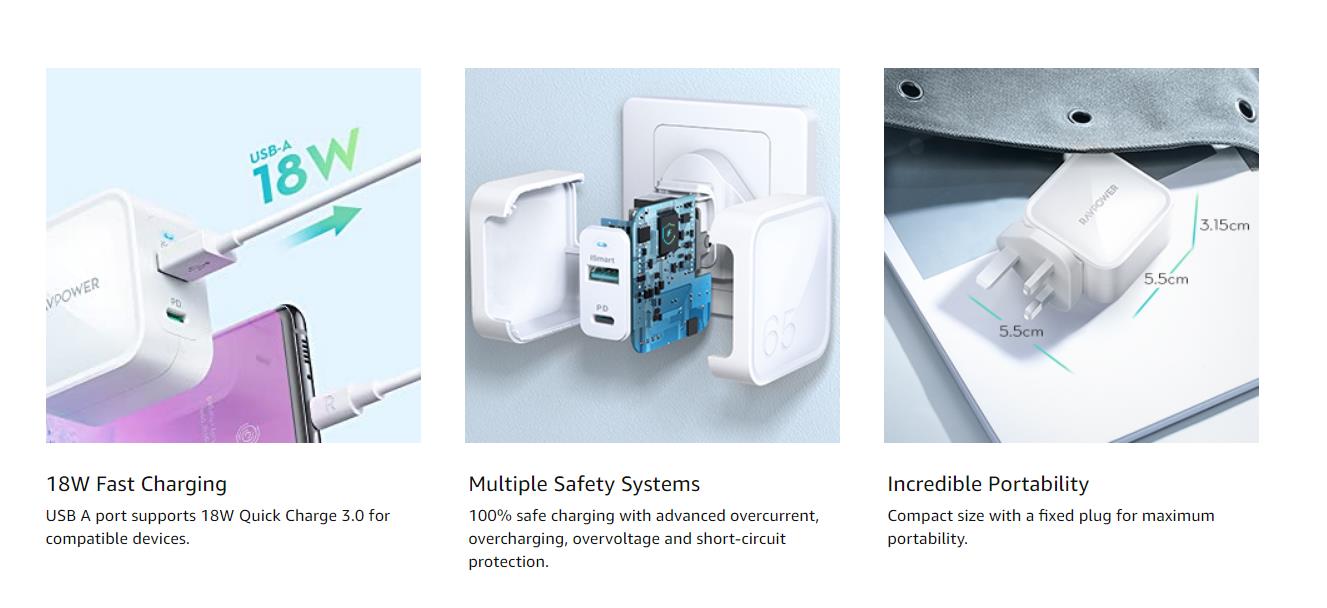 Price and Competition
Really, the only important thing about a USB plug review is how this specific plug competes with other options on the market.
The RAVPower will set you back £45.99 however there is currently a £10 off voucher available on the product listing page (which seems to intermittently show for me)
Choetech has a 100W charger at just £42.99, but this only has USC-C type C ports which limits the cables you can use with it.
Anker has a 60W PIQ 3.0 GaN similar to this, and they also charge £45.99. The Rav power weighs just 125g with dimensions of 5.5 x 5.5 x 3.5 cm. The Anker is 159g with dimensions of 9.3 x 6.9 x 2.9 cm, so RAVPower has a slight advantage over portability.
The official Apple 61W USB‑C Power Adapter is still £69.00 just for the plug itself.
In Use
There is not much to review when it comes to a plug, but I have used this for both my HP Envy X2 and Dell Lattitude, and it keeps them running happily, while still allowing my to charge a phone via the USB-A port.
The 65W rating means this can charge most low powered laptops, the Dell Latitude 5285 needs a minimum of 27w before it accepts a charge, and needs 45W for a full charge speed. So there is plenty of headroom with 65W giving me enough power to keep the laptop and another device charging with no issues.
This is actually a better buy than the previous charger I reviewed, the RRP is £5 more but you get two ports and a higher total output
Overall
Overall, this is a superb little charger, I much prefer multi-port chargers and having a mixture of Type A and Type C allows you to charge any device you have on hand.
The 65W charge speed is enough to handle most of the demanding power delivery based laptops, and a third party solution is considerably cheaper than brand chargers for your laptop.