Realme are extending the availability of their products in the UK to include the various affordable AIoT accessories they sell.
This includes:
Realme Powerbank for £19.99
Realme Watch for £54.99
Realme Band for £24.99
I have been sent a few of these, so I will be reviewing them over the next week or so.
The Realme Buds Air Neo are blatant AirPod rip-off with a similar name and almost identical design. With a £40 price tag, I had very low expectations, but they are actually much better than expected.
Features & Specification
Companion app for touch controls
Fast pair / pop up and pair
13mm dynamic driver
Touch control
3 hours per use
17 hours total playback
microUSB
No IP rating
Realme Buds Air Neo vs Apple AirPods Design and Fit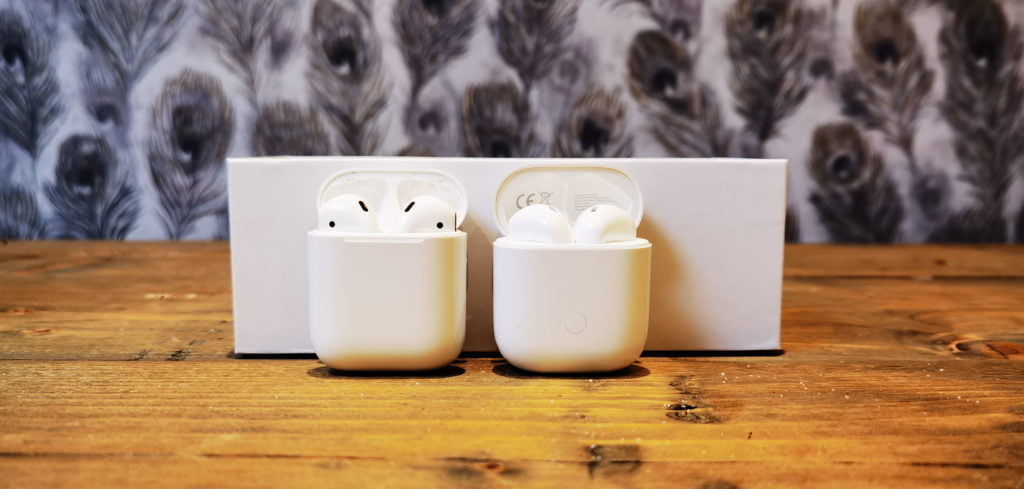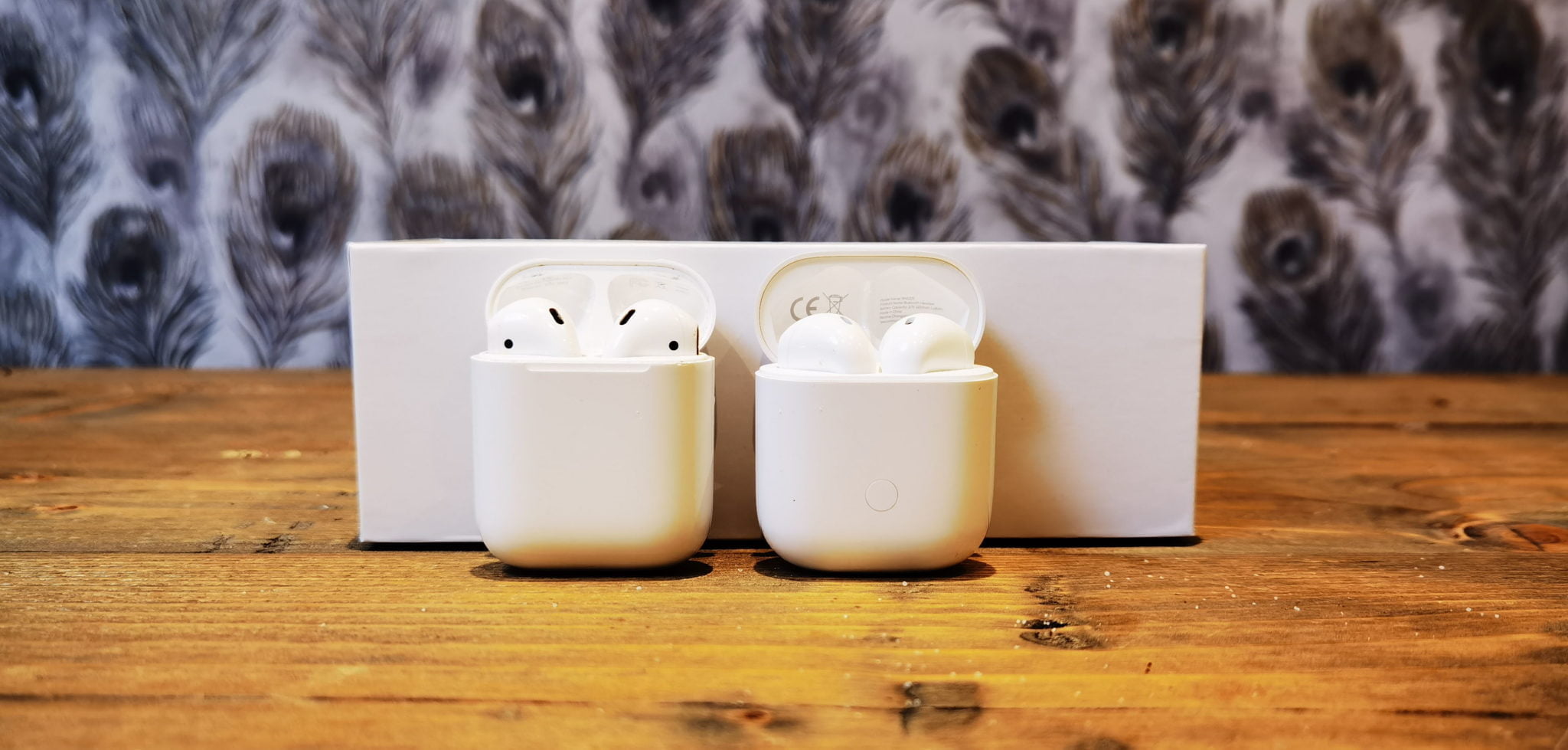 Just like phones all being slabs of glass, there are only so many design options for earphones. Once you opt for an open fit design, there are inevitable comparisons to be made to the Apple AirPods.
In this case, Realme have not just adopted a similar design concept, they have ripped the design off.
Taking photos side by side, does show minor variations, the Realme Buds Air Neo generally have larger dimensions all over. My partner who uses the AirPods confirms the fit is not exactly the same; they fit a larger in her ear.

For me, open-fit does not work at all, I must have elephant ears, and it is too loose for me. Just like the Huawei Freebuds 3, I have to fit this via 3rd party silicon adapters. They work really well, but obviously, if you are paying £40 for AirPod clones, you probably don't want to pay nor need silicon adaptors.
App & Set up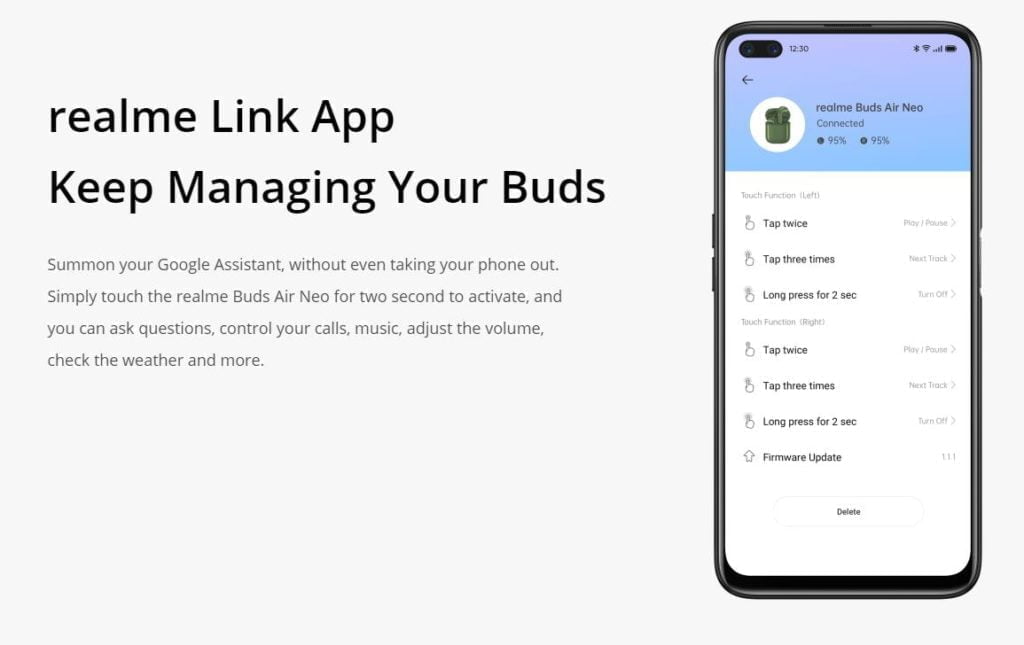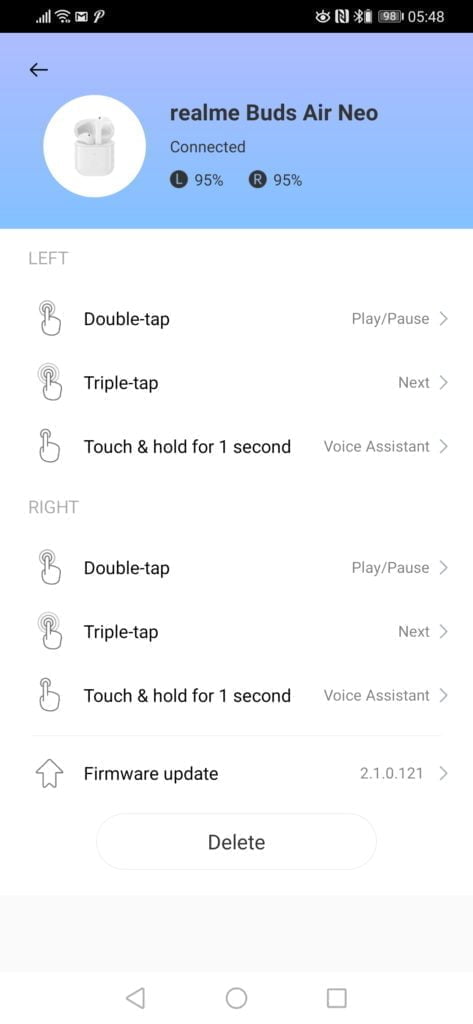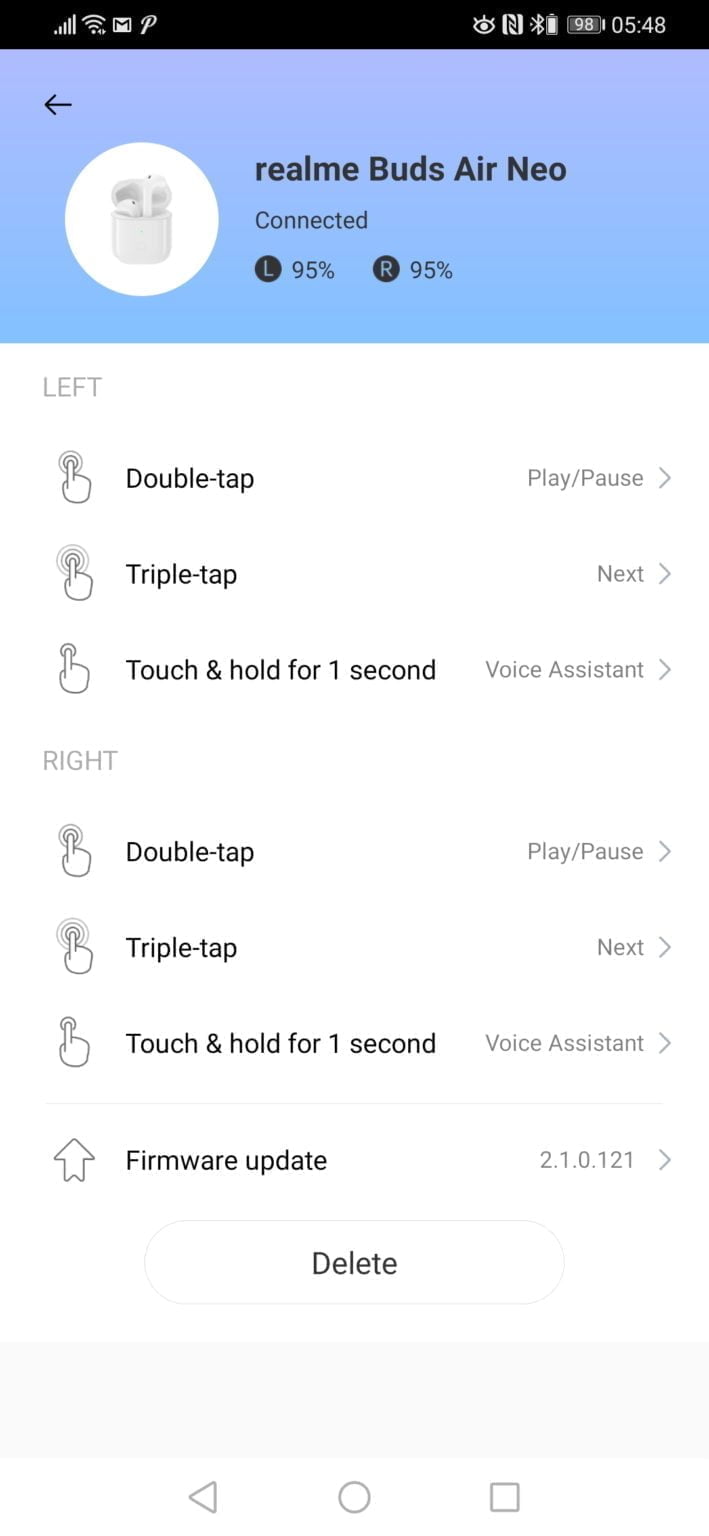 For earphones costing £40 it is very rare that they do anything other than connect to your phone via the normal Bluetooth mechanism.
With these, you have the Realme link app which allows you to manage the tough functions of the earphones and for easy pairing.
Before writing this review, I used pop up and pair(Fast Pair), but since unpairing the earphones to redo it and take screenshots, I can't seem to replicate it. These are compatible with fast pair, so it should work. You can, of course, pair up the old fashioned way, too.
Sound Quality & Performance
As far as £40 earphones go these are good, there is no tinniness or noticeable distortion at higher volumes. They offer a decent soundstage and reasonably accurate audio reproduction.
The open fit design leaks a lot fo the bass, and I found this gave quite a natural sound, but when I used these with silicon adapters, they can get quite bassy.
Like most affordable earphones, the overall balance can be a little out, and with some tracks, with a combination of deep lows and high notes, I found some of the higher tones a little sharp.
Battery life is just OK, I have no had any sessions where they have died on me, so can't confirm the 3-hour claim, but it is probably close when listening to moderate volumes. The microUSB for charging is disappointing but hardly a deal-breaker.
Just like the AirPods, these lack any form of IP rating, so they may not be the best solution for sweaty gym use.
Price and Competition
The best earphones I have used at this price point are the Destek T1 65H (Jabra clones), sadly these don't seem to be sold anymore.
However, for £40 there are thousands of competing options, with most of them being random brands.
I can't vouch for any open fit AirPod clones, but Anker has the Soundcore Life P2 at £45.99, and most of the SoundCore TWS earbuds offer excellent sound quality for their respective price point.
Similarly, affordable brand MPOW is normally a decent option for affordable earphones. The MPow M30 Plus earphones are just £36.99
Overall
If you like the Apple AirPods and are on Android, looking for an affordable option, you can't go far wrong with these.
Factoring in the price, sound quality is good, some highs can be a little sharp, and you lose bass with the open fit, but in general, I have been happy with the overall quality.
Unlike many of the cheap brands, these work with pop up and pair as well as the Realme Link app.